Small Transitional Entry That Packs A Big Punch
Welcome to our Small Transitional Entry That Packs A Big Punch!  This space has been a long time in the making but it's finally finished and functional and I'm excited to share it with you today, along with a few tips for entry organization that I've incorporated into the space!
For those of you that aren't familiar, we are currently living in an apartment as we build our dream home (you can read last week's post all about that HERE).   We're currently living in about 1500 sq. feet of space so as you can imagine the entryway is super small.  Barely even large enough for an entry cabinet and some hooks, without bumping into them.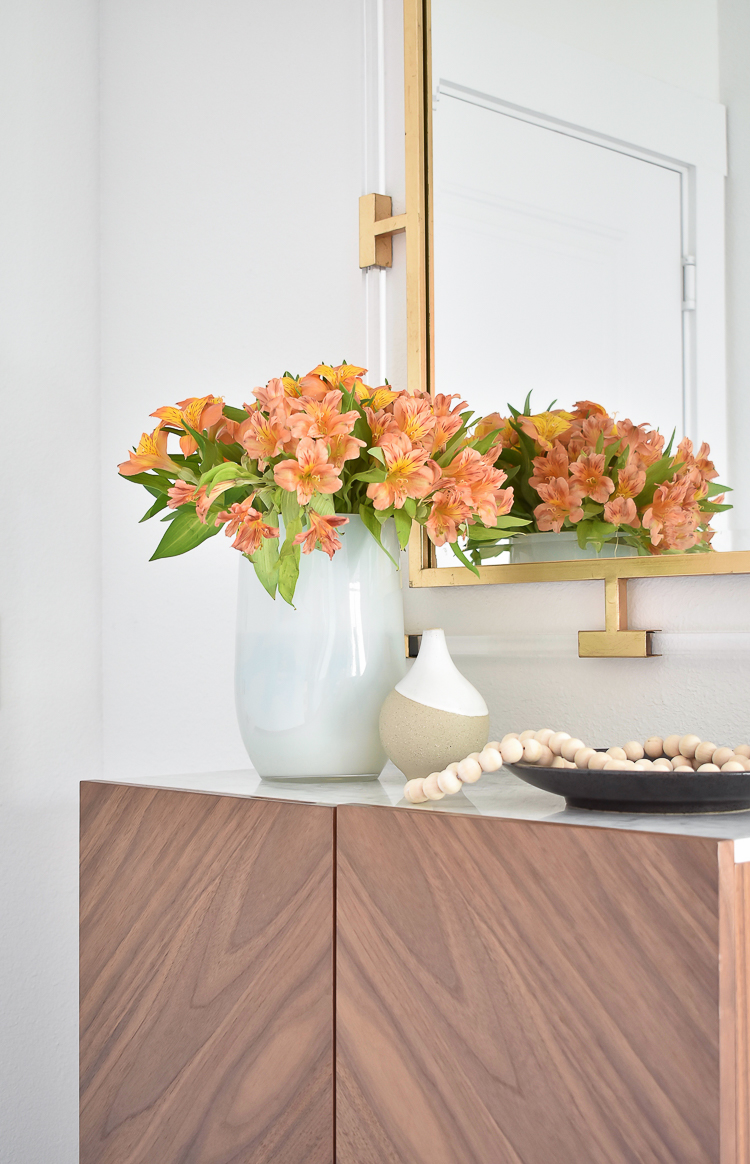 Storage was the number one priority in this tiny space…something that would mainly store shoes and dog paraphernalia, and a few other items.  The second priority was a pretty mirror to brighten and open up the space, not to mention a place to check yourself on the way out the door (that's always a priority, right?!).
I can say that I am truly smitten with this lucite and gold mirror – it's spectacular and was the perfect piece for this spot!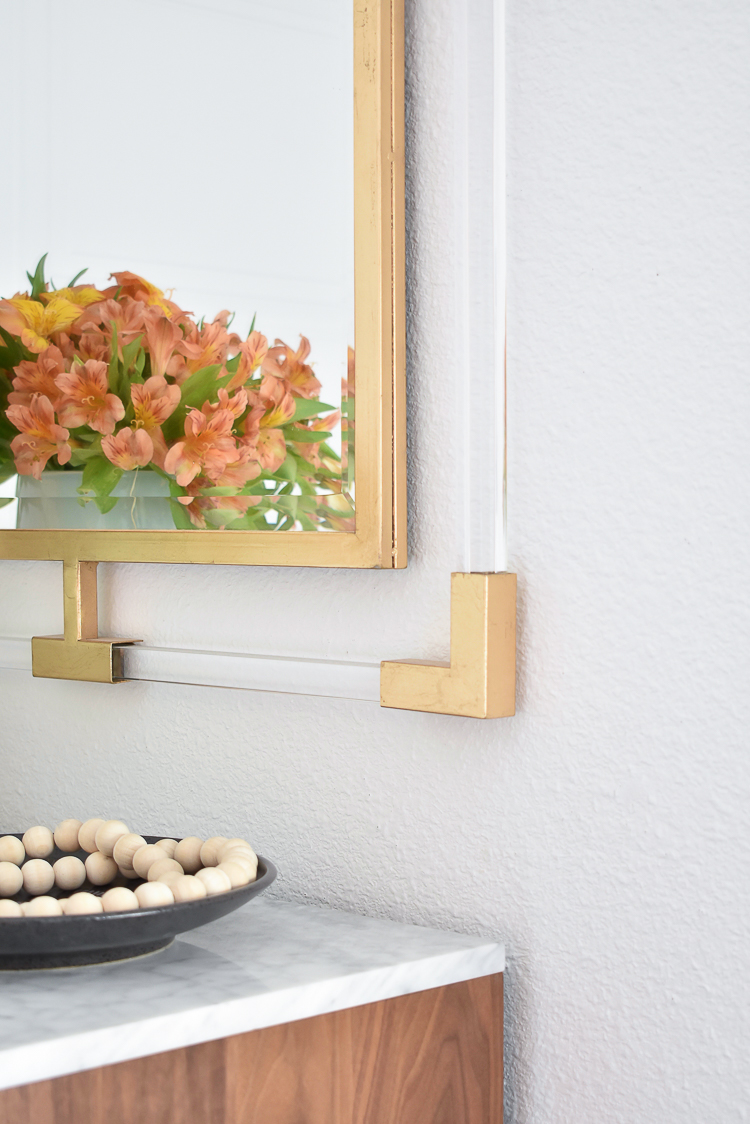 One of my favorite features of the entry cabinet I chose for this spot is the marble top.  Since we're in an apartment and can't have quartz or marble countertops currently, I knew this was the right piece the moment I saw it.  The depth of this piece was super important too, coming in at jut 14″ deep which is a good size for a small entry.  And of course fresh flowers are always here to greet you, along with a decorative bowl or plate to hold sunglasses and keys.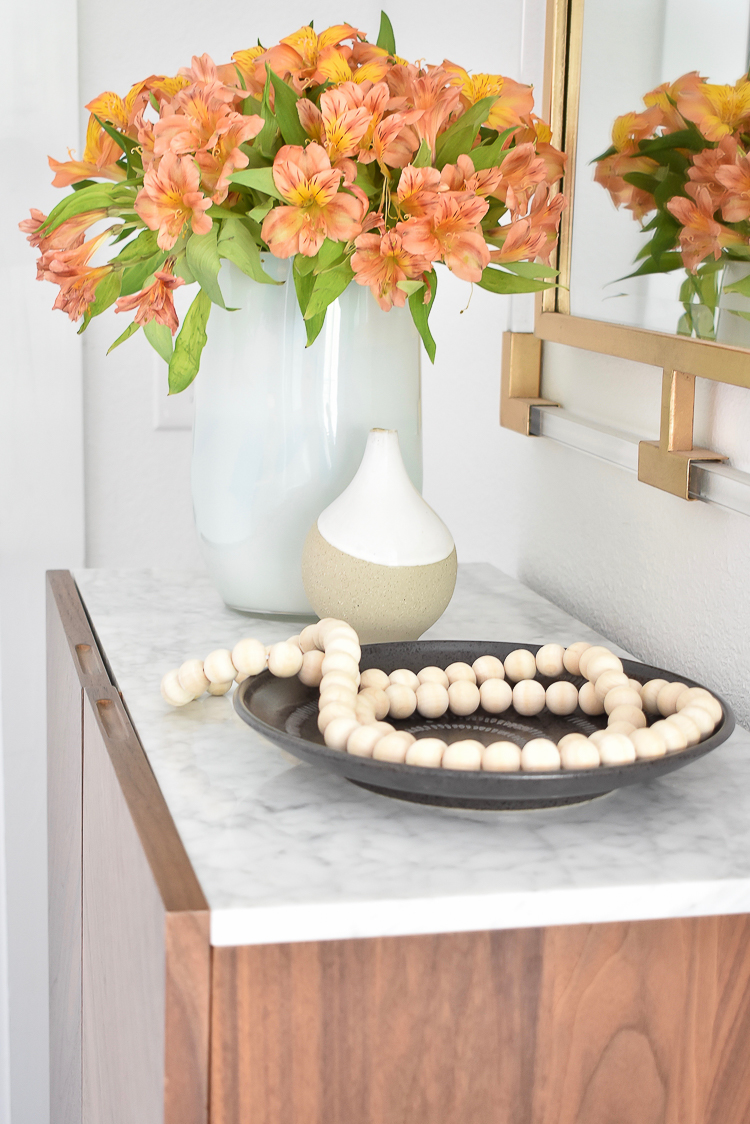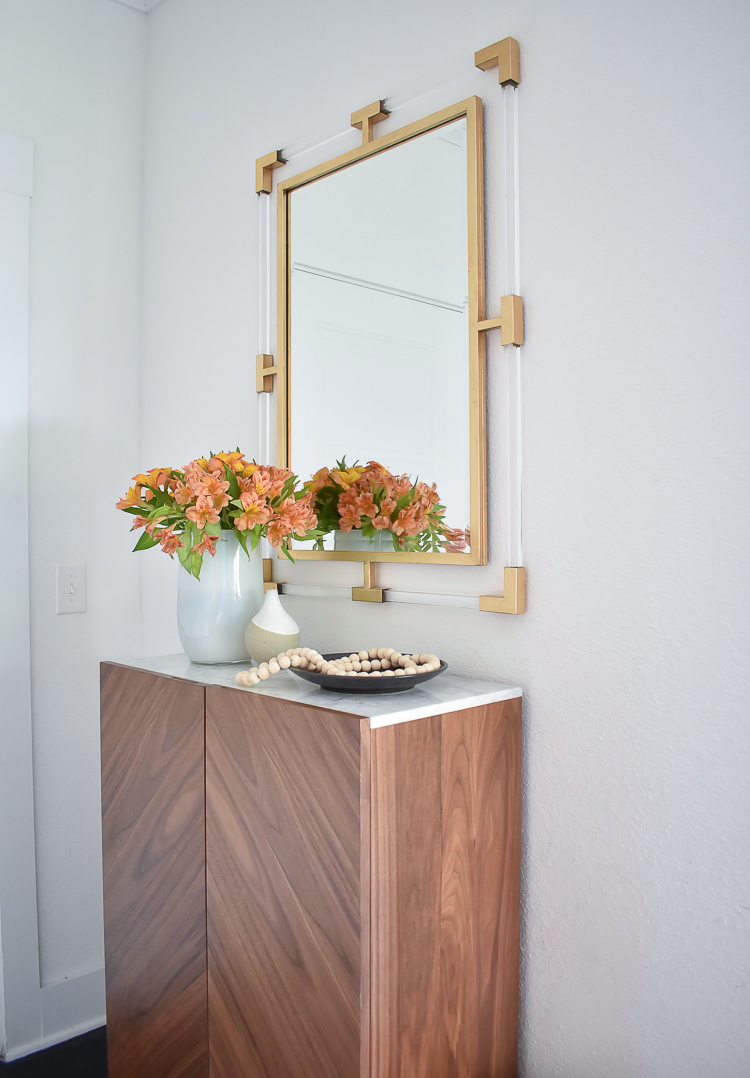 I also really love the wood on this entry cabinet and I love the black, iron legs that will pop beautifully against the blonde floors we'll have in the new home.  Yes, I already have a spot for this piece in the new house (again in the entry) so it will definitely be going with us to the new place.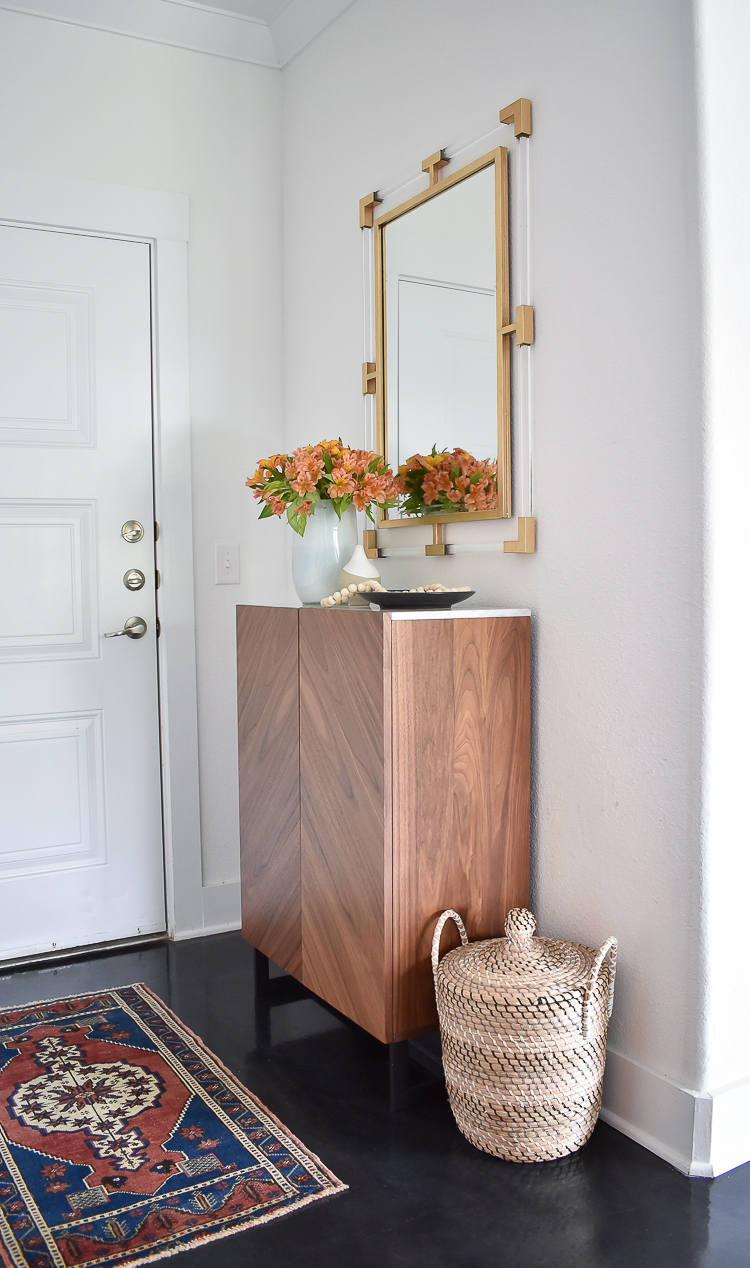 One of the reasons I waited so long to share this space is because I had the hardest time finding a rug that would work here.  I don't know if you remember but over the summer we went to 30-A in Florida (I recapped our trip HERE) and I was fortunate to find this odd shaped rug (it's about a 2×4) in just the right colors.  Rugs tend to slide all over these concrete floors so I used my favorite rug pad (HERE) underneath to keep the rug in place.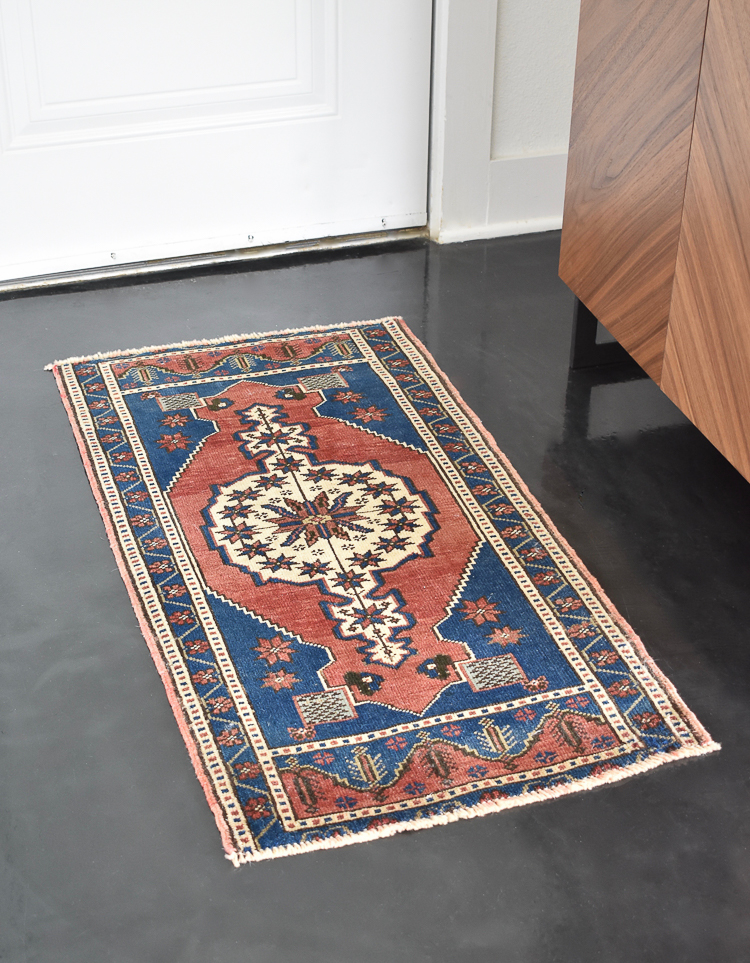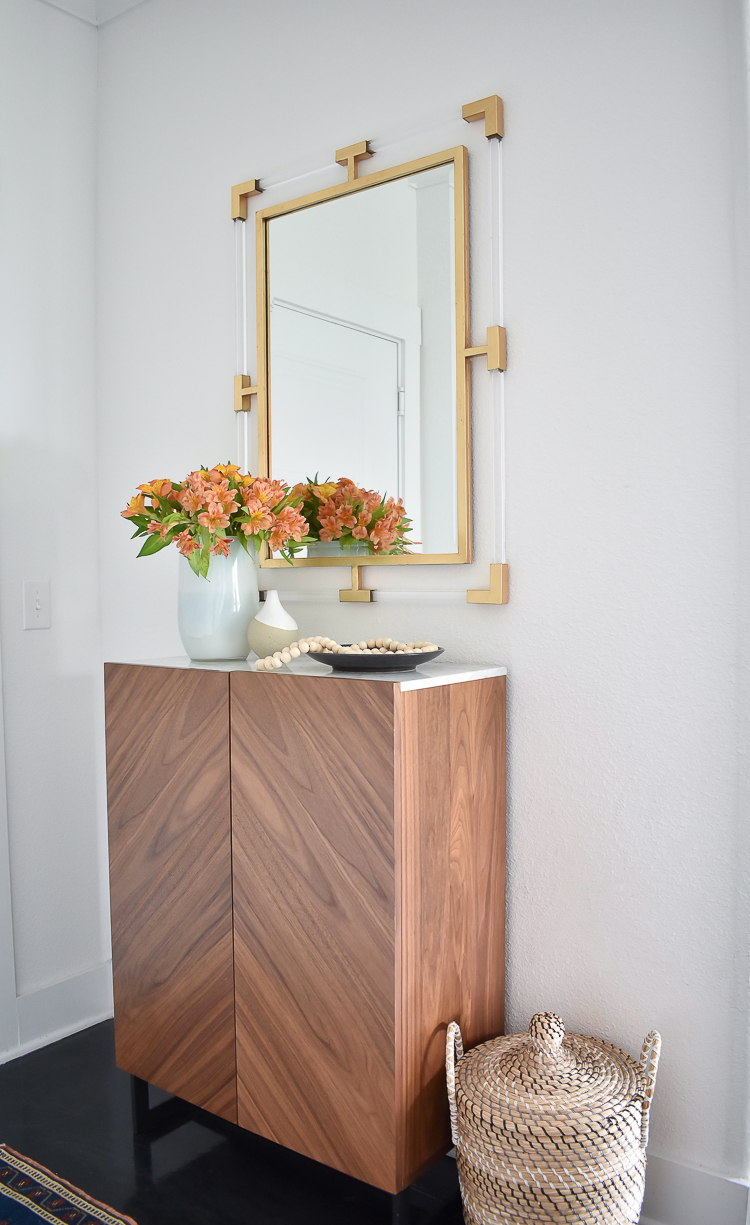 For interior storage I lined the shelves with this grip liner in black that looks good and is easy to cut to fit any space perfectly.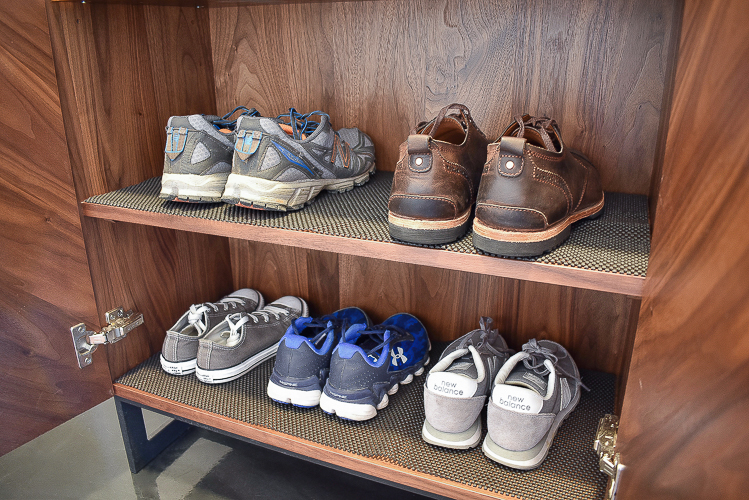 And I used my all time favorite baskets for all of the doggie stuff such as leashes, poop bags, sweaters, etc., on the top shelf.  I use these baskets all over the house for so many things but what I love about them is that they don't scratch up your shelves or cabinets.  They are made of some sort of plastic that's soft so they don't scratch and they have simple handles for ease of use.  They also come in multiple colors and are one of my favorite household items.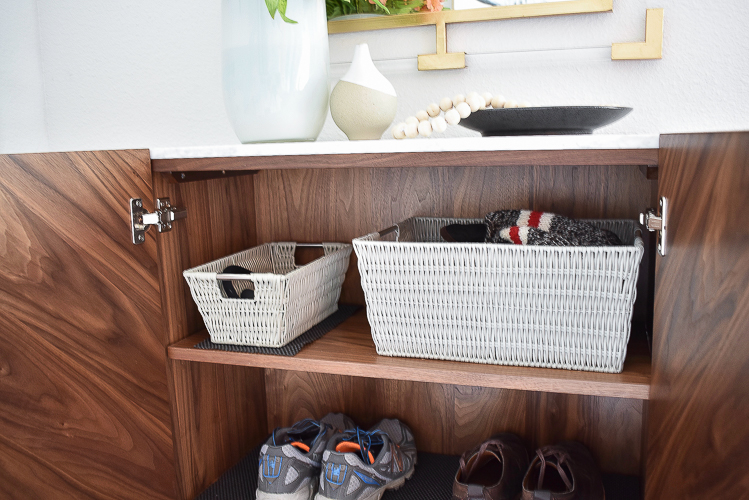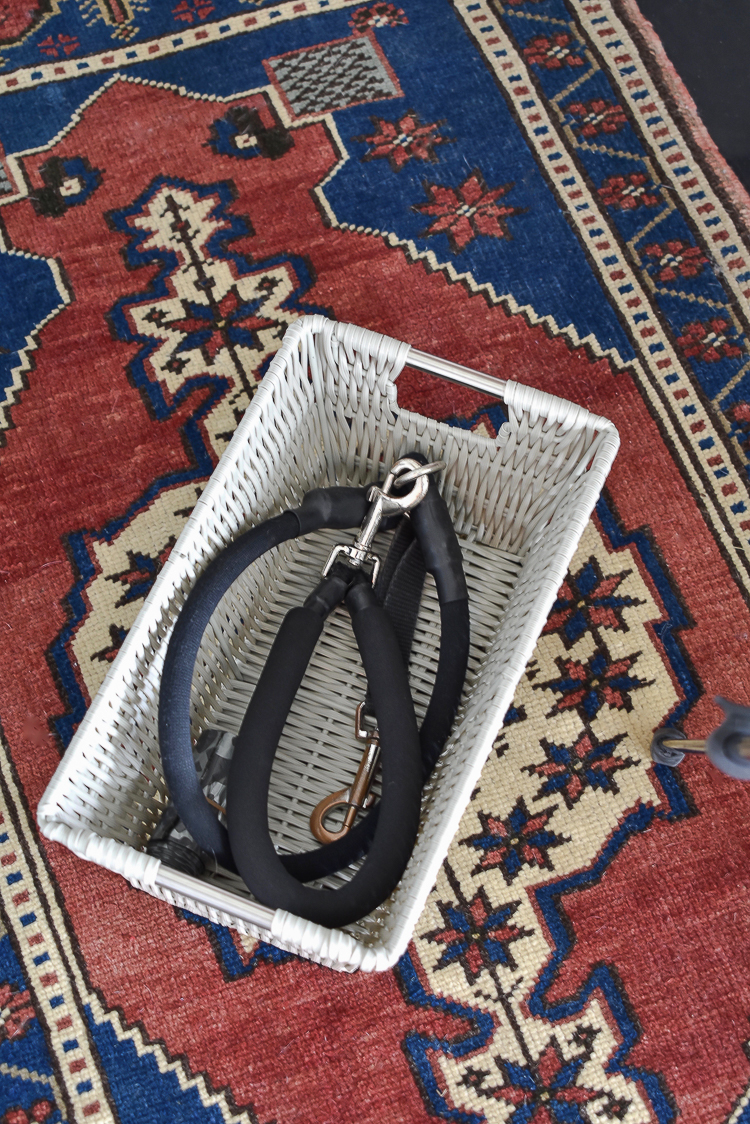 I also used a small lidded basket (similar) here for overflow shoes, etc.  Even a small umbrella would fit in this basket.  I chose not to use an umbrella stand because I didn't want to crowd the space any more than it already is.  Lidded baskets are always great for storing unsightly items away quickly to get them out of your way and out of sight, and to keep your spaces tidy!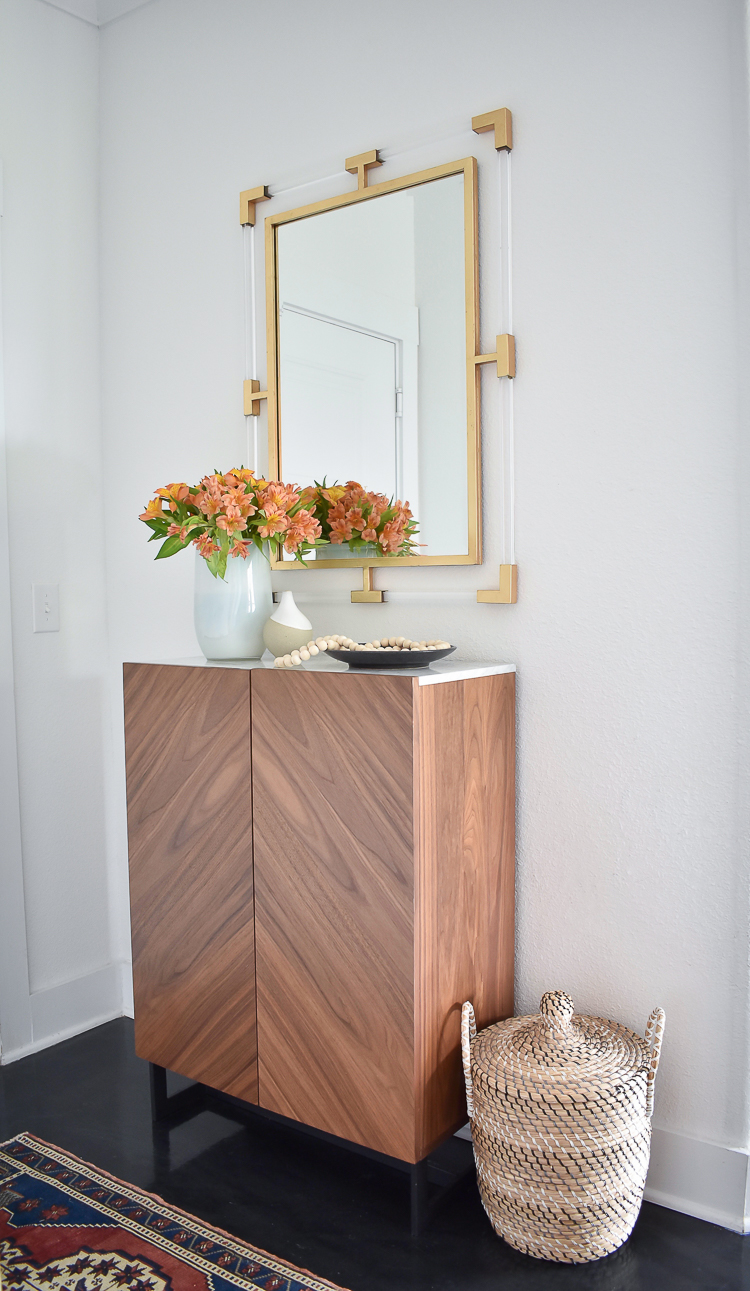 I bet you were wondering if I at least used any hooks in here?!  Well, I sure do but on the other side of the entry (all 3 1/2 ft away, lol!).  The very moment I found this geo wall hook I was completely hooked!  It's perfect for anything that needs to hang here, especially as the winter months approach for jackets, scarves, etc.  I also added this great piece of art.  I found mine at HomeGoods but linked a couple of similar ones HERE & HERE for you from one of my favorite on line art places.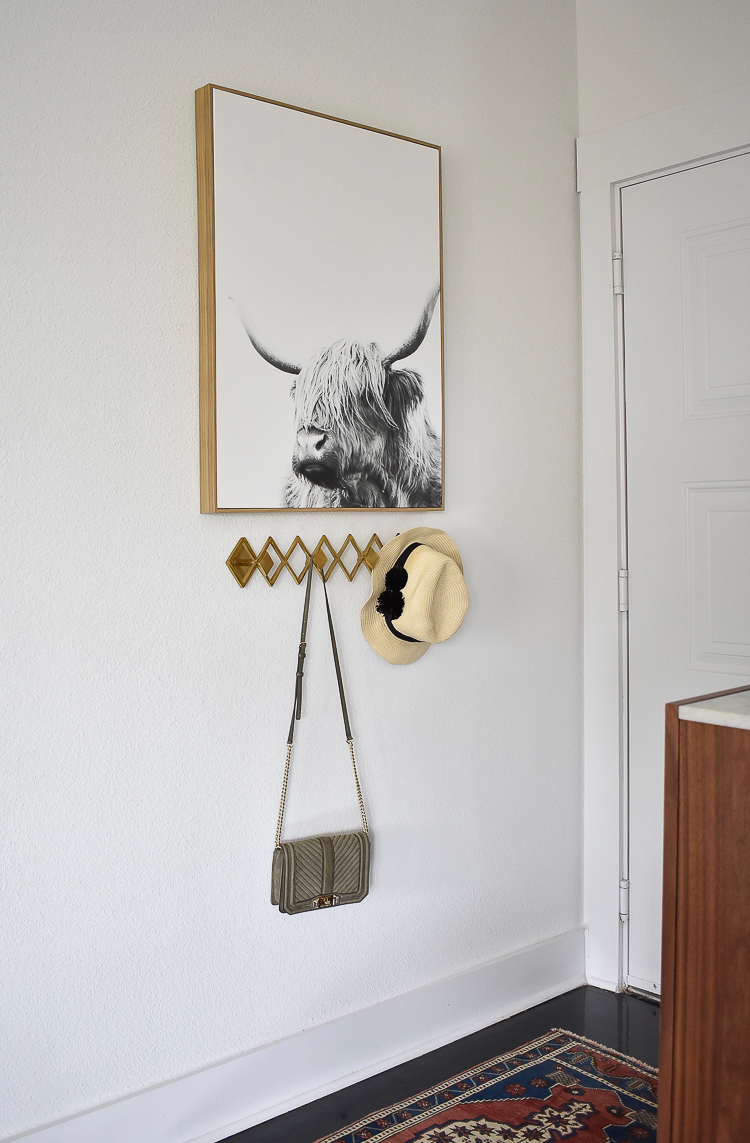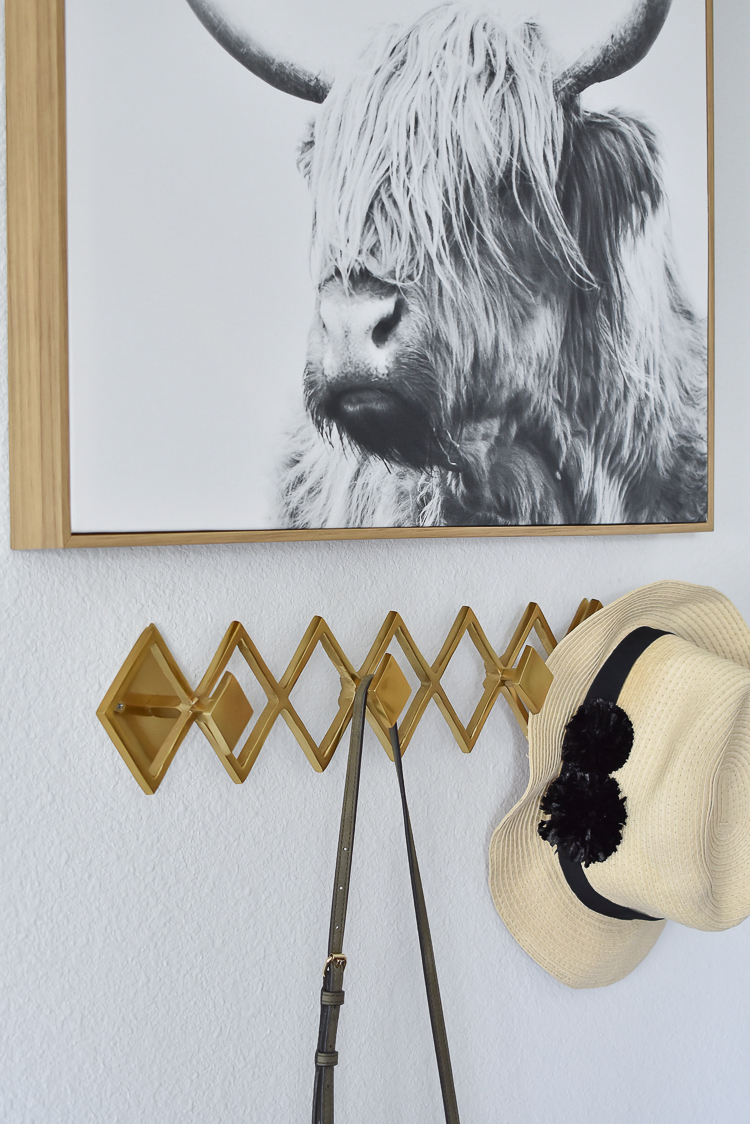 One last look at the entry cabinet and gold & lucite mirror…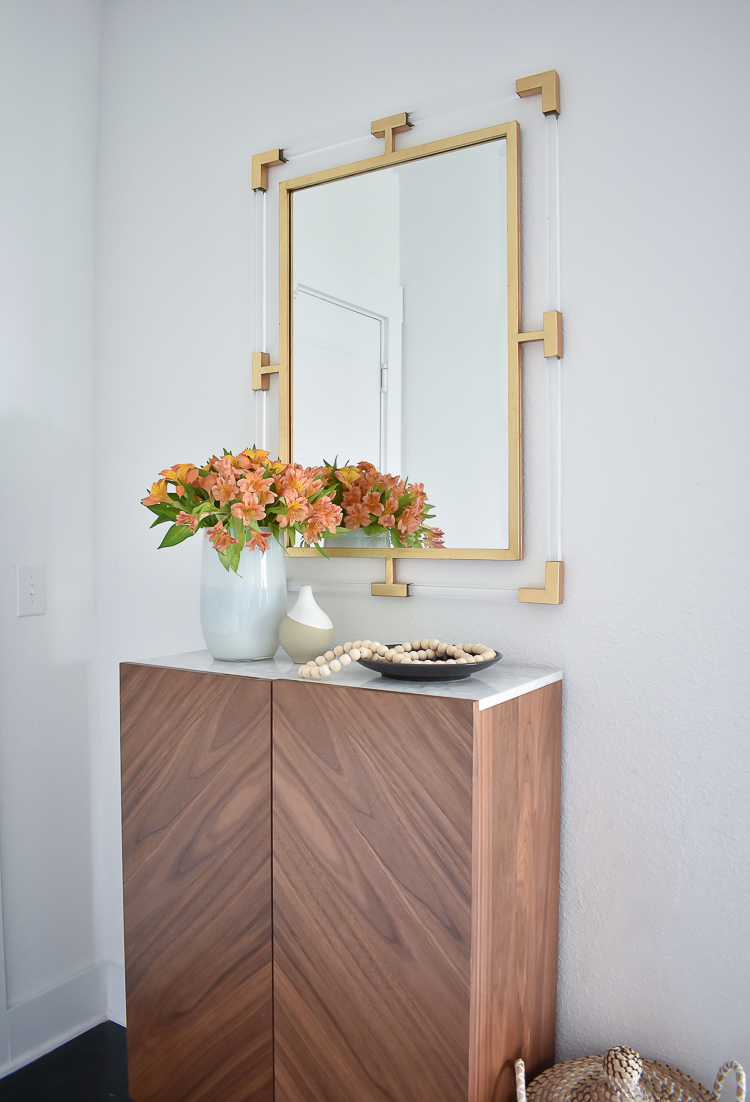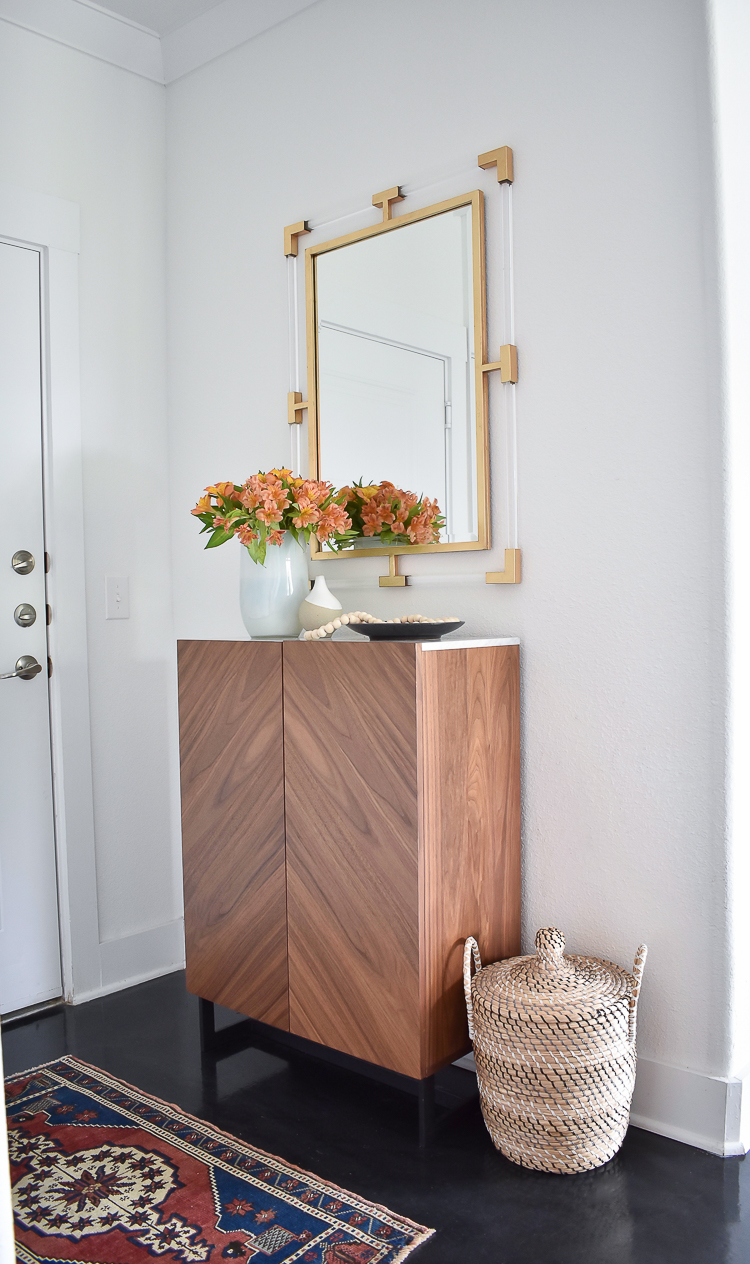 Outfitting a tiny entry like this can be challenging but being patient and waiting for the right pieces to come along in your shopping travels always pays off.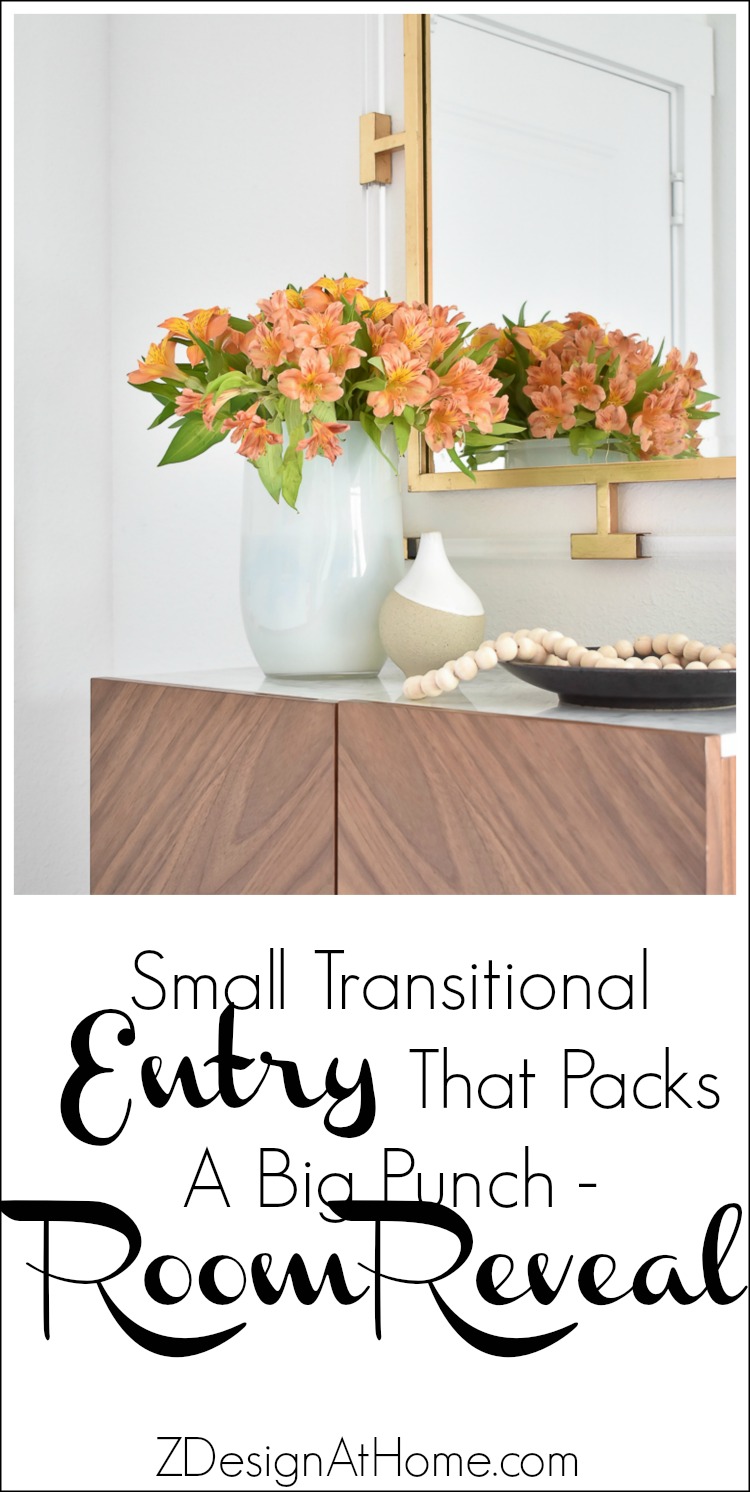 I hope you've enjoyed the reveal of our Small Transitional Entry That Packs A Big Punch!  If you have any questions, please let me know and please also sign up to get our weekly news letter if you aren't already subscribed!