1st of all let me just say happy birthday to the greatest nation on earth, the United States of America!  I feel truly blessed to live in a nation where we are free to live and worship as we please, and I couldn't let this opportunity pass without saying so.  This holiday in particular has always been one of my favorites since it marks a day in our country's history that gives us lots of reasons to celebrate the birth of our nation and freedom, and sharing this important day in history with those we care about the most is the icing on the cake!  My hope is that you are doing just that this 4th of July with loved ones.
All of that said, there are usually some great 4th of July sales to be had around this holiday which I love in particular.  I love this sale season especially because you can usually pick up some great deals for summer even though we still have quite a few days, weeks, and even months to go before we start feeling the cooler weather again, well at least that's true here in the south, south west, and central part of the country where I am.
So, without further ado, I've rounded up some of my favorite sale picks for the holiday that I'm contemplating for different projects, or that I may just purchase and hold over to use for a change in my home decor this time next year since they are all such great deals (pssst…especially the pillows)!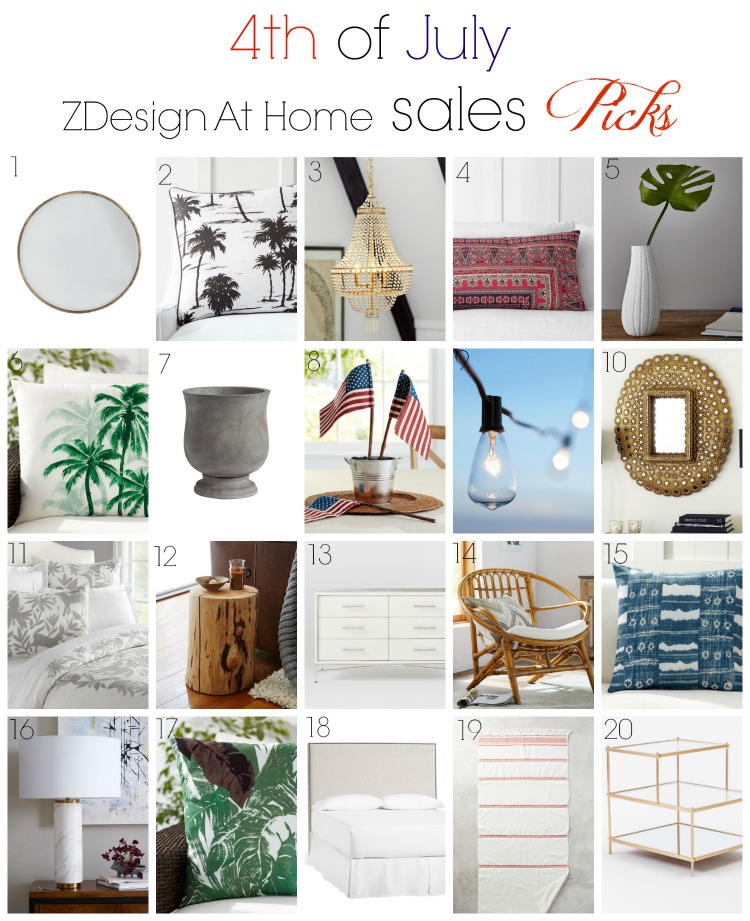 1. Round Gold Mirror | 2. Black/white Palm Pillow | 3. Gold Chandelier |4. Lumbar Pillow Cover | 5. Philodendron Branch | 6. Green Palm Pillow | 7. Garden Pot | 8. Burlap Flag Set | 9. Edison Bulb String Lights | 10. Peacock Gold Mirror |11. Embroidered Duvet Cover & Shams |12.  Stump Side Table | 13. White 6-Drawer Dresser | 14. Rattan Chair | 15. Blue Indoor/Outdoor Pillow | 16. Marble & Brass Table Lamp | 17. Banana Leaf Indoor/Outdoor Pillow | 18. Upholstered Nailhead Bed | 19. Striped Towel | 20. Brass & Glass End Table
So far the only thing I've purchased is the banana leaf indoor/outdoor pillow but I plan to attack this list a little more before the weekend is up.  All of the pillows are on a great sale with free shipping and I love the fresh, modern, summery vibe they all have!  That rattan chair is also really calling my name, especially at $200 off!!

I also love this All-Weather Wicker Chair!  I could see myself in the back yard curled up with a good book or snuggling with my little man for an afternoon summer nap here!  And, at $300 off I may just have to spring for it!!

And last but not least, this gold peacock mirror has me doing flip flops for it at $300 off!!  Now that's just a crazy good sale!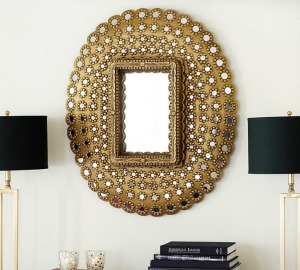 Gold Peacock Mirror
Happy shopping and I hope you find something you love that suits your style and budget, and happy Independence Day!  Thanks for stopping by ZDesign At Home this week to see what's going on and I sure hope to see you back here next week for another fun summer tour, and don't forget to sign up for my weekly newsletter if you haven't yet done so!
Xoxo, Bree
*Affiliate links have been used throughout this post