Tips for finding the right dining chairs + my favorite chair
Many of you have asked over the past several months where I purchased my carved oak wooden dining chairs (my favorite dining chair) in my breakfast area adjacent to the kitchen, so today I'm here to answer that question along with giving you some tips for finding the right dining chair for your table (you can see more of my chairs here & here).  First of all, I'm sad to report that at the moment this chair is no longer available.  It went out of stock not too long after I purchased the set last year but no worries because I've sourced several chairs below that are very similar to mine and range in price for all budgets.
But first, if you are looking for some new chairs now or in the future, here are some great pointers to remember for comfort, ease, a good look, proper height and width, and more.
 A good standard width for an armless dining chair and one that will usually always be comfortable is around 22 inches.  If your dining room and/or dining table is especially large you can go even larger than that but at least make sure to keep the size in scale with your table.
For maximum comfort avoid chairs that are more narrow than 17 inches as otherwise the surface/seating area won't be large enough for a comfortable seat.  Chair depth should be at least 20 to 24 inches deep for the most comfortable seat.
As a rule of thumb, dining tables are usually 29 to 30 inches in height.  Always try to allow for a minimum of 11 to 12 inches between the top of the seat and the bottom of the table and, 18 to 19 inches is the ideal height for a dining chair (the top of the seat).
For an updated look, make the captain's chairs (head of the table chairs) match but have them be different from your side chairs like mine below.
5.  Choose dining chairs that mimic the shape of your table like I have done here below with the rounded chair back paired with a round table.
6. Pair a more traditional set of dining chairs with a modern table (or vice versa) for a more updated look and never (and I repeat never) buy the set where the table and chairs are identical…always make sure to mix it up!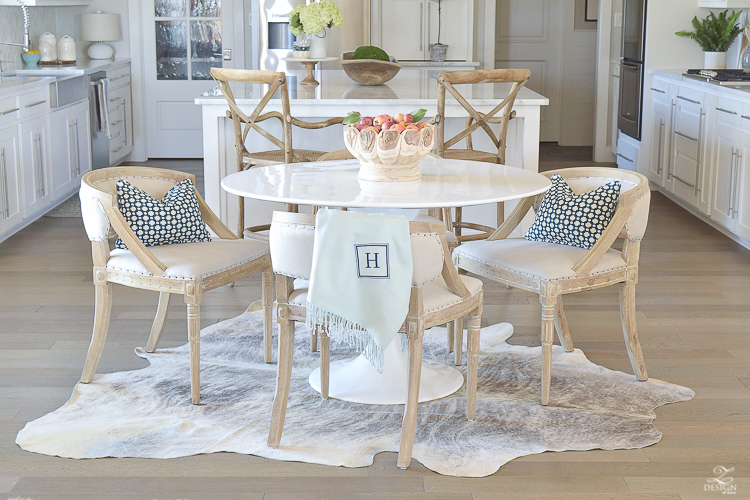 7.  Matching your chairs in color to something else in the room such as an accessory or fabric will ensure your chairs will work well with that specific room's decor.  This can also be done by simply using a pillow or throw on a chair like I've done in the photo above.
8.  Another fun thought is to mix and match chair styles even adding a bench into the mix for an eclectic look.  The bench is a great idea for families with lots of kiddos for ease of getting in and out and, it's a fun idea in an outdoor space as well.
And last but not least are those chairs of mine that you might be wondering about.  These chairs are truly fun to not only sit in but they are great to look at.  They are super comfortable and while I won't go into too much more detail since they are no loner available, I've gone on the hunt to source several similar chairs to give you some options for style and price to fit your needs and budget if you are going for this look.  Here is a basic 360 of the chair to give you an idea of what it looks like from all angles.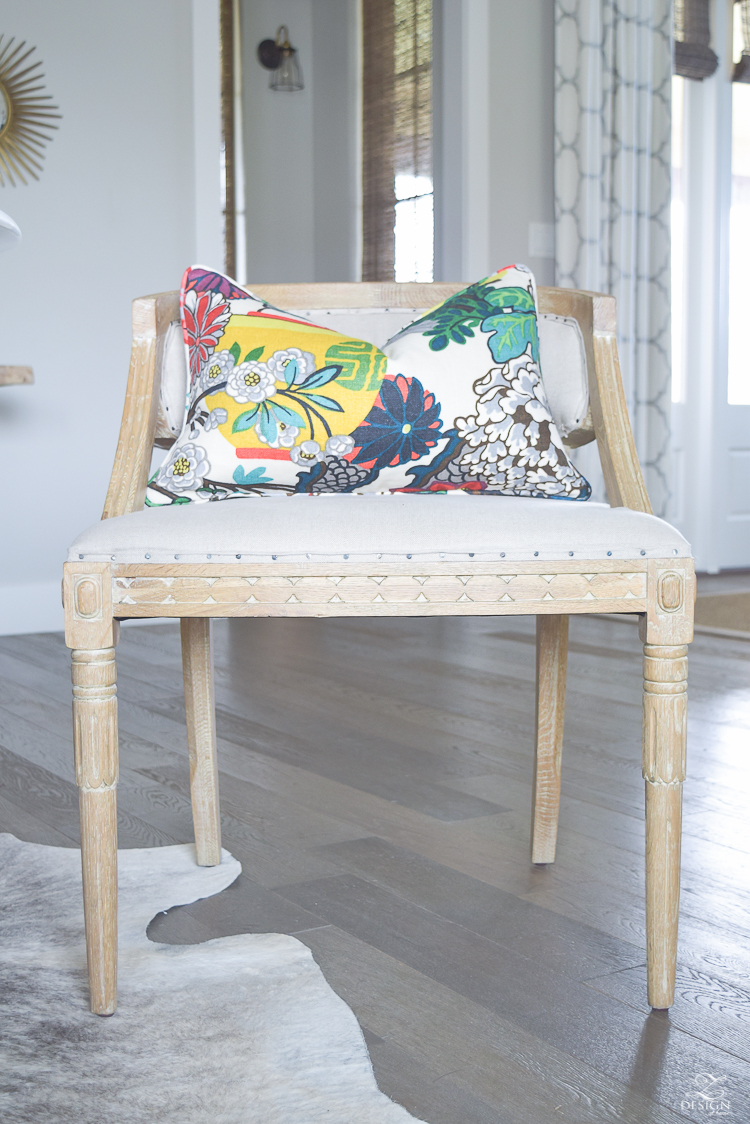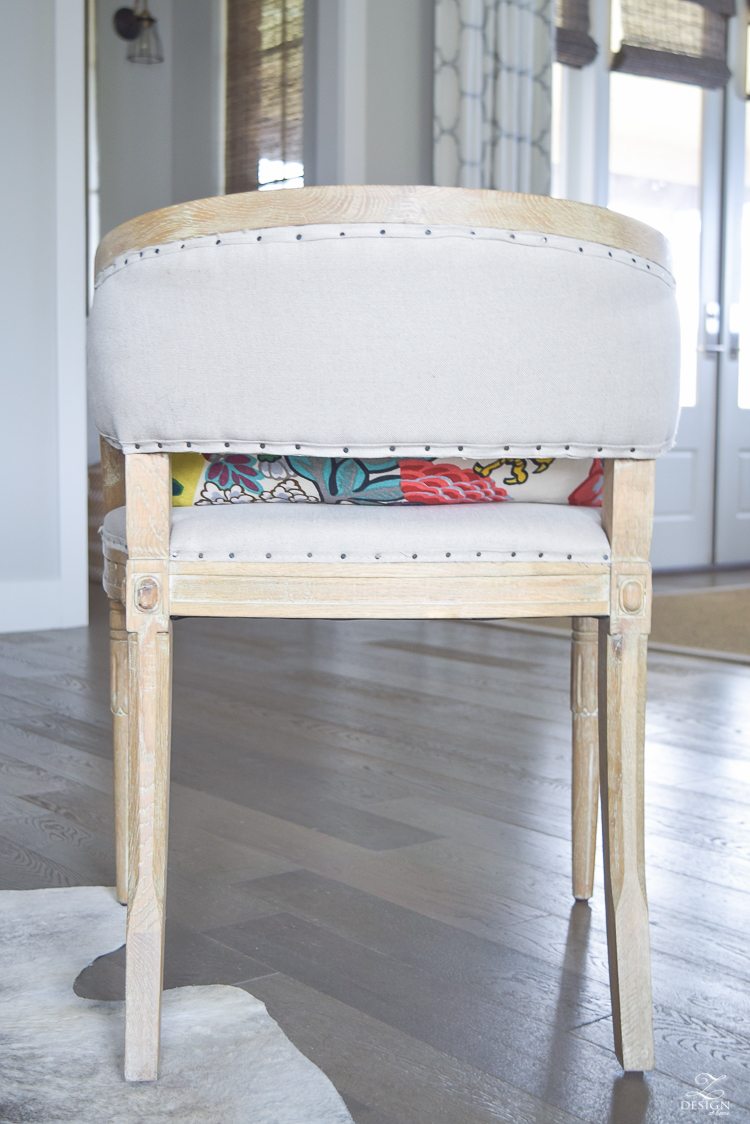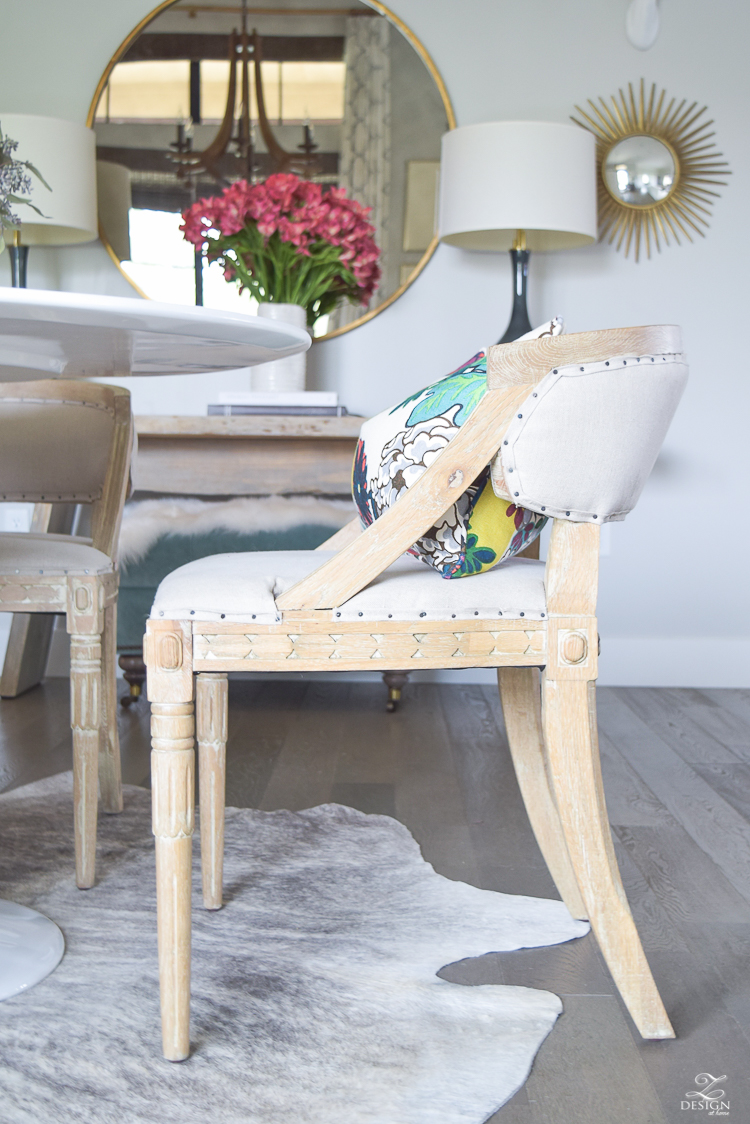 Here are 6 chairs that are very similar to my chairs but THIS ONE is the most similar (Affiliate links used).


Here are a few more chairs that are somewhat similar to mine in shape and style but obviously different than my chairs.  Again, they are all at different price points.


Furniture

Mirrors & Lighting

Accessories

Draperies, Pillows & Rugs

Thanks for stopping in ZDesign At Home this week and I look forward to seeing you again next week for my fall tour.  Please let me know down below if you have any questions and don't forget to sign up for my weekly news letter for more tips and ideas on design!
Xoxo, Bree
*This post contains affiliate links for your convenience.  Thank you for supporting the brands that make this blog possible.