Fake It, Don't Bake It: Stress Free Holiday Hosting
When my good friend and our blog hop host, Kris of Driven by Decor asked me to join her Fake It Don't Bake It: Stress Free Holiday Hosting tour I could hardly wait to get started since this type of holiday hosting is right up my alley, friends!!  Additionally, I'm even more excited to be participating in this tour with five other super talented ladies where we'll all be sharing our tips and ideas for the easiest kind of holiday entertaining this year!
And by the way, welcome if you are coming over from Kris's amazing blog!!  Kris has become a dear friend and I admire her talents and value her friendship greatly!  I'm sure you enjoyed her tips for how to dress up a rotisserie chicken just as much as I did so let's get started!  And, if you haven't visited her blog just yet for this tour, you can do so right HERE.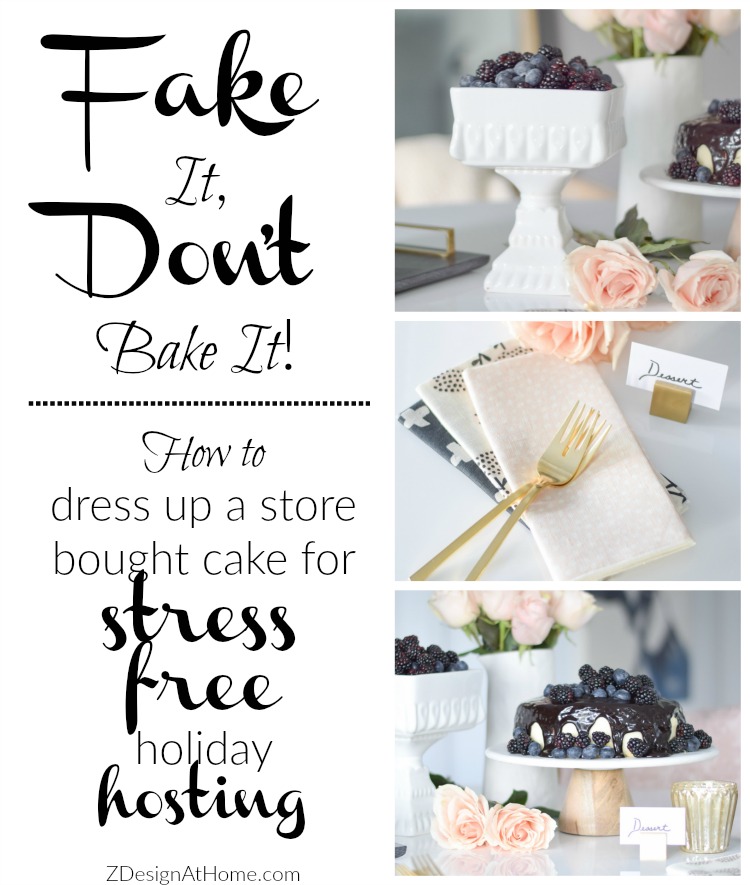 *Post includes some affiliate links at no additional cost to you – full disclosure policy here
For my stress free holiday hosting I chose to do a dessert plus simple dessert bar, because everyone loves dessert, right (did I just say dessert 3 times in one sentence, haha)?!  This time of year is so busy for so many of us with last minute work projects, our kid's holiday school activities, and gift buying that sometimes it seems as though the holiday menu can get put to the back burner until the last minute.  Therefore, I'm hoping this stress free way to glam up a store bought cake will help you with your holiday hosting this year!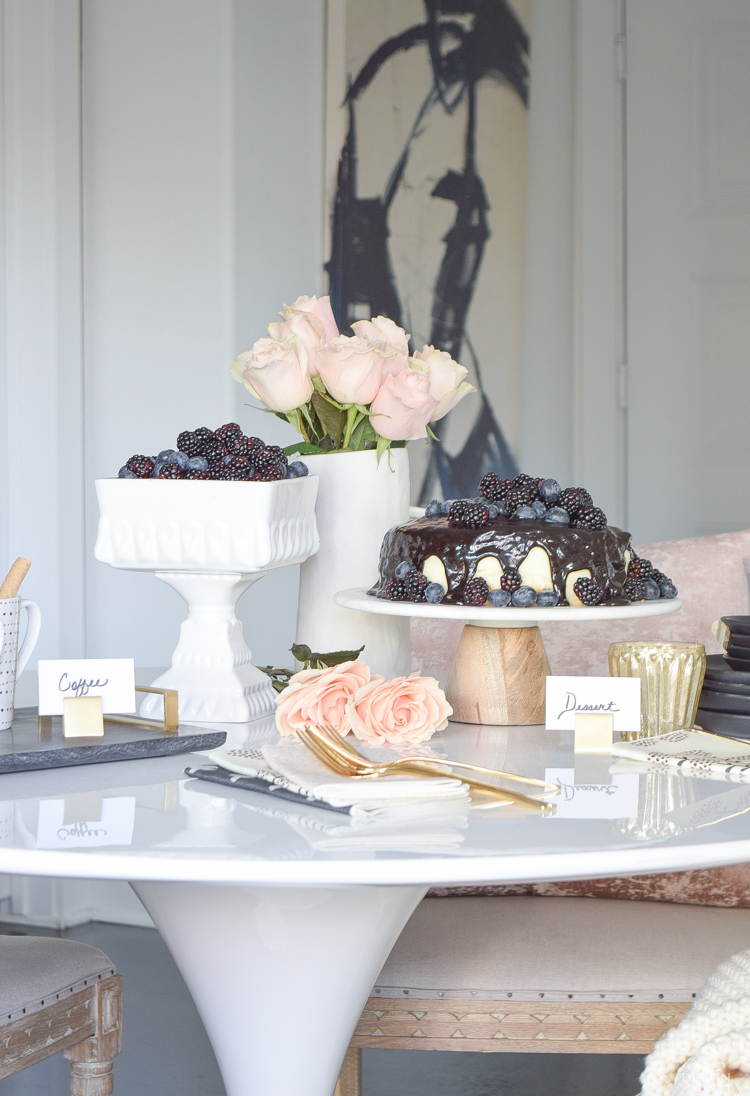 I chose to use a simple, white cake that any one of us should be able to find in the bakery of our local grocery store.  I actually removed the berries and almond slivers that came on top of the cake for later use.  Removal of said items could have actually been avoided if I had planned ahead better and ordered a plain, white cake but again, this is suppose to be easy/peasy, right?!   So, I just picked up this cake on a regular shopping trip to my local grocery store one afternoon.
Below you will find the few items I started with to include my store bought cake, chocolate fudge, berries and a spatula.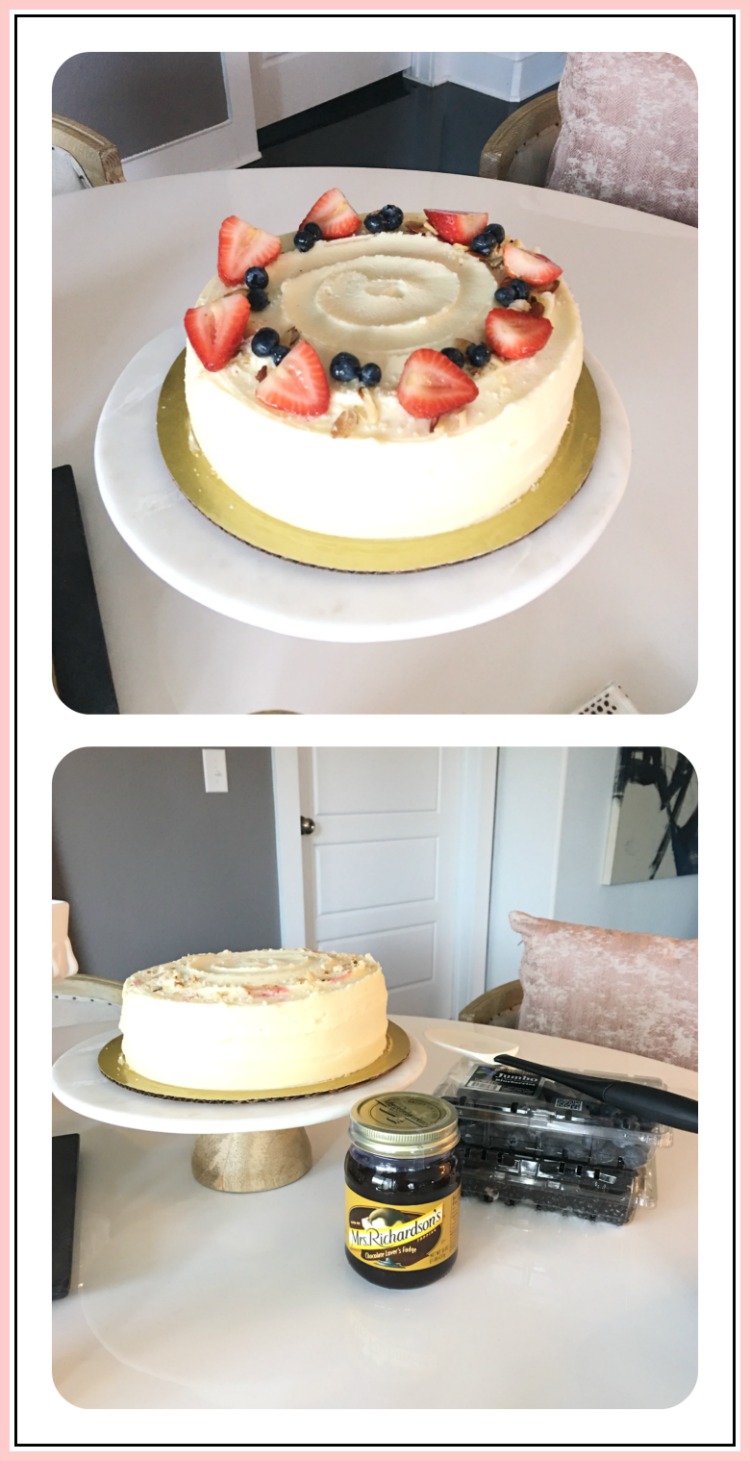 The process:  I placed my cake on this beautiful, marble cake stand and then did the following to fake my dessert…
Removed existing berries and smoothed out the top of my cake with a spatula
Melted chocolate fudge in the jar, in the microwave (follow directions carefully if you try this yourself)
Drizzled chocolate fudge over top of my cake starting in the center and then fanning out over the edges
Added and arranged berries and that's it!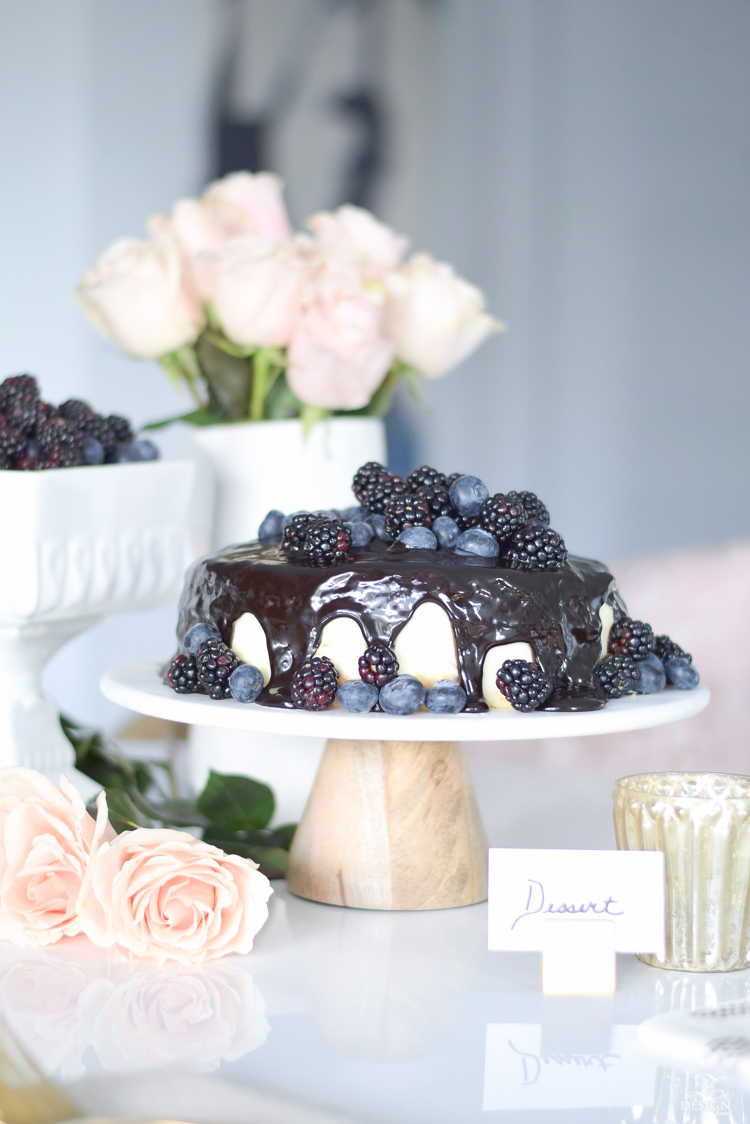 I have to admit that I don't have the best chocolate drizzling skills but like most of us I was in a hurry and the over all end result I think looks like I spent hours slaving over my creation!  In reality, it probably took me a whopping 10-15 minutes to pull this dressed up cake together, besides grabbing a few items at the grocery store while I was there for other items anyway like I mentioned above.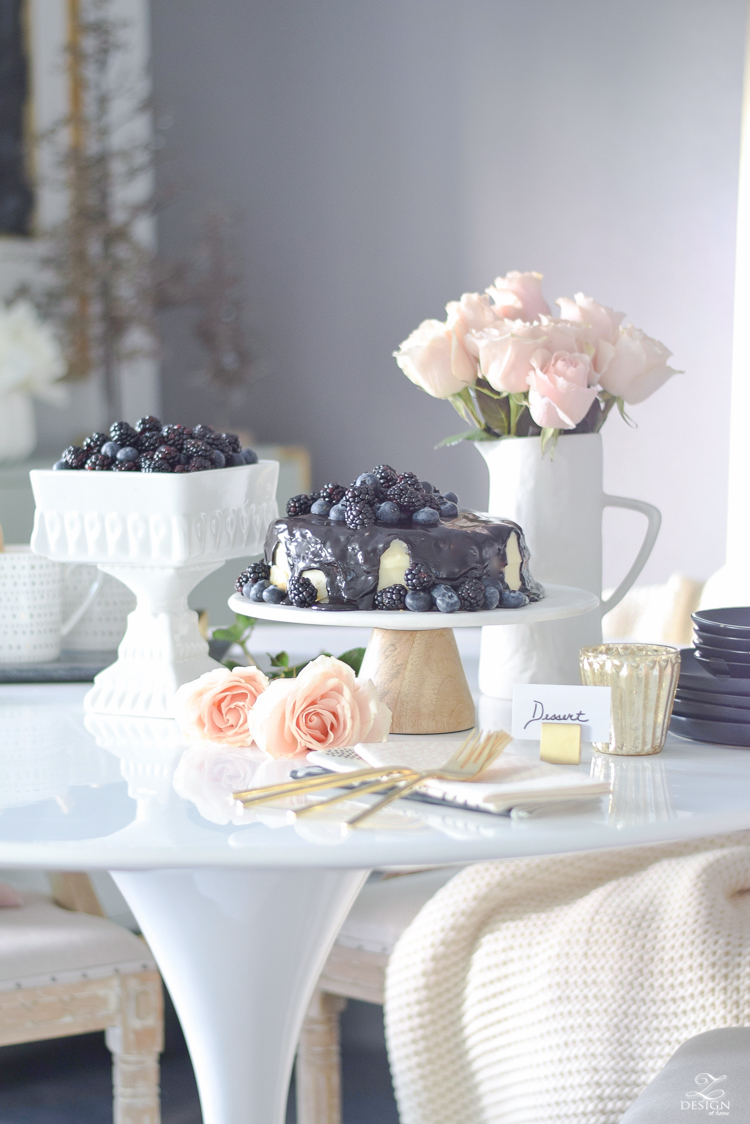 If you will be entertaining at your own home or even if you are traveling to be with family and friends for the holiday and will be providing a dish, I think one of the other biggest things you can do to "fake it" is to use pretty dishes and linens.  I recently took a store bought food item to my son's Thanksgiving feast at school, placed it in a pretty dish and covered it with a pretty dish towel and I received so may compliments and questions about what I was serving.  Totally tricked everyone, that is until I spilled the beans on myself of course, lol!!
These kinds of details below (in addition to your easy, dressed up store bought cake) will have your guests swooning over what you've created until next year!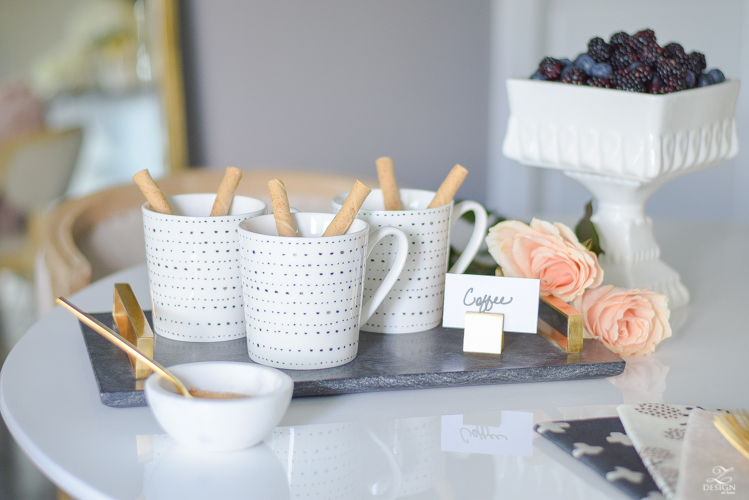 A simple coffee station added to your dessert bar with pretty coffee cups plus a pretty gold place card holder like these from Minted.com that announces your beverage and/or food item will be the icing on the cake to your dessert station (no pun intended here…haha!).  Additionally, adding store bought pirouettes to your coffee cups will swoon your guests with additional sweet treats! Oh, and adding a chic, marble tray to corral your coffee items doesn't hurt either:).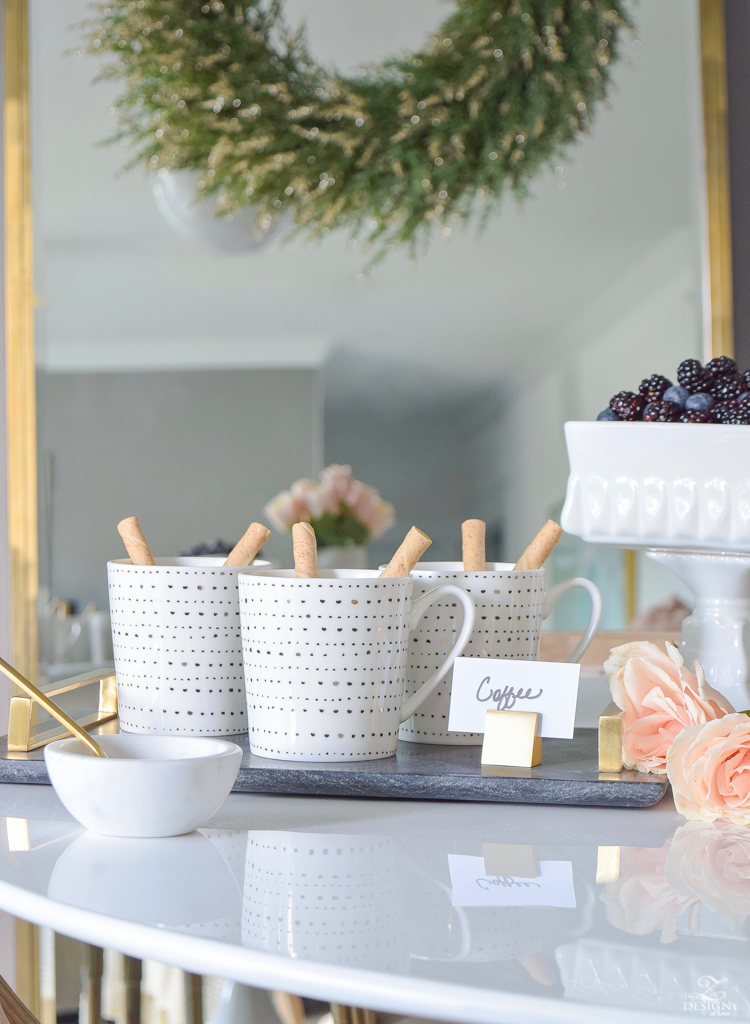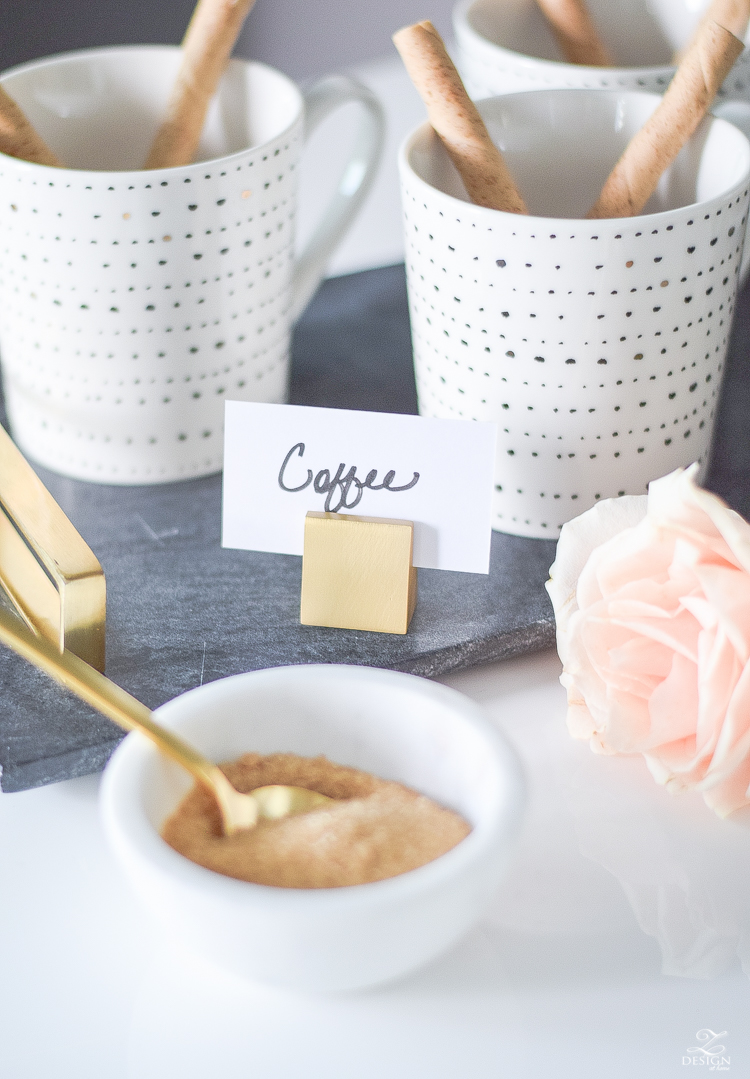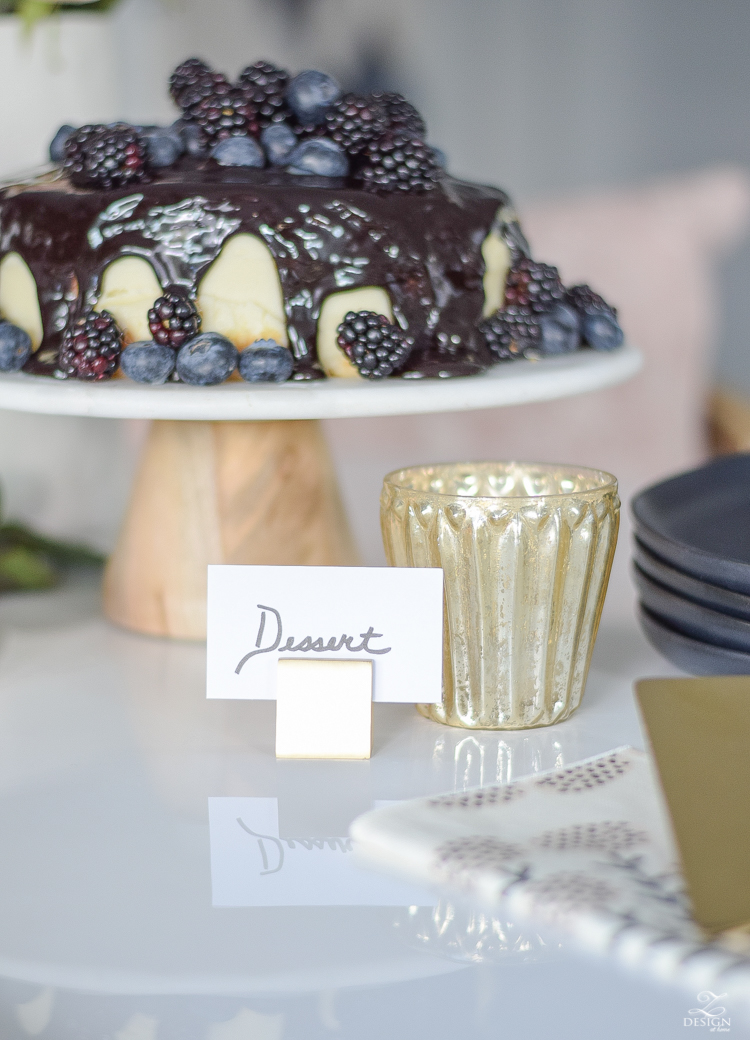 You also can't go wrong with nice linens like these beautiful blush, black and white linens from Minted.com. I'm completely smitten with the pattern on these linens and used them as inspiration for my blush, black and white entertaining display!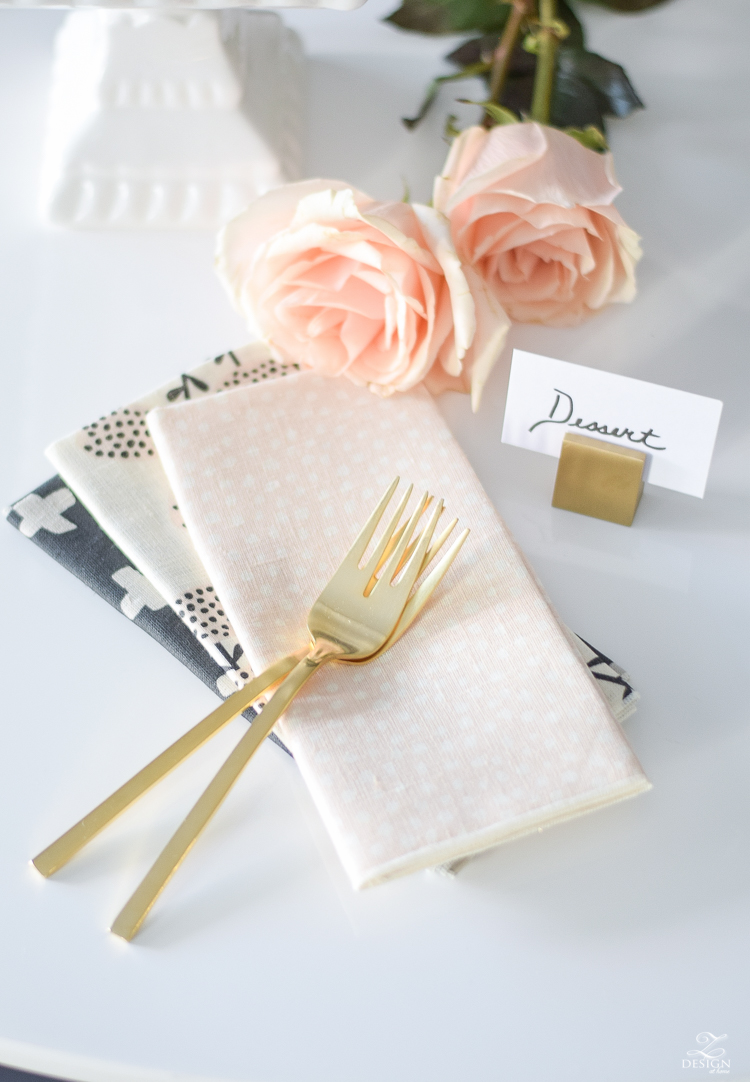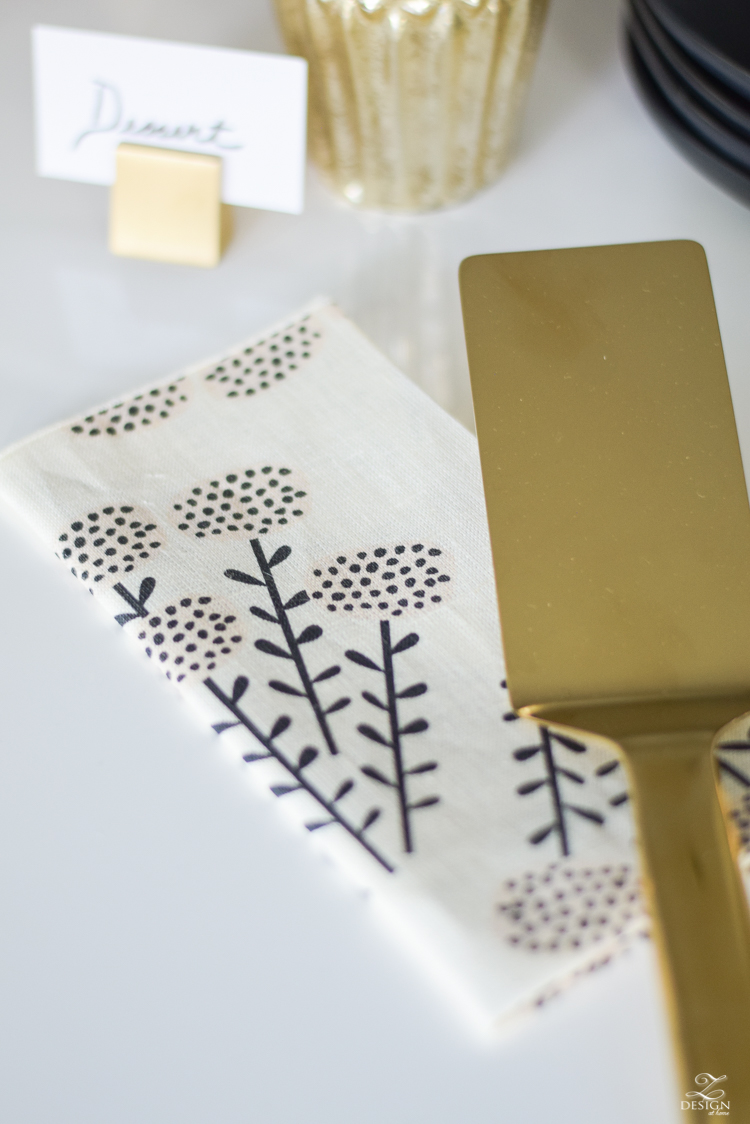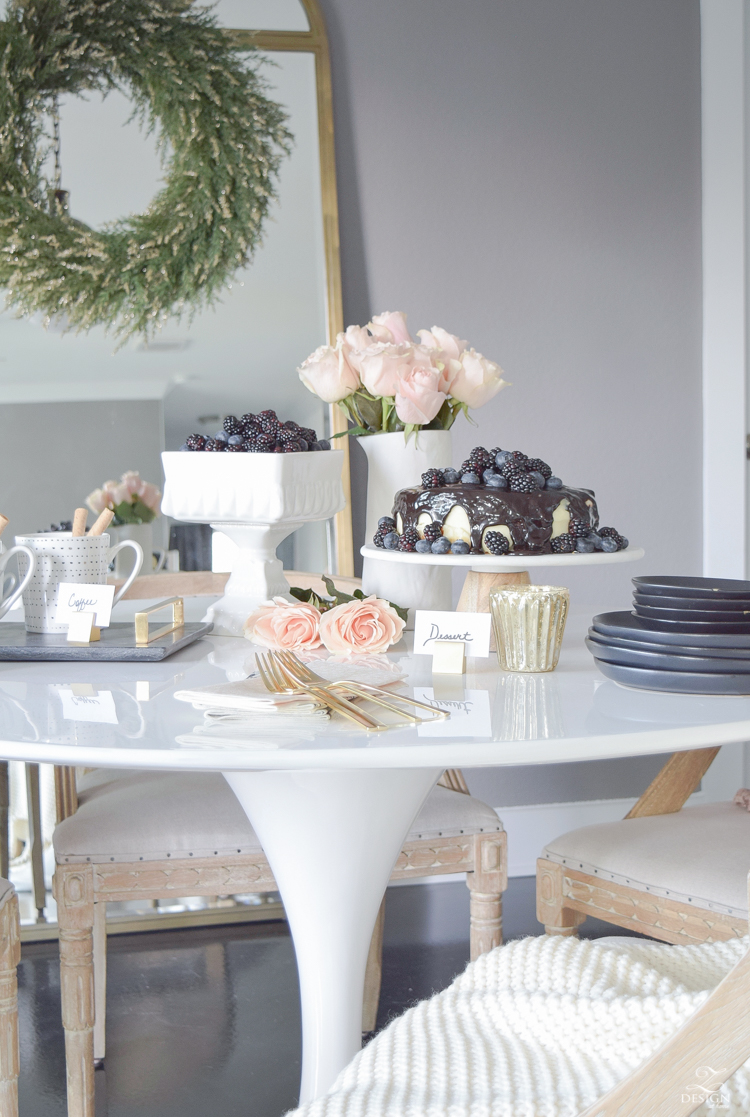 Whether it's one special piece like this amazing compote dish from Wayfair, or a mix of simple and interesting pieces, this is another fun way to take your display to the next level further convincing your company you've been prepping for days.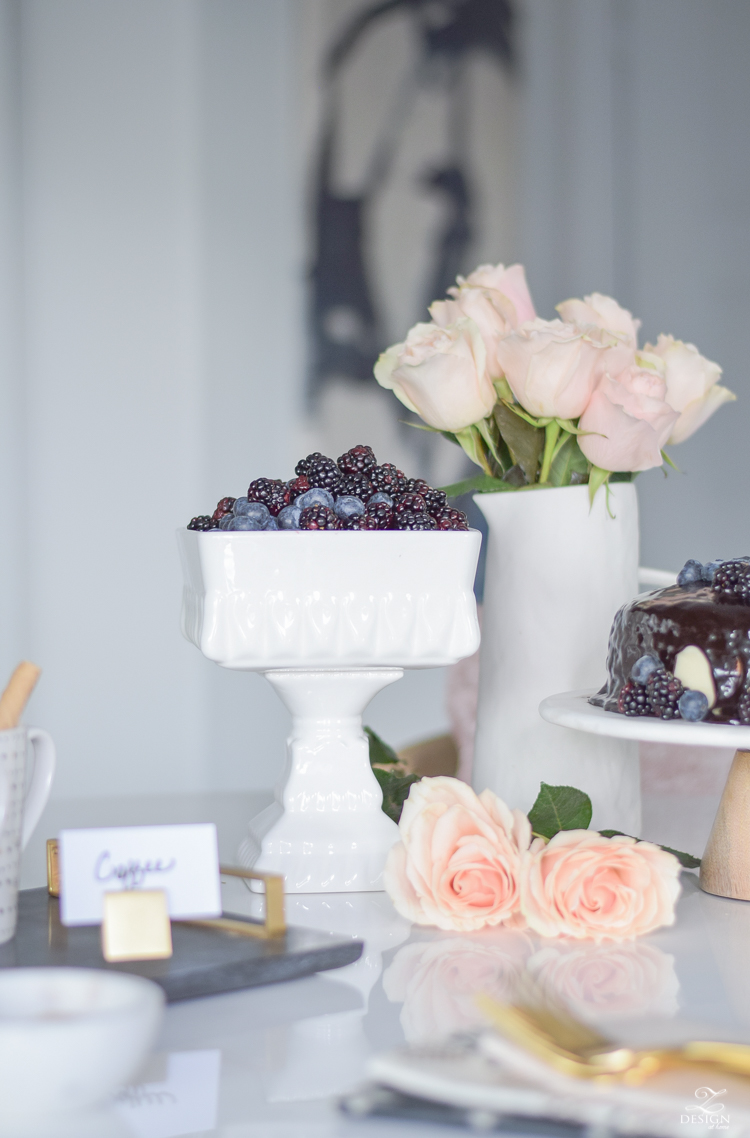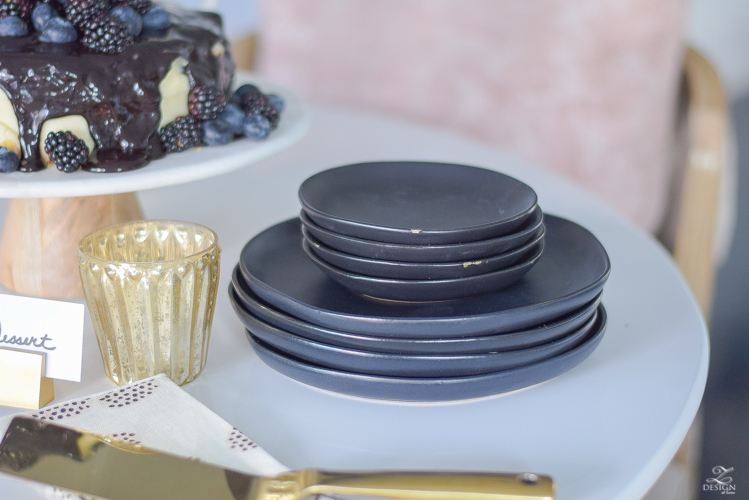 Berries are always perfect to use since they are store bought and add a pop of color and texture, plus they're healthy – #bonus!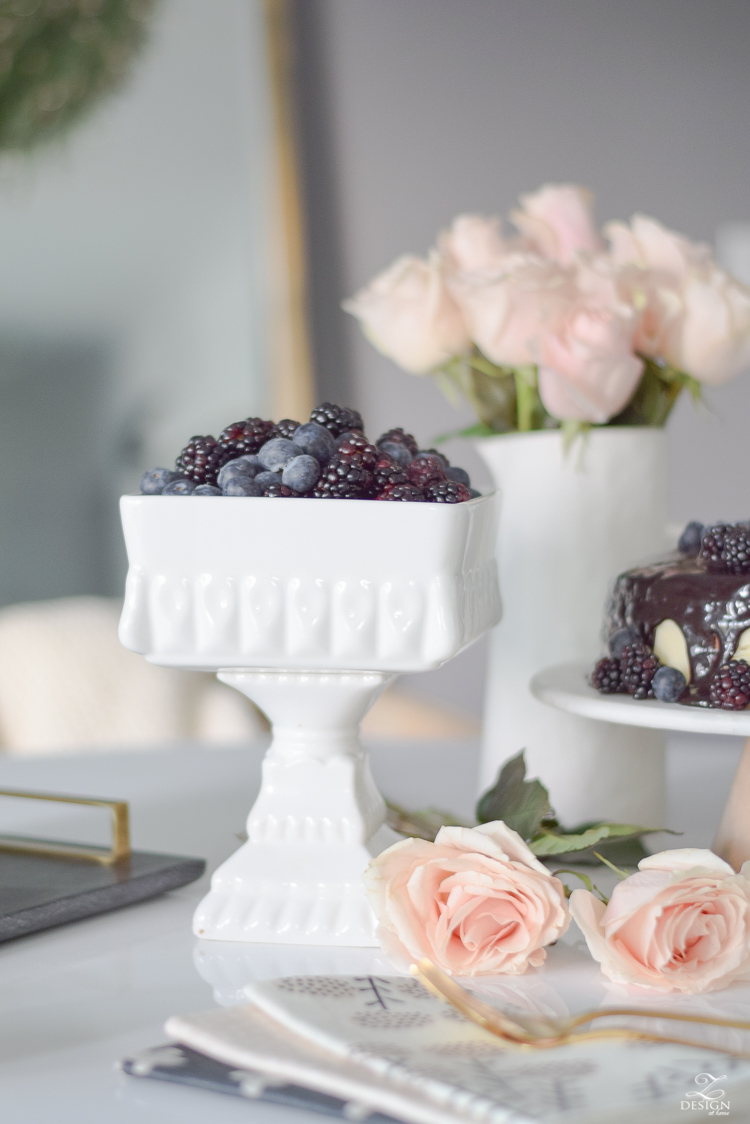 I hope this post and this tour has given you some good ideas and tips for stress free holiday entertaining!  I probably spent in total about 30 minutes on this entire set up but if however I had made the cake myself, I probably would have spent well over 3 times that amount of time.  Besides the cake it was literally a matter of just pulling out items I mostly already had to create a pretty dessert bar that everyone will enjoy for the holiday.
If you have any other super easy food ideas for stress free holiday hosting I would absolutely love to hear what they are so please leave your tips and ideas in the comments section below:)!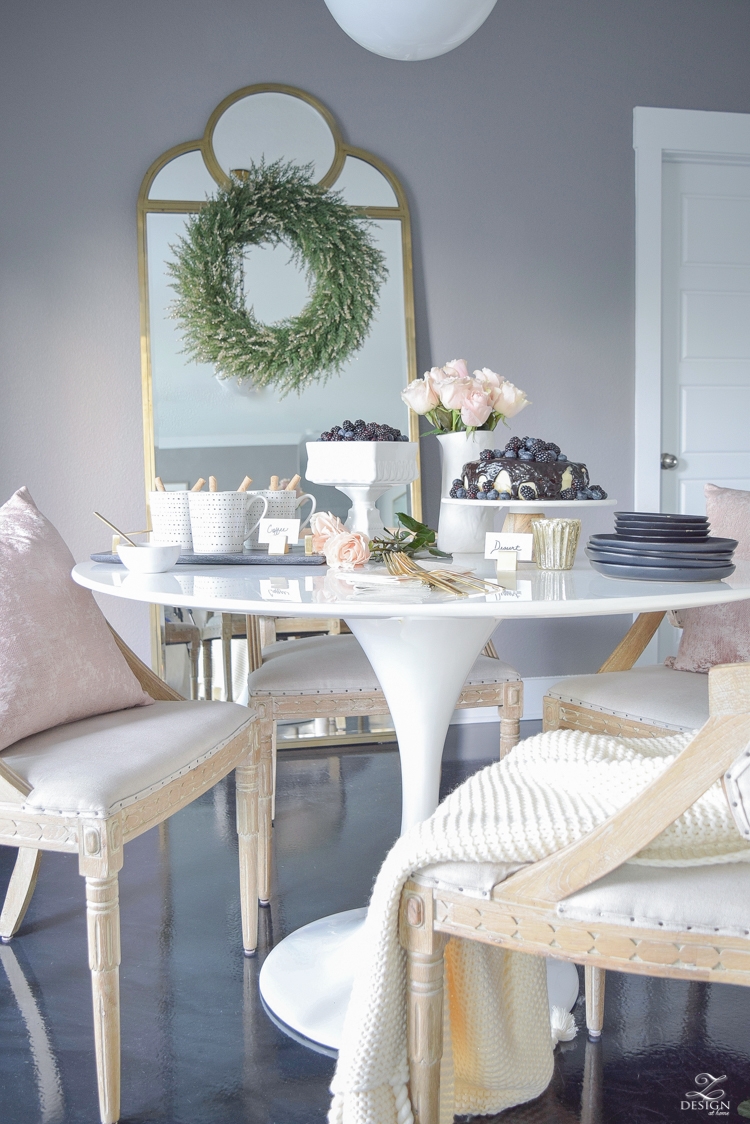 Next up on the tour is KariAnne of Thistlewood Farms.  If you don't know KariAnne yet by some strange chance you're in for a real treat because she's completely amazing and I know you'll enjoy visiting her blog and soaking up her tips today!!!  And remember…fake it, don't bake it this year for stress free holiday hosting!!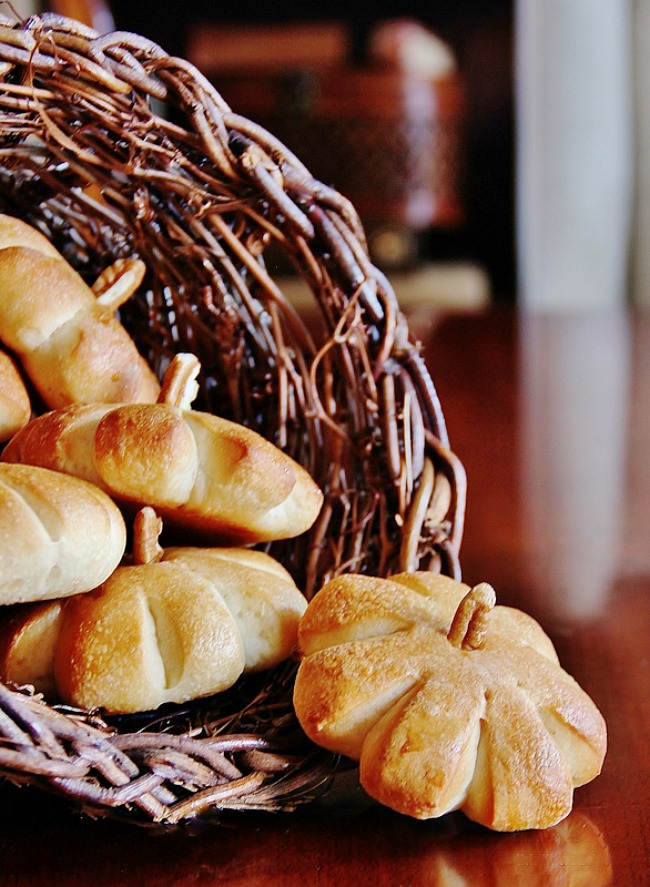 Please make sure to also visit all of my other friends on the tour!!  below you will find the entire line up of each of these incredibly talented, super fun ladies…