The Joss & Main Cyber 5 Sale is HERE for Fall!
Happy Fall, everyone! One of my favorite Joss & Main sales of the year is finally HERE and I can't wait to share my sale favorites with YOU!! I hope this post will give you a chance to Prepare Your Carts with several of my picks from the Joss & Main Cyber 5 Sale so that you can shop their best prices of the year while enjoying fast & free shipping!
Today I'll be sharing a couple of different living room looks plus, I'll be sharing and linking to some of my other individual favorites such as art, accessories, and lighting from the sale. I hope you love my picks and find something you love for fall and to prepare for the holidays!
This post was sponsored by Joss & Main, a brand I love, however all images, product selections and wording are my own. Please read my full disclosure policy here.
I have put together some great elements for your living room (or really any room) with some great pieces from the sale! Some of my favorites from this design board below are the bouclé ottoman, the abstract wall art, and the 100% linen striped tassel pillow. And of course I love the mother of pearl decorative box set because not only are they beautiful but they are functional for so many reasons too (and they are a great price for the set!). The rug and the credenza are both fabulous as well!



I love the cozy fall vibe of this design board below! I really love the bouclé bench, the arched mirror of course (this one is wooden which is a nice break from the typical metal arched mirror we always see), the cool black candle stick holder, and of course the black pendant – I used a pair of these in a flip house my husband and I just finished and they look so great over the kitchen bar, and they are great quality and affordable!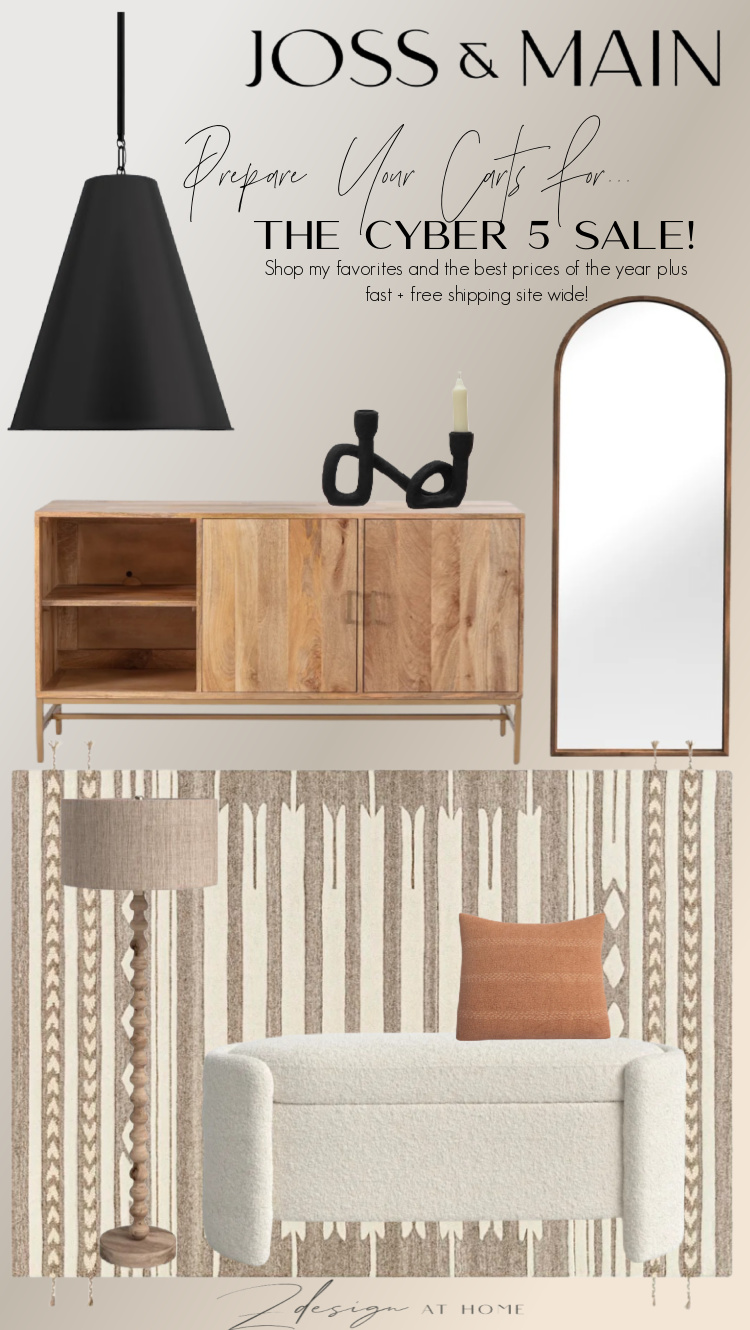 Here are those pendants over the island – they really set off the space!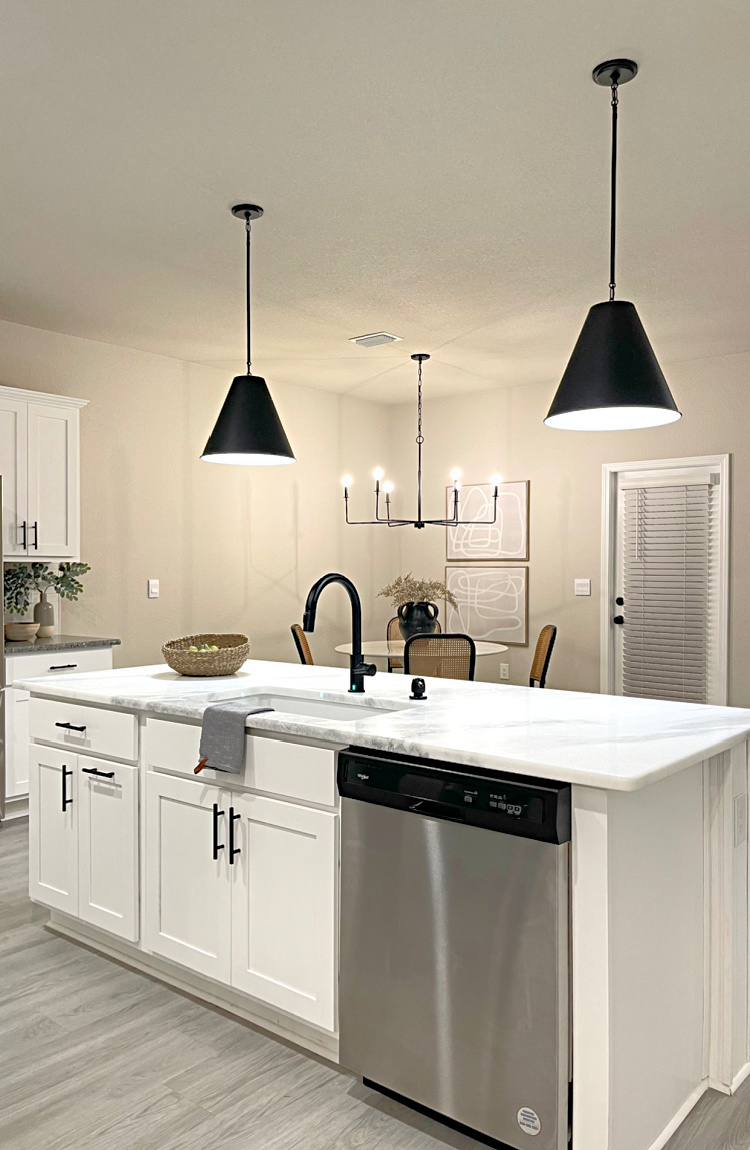 Additionally, here a few favorites to accessories with. Your design is never complete without those final little touches that make it feel lived in and special to you. I love the white beaded sculpture, the art print on canvas in shades of green, and of course the black leather bench with brass legs.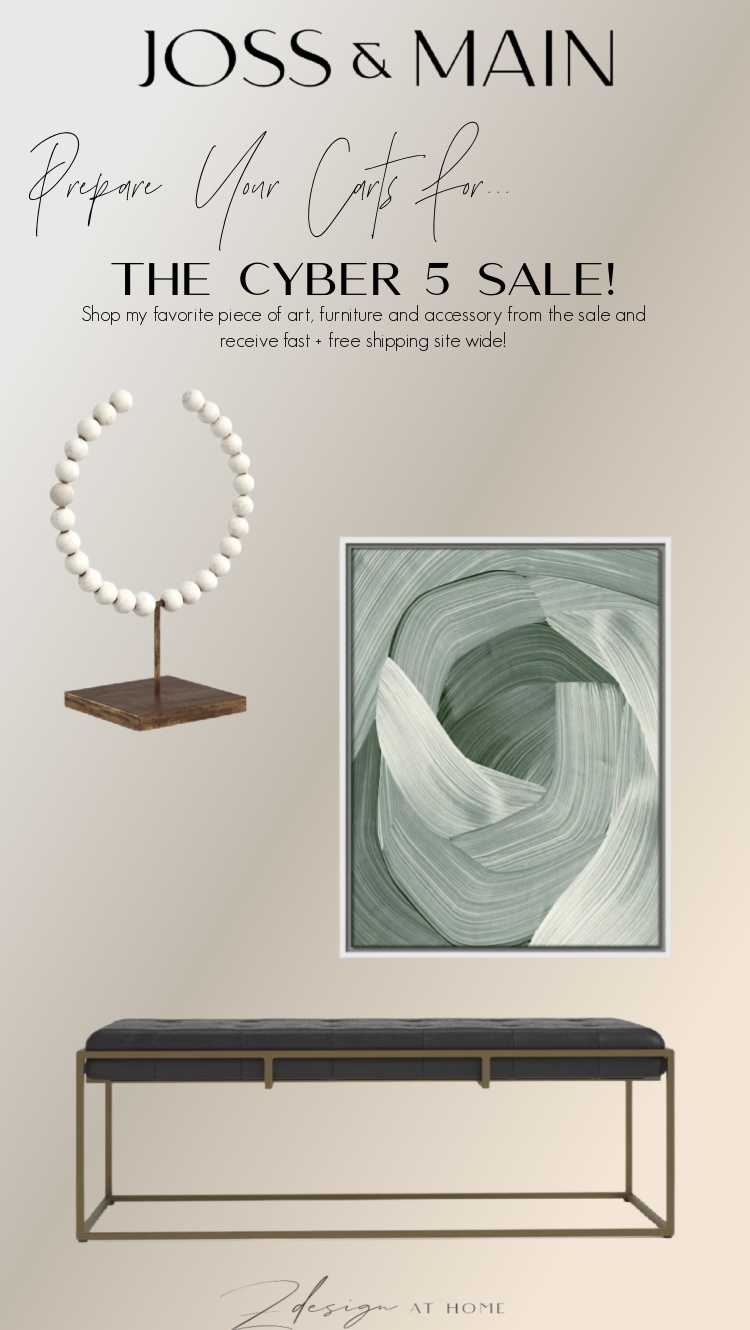 The last look I've pulled together are more favorite accessories that I'm loving from the Joss & Main Cyber 5 Sale! The wooden chain is a design staple, along with the wooden bowl and the round black metal mirror. I love the added detail around the perimeter of this mirror, it adds interest and charm. I also love the trio of wooden vases and the black and white abstract art – all great pieces for fall and the holidays to decorate with, or to share with others as gifts!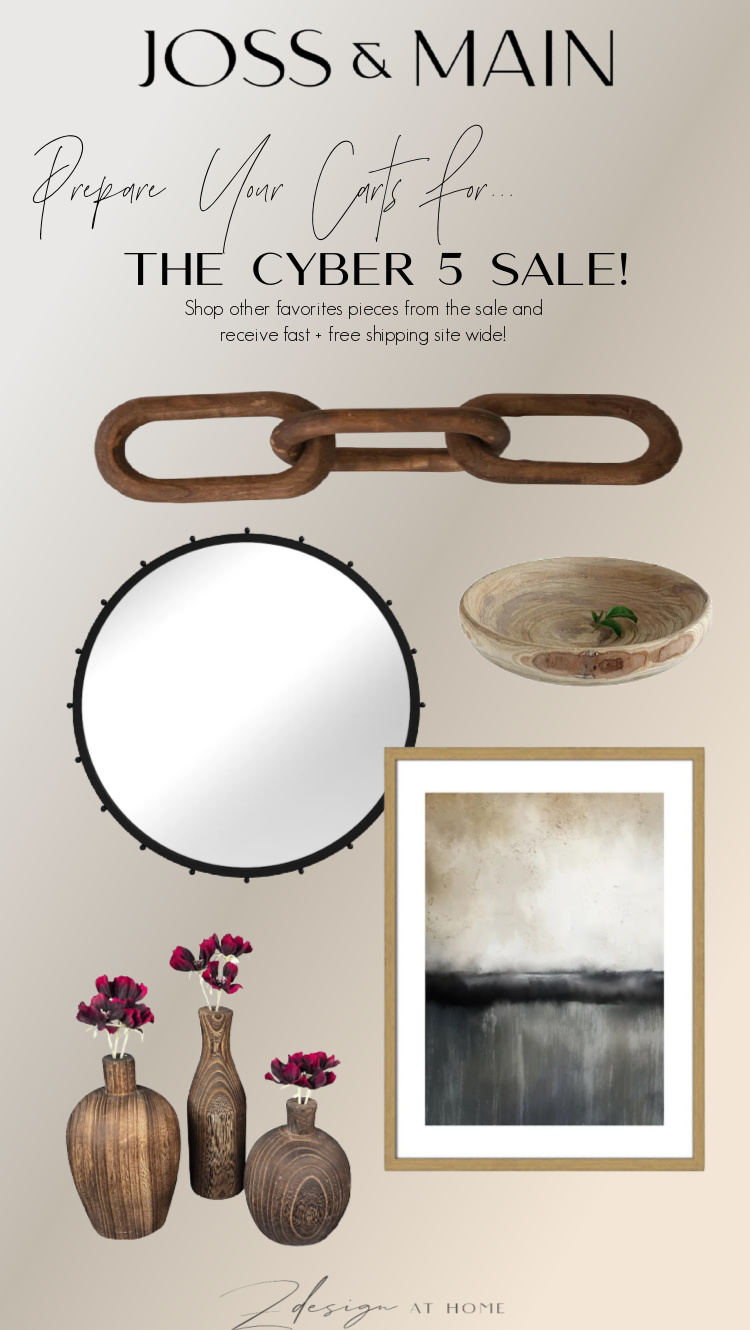 I also want to feature this really cool black vase set! I can see these holding holiday greenery for a table centerpiece or being used to serve a yummy holiday beverage!

I hope you love my picks and are able to find something that you love from the Joss & Main Cyber 5 Sale – you can shop all sale items HERE and even some that I haven't shared above. You can also see all of my favorite picks from the sale in one place below.
Happy shopping and Happy Fall!

Joss & Main Cyber 5 Sale Top Picks