Hi friends!  Welcome to my first fall home tour of the year with Marty of A Stroll Thru Life!  This is always one of my favorite tours every season and I am so thankful to Marty to be invited each season as a tour participant but I'm also thankful to have you visiting again in this new season of hope!
I also want to give you a huge welcome if you are coming over from my cute friend, Julia of Cuckoo 4 Design – her home is always so inspiring and is always one of my favorites on the tour so please pop back over to visit her if you haven't had a chance yet!!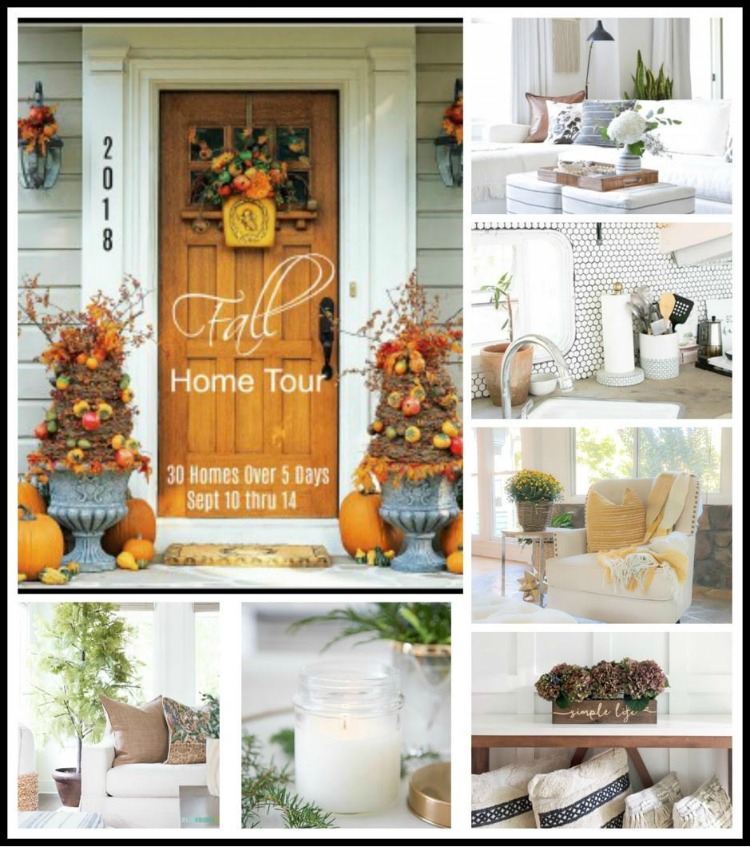 Instead of flooding you with lots of words and descriptions this year I'm mostly going to let the photos speak for themselves.  We live in Houston so the weather here is still hot and sticky.  We've had a lot of rain of late but it has been a nice relief at times to the heat.  My tour is super simple this year with minimal changes and additions for fall, again due to the extreme heat we are still experiencing but you will notice some subtle changes and hopefully enjoy the tour!
Fall Living Room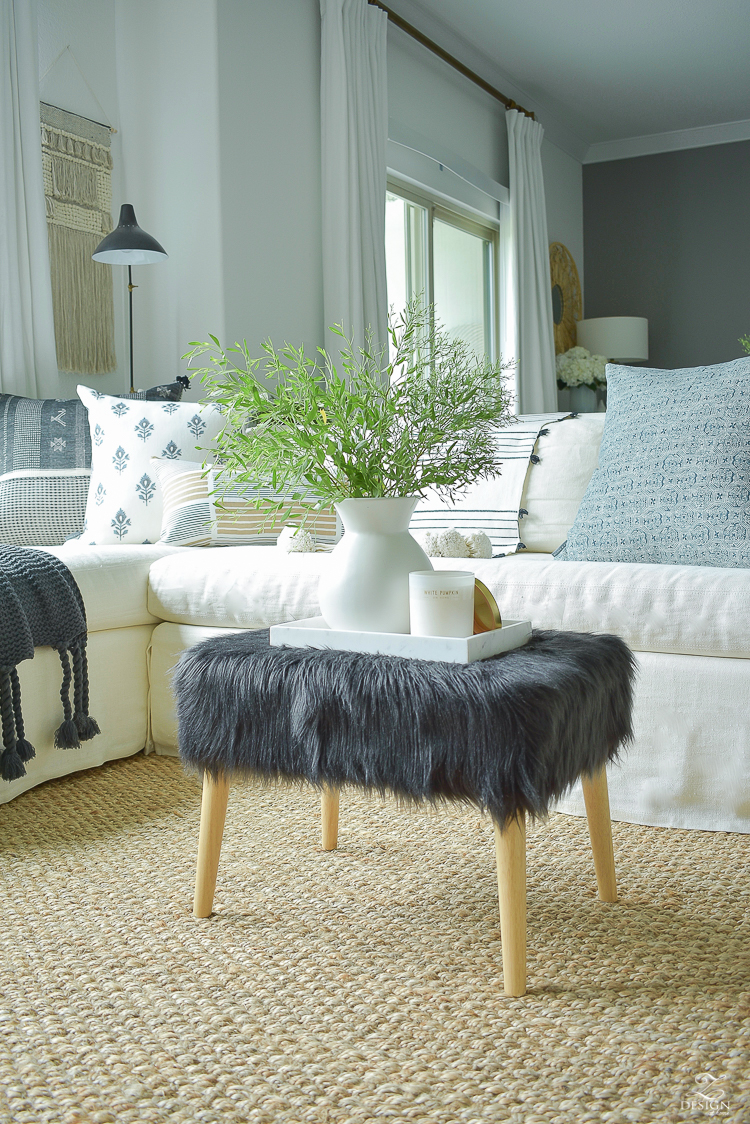 This fun faux fur stool always reminds me of cooler weather so I pulled it back out for fall but we also switched out the rug to this new natural woven rug for the new season and are loving it!  You can read more about the new rug and why we made the change HERE.   Of course a white pumpkin candle is always in order for fall and this greenery grows wild around where we live so I'll be keeping it around the house throughout for fall.  I especially love when it begins to bloom but unfortunately it's not quite to that stage yet – soon though!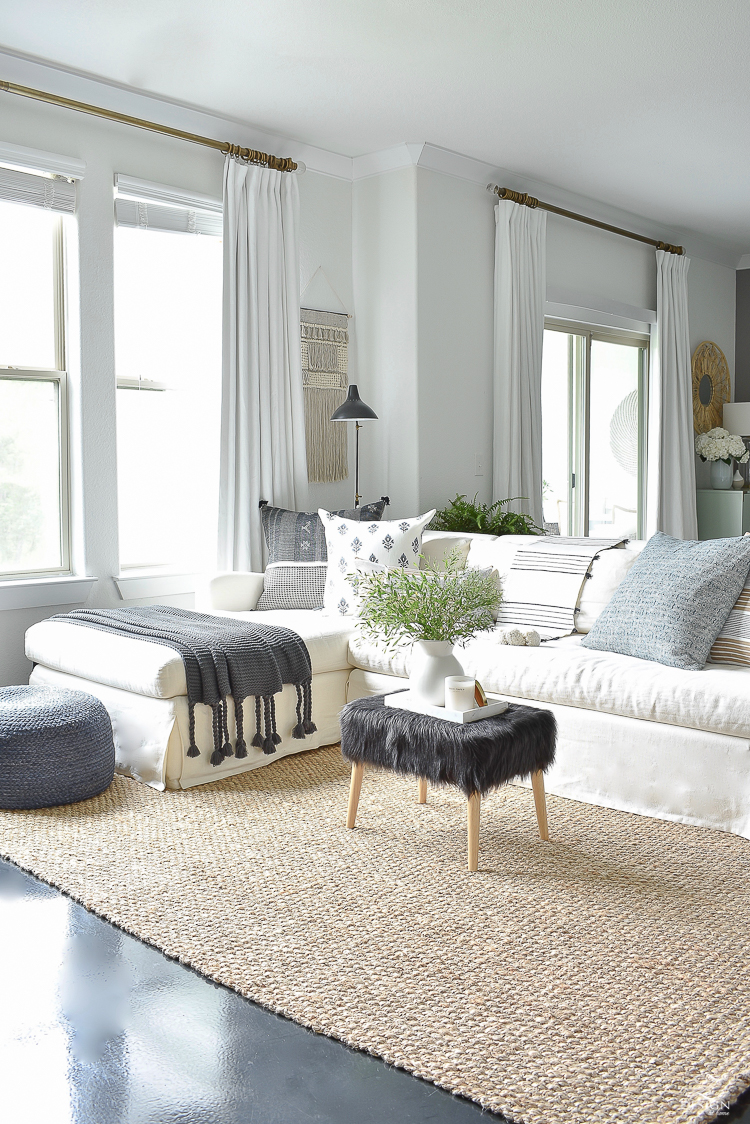 My absolute favorite part about this years tour is the new pillows!  I love nothing more than switching out pillows for an all new look each season and these are some of my favorite to date!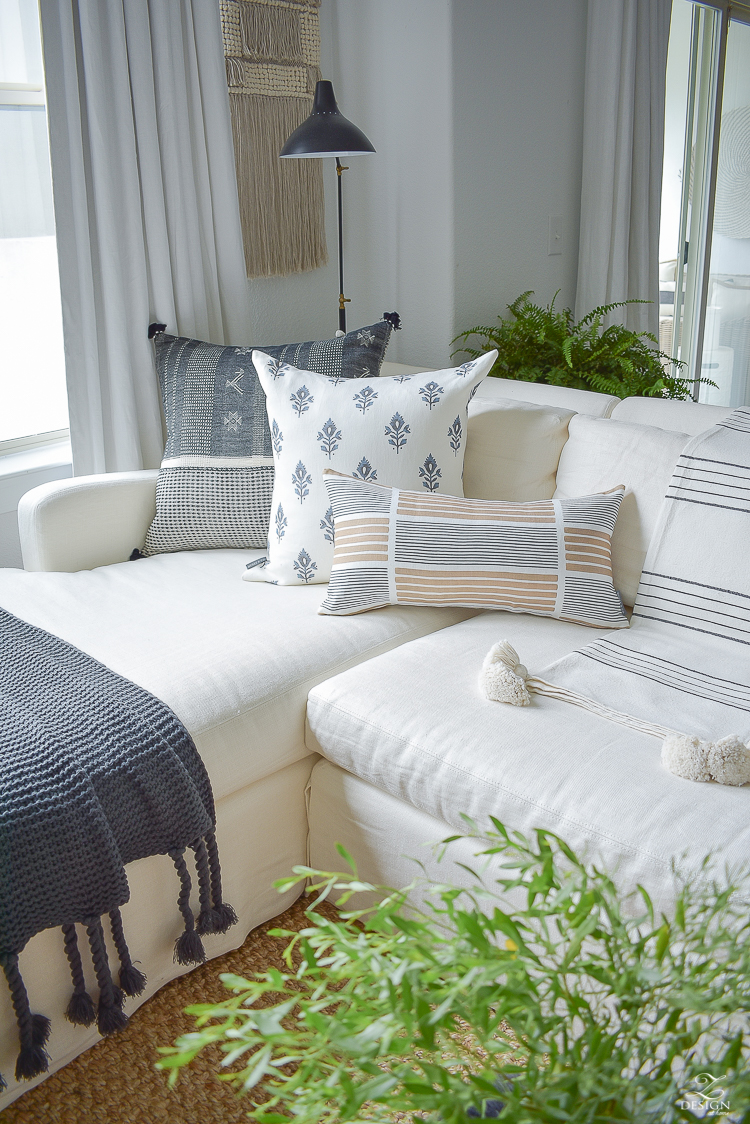 I really love the gold and black striped one, along with the blue medallion one.  I got the gold stripe it in a 20×20 and in a lumbar size and the medallion one in a 22×22.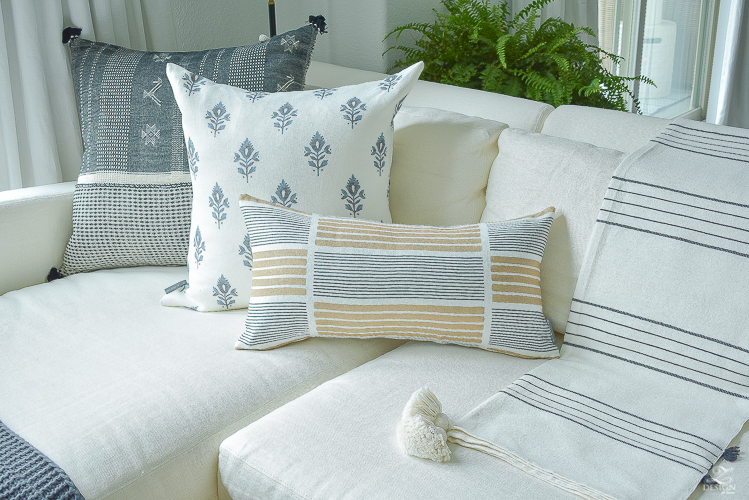 Really also love this blue patterned one in front here…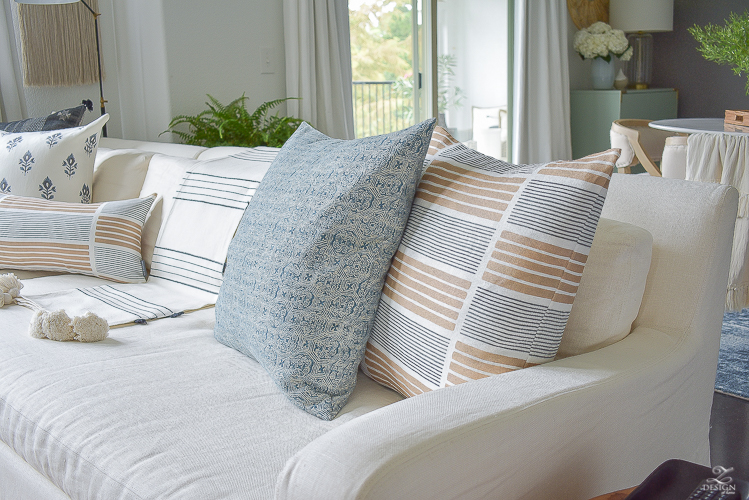 And of course extra layers were added with old favorites.  I always love pulling out my dark gray, fringe throw this time of year!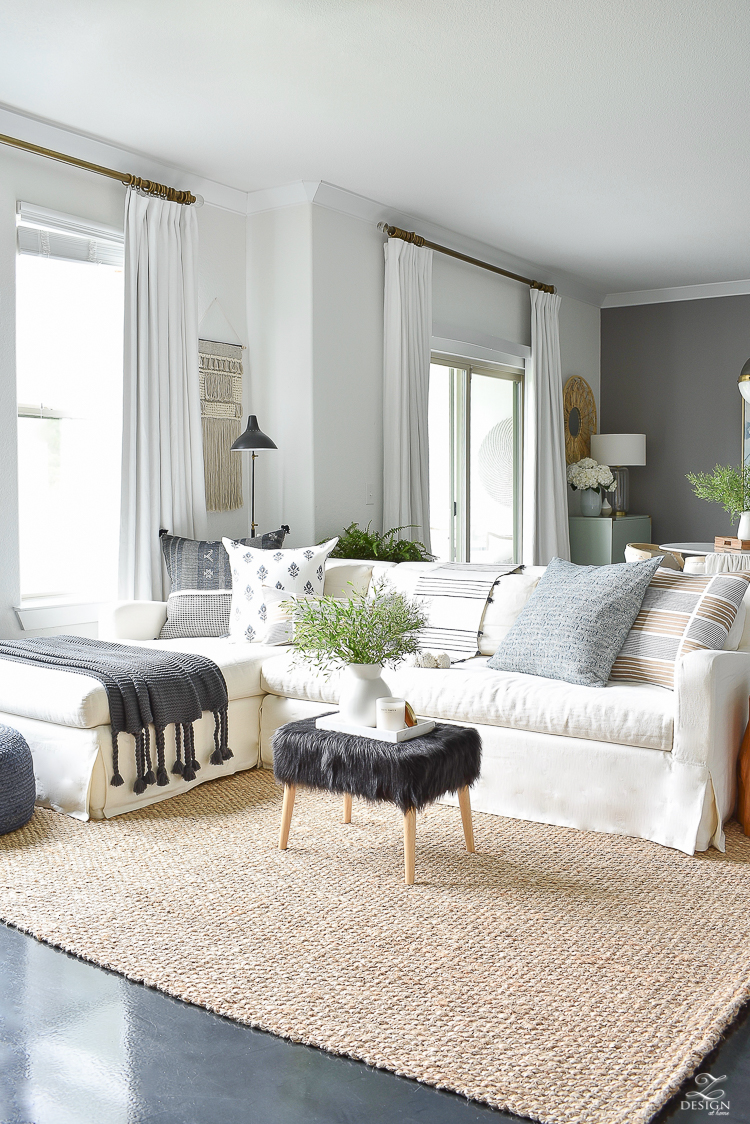 The opposite side of the space got minimal updates as well.  Simple greenery and if you remember from late summer a favorite abstract art piece was moved to over the TV.  I did add this fun new basket with a throw for those extra layers when needed and a few accessories atop my coffee table books (decorative bowl | wooden beads).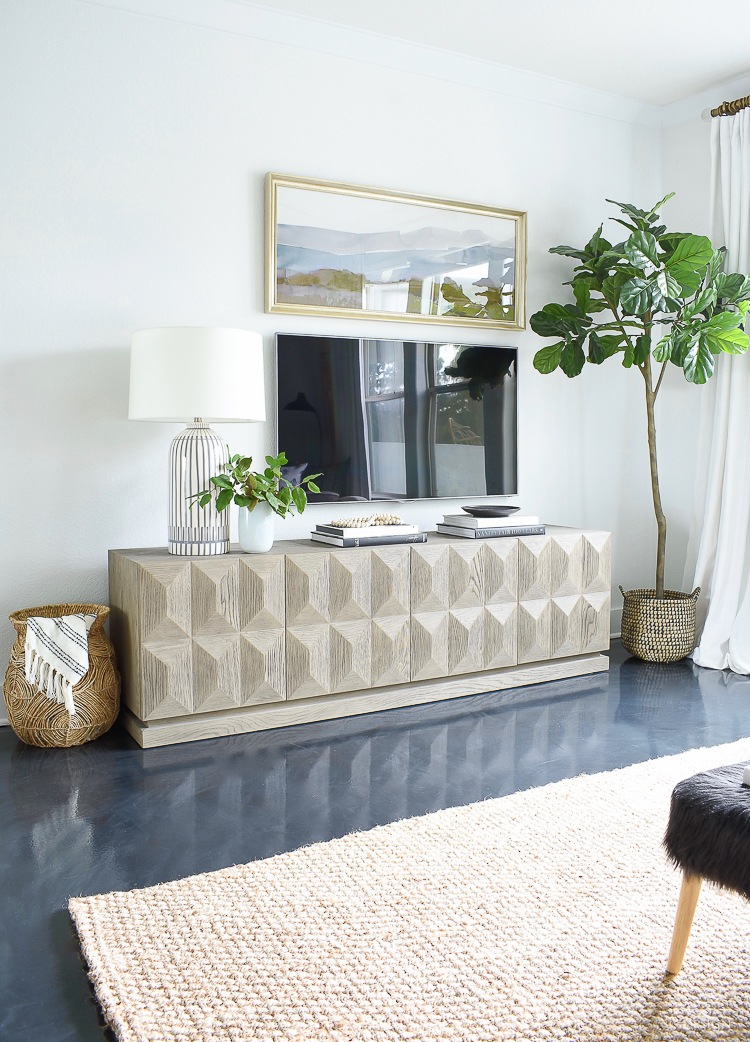 Still can't get enough of this new boho chic lamp.  It's a large piece and makes such a nice statement in the room!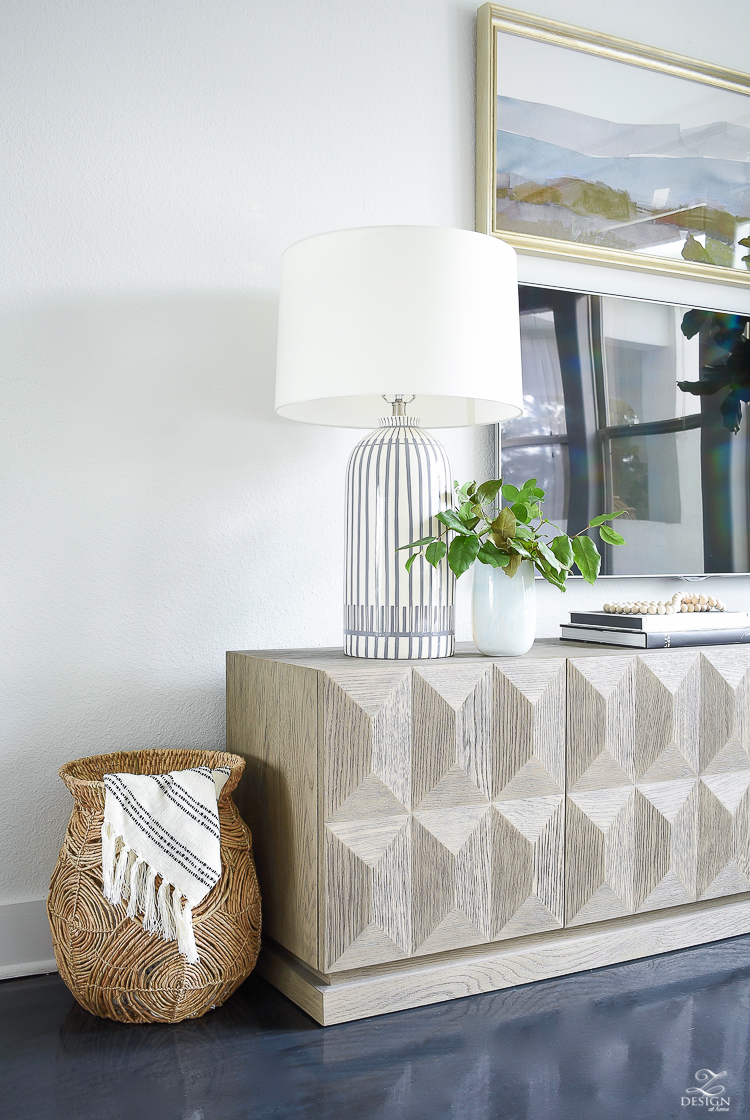 And this basket is too cute.  Love the circle pattern and the texture it brings to the space for fall!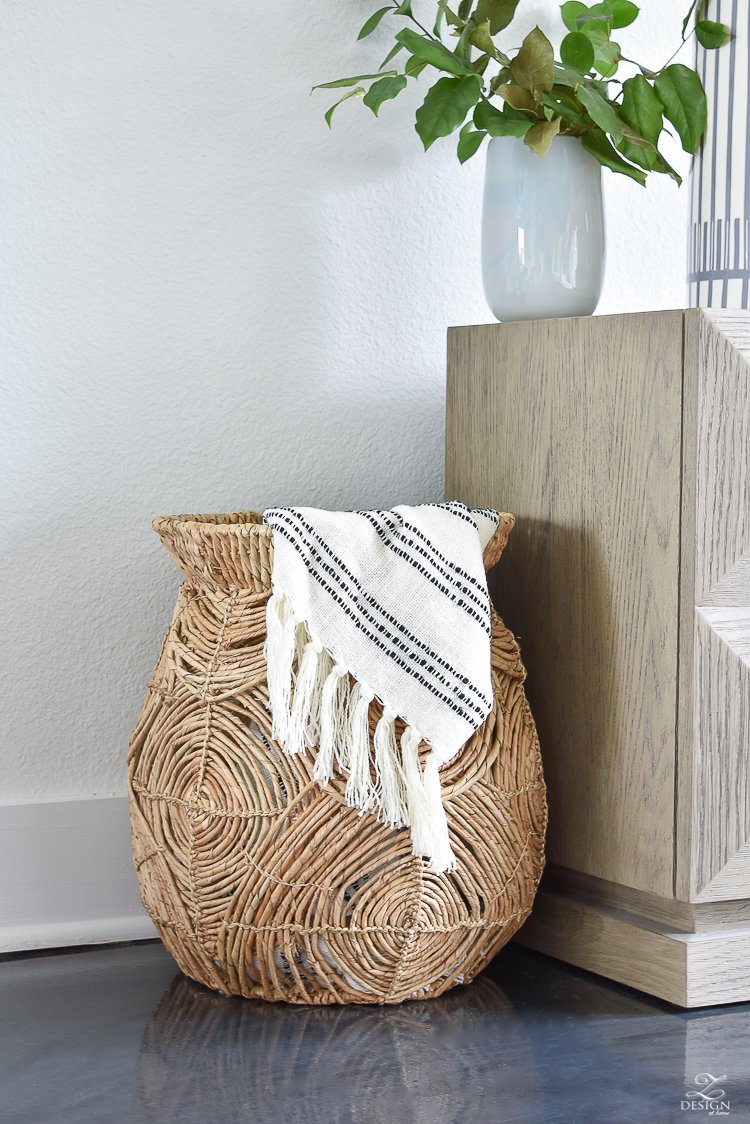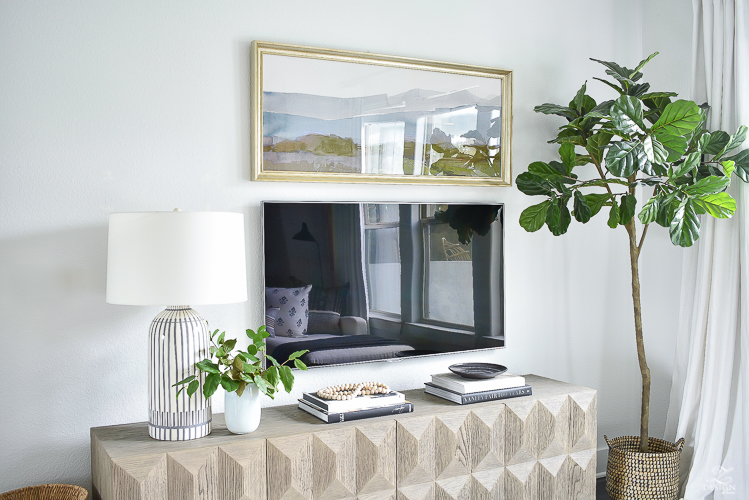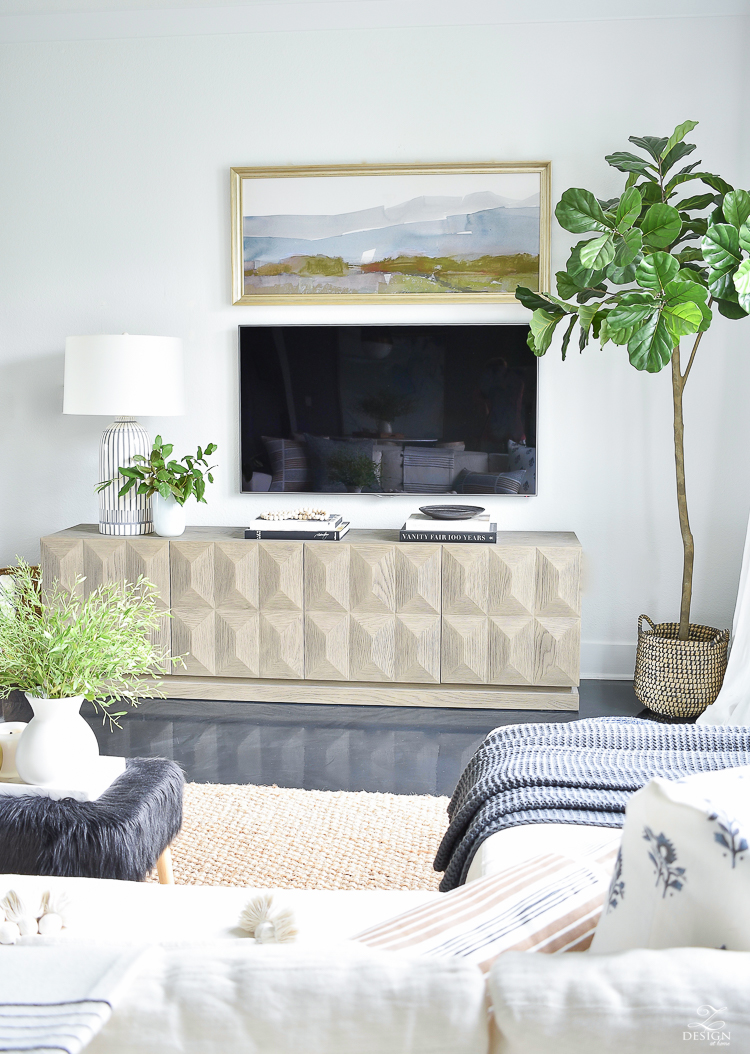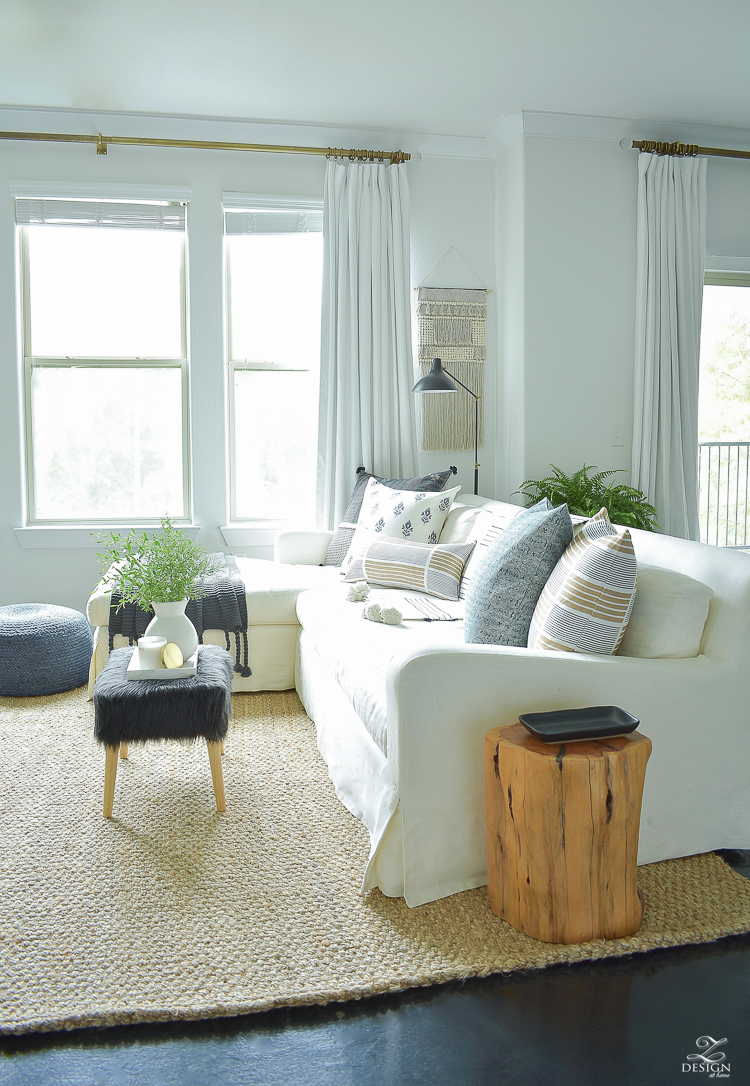 I also moved my blue pouf in here.  I finally found a new source for it if you've been looking for one.  Love the added texture and pop of color it brings to the space…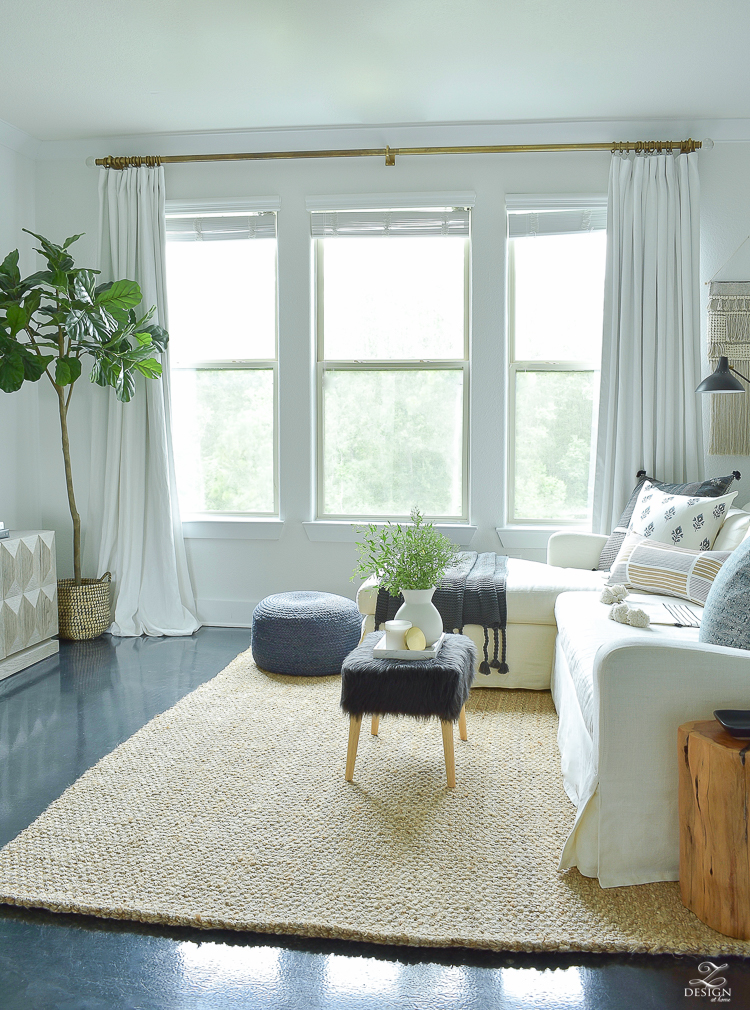 Moving on to the dining space…an addition of a basket on the table with some favorite black and white dishes that I'm loving right now and, a simple white Magnolia Home pitcher with greenery from outside are all this spot needs for a fall update.
Fall Dining Room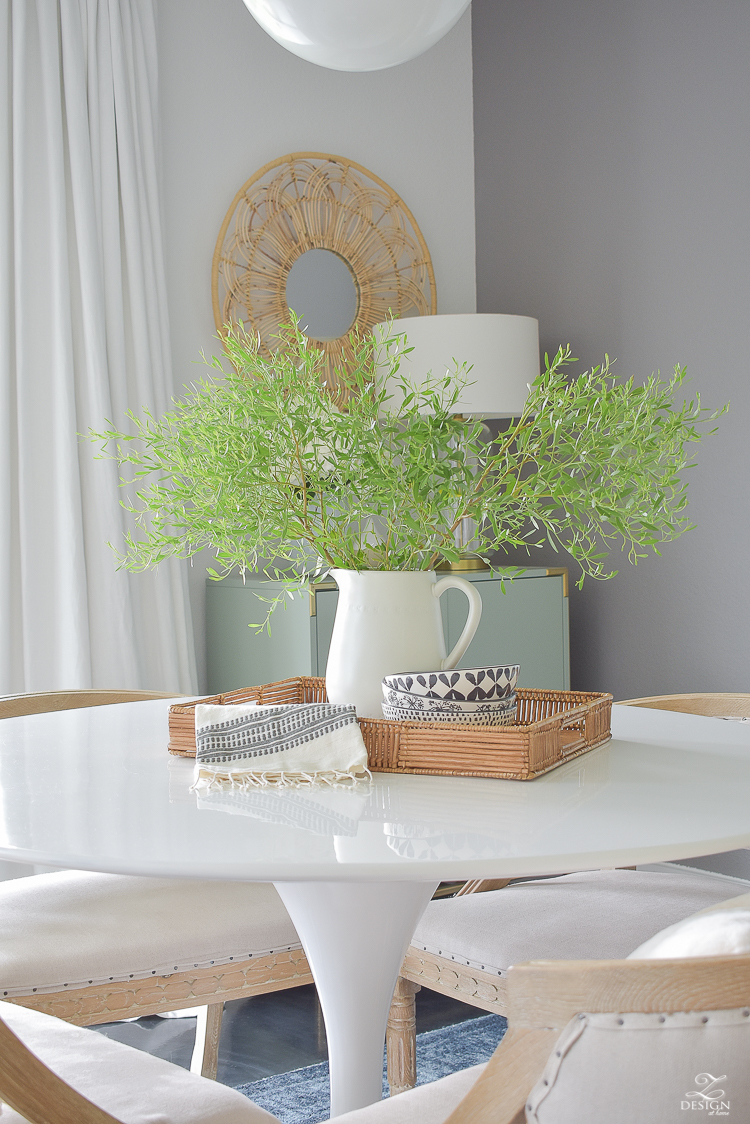 Absolutely love these bowls…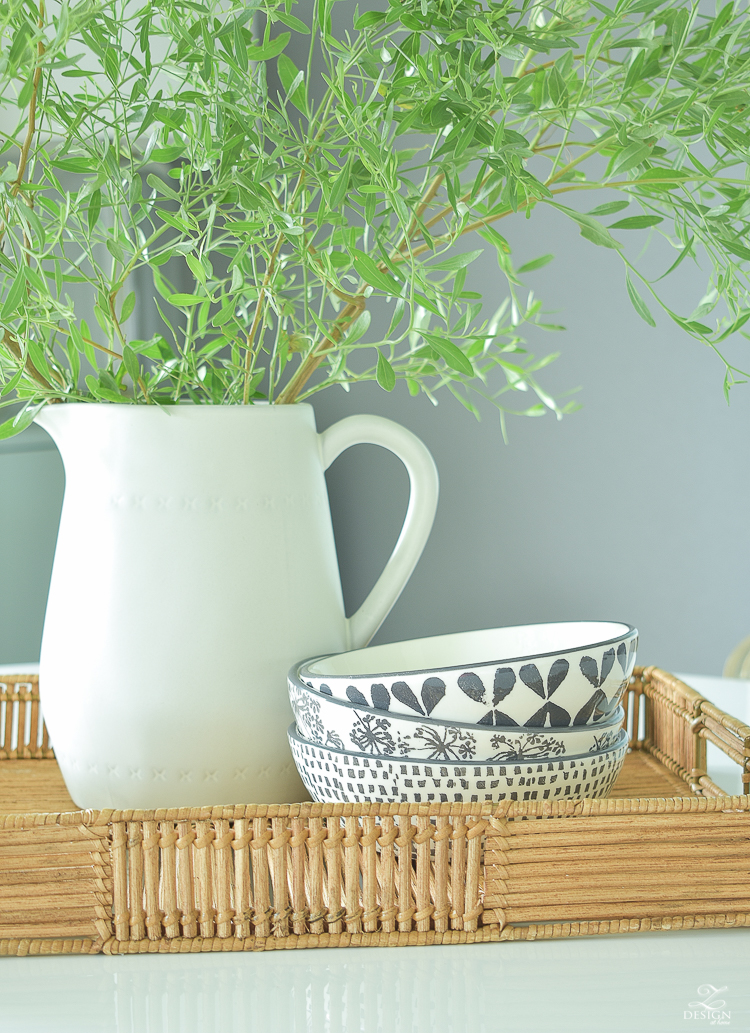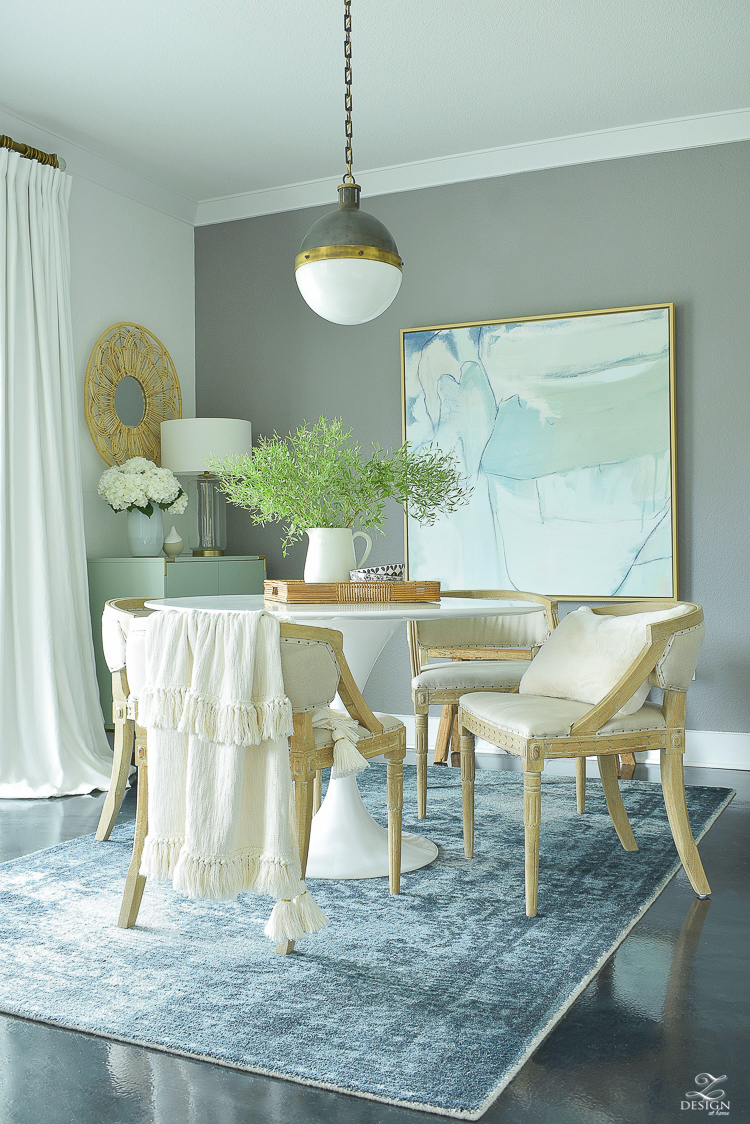 Pulled out this throw from past seasons (similar here).  Can never get enough of the fringe and tassels on this one.  I sit here a lot to work so this throw actually does get used a ton!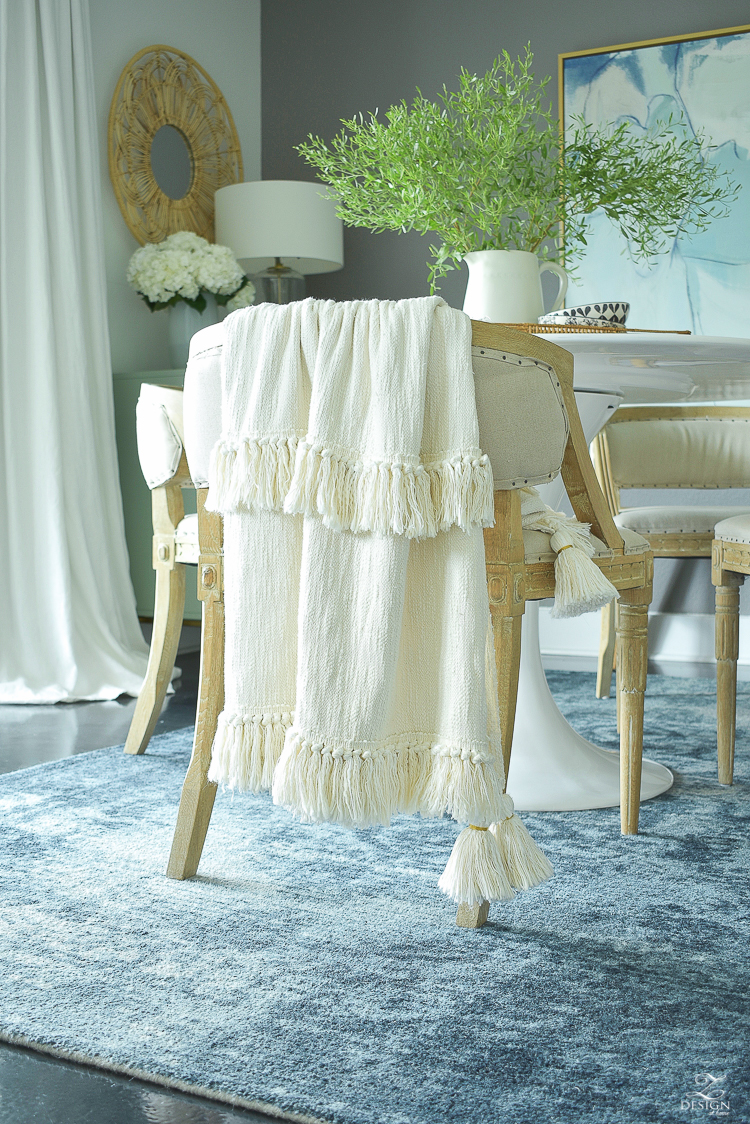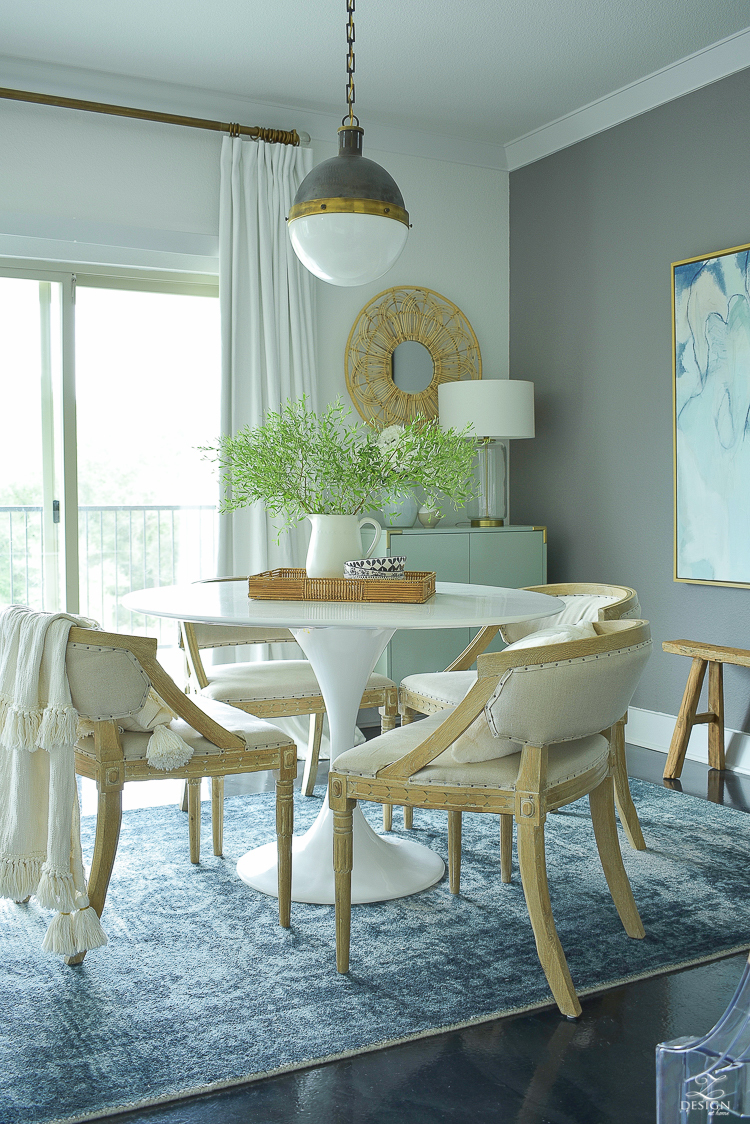 Late summer I moved this oversized art piece into the space and love the personality and color it brings to the space, along with the wool rug which will be nice to have underfoot this fall and winter.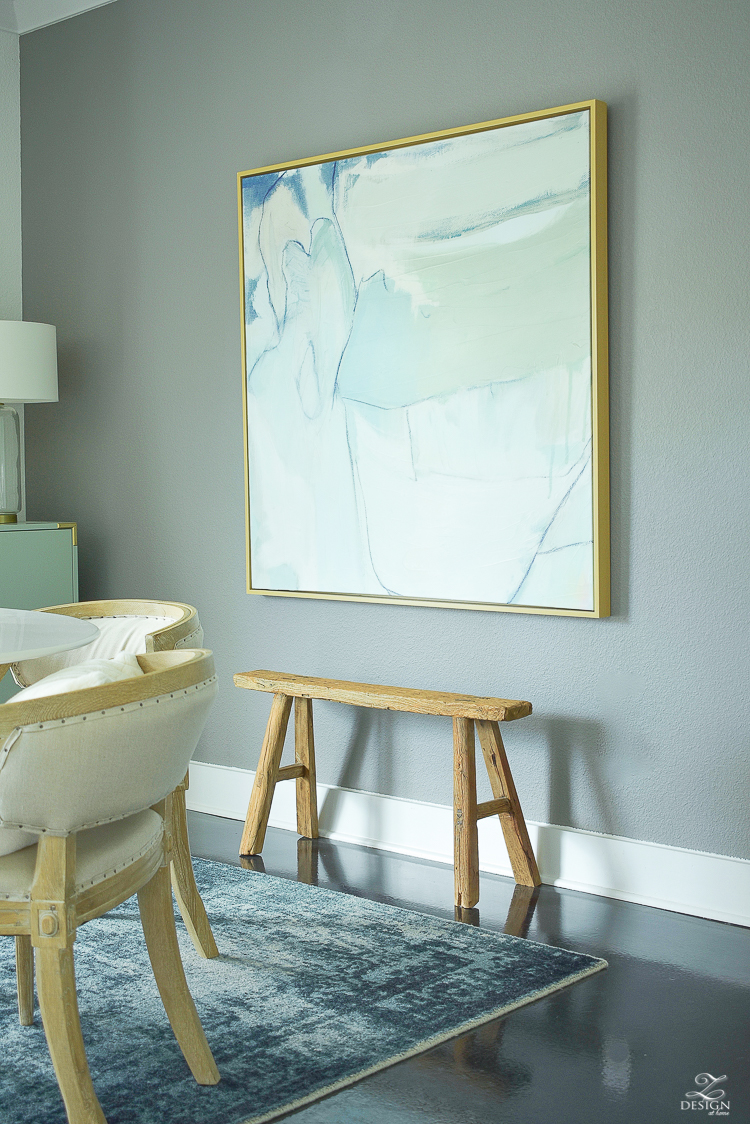 I had some beautiful hydrangeas left over from summer that landed here so not very fallish but beautiful none the less…I'm sure more fall updates are coming to this spot soon.  Love this new simple glass and brass lamp though in this spot!  It allows the bar cabinet to steal the show:).  Still loving this round rattan mirror in this spot too which does feel a hint fallish with the texture and color.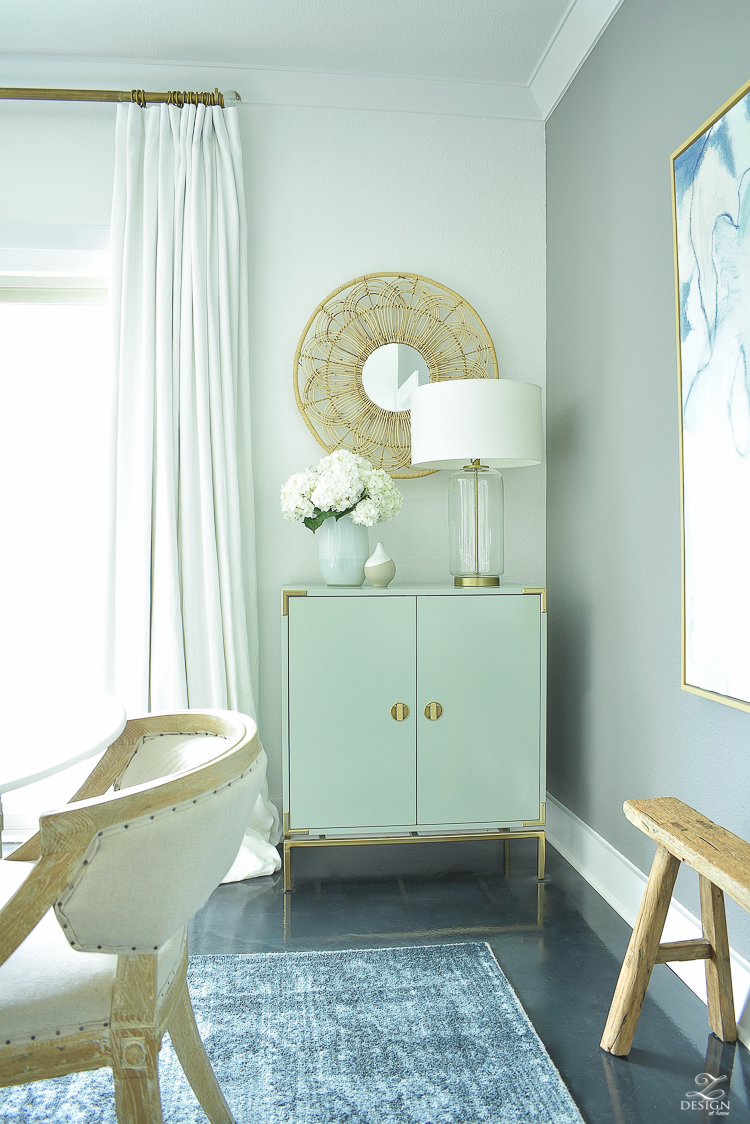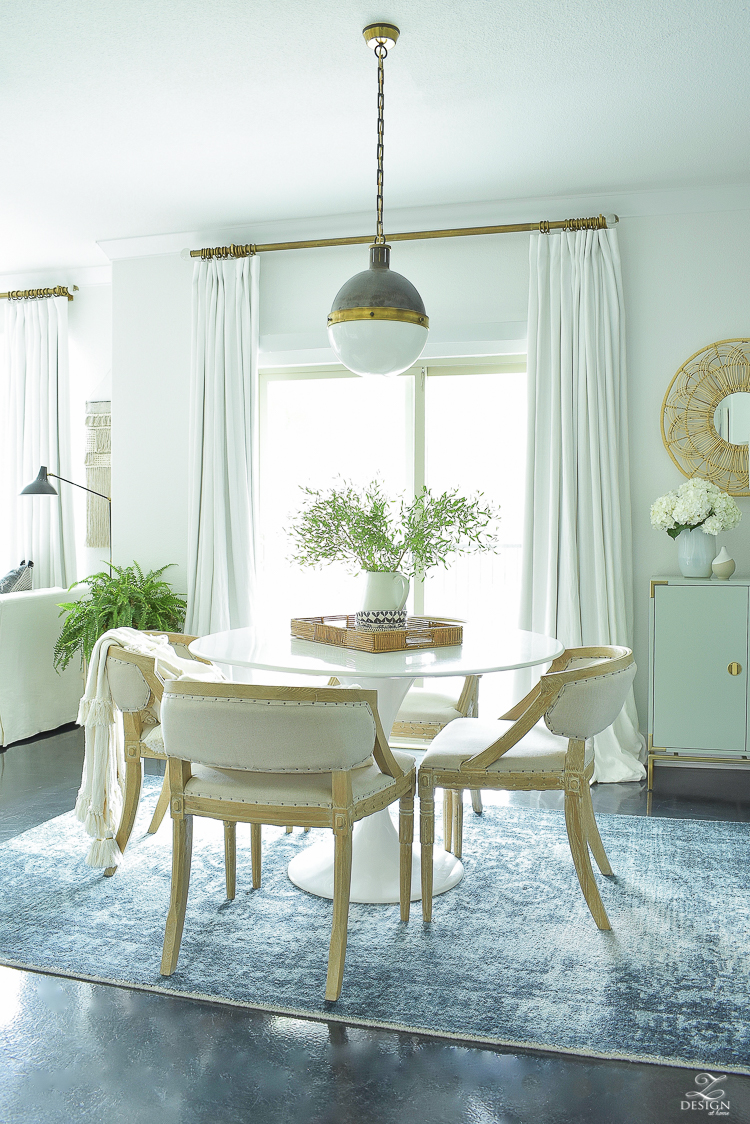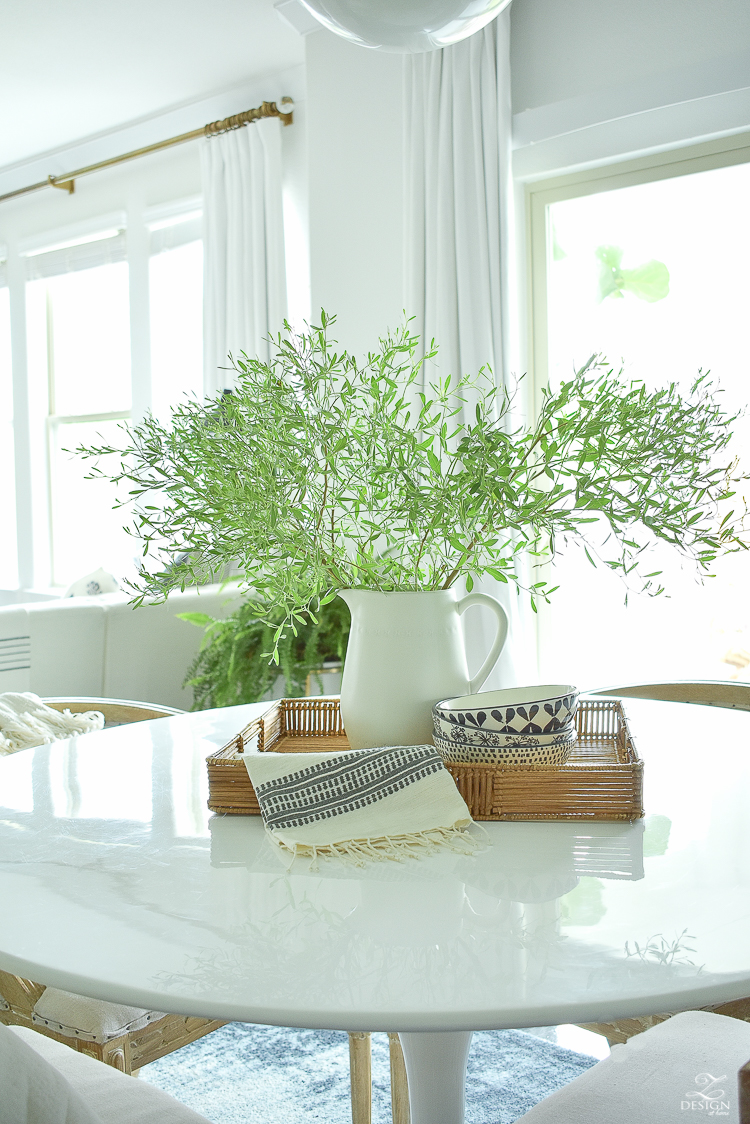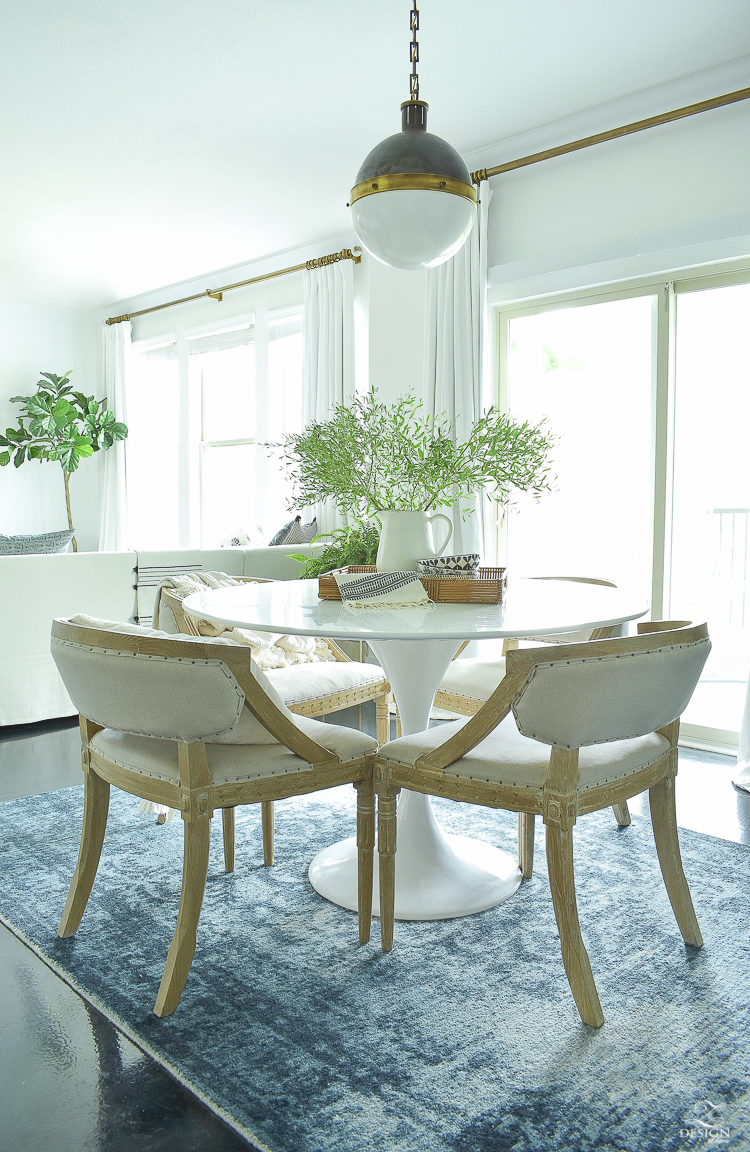 That wraps up my first fall tour of the year!  But wait!!  Next please head over to see my dear friend, Laura at Duke Manor Farm.  Her home is also always one of my favorites on this tour and I know you will love her and her blog just as much as I do, if you don't know her yet!!  After you visit Laura please make sure to visit all of the rest of the ladies on the tour the remainder of the week…there are so many more of my faves that are so talented and are offering up so much fall inspo this year!  Here's the list…
Monday, Sept 10
 A Stroll Thru Life  | Nesting With Grace  | Pink Peppermint Design 
Southern Hospitality | Decor To Adore | Cuckoo4Design
Tuesday, Sept 11
  ZDesign At Home  | Duke ManorFarm  | Setting For Four
Simple Stylings  | Seeking Lavender Lane | Life On Virginia Street
Wednesday, Sept 12
Our FifthHouse | Our Southern Home | Clean & Scentsible 
House By Hoff |  Follow The Yellow Brick Home 
Thursday, Sept 13
Inspiration For Moms | Life Love Larson |  Monica Wants It
Haneens Haven | My Sweet Savannah |  11 Magnolia Lane  
Friday, Sept 14
Thrifty and Chic | Decorating Delirium  
 Starfish Cottage | Thistlewood Farm |   Hymns and Verses | Far Above Rubies 
Also, come back next week when I'll be sharing the first glimpse of my early fall bedroom.  I've incorporated harvest colors and cable knits that I can't wait to share with you…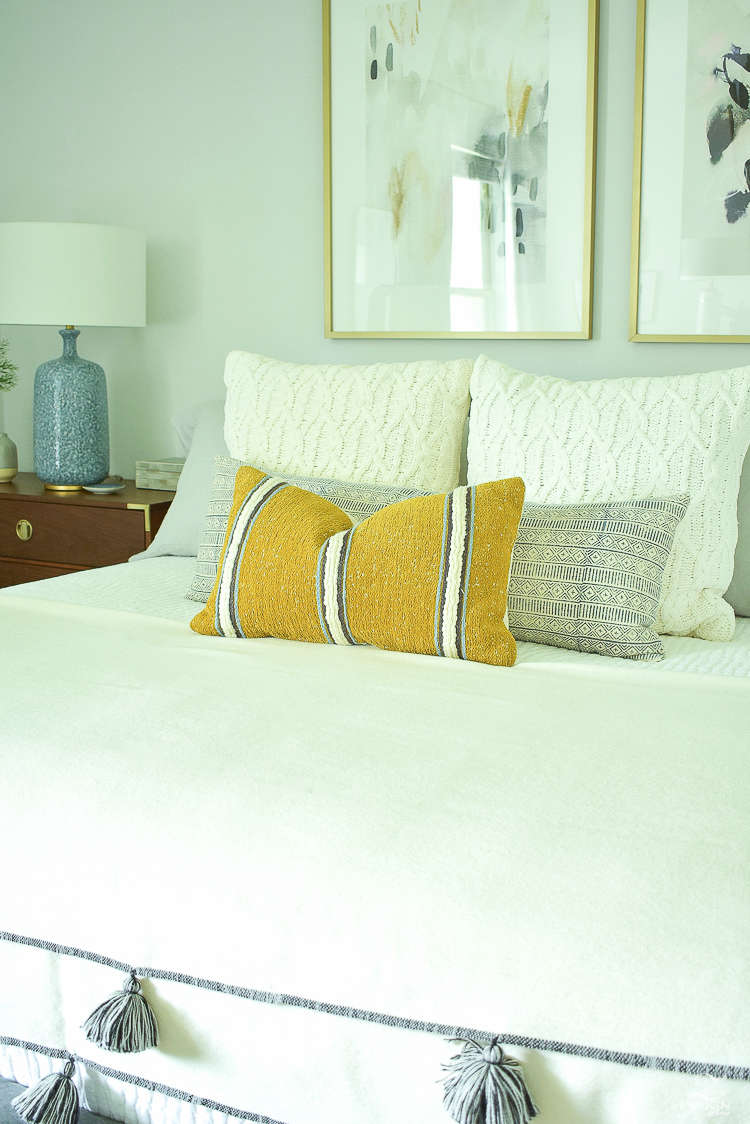 Living Room:





Dining Room: