ZDesign At Home New Build Reveal
Hi friends and Happy New Year!! I hope this finds you all doing well! Well, things have changed quite a bit since the last time I posted back in December. As many of you may know by now, we finally moved into our new home after what seemed like a never ending new build journey and I'm so glad to have you here and to share it with today. This is the next phase of the ZDesign At Home blog that I can't wait to share more of along with lots of tips, beautiful finds for your home, and discovering more about this incredible design world together!
*This post was done in partnership with a few of my favorite brands that graciously contributed to this project. Top Knobs provided our kitchen cabinet and master closet hardware, Blanco provided our kitchen and laundry rooms sinks, and Emtek provided some of our exterior door hardware (door hardware to be discussed in a subsequent post) and master bath hardware. This post contains affiliate links ~ please read my full disclosure policy here.
This will basically be a photo tour of most of our home and as time goes on I'll do more in-depth room reveals with more detailed photos of each styled space. These photos were taken right before we moved in so they are just a snapshot of what our home looks and feels like overall, with the exception of a few photos at the end so make sure to stick around for the full tour!
Entry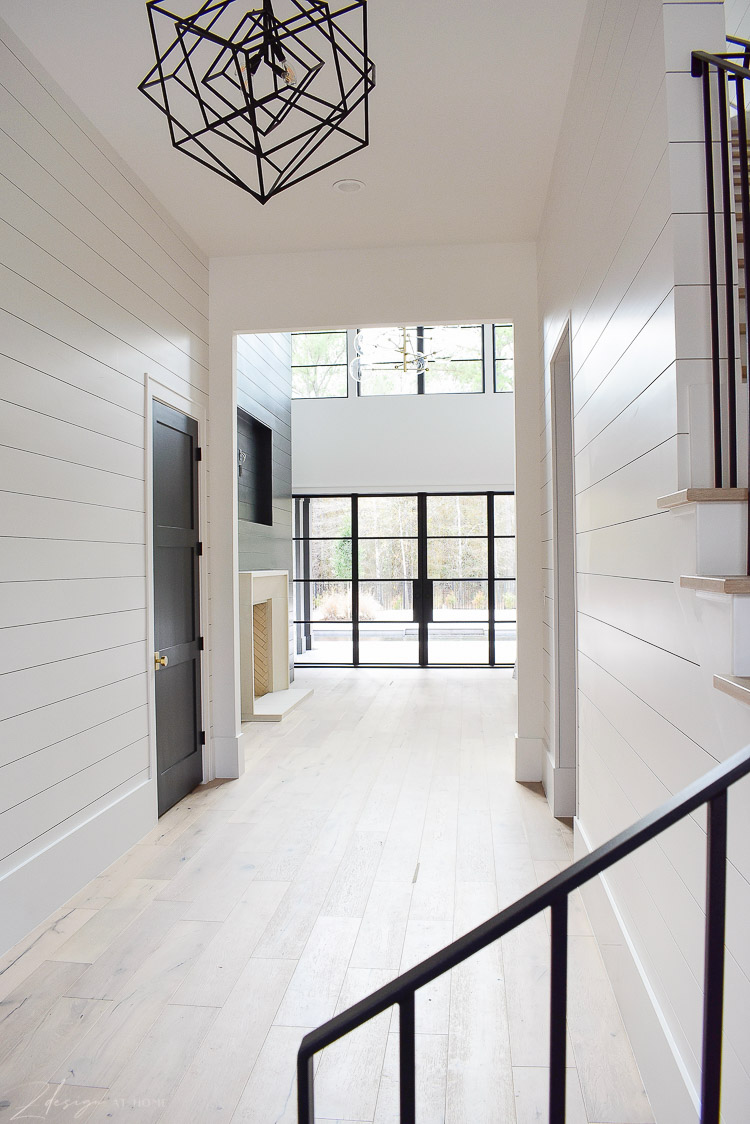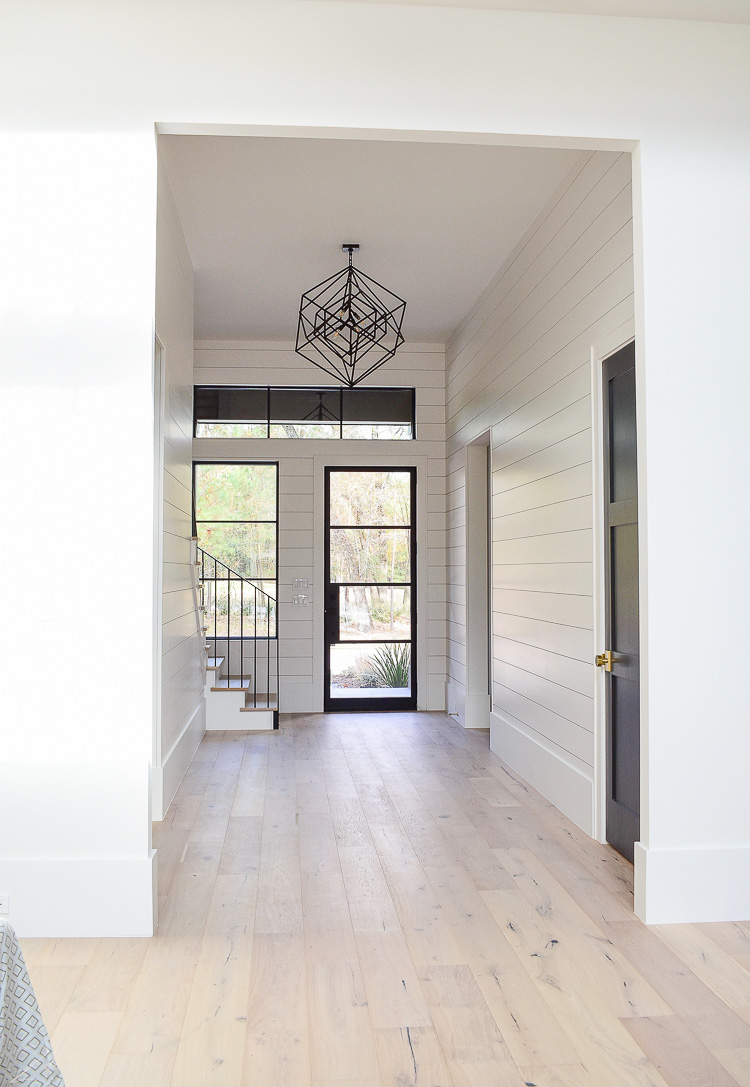 Kitchen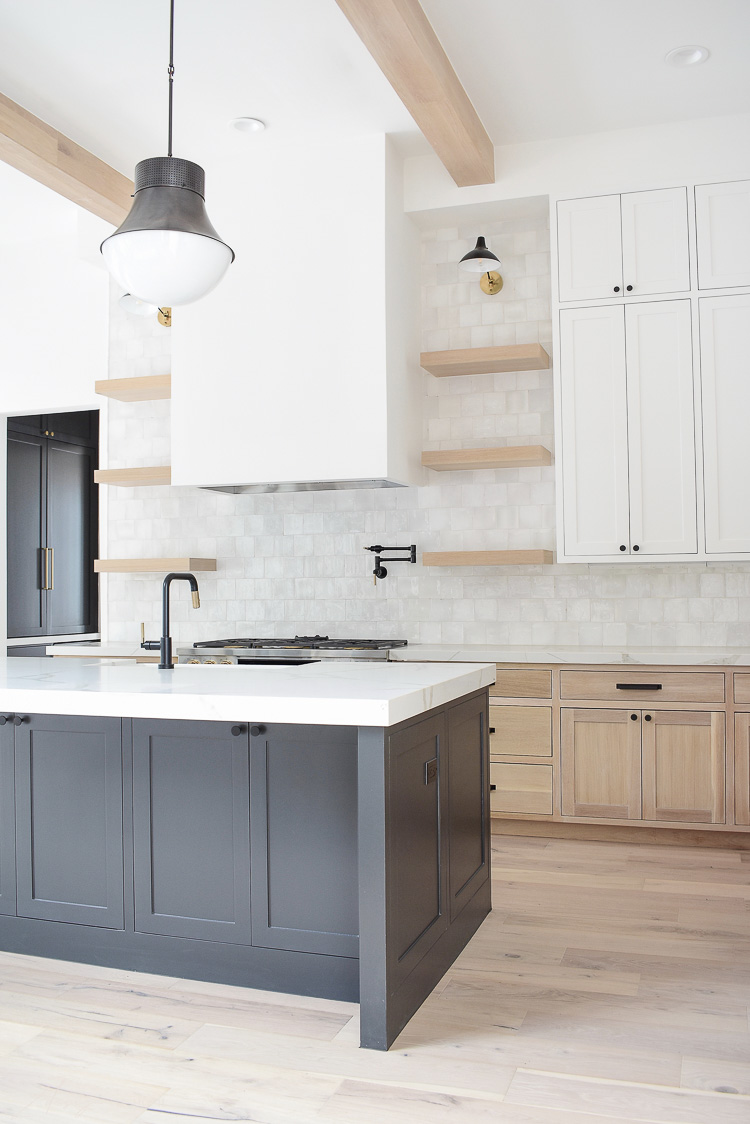 I was fortunate to partner with Top Knobs on our beautiful black cabinet hardware in the kitchen. It's stunning and just the right hardware for this space. I chose the flat black finish in the Barrington Channing 7″ Center to Center Cup Pull for the drawers and the Marion 1 1/4″ Mushroom Cabinet Knob from their Lynwood Collection for the cabinet doors.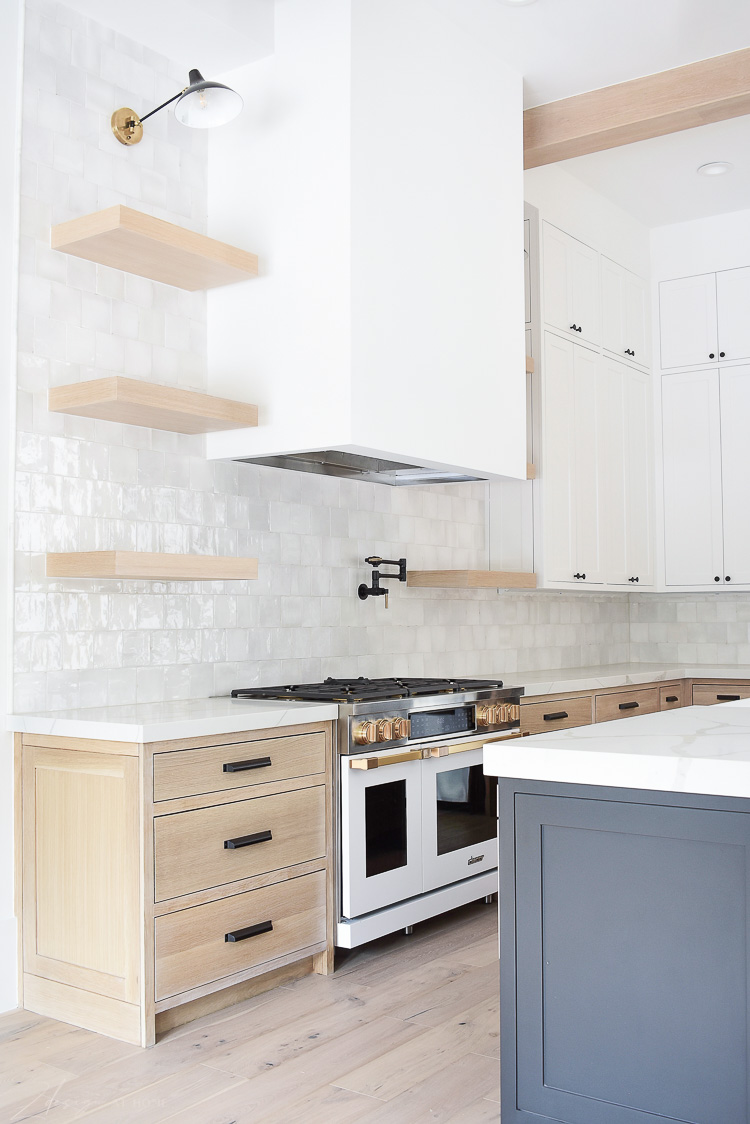 I also chose this same cup pull and knob for my pantry, butlers pantry, mudroom and laundry room in the Top Knobs honey bronze finish. They are truly stunning in the honey bronze, especially the large cup pull!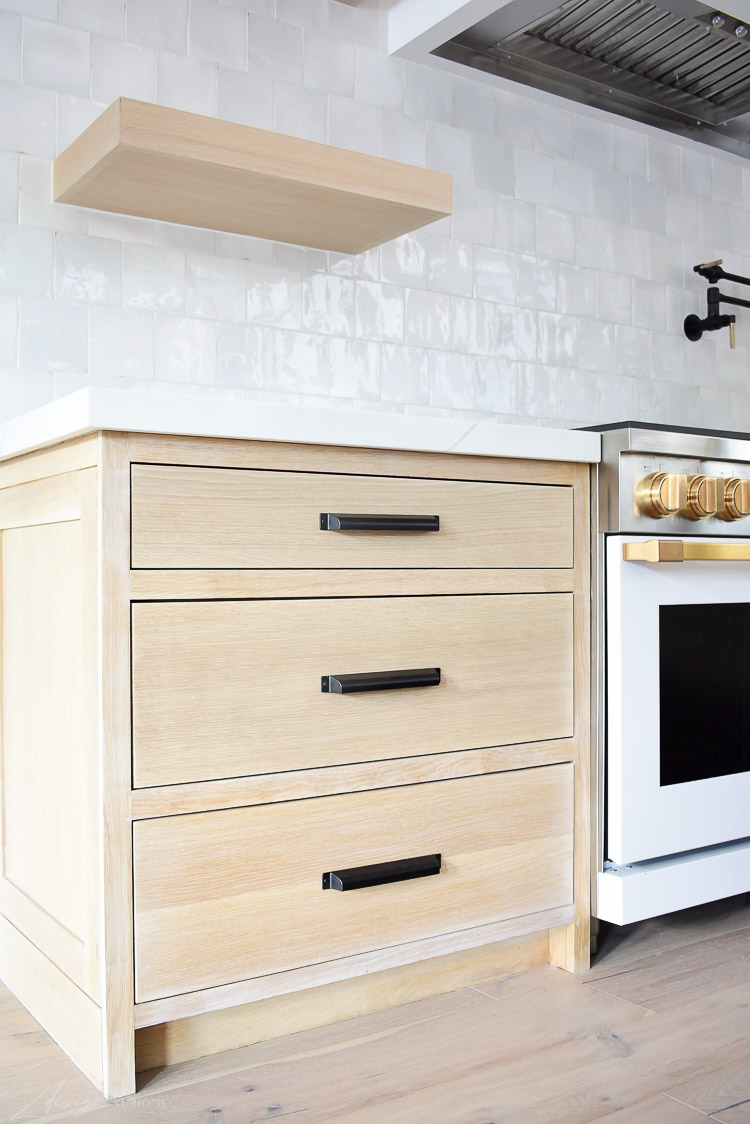 Our kitchen sink was provided by Blanco. I knew the moment I saw this sink I wanted it in this home. It's their Profina 36″ Farmhouse Sink and couldn't be more stunning!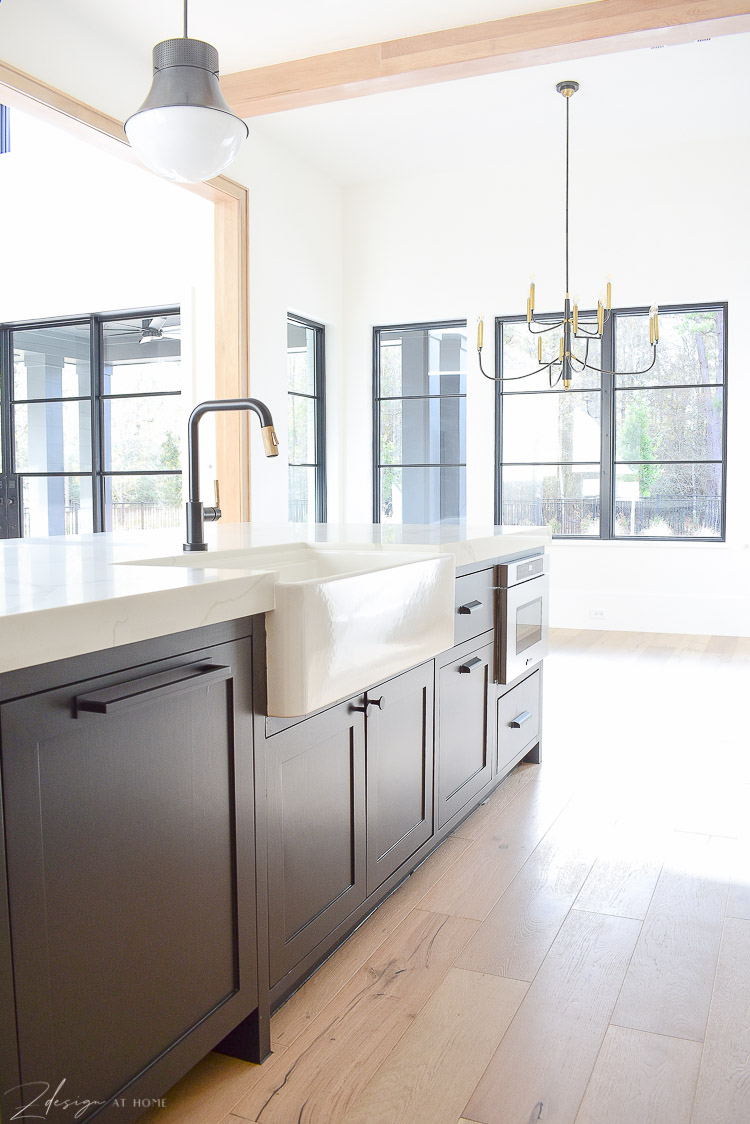 With it's clean lines and spacious size of this Fireclay sink it would be beautiful in any kitchen regardless of design style.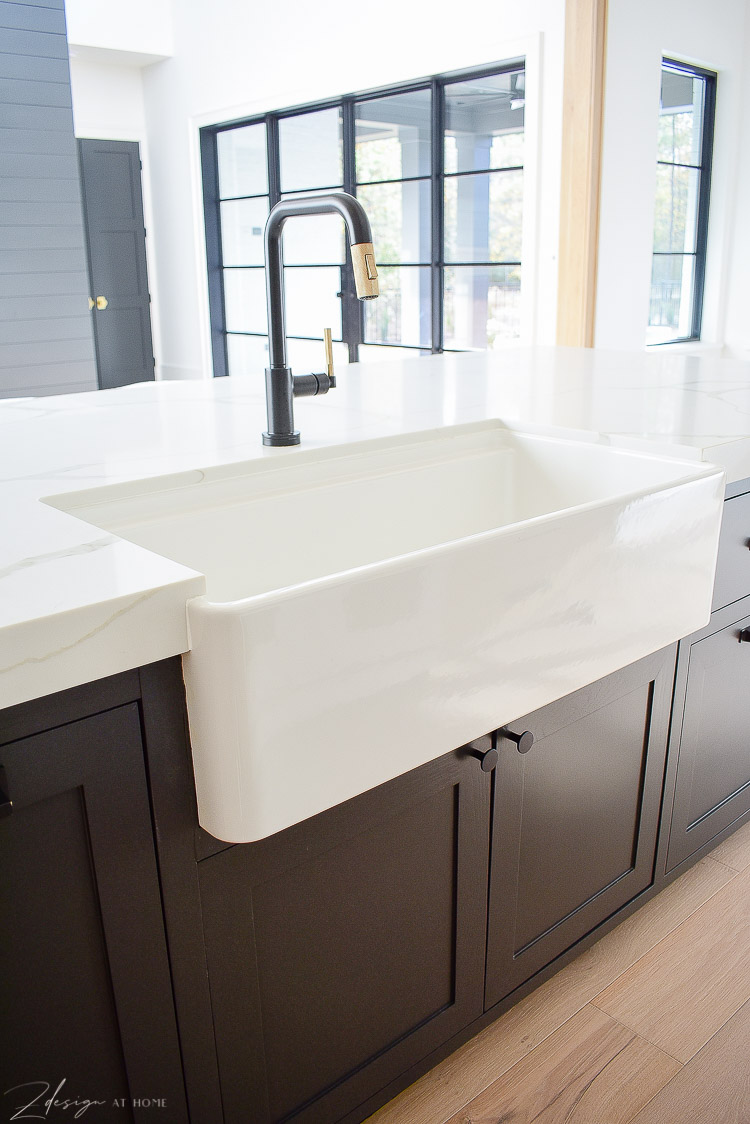 I have really enjoyed using this sink and so thankful to partner with Blanco on this beautiful piece for our home. You will also see their Ikon sink in my laundry space shortly. Love them both so much!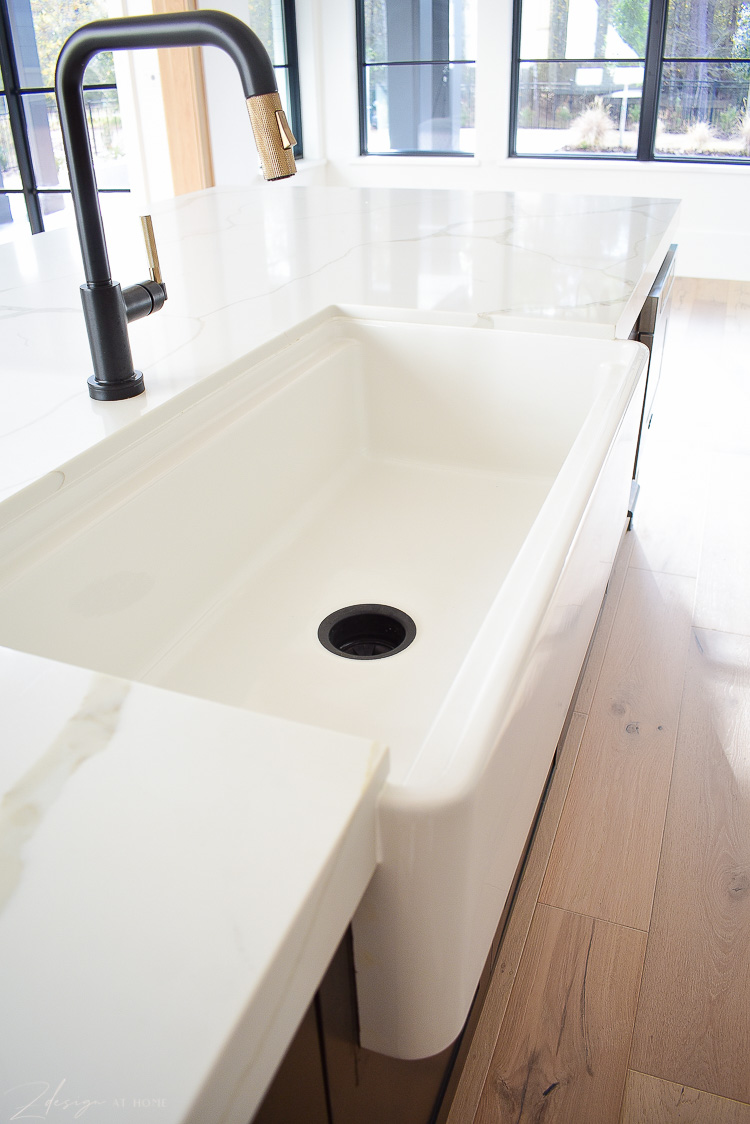 Dining Space
We didn't do a formal dining room in this home as we decided to build this home the way we truly live so a simple dining space off the kitchen was all we needed and perfect for our family.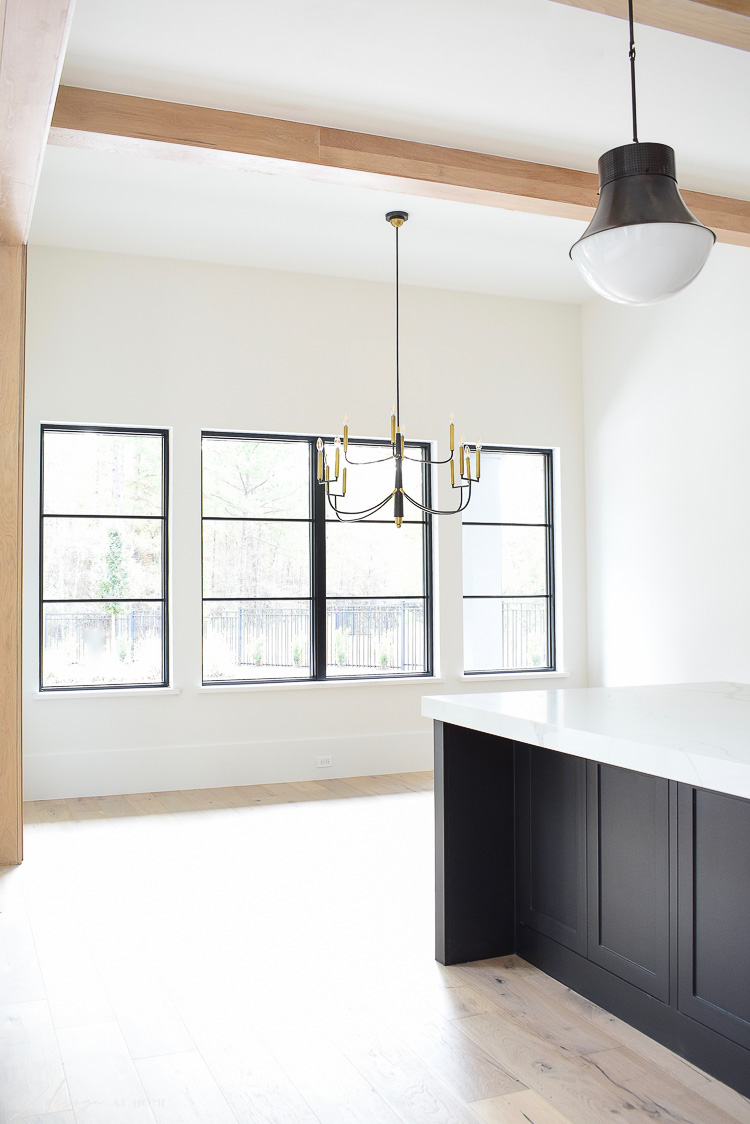 Laundry
Cabinet color is SW Dried Thyme.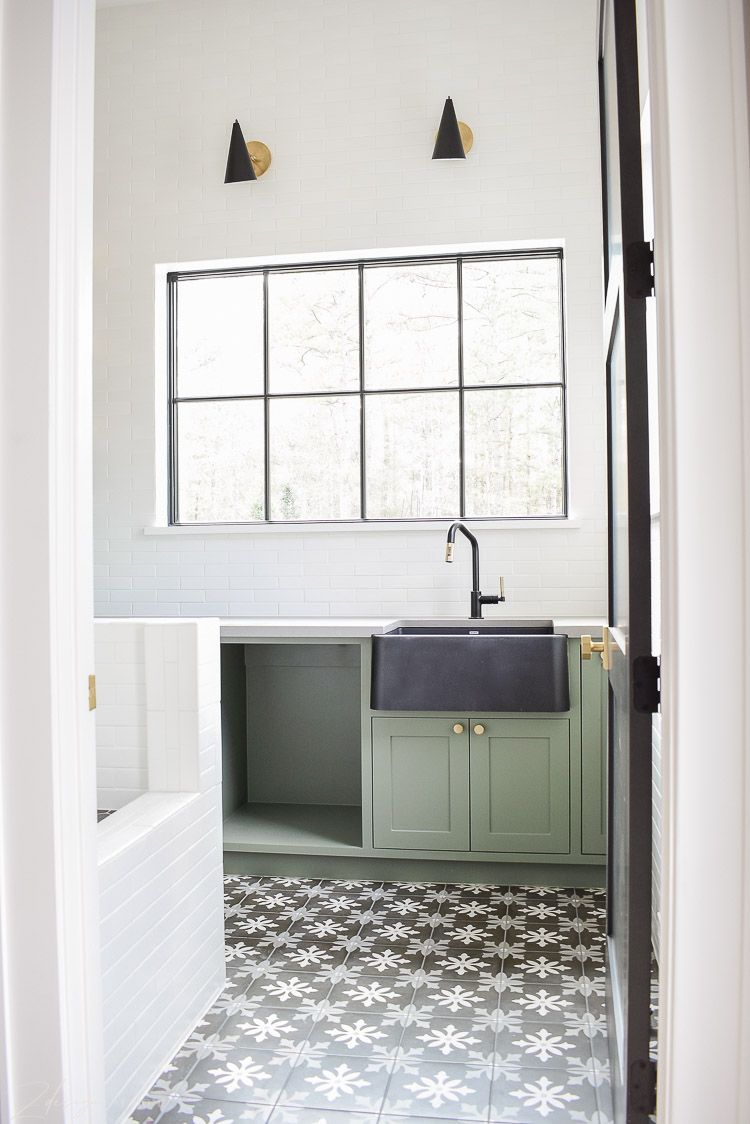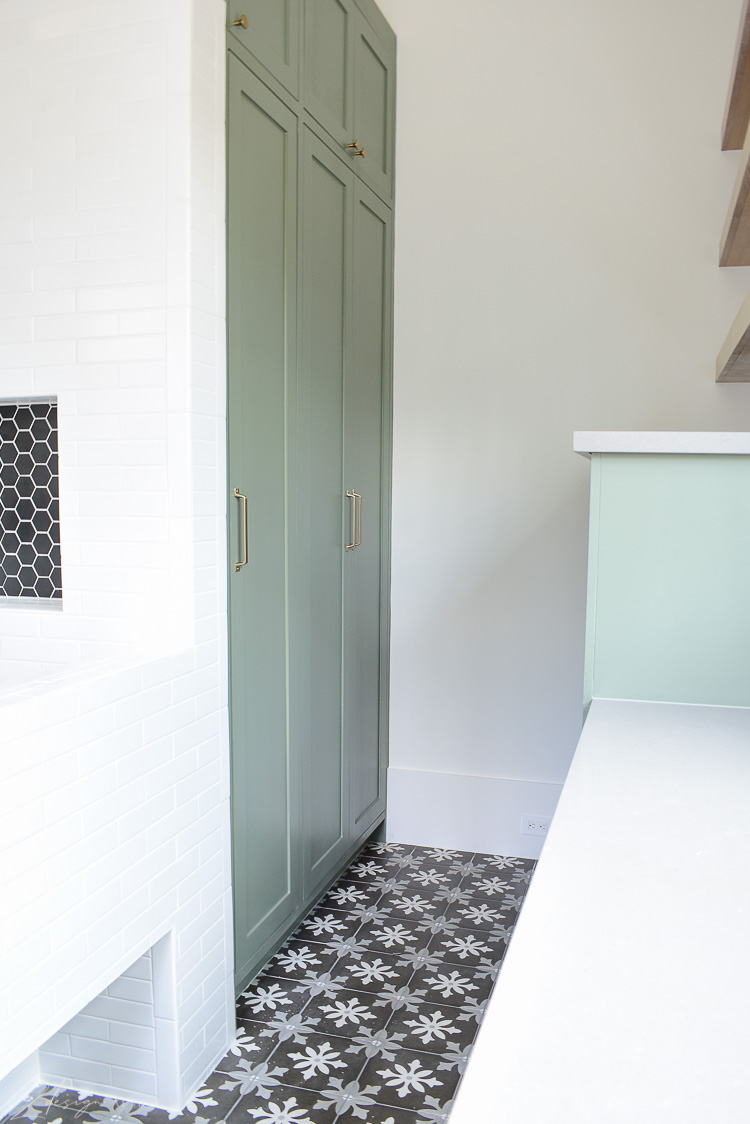 Here is the Blanco Ikon 27″ Siligranit Sink. This sink is actually made up of 80% natural granite and couldn't be more stunning in person! We have really enjoyed not only how beautiful it is but the functionality of the large, deep tub has been very useful in this space so far.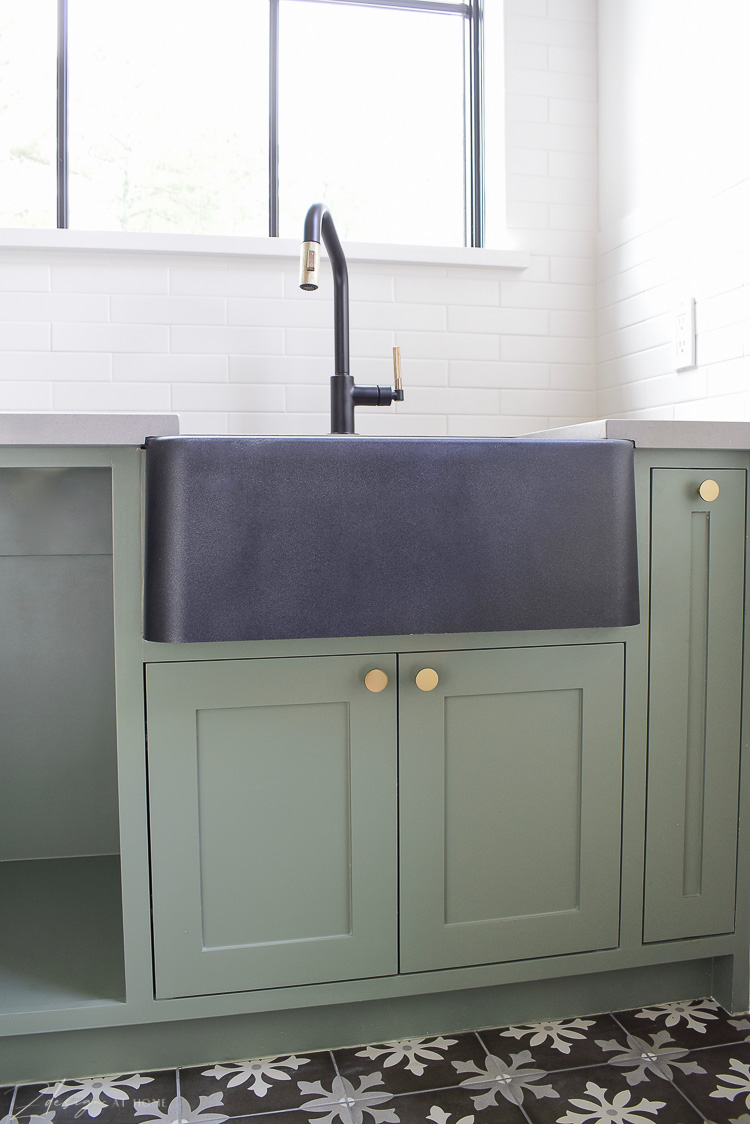 Mudroom
Because I know you're going to ask, the cabinet paint color is SW Agreeable Gray. I used this color years ago on a clients kitchen cabinets and fell in love and this is the first opportunity I've had to use it in my own home. It's darker than it appears in this photo, but not much. And p.s. I've decided on a different light for this space so stay tuned on that.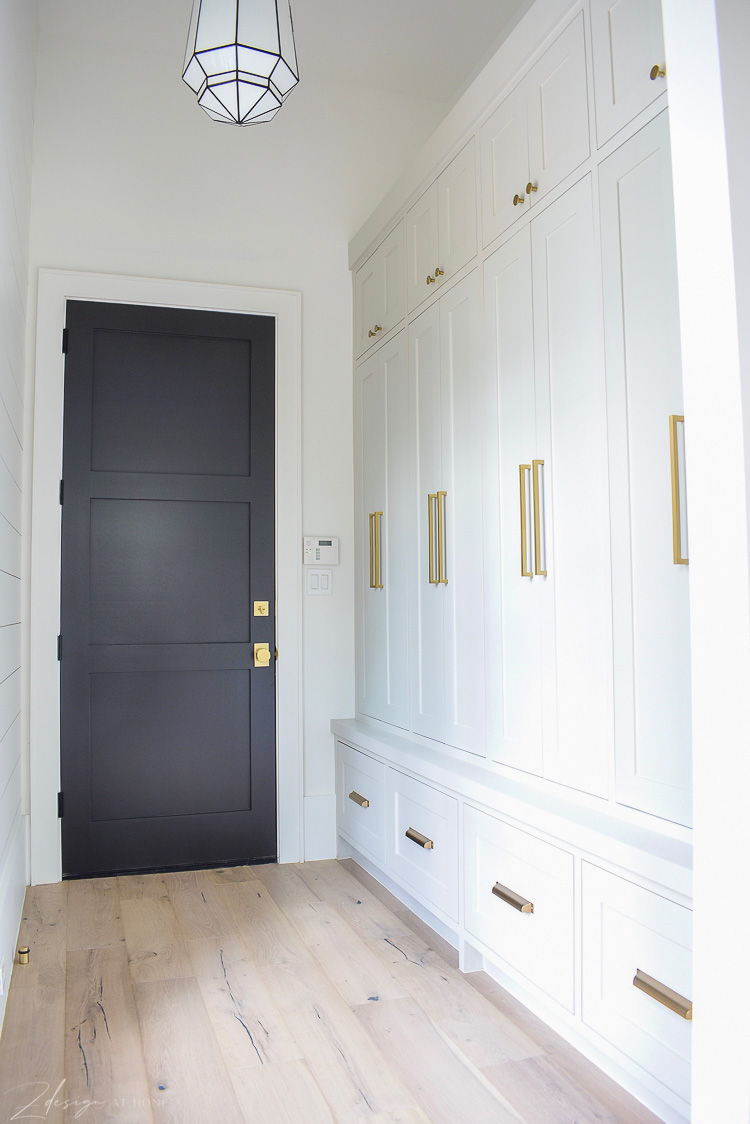 Master Suite
All the way back across the house is the master suite. I somehow managed to only get one photo of the master, not sure where my head was on that but I promise to share more later and soon, but we are absolutely loving our new bed!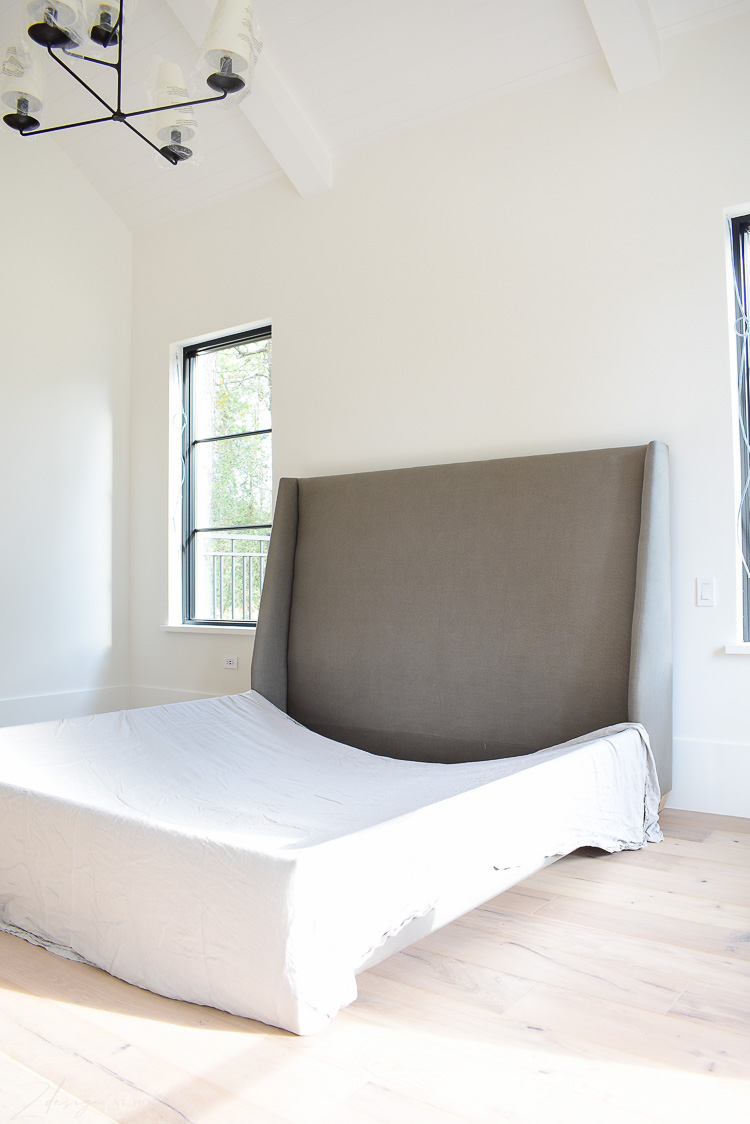 The master bath was a true labor of love. I can't wait to share more details soon but I did at least want to share a little about our cabinet hardware that I am so crazy about. Emtek provided some of our exterior door hardware and these gorgeous pulls and knobs for our white oak cabinets in this space. I was worried about the brass not popping enough against the white oak but they are absolutely stunning! On the small drawers I used the 4″ Modern Rectangular Brass Flush Pull in Satin Brass. On the larger drawers I used the 10″ Modern Rectangular Brass Flush Pull in Satin Brass and on the cabinet doors I used their District Knob in the 1 5/8″ size. I love the wide, flat style of this knob – it makes it feel so fresh and modern. I also ended up using this same knob in one of the secondary bathrooms upstairs. All stunning and the icing on the cake to our bathrooms! A huge thank you to Emtek for providing these, I couldn't be more smitten!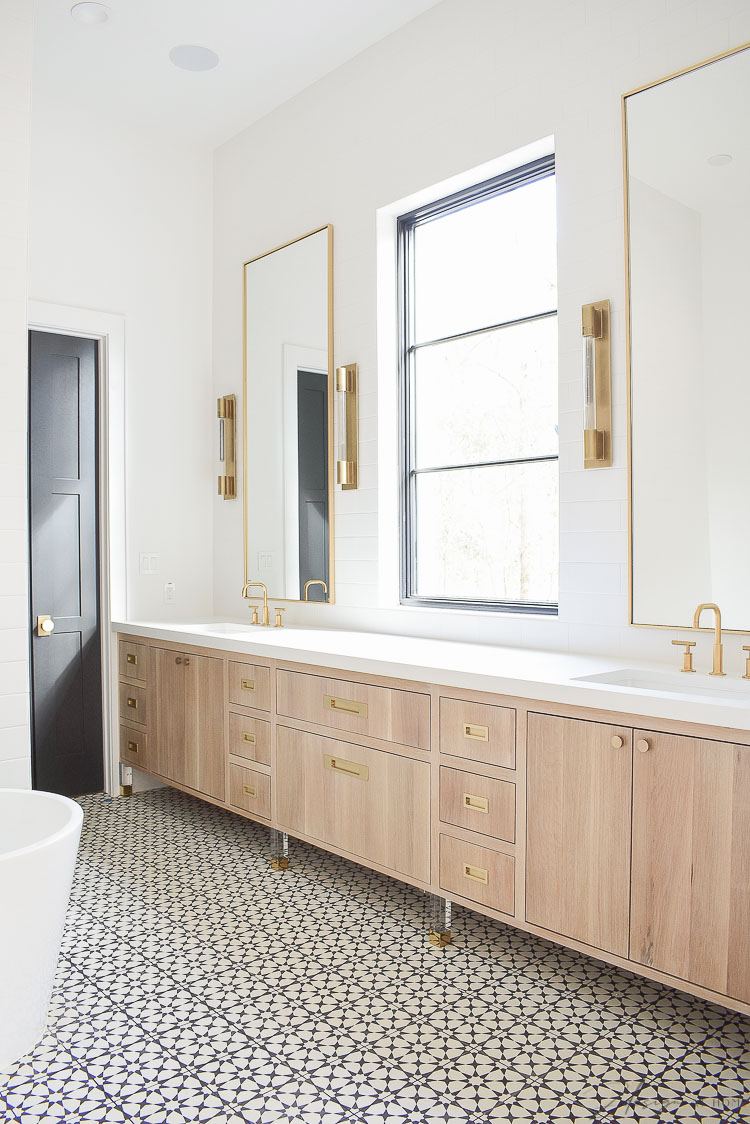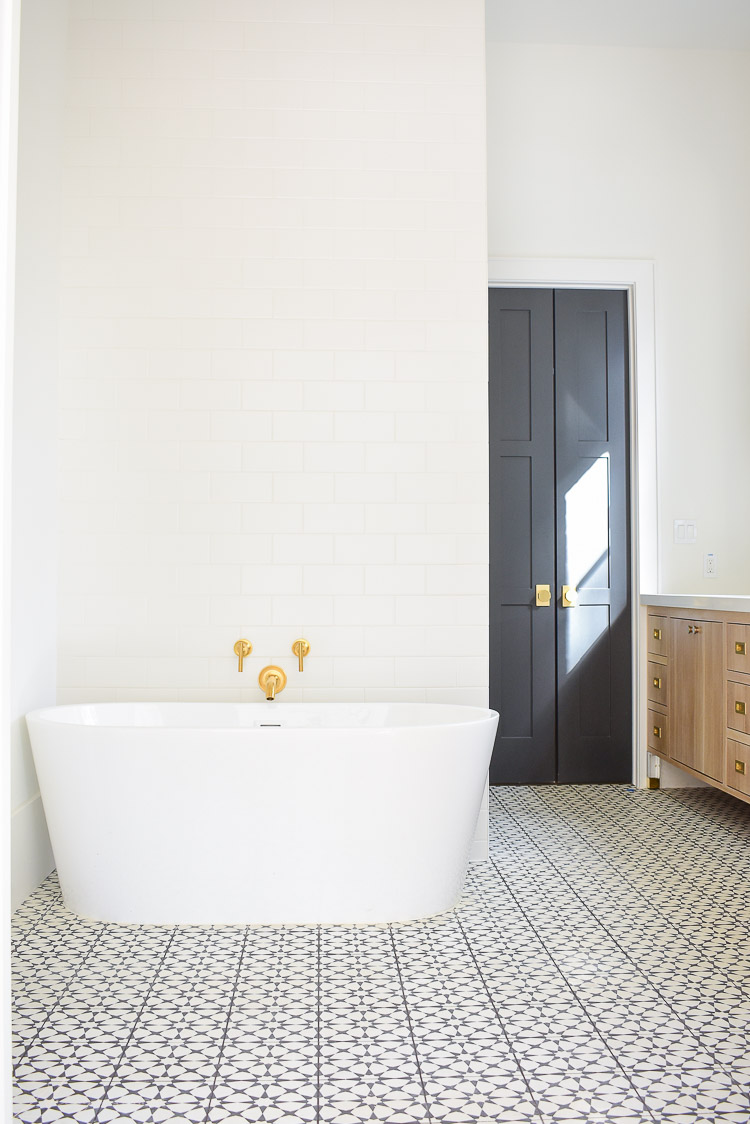 In the closet we did tons of cabinetry all the way up to the ceiling (I know what you're thinking – I'll address how we are getting up there later:) but it has been so nice to have a roomy closet again. I have big plans for this space once I can get it all organized but here is a quick tour. I was also thankful once again to partner with Top Knobs on this beautiful Barrington Channing 6-5/16″ Pull in Honey Bronze!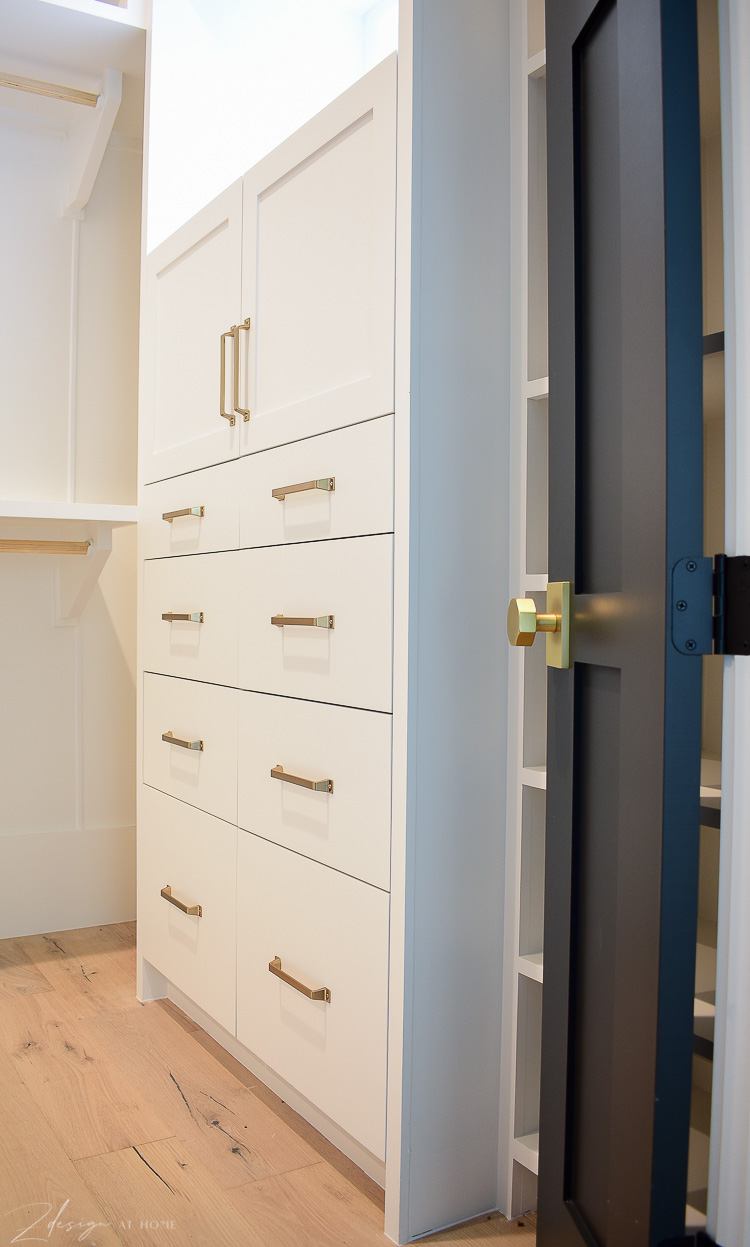 So stunning and I just love the clean lines of it! I used the same size pull all over my closet, regardless of door or drawer size.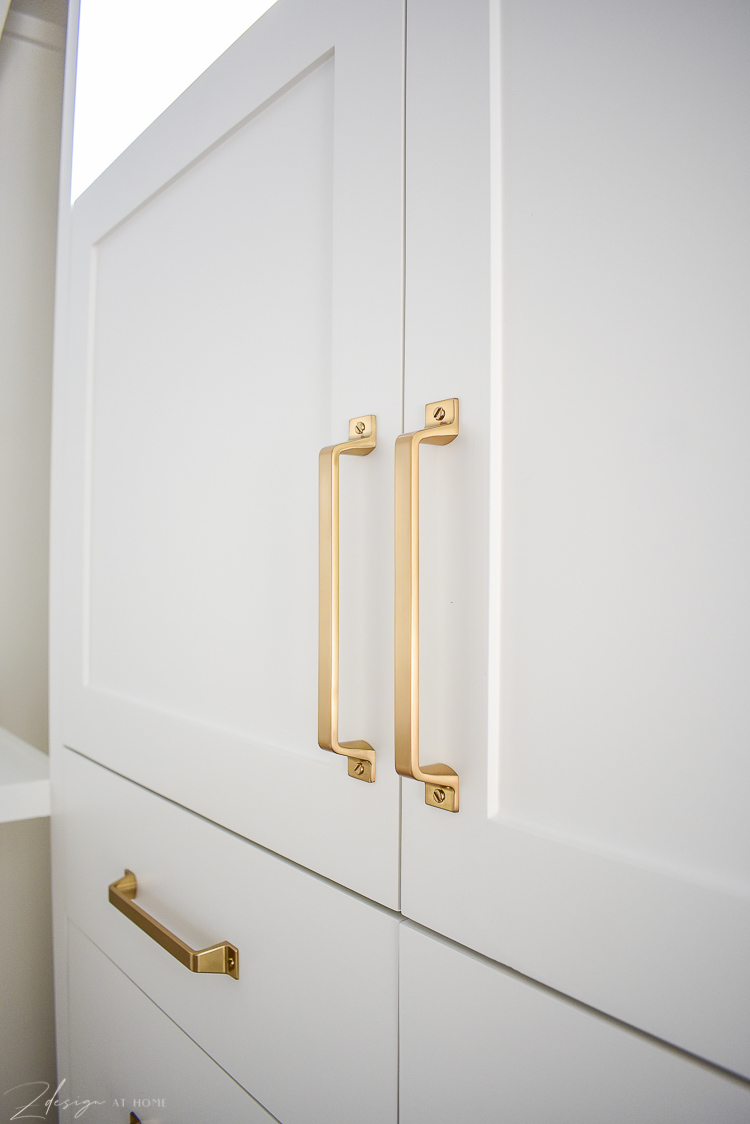 I also used this pull on my office drawers and on our window seat cabinet drawers upstairs.

Shoe storage!!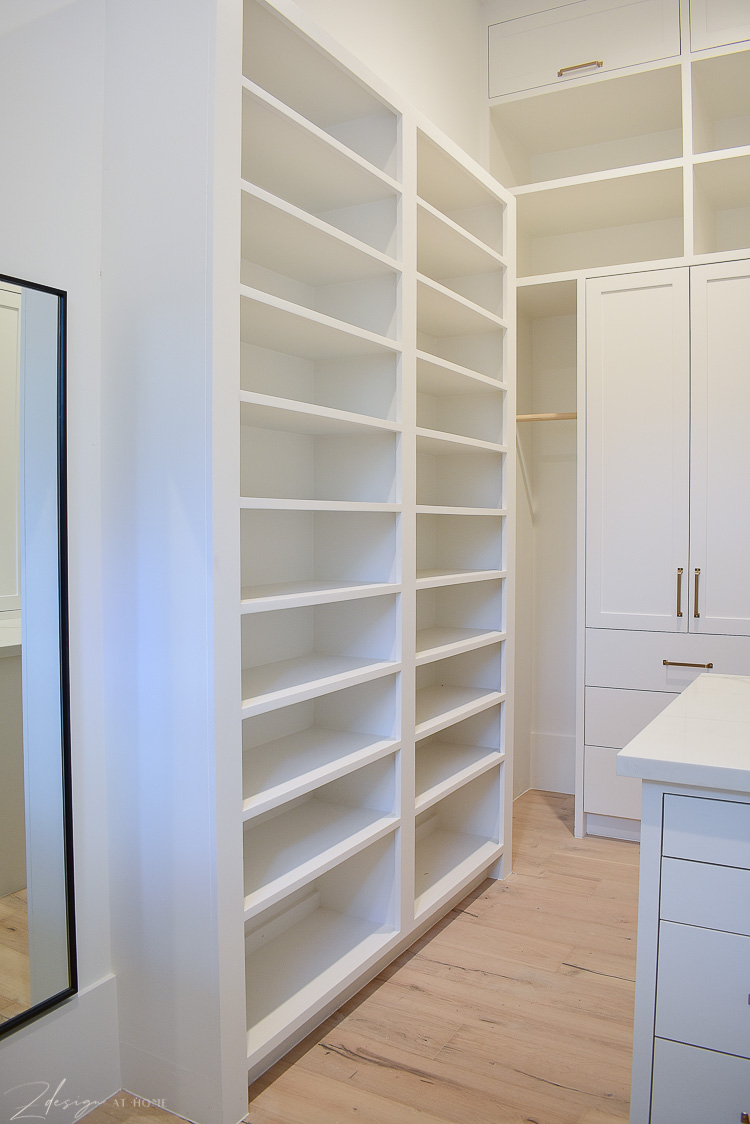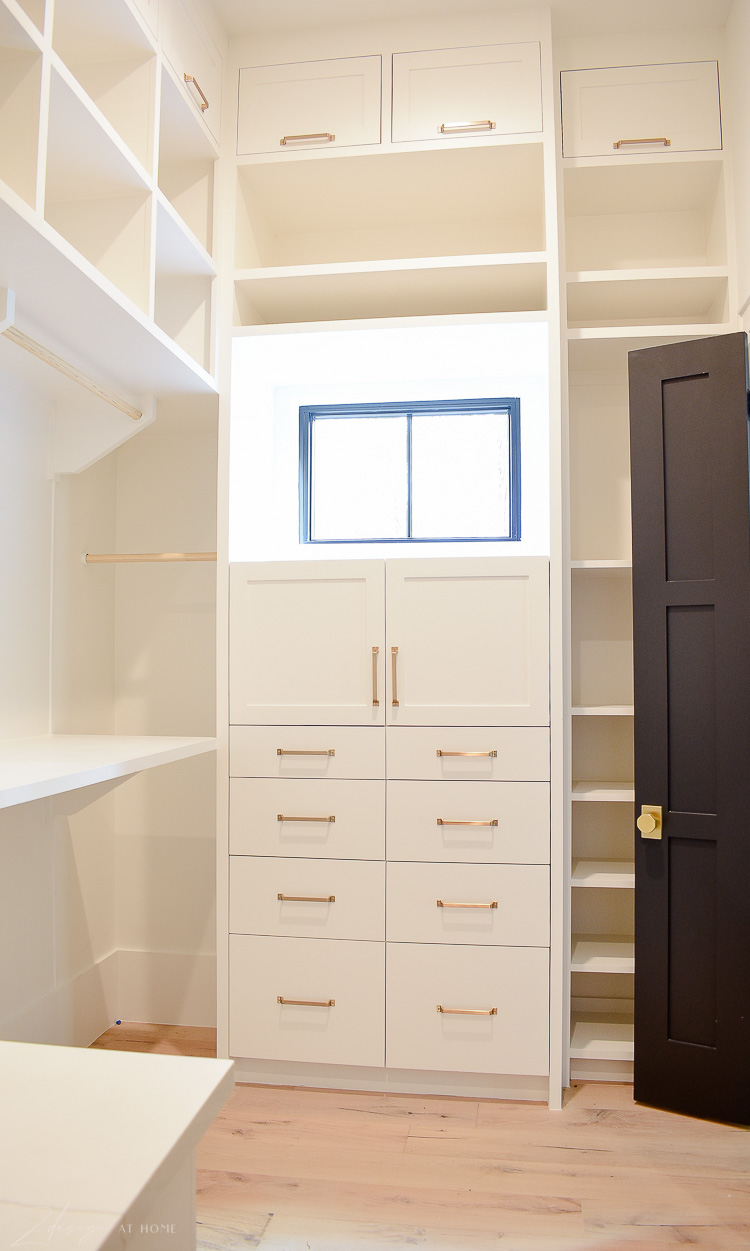 Upstairs Hall
This is one of my favorite spaces in our new home. I love coming up the stairs and rounding the corner to this view!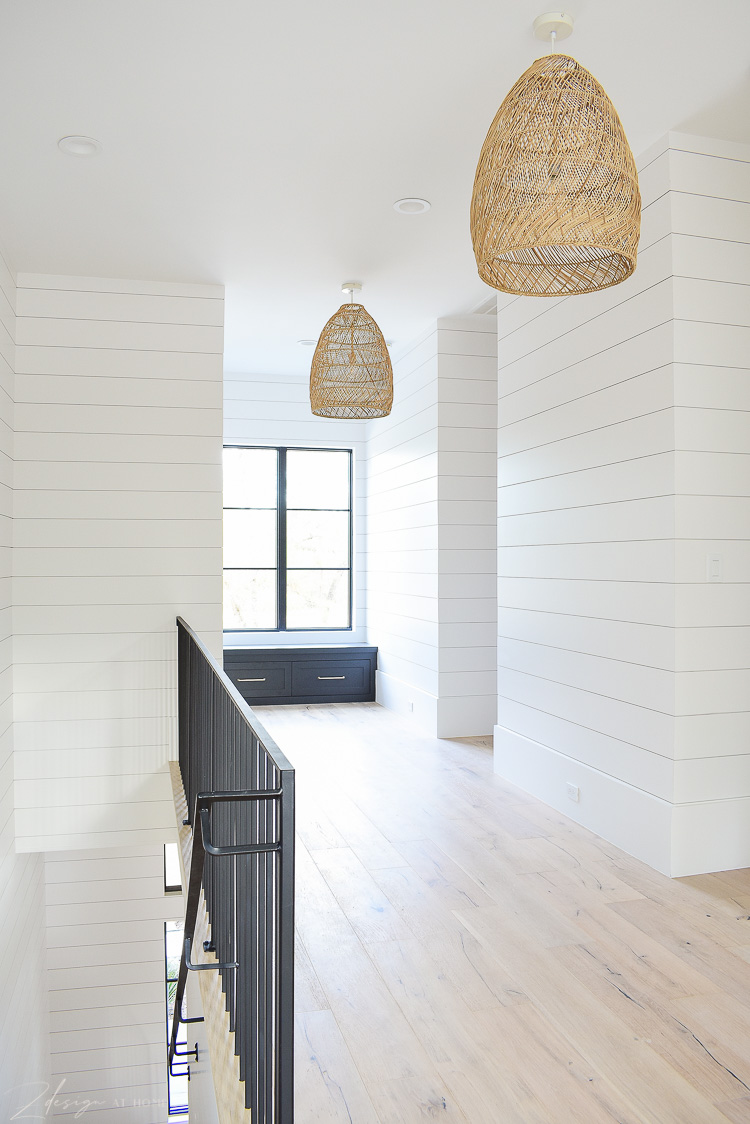 Secondary Bathrooms Upstairs
Next up are the secondary bathrooms upstairs. This bathroom here is the bath that goes with our gym which I'll primarily be using so I made it a little more feminine. The cabinet color is SW Dried Thyme. The floors are a basketweave marble and the brass accents finish it off!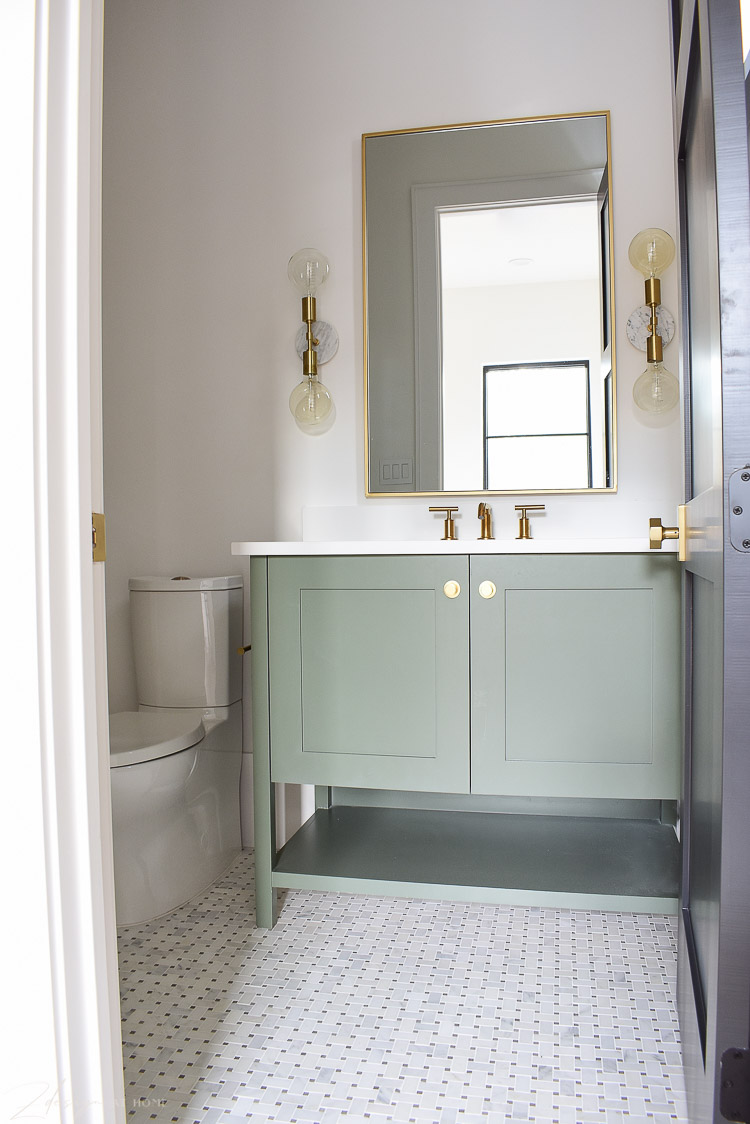 I really love the way this two-tone cabinet turned out in our guest bath as well, and I used the same Emtek knob I used in the master bath in here as well.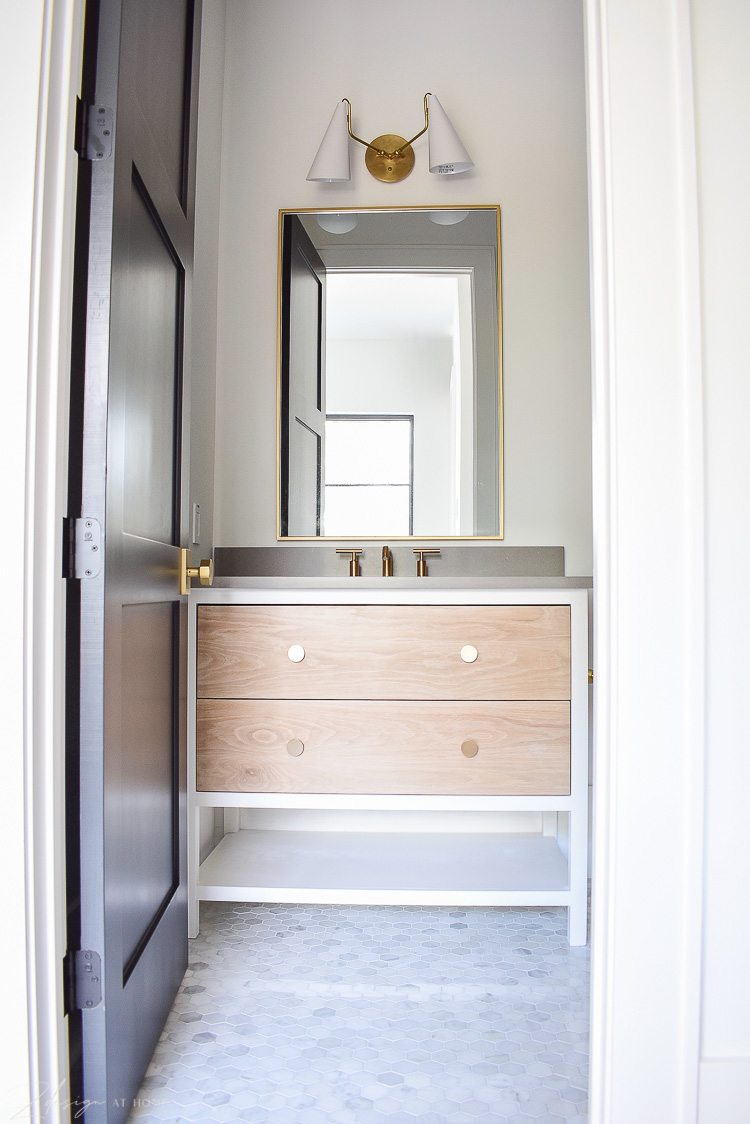 Game Room
This space speaks for its self. It will be a space where lots of fun is sure to happen and many memories made with family and friends over the years I pray. We had our first guests over the weekend and it brought my heart so much joy to hear kids laughing and playing in our home once again, which all happened from this space!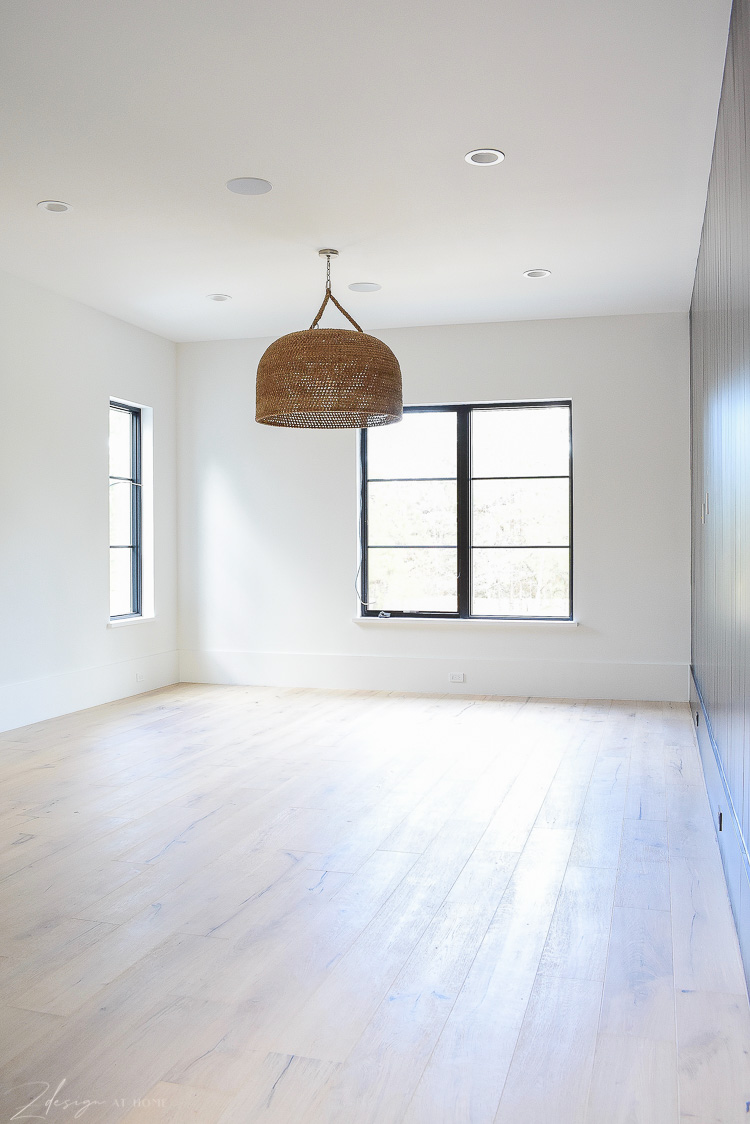 If you are wondering what those wires are for…they are for the automated blinds we'll be hanging soon – can't wait for that!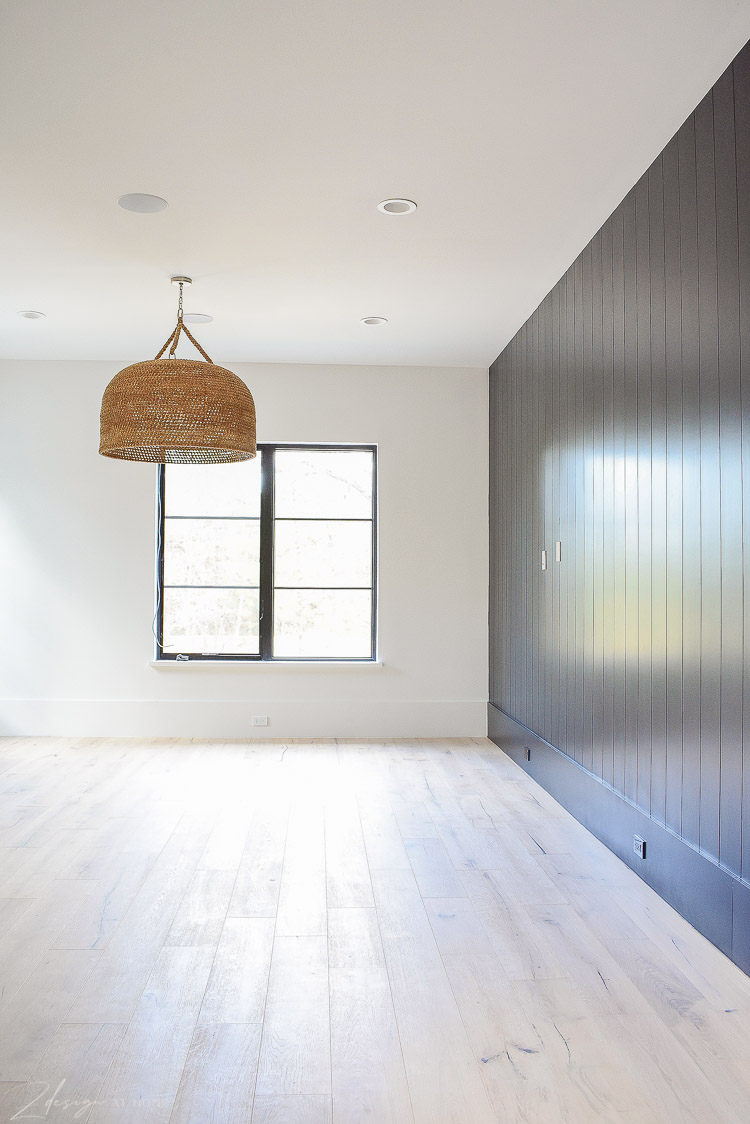 We also have a powder bath off the game room. It's super simple but I really love this bathroom. The charcoal herringbone floors are my favorite.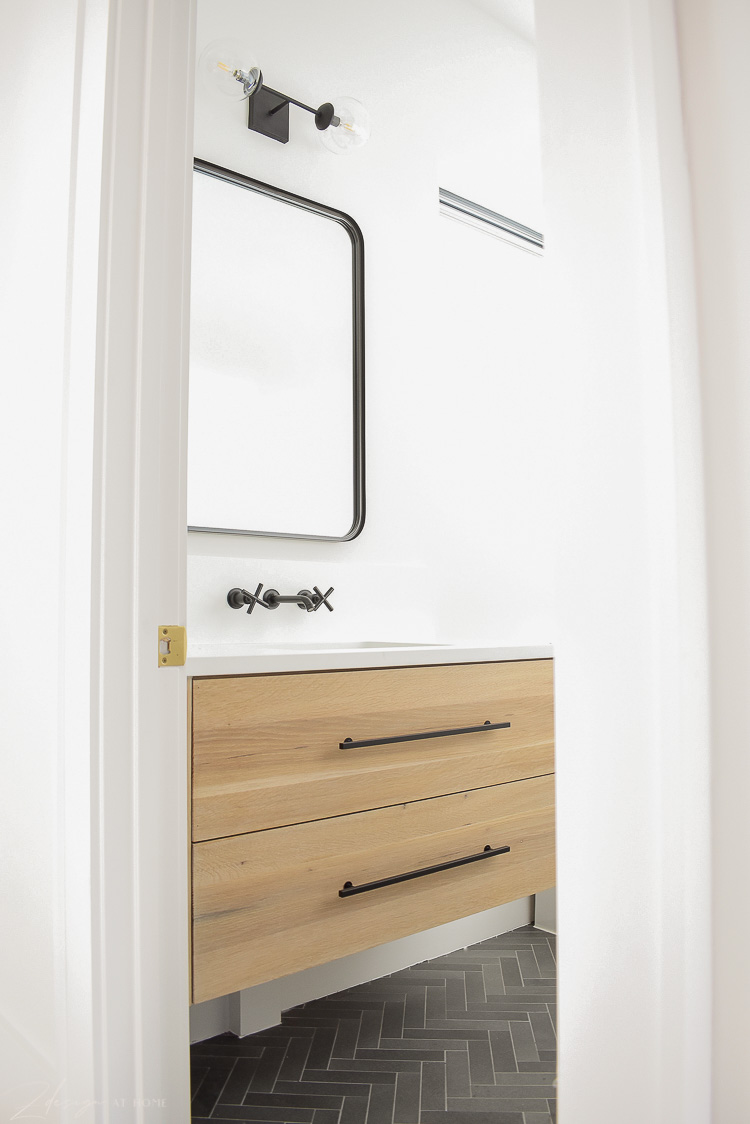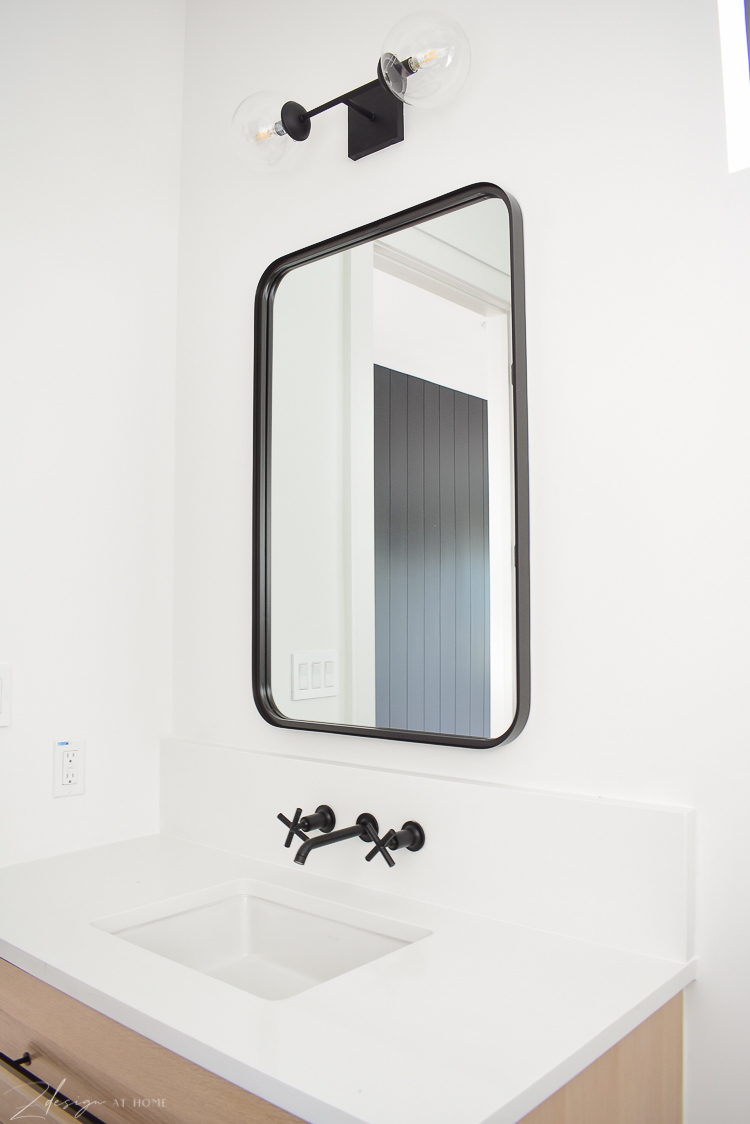 See what I mean about the floors – so in love!!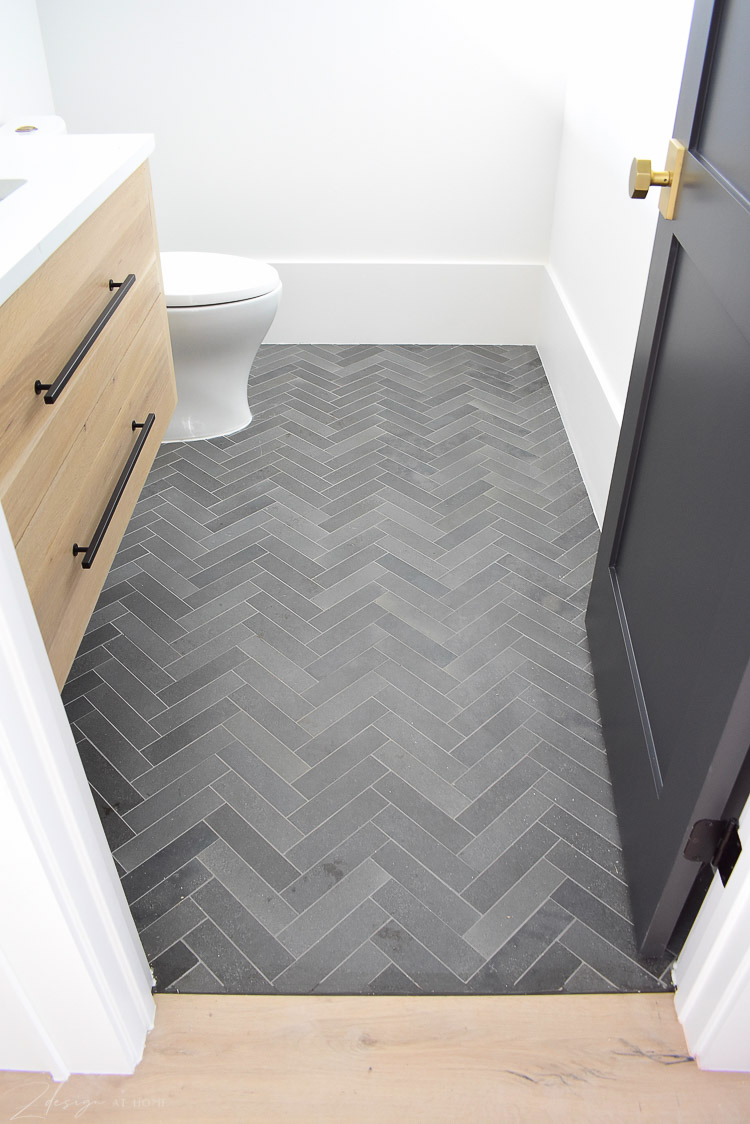 Living Room
And last but not least is the living room. This spaced is really the only semi-styled space in our home except for making the bedrooms livable at this point. I'm starting to receive furniture little by little but as you know most things are on back order for weeks and months at a time but I at least wanted one comfortable, styled space where we can relax and enjoy our new home. Fireplace wall is Iron Ore by Sherwin Williams.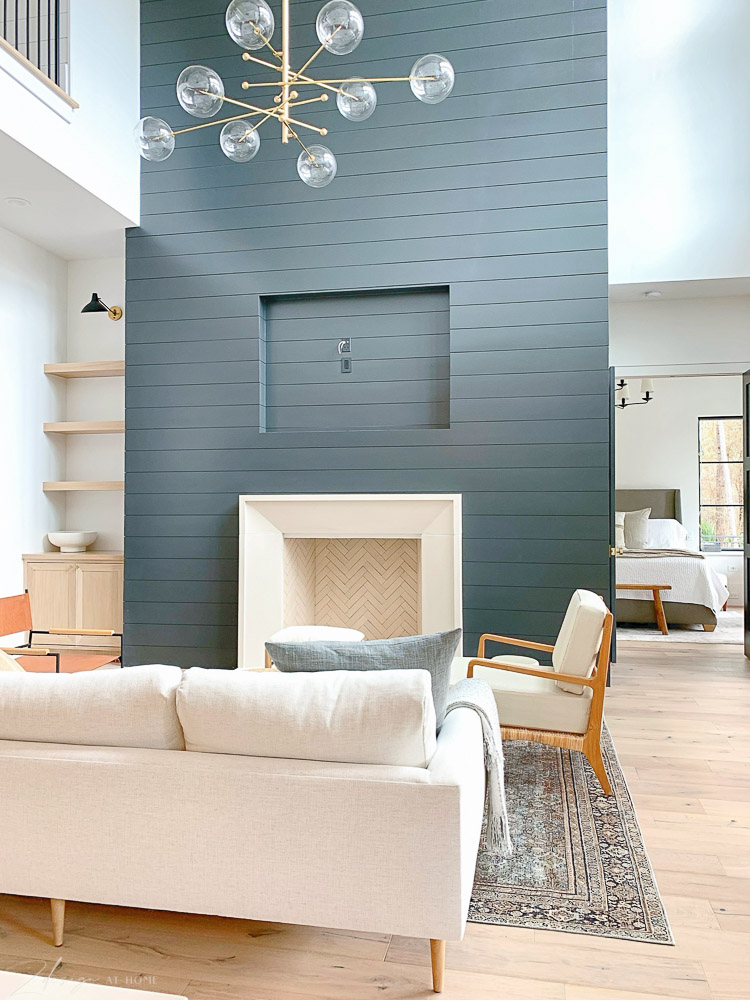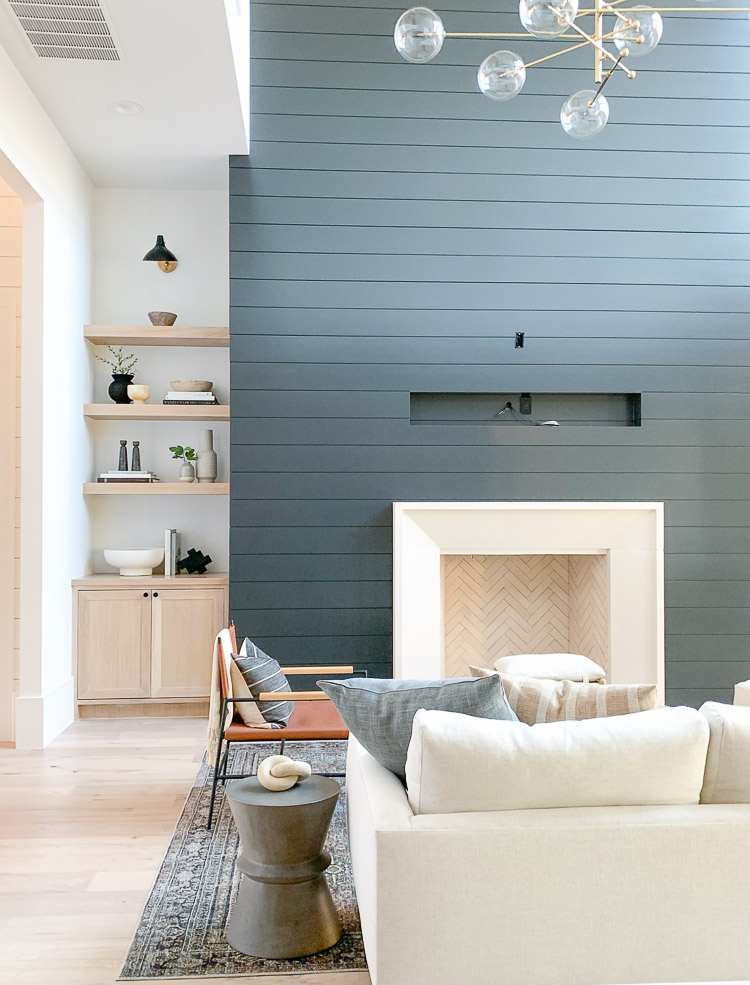 Thank you so much for stopping by to see our new build reveal and to see the first real photos of our finished home! I hope you will plan on stopping back by to see the progress as I begin to decorate and reveal rooms so make sure to sign up to be alerted of new blog posts HERE!
XO, Bree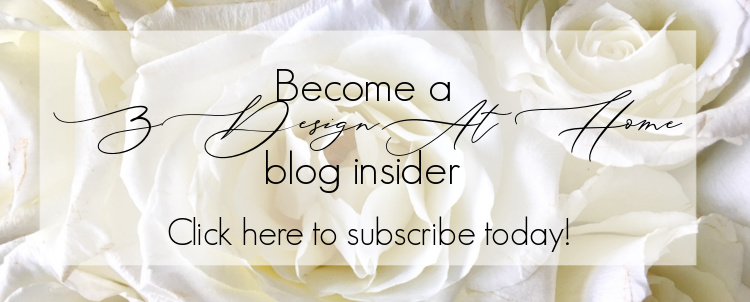 White wall & trim color throughout our home is Sherwin Williams – Snowbound