New Black Dining Chairs + Spring Dining Room Tour
Hello there, friends!  I hope everyone is hanging in there and not going too stir-crazy at home.  Now more than ever though I think is the time to hold fast and keep fighting the good fight to stay home (if you're able) until we flatten the curve, as they say!  I hope this blog can be a source of inspiration and an escape from any boredom, loneliness, or fears you might have during this time so thank you for stopping by to visit my Spring Dining Room Tour and to see our New Black Dining Chairs!  Additionally I'll be sharing a round up of my favorite black dining chairs that I considered at the end of this post to stay tuned for that!
If you missed my post last week with my Styled Studio McGee for Target pieces you can check that out here, along with my spring living room here, and spring bedroom here.   *Also, this post contains affiliate links.  Please read my full disclosure policy here.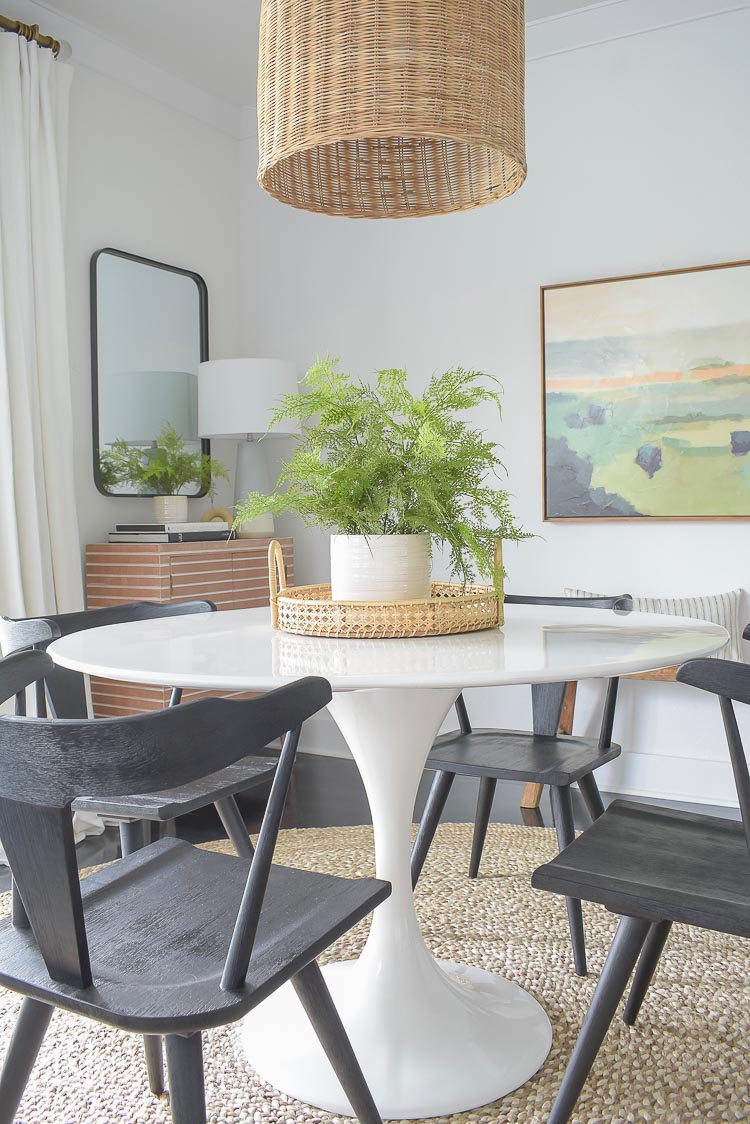 With so many great sales happening the past 30 days or so I decided to go ahead and pick up these new black dining chairs for our game room in the new house.  I really loved our previous chairs but was super lucky to find these at the price I did and fortunately was able to sell the previous ones on Facebook Marketplace for just about what I paid for them so, I had no heartburn over letting them go.  They were super comfortable but I really love the contrast of the black chairs in here and can't wait to show them to you in detail!  Actually when I purchased the previous chairs last year I struggled really hard between those and something in black, and now I'm so glad I've gone to the dark side because I really, really love them!
Adding black to your home in furniture, accessories and lighting right now can ironically make it feel so fresh and new.  The contrast is pleasing to the eye and the color gives it a cozy, modern feel, especially paired with greenery.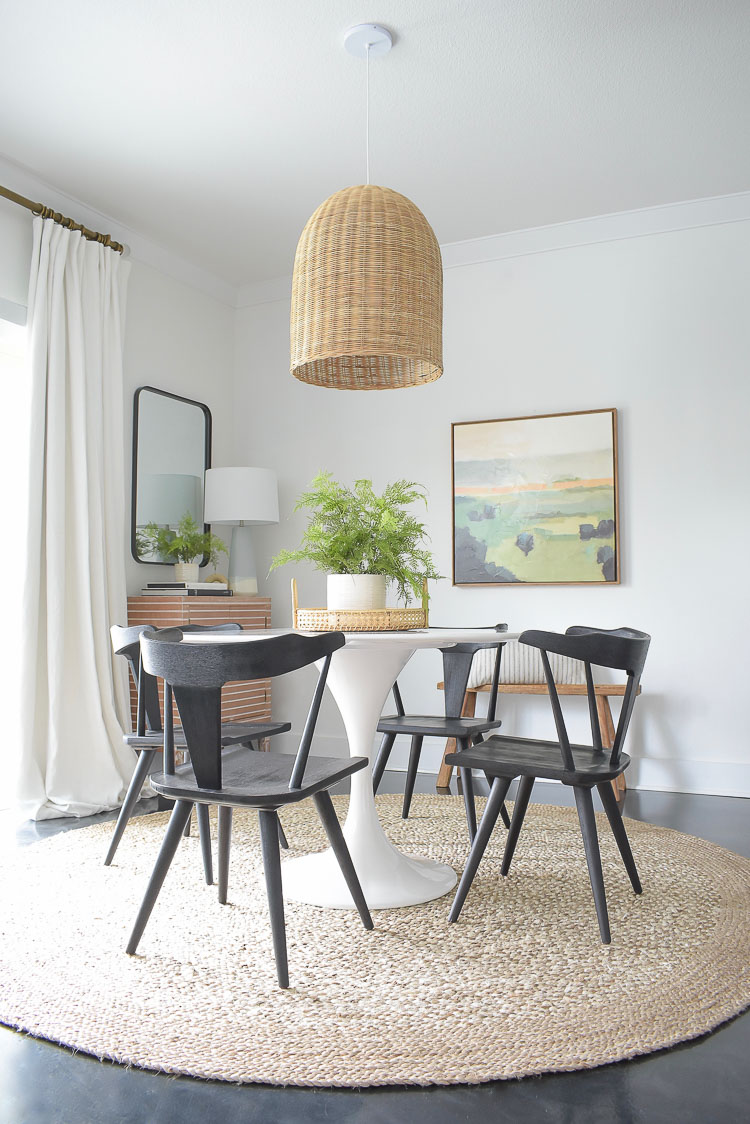 They are actually really comfortable but I have to say they are the best for not having to worry about spills or anything else so they would be great if you have kids and pets around, or really messy adults ~ haha!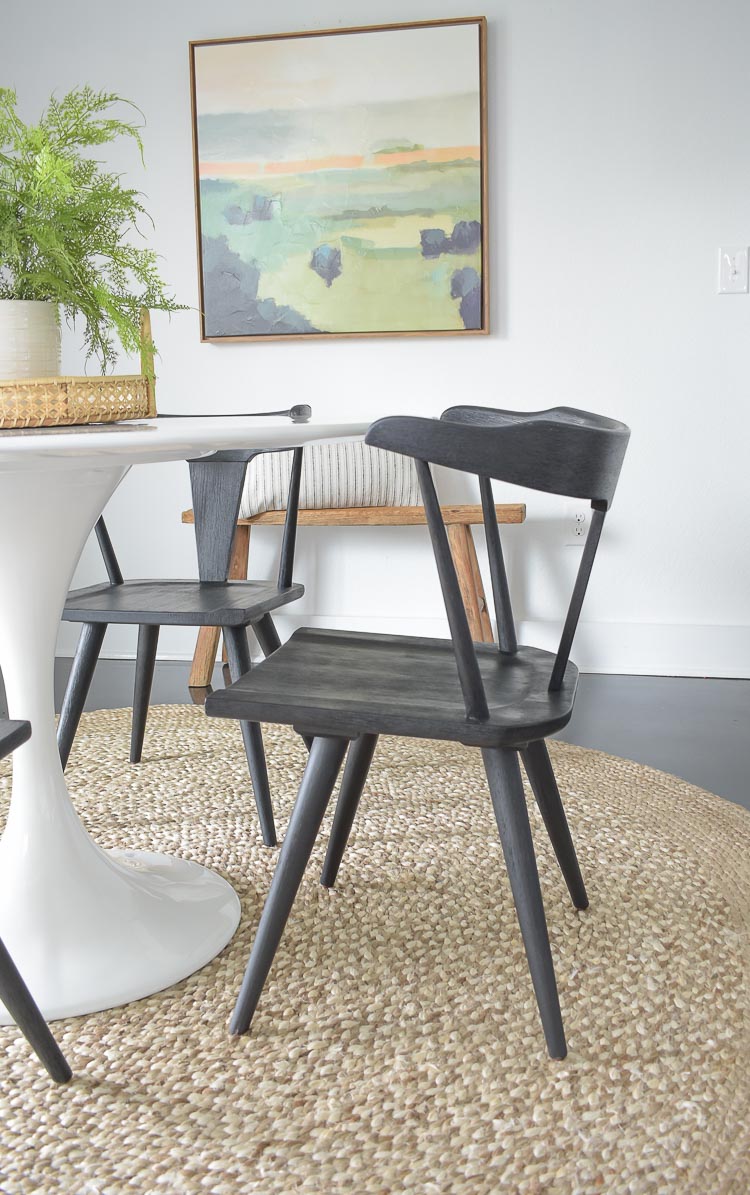 I love the curves of the design and that they are modern but not too modern.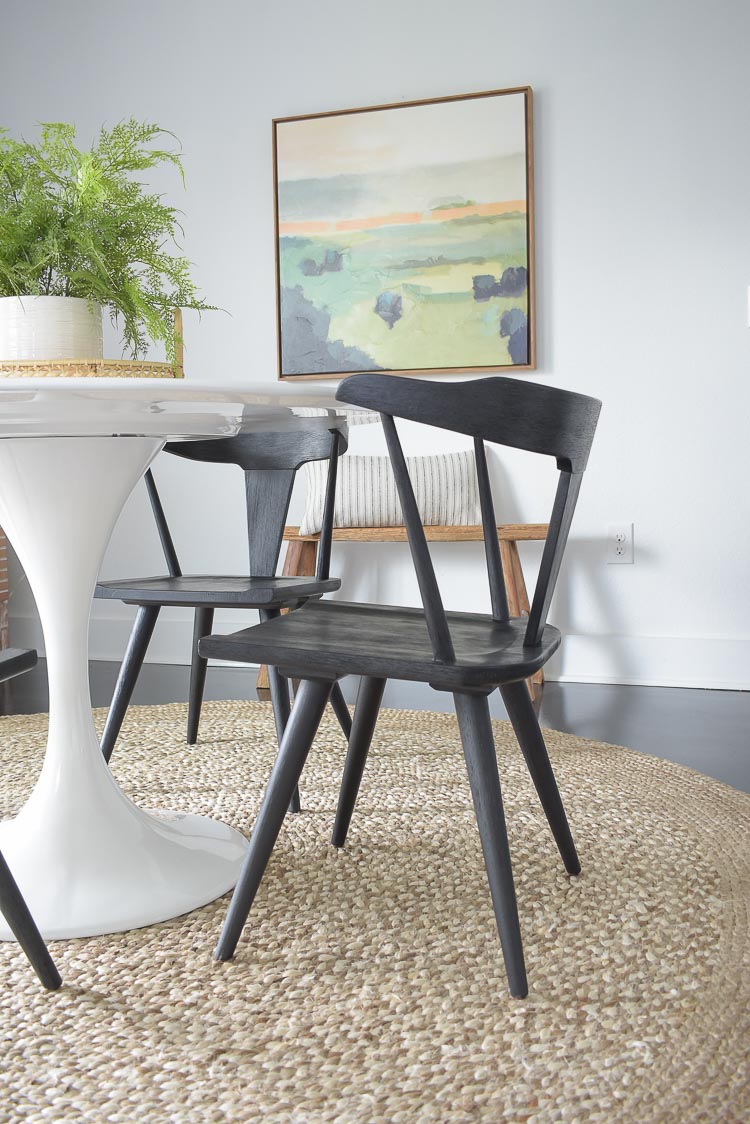 They sort of have a modern farmhouse, mid-century kind of feel – I love the mix and like that they aren't too farmhousey (Is that a word or did I just make that up, haha??)!
They are really pretty from behind with the barrel back design and yoked back and I like how the arms tilt up for a unique look.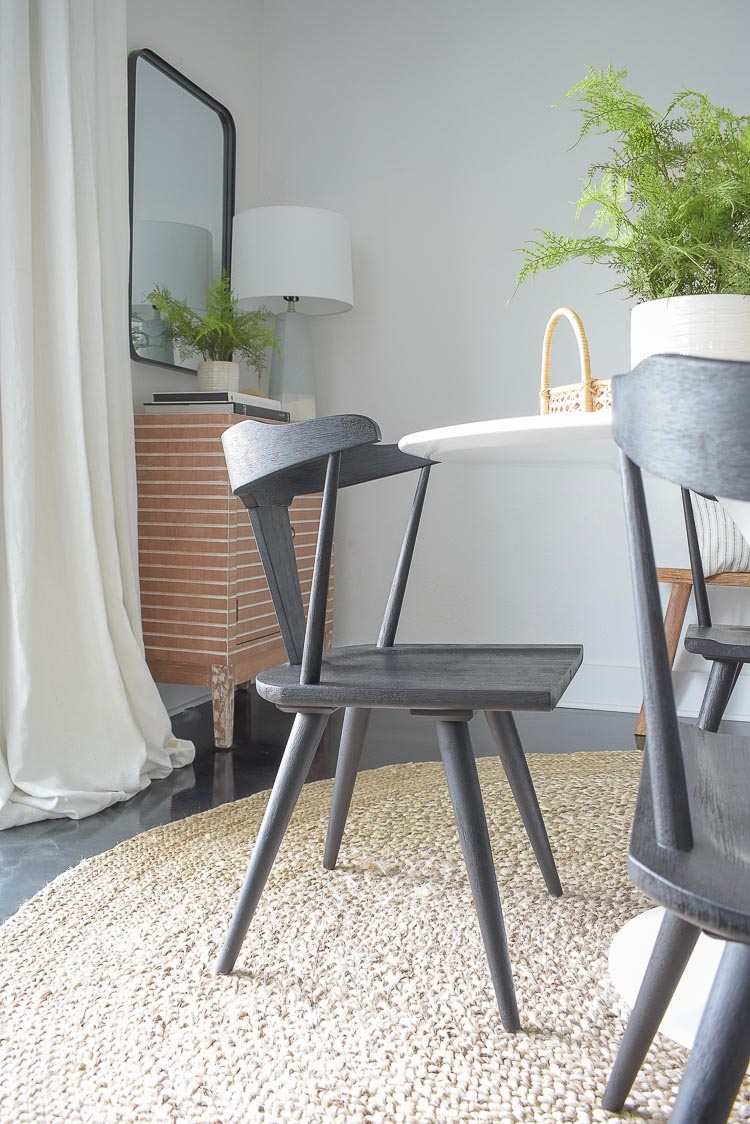 The seat has and indention for your derriere which makes them pretty comfortable, along with the barreled, yoked back.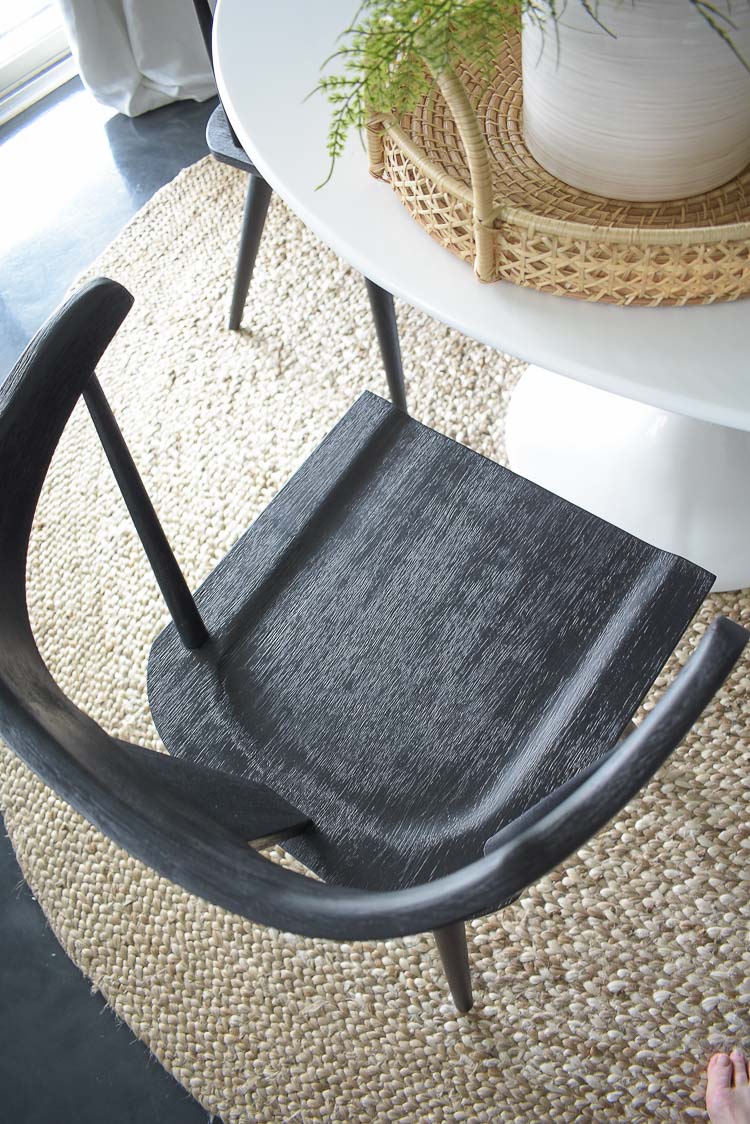 Pretty cute and I'm smitten with them – I know they will look great and function perfectly in our new game room here pretty soon!  Let me know in the comments below if you have any questions about them and I'll be happy to answer!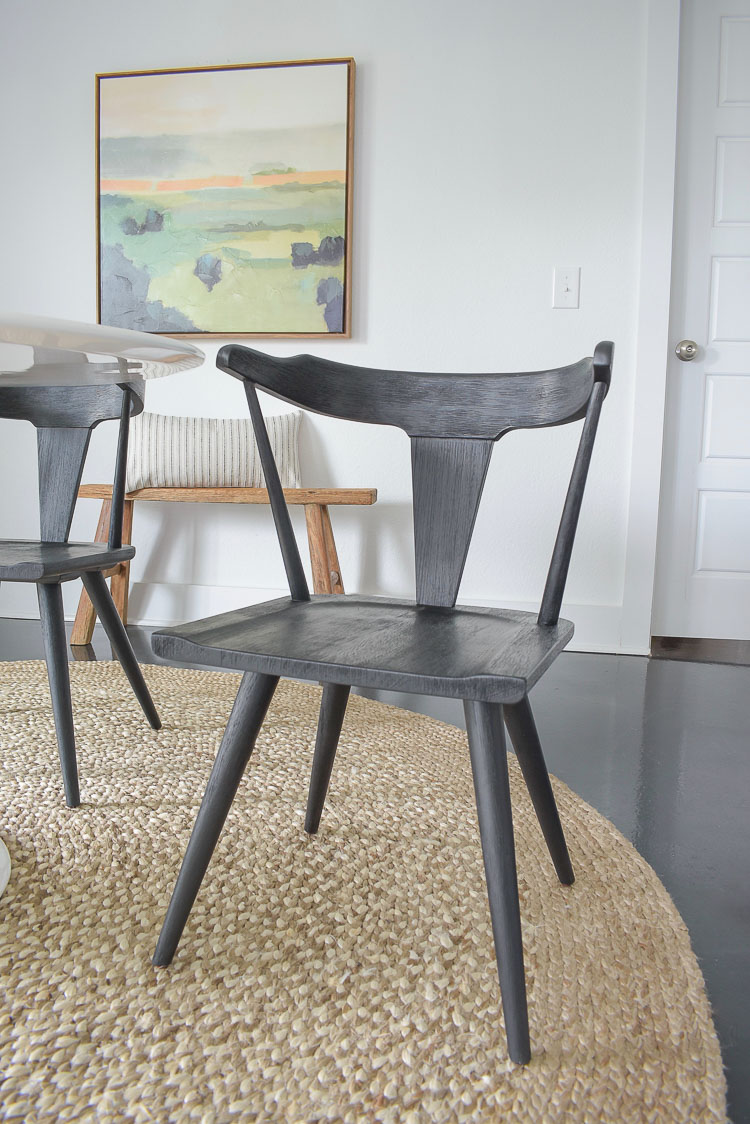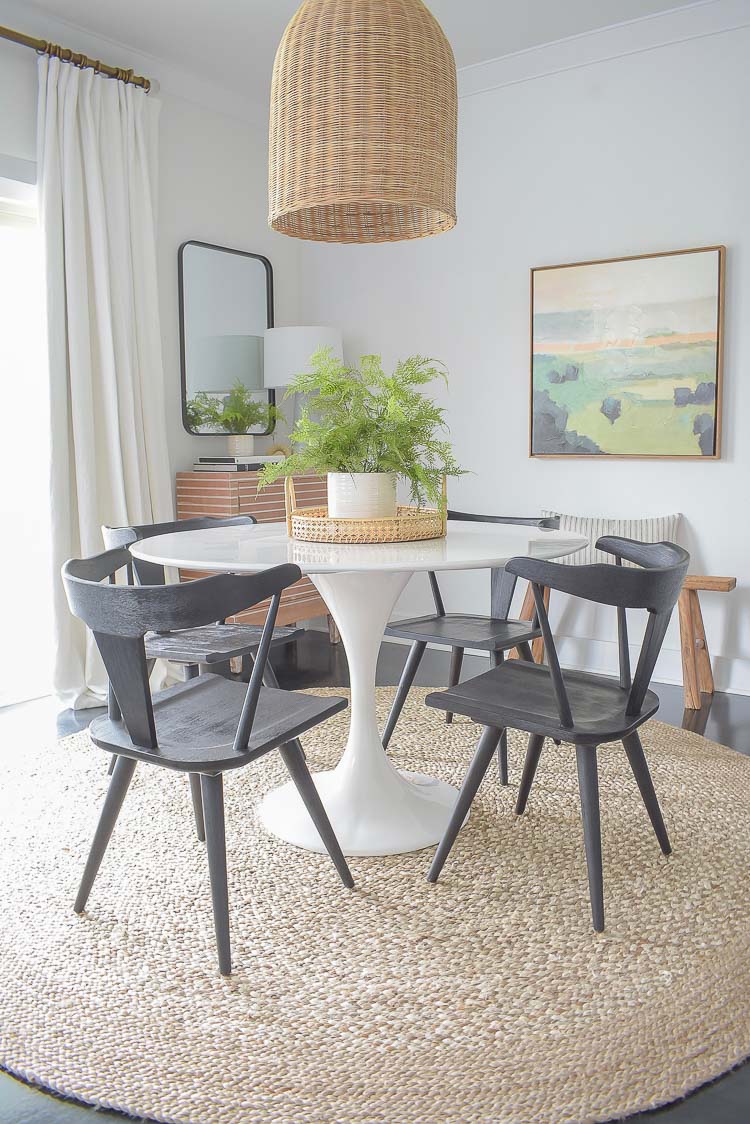 Turning the corner, here is the rest of the space all made up for spring – although pretty simple.  I really love this art (similar) that I first used last spring and summer.  Love the pop of color it brings in for the season and the simple wooden frame.  Also, these days I'm keeping my favorite wooden bench over here under the painting.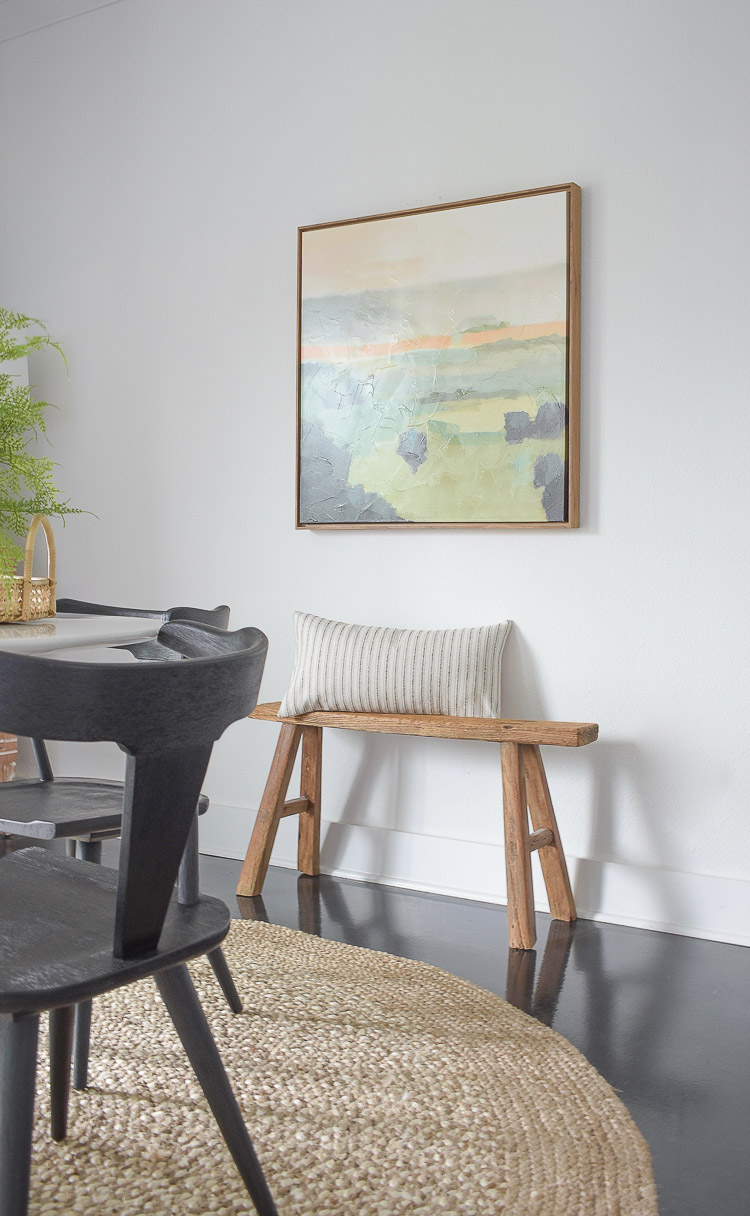 The credenza / bar cabinet area also recently received an update with a new Studio McGee black mirror and a few accessories from the line at Target as well.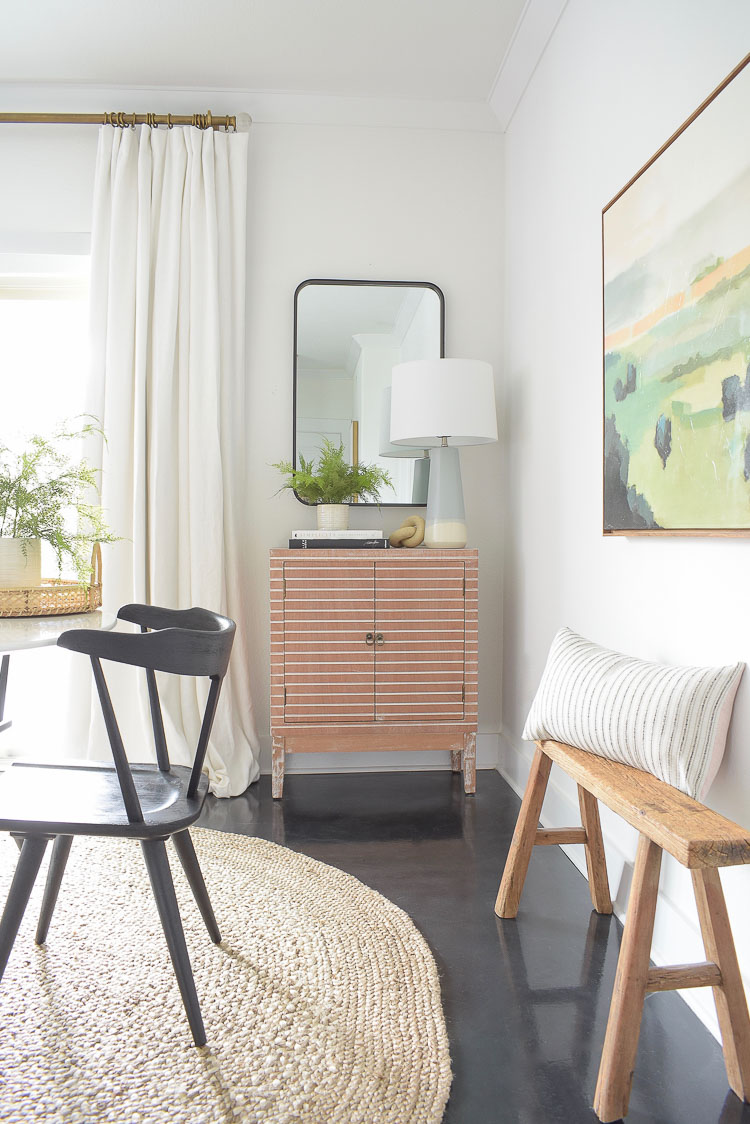 Really love this mirror and the lip around it.  Such a nice piece for a nice price.  I plan to use this in the powder room in our new home.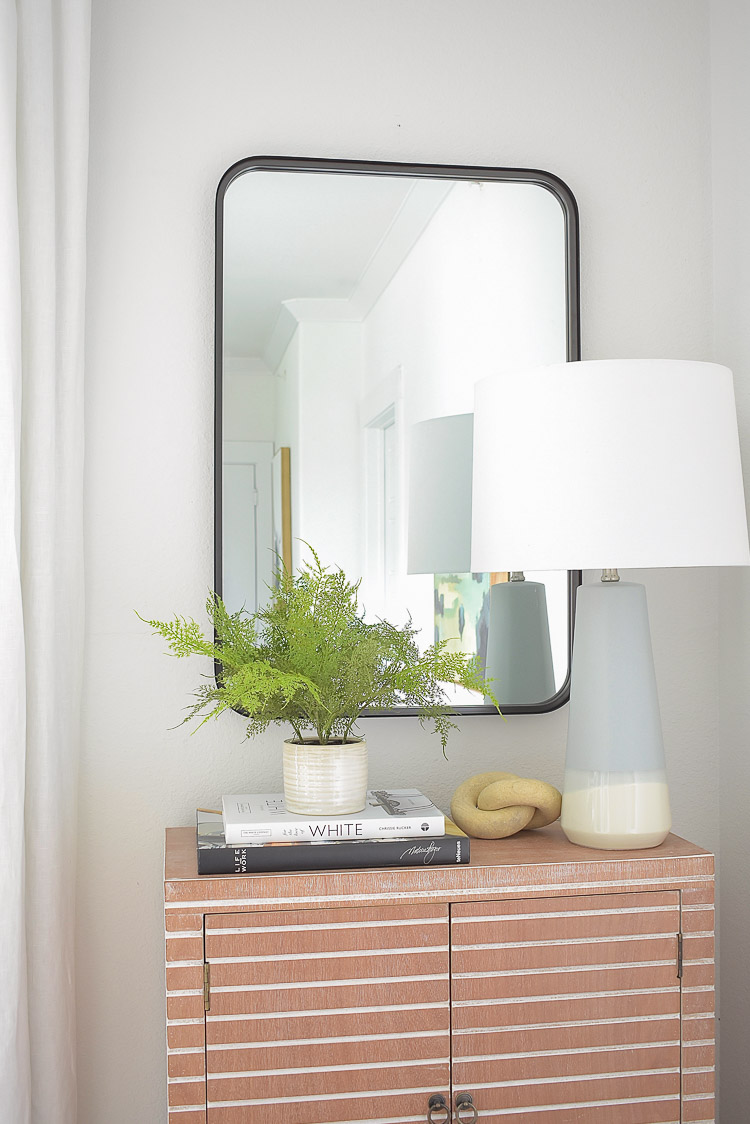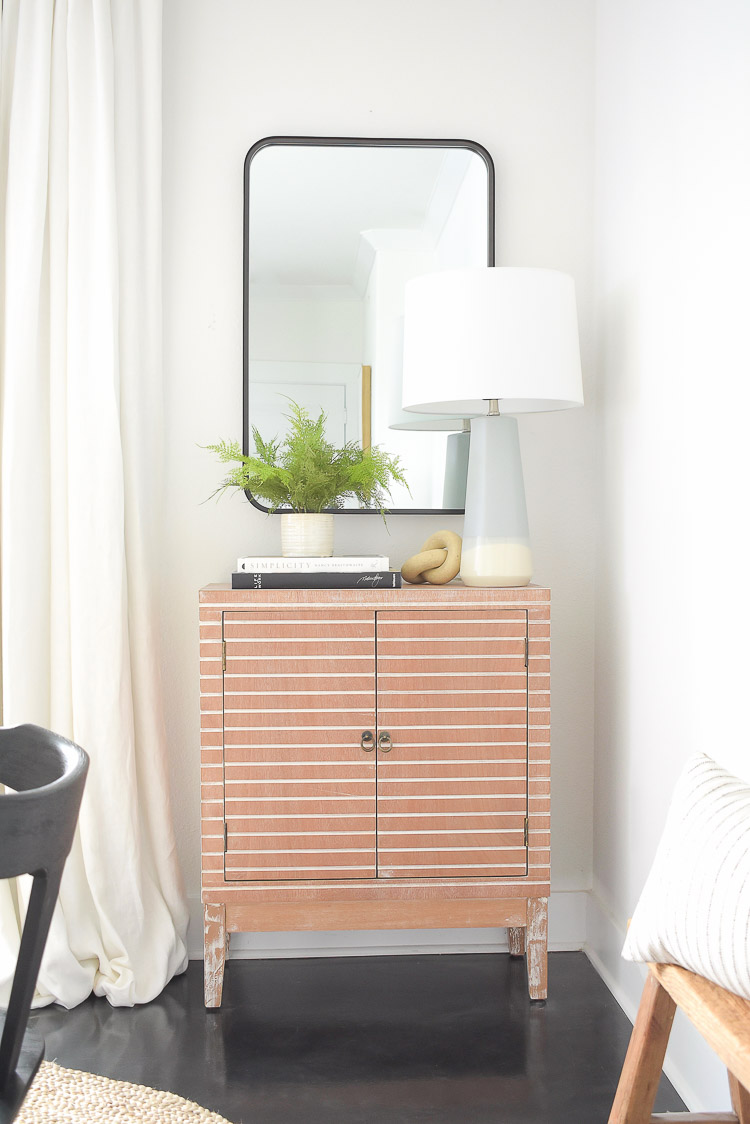 Love this faux potted fern and the limestone knot from Studio McGee as well!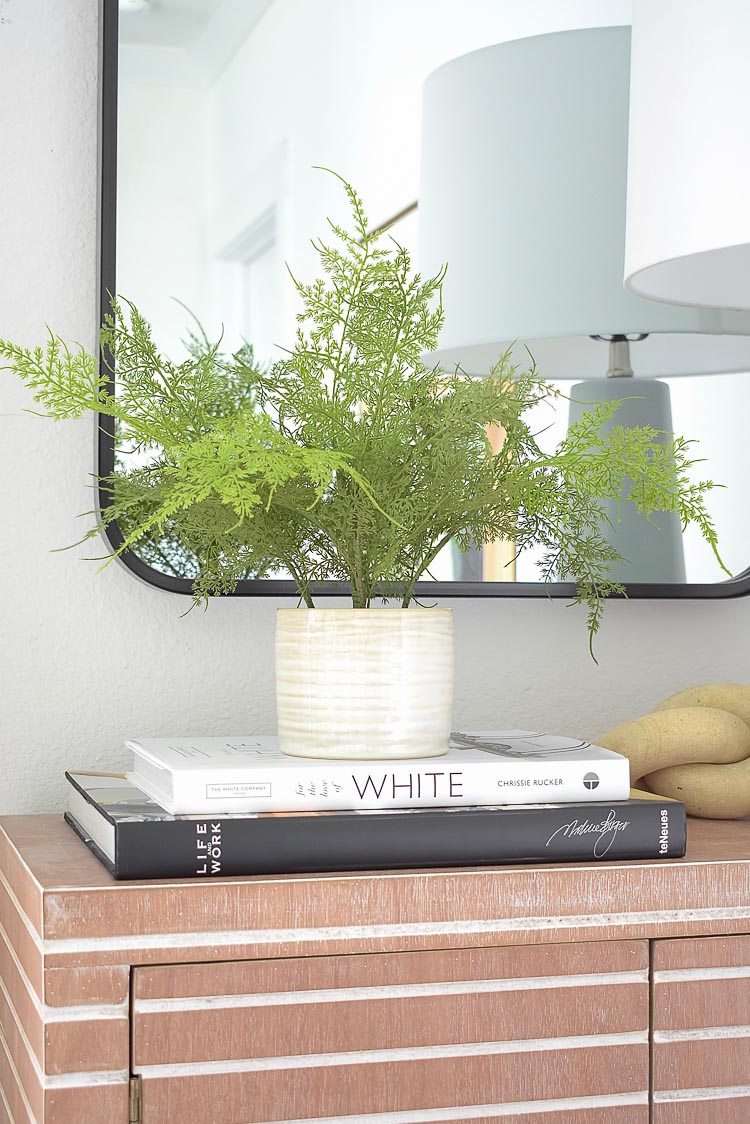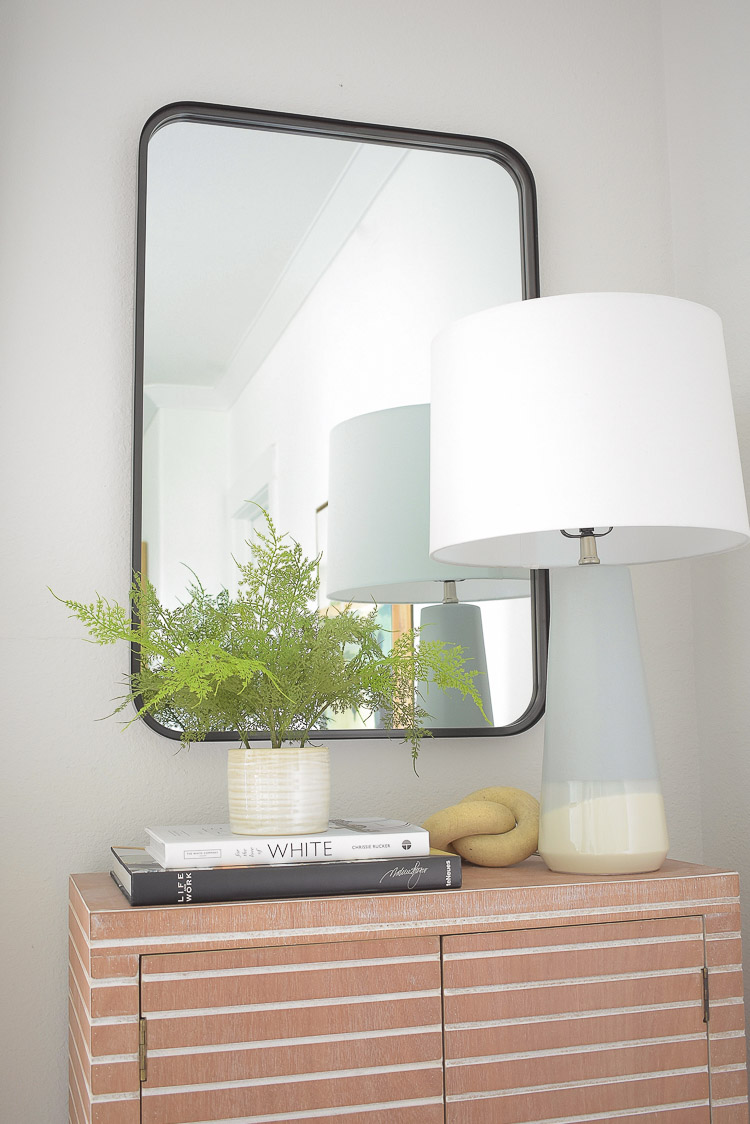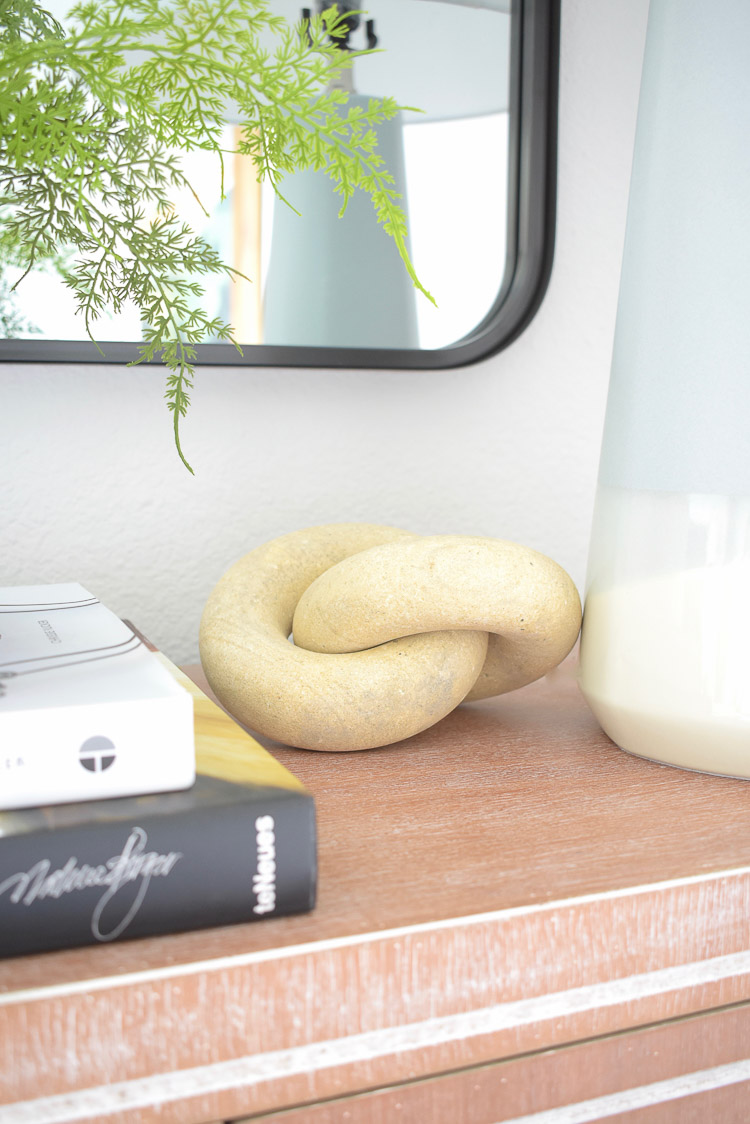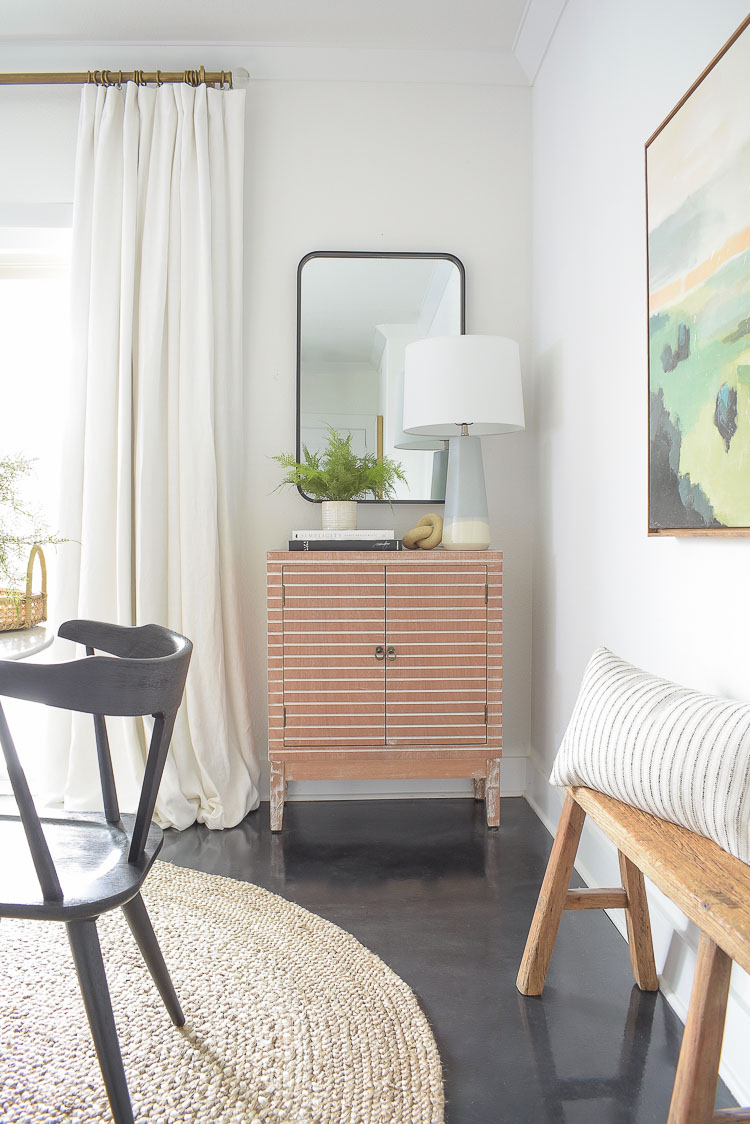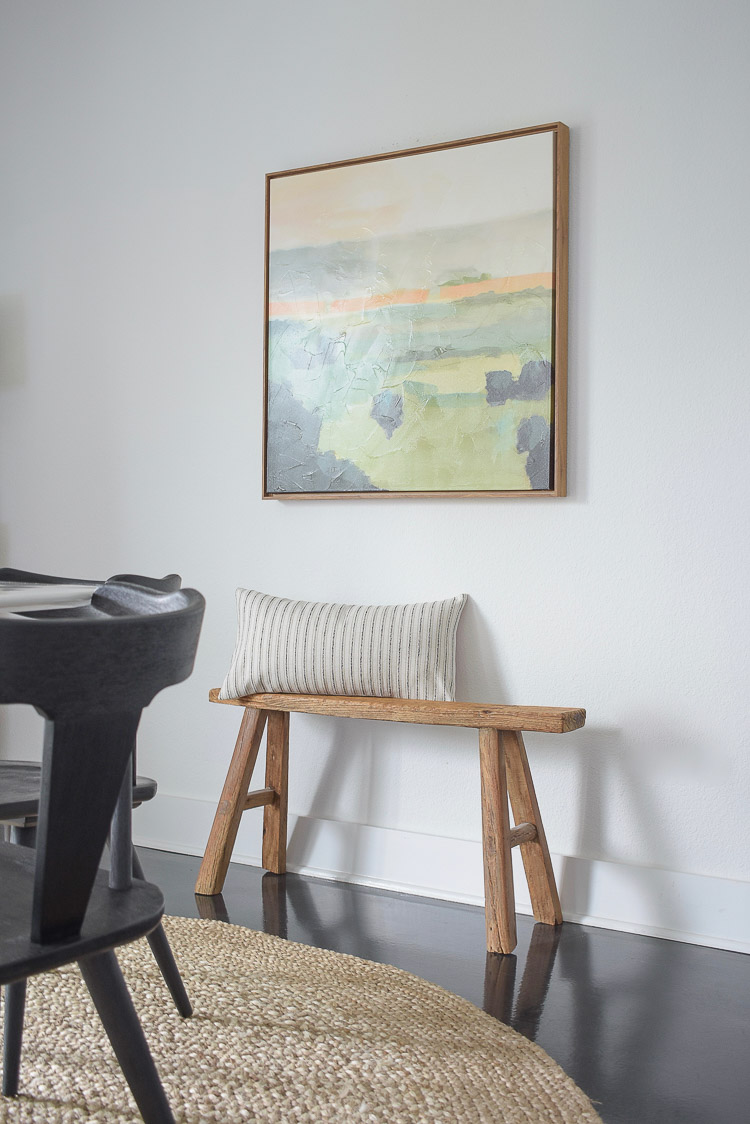 I hope you enjoyed my spring dining room tour and seeing our new black dinging chairs!  Here is one last look back and then below I'll be sharing a round-up of several black dining chairs that I love and considered before I decided on these.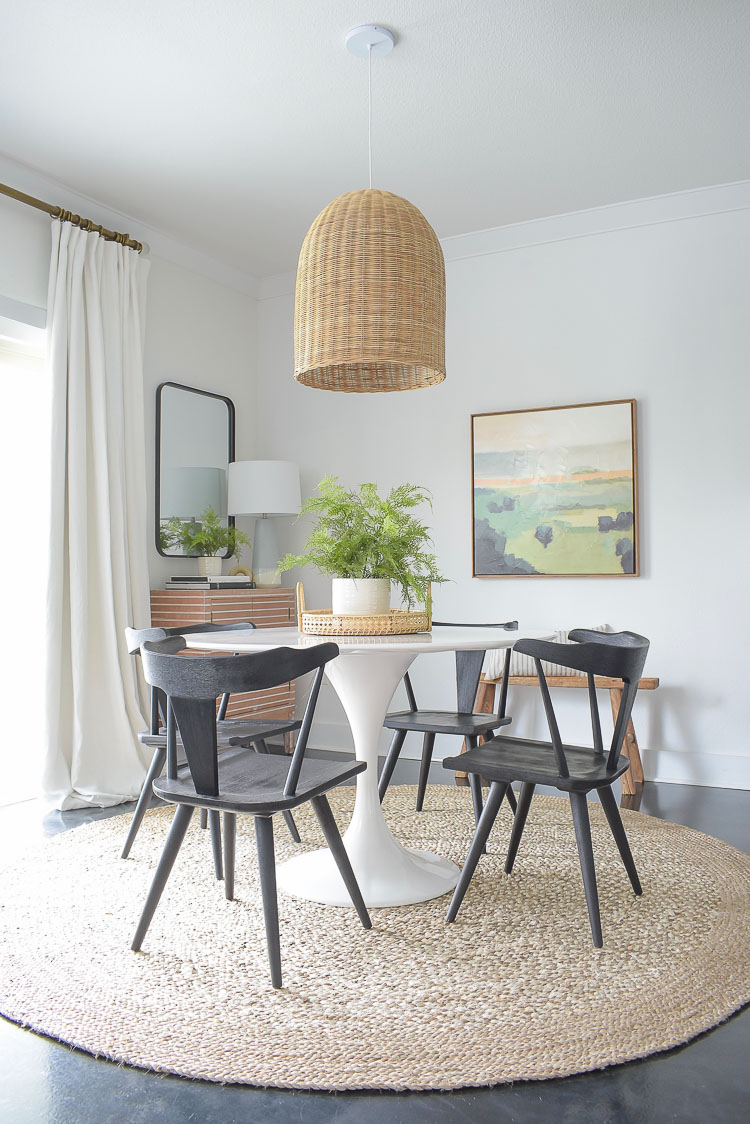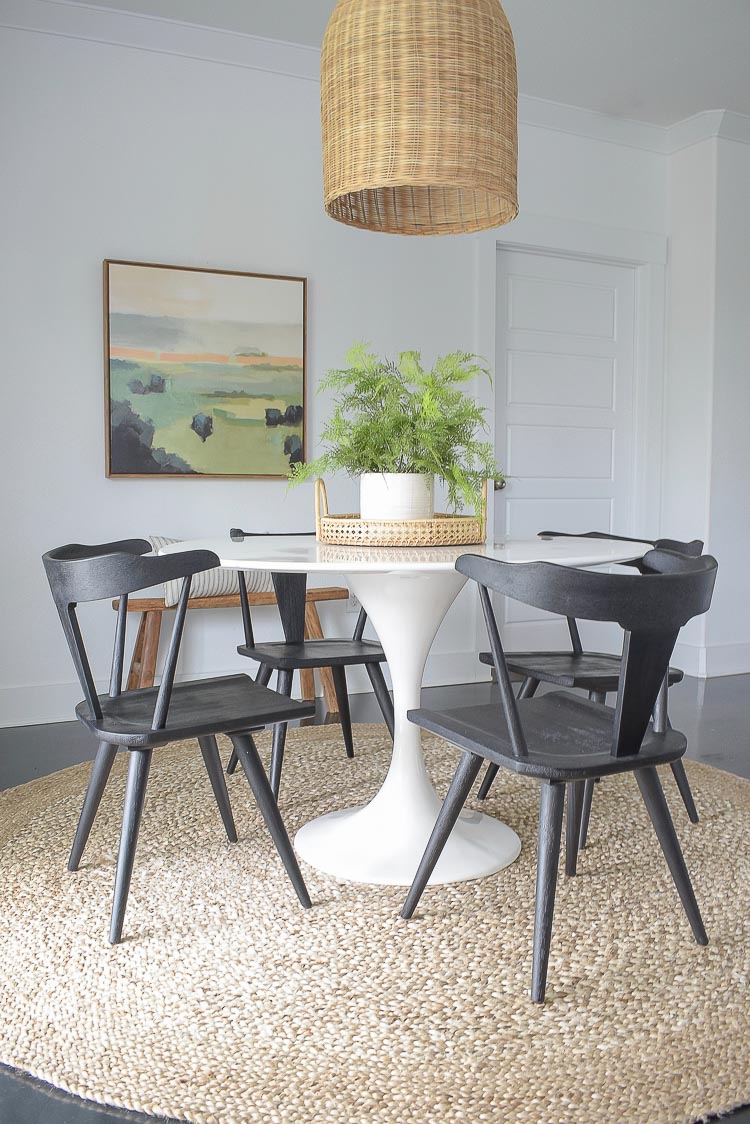 Post Sources
Black Dining Chairs | White Tulip Table | Round Jute Rug 8′ | Pendant Light | Similar Wooden Bench | Similar Art | Similar Pillow | Bar Cabinet/Credenza | Black Mirror | Lamp | Knot Accessory | Potted Faux Fern | Book 1 | Book 2 | Rattan Tray
Black Dining Chair Round-Up

Let's keep in touch…