ZDesign At Home Primary Bedroom Reveal, Tour & Sources
Hi everyone! If you follow me on Instagram you may have seen a few shots of the owner's suite in our home but today, like many of you have been requesting, I finally have the full ZDesign At Home Primary Bedroom Reveal, Tour & Sources and we are so excited to share it with you – thank you for stopping by! You will find all bedroom sources at the bottom of this post and when you are done, you can tour the rest of our home HERE.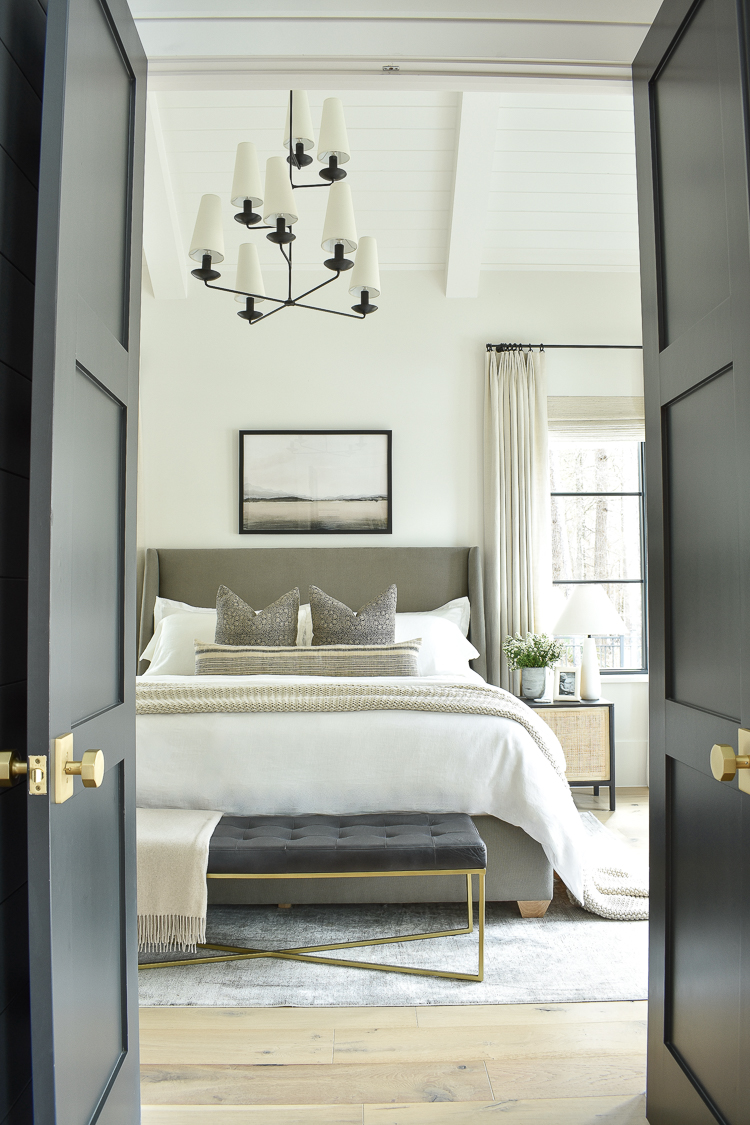 I know it's been a long time coming, we've been in our home over a year now but, last year as many of you know was super challenging to receive furniture and accessories in a timely manner. After we added the black leather bench at the foot of the bed in our bedroom late last year, that finally finished the space off and now is truly the first time I've had a chance to photograph it and get the full reveal & tour on the blog.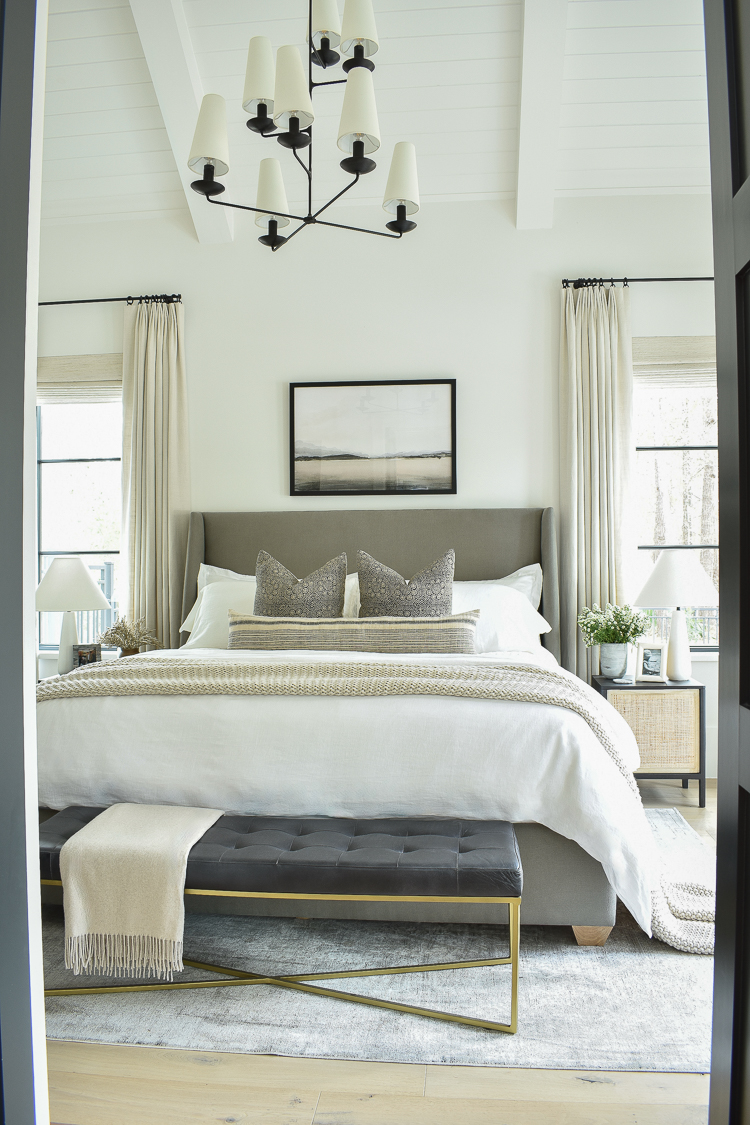 Our bedroom is a simple space and not large at all but that was by design. We had no need for a large sitting area in our bedroom, or furniture that stores clothing such as a dresser or chest of drawers (because we have tons of storage in the closet) so there was simply no need for us to have a large bedroom with what we would consider waisted space and we decided to use that square footage elsewhere in the home.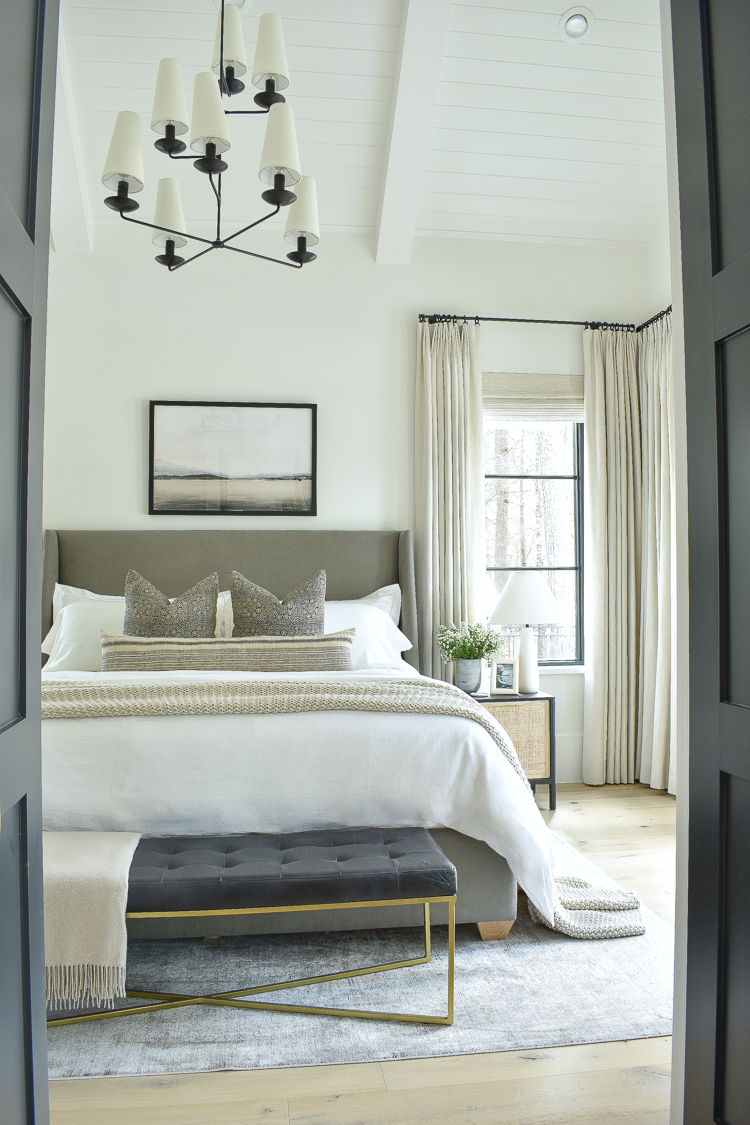 I shopped very carefully for our bed and knew I needed something with some depth of color. The fabric is 100% linen and the color is called Moss. It's basically a gray with a slight green undertone, although it doesn't come off as green at all in the space but yet as more of a neutral. It pairs well with creams, whites, grays and black and looks amazing with the natural cane and black nightstands.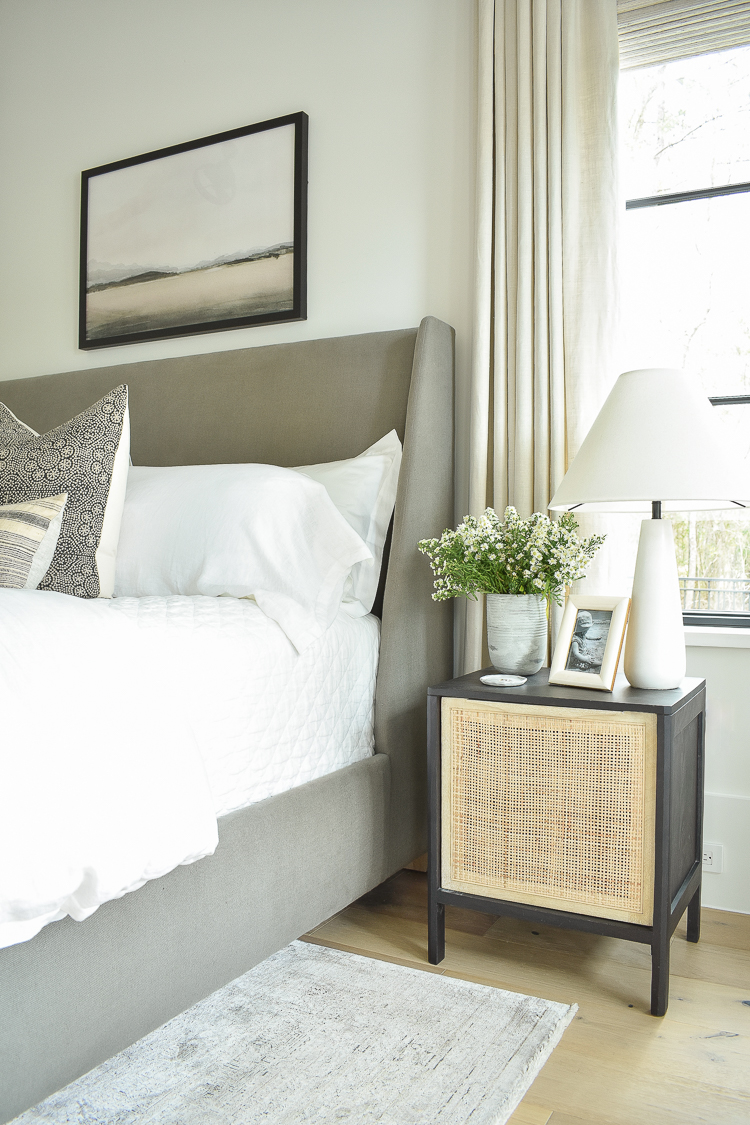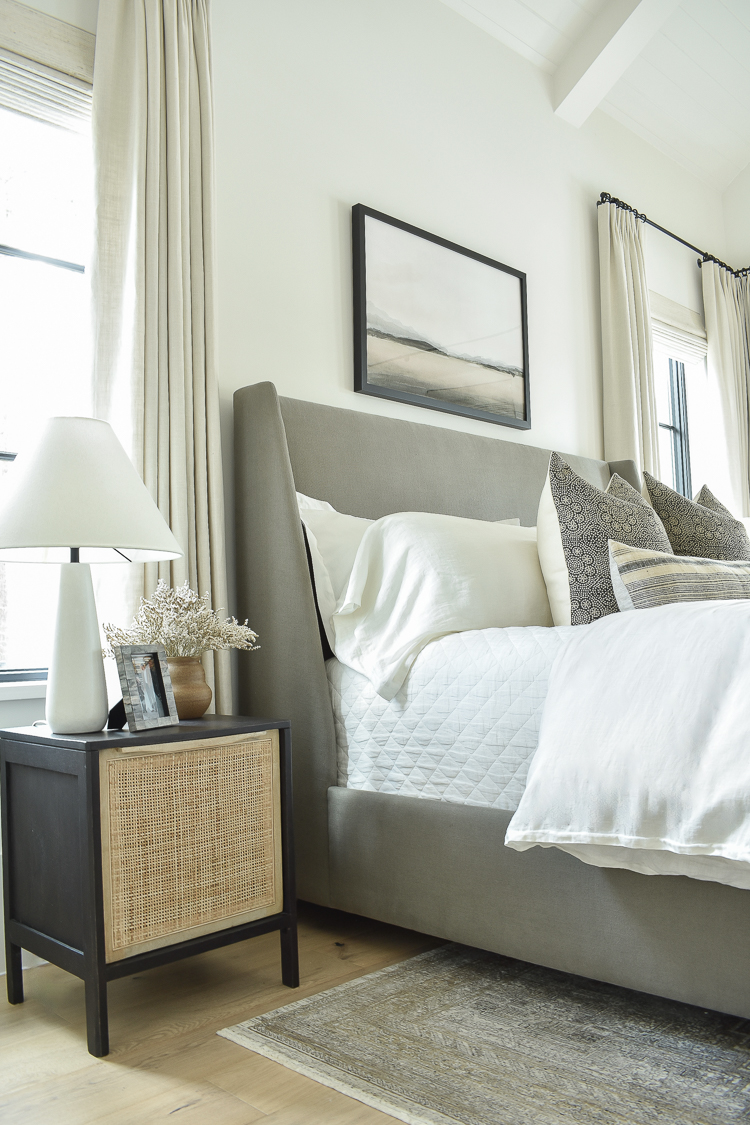 The lines of the bed are really pretty, crisp and clean and work perfectly in our bedroom.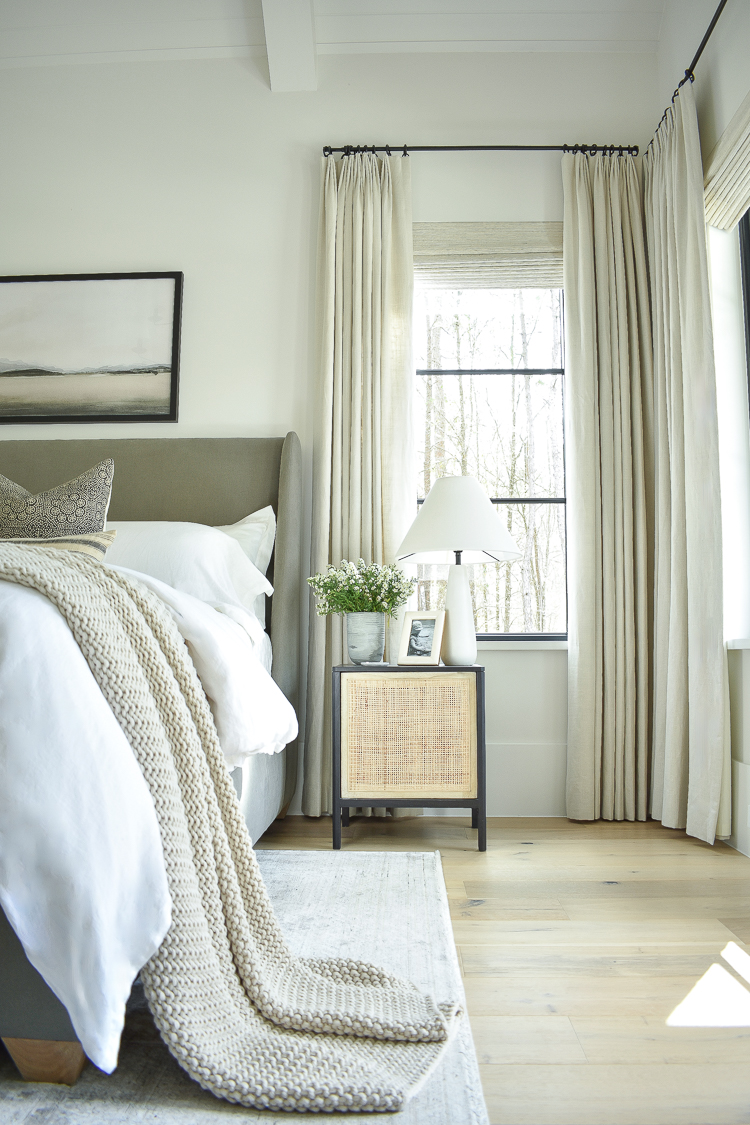 I have tried to find something similar to these nightstands that is larger but haven't been able to so for now I'll stick with these because I just love them so much and they work perfectly with the other furnishings in the room. I also adore this concrete tapered lamp and shade as they are the perfect fit for the nightstand and for the room. On my bedside table I always keep this photo of my son of his first trip to the beach ~ it's such a special memory for me:).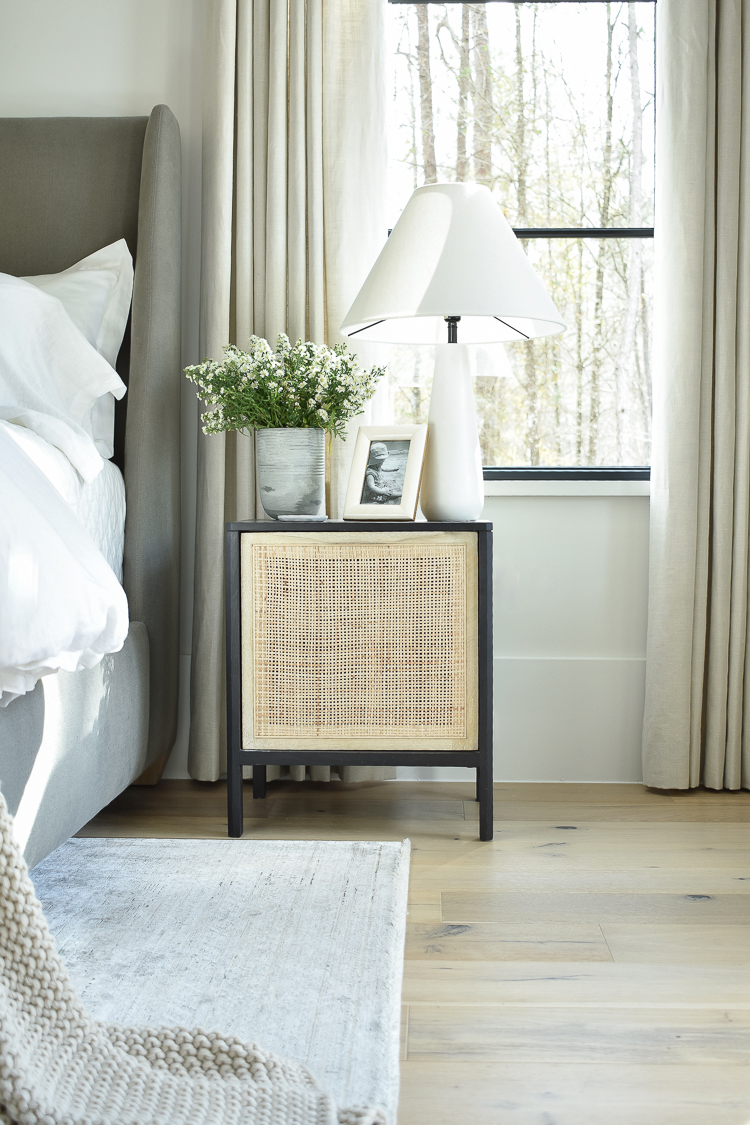 The shades and curtains were purchased locally via The Shade Store and the shades are their woven wood shades, but my color has been discontinued. The curtains are the luxe linen in beige in their tailored pleated drape. I'll leave it at this but we did have a very difficult time with the shades and getting them installed and working properly but both the curtains and shades are beautiful and well made. I've linked some similar items for you that are more budget friendly (curtains and shades) if mine are out of budget as they can get quite pricey as you begin to design them. My curtains are a width and a half on the door wall and I used my favorite curtain rod and rings found HERE & HERE.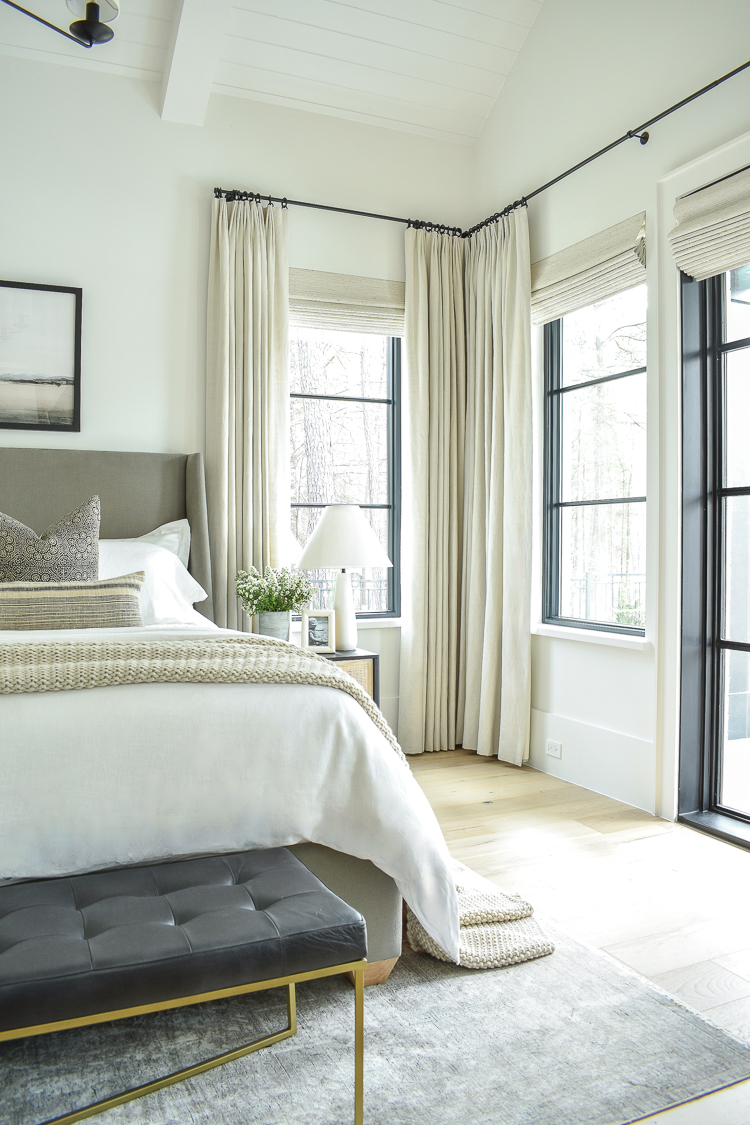 You can find the linen duvet I use HERE and the linen diamond quilt I'm currently using HERE. I actually use my linen duvet all year long lately for the most part and am completely obsessed with our linen quilt (it's fairly new). I love it so much I recently also bought one for the guest room that I'll be sharing soon! The throw blanket at the end of the bed is the best and is available in multiple colors.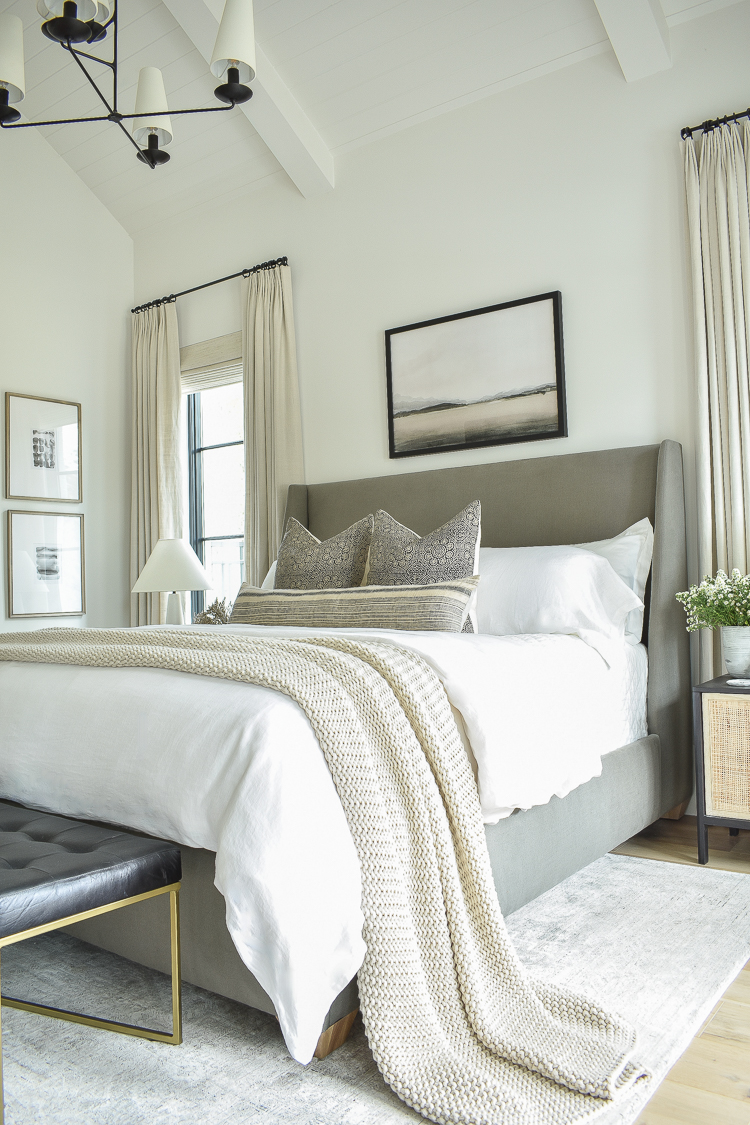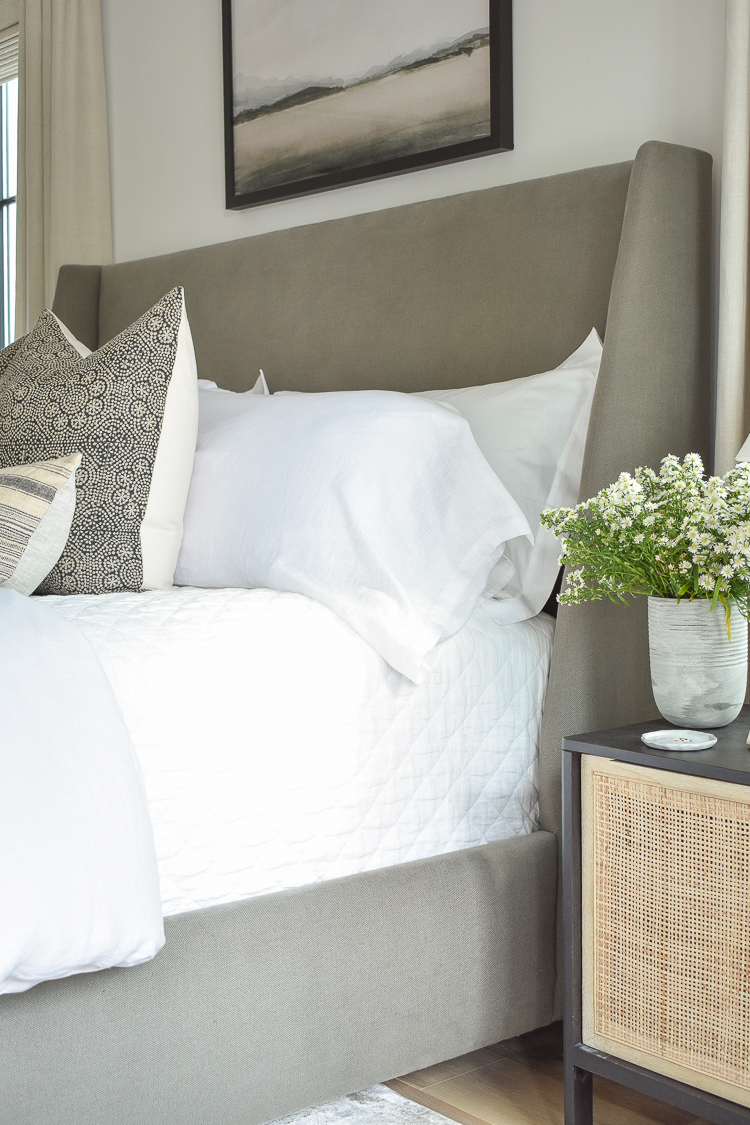 I keep our bedding simple and clean, keeping in line with the transitional modern feel I love. I love pillows but too many clutters the space for me and takes away from all of the other beautiful things in the space. I like to stick to 4 king pillows (2 with simple cotton shams, 2 with linen shams) or sometimes 2 euros and 2 kings. For decorative pillows I like 2 (two) 22″ decorative pillows and one XL lumbar in front of the 22″ pillows. And then I like an oversized throw or blanket draped over the foot of the bed. The sheets I use can be found HERE & HERE.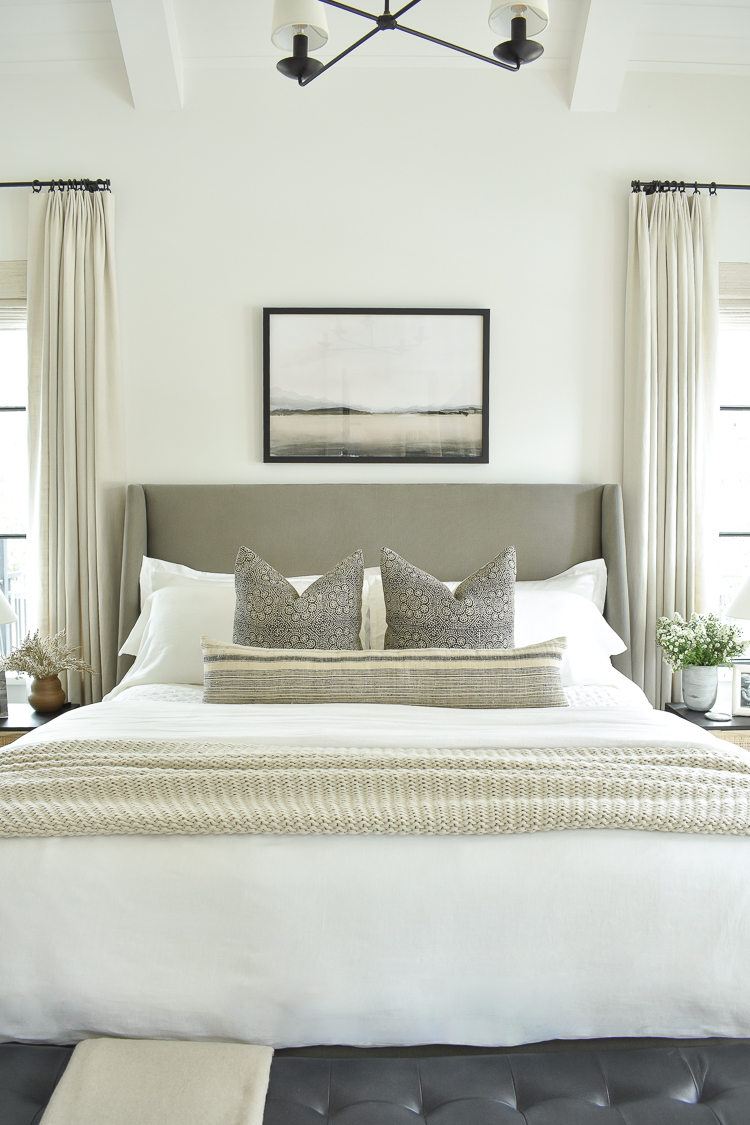 My favorite pillow inserts can be found HERE & HERE. I always like to go up a minimum of one size but usually I'll go up 2 sizes, it depends on the insert and the pillow cover itself. Some pillow covers are cut true to size (meaning a 20×20 is cut to exactly that) but some are cut 1″ smaller so it depends on how full your inserts are and how your pillows are cut and I always use a down filled pillow because they hold their shape if you like to do the 'ole karate chop on them like I do . That said, I usually find that 2 sizes up is the best bet for me if the pillow is true to size. If it's cut 1' smaller (all the way around of course) then one size up with your insert usually works great. This will give you a fuller, more structured, non-frumpy look.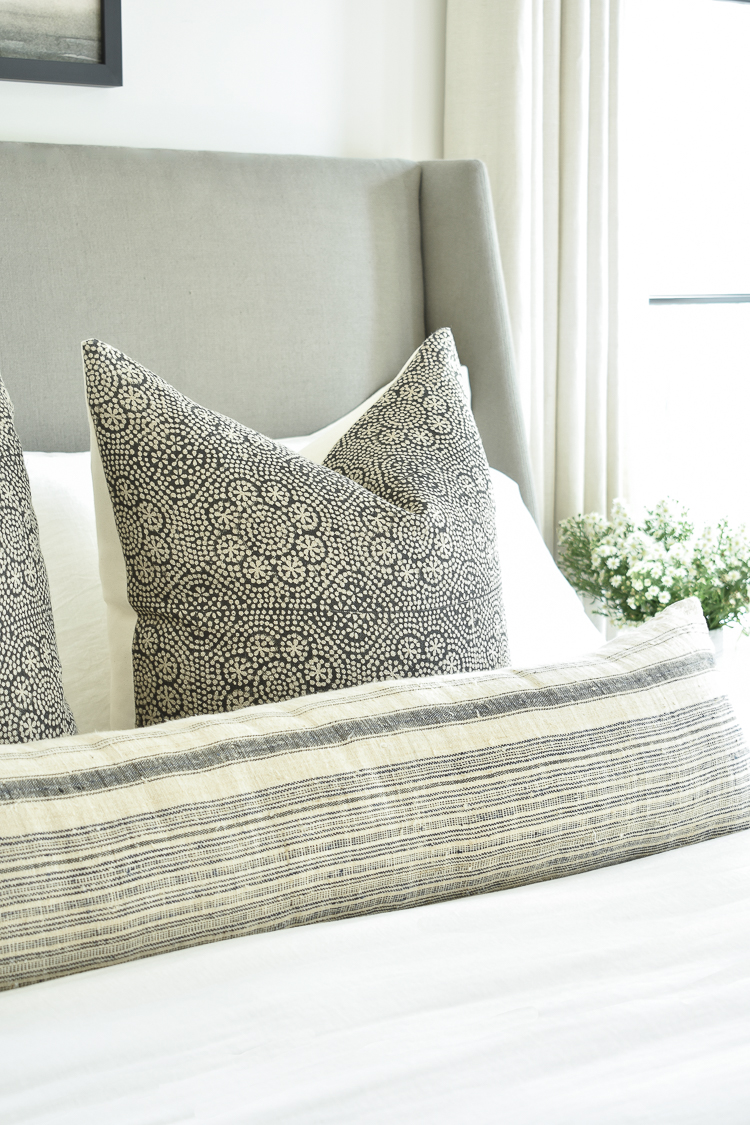 I had the XL lumbar in front made by THIS Etsy Shop. And I used this insert.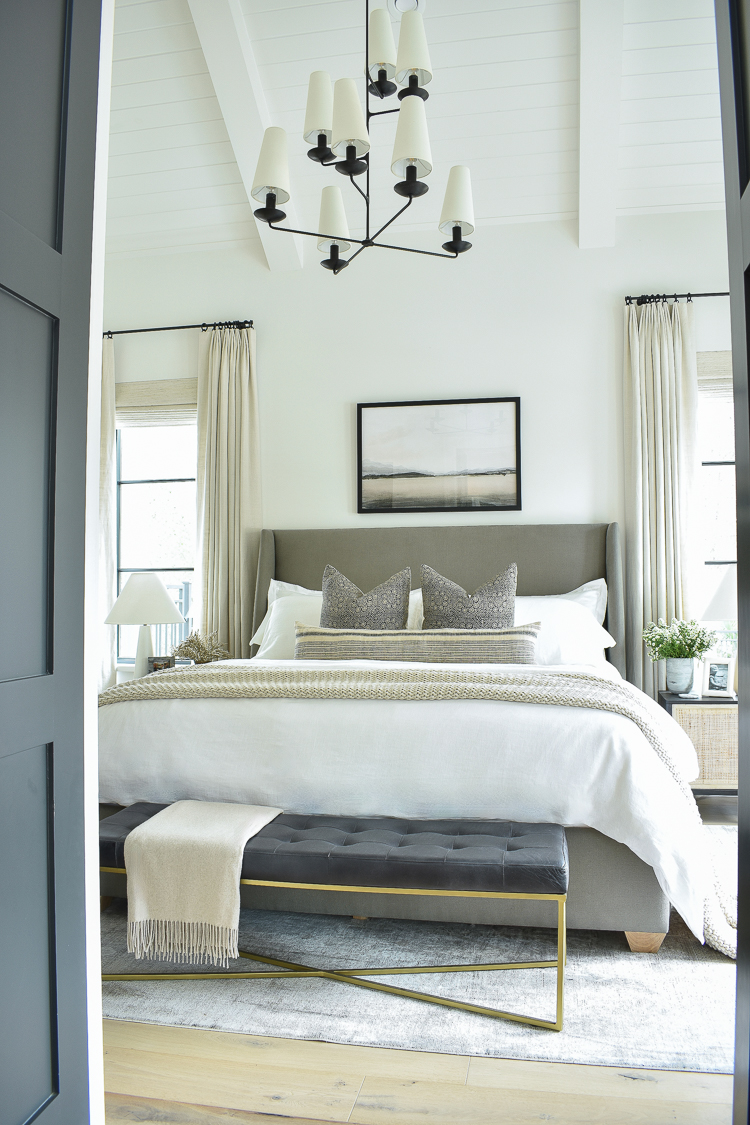 On the opposite two sides of the room from that is the entrance to the bathroom, and the fireplace. I had our builder to have this custom white oak pocket door made for us with large gold hardware and truly it's my favorite thing about the entire room!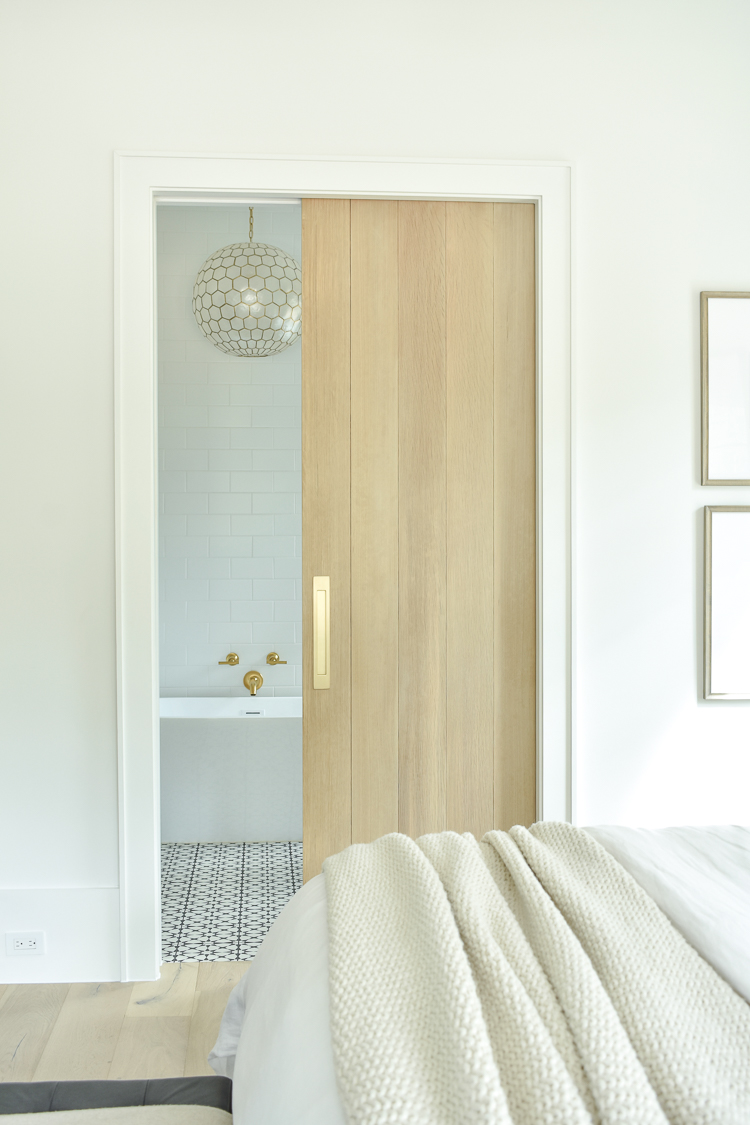 I used a 14″ door pull from Emtek.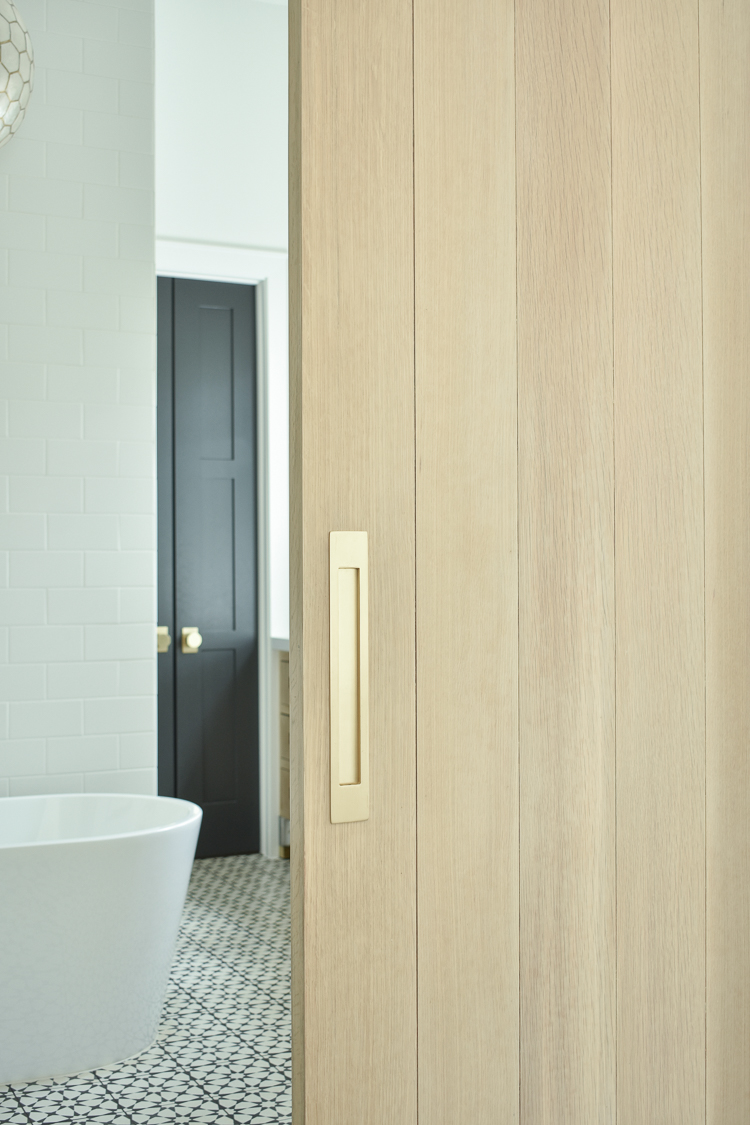 For the pocket door stain and the mantle stain (below) we used a clear stain with a little bit of white paint mixed into the clear stain. There is no exact formula as you'll need to do some sample boards with your painter to figure out what feels and looks best to you, if you are looking to achieve this color. My goal was for both to blend with my floors as closely as possible.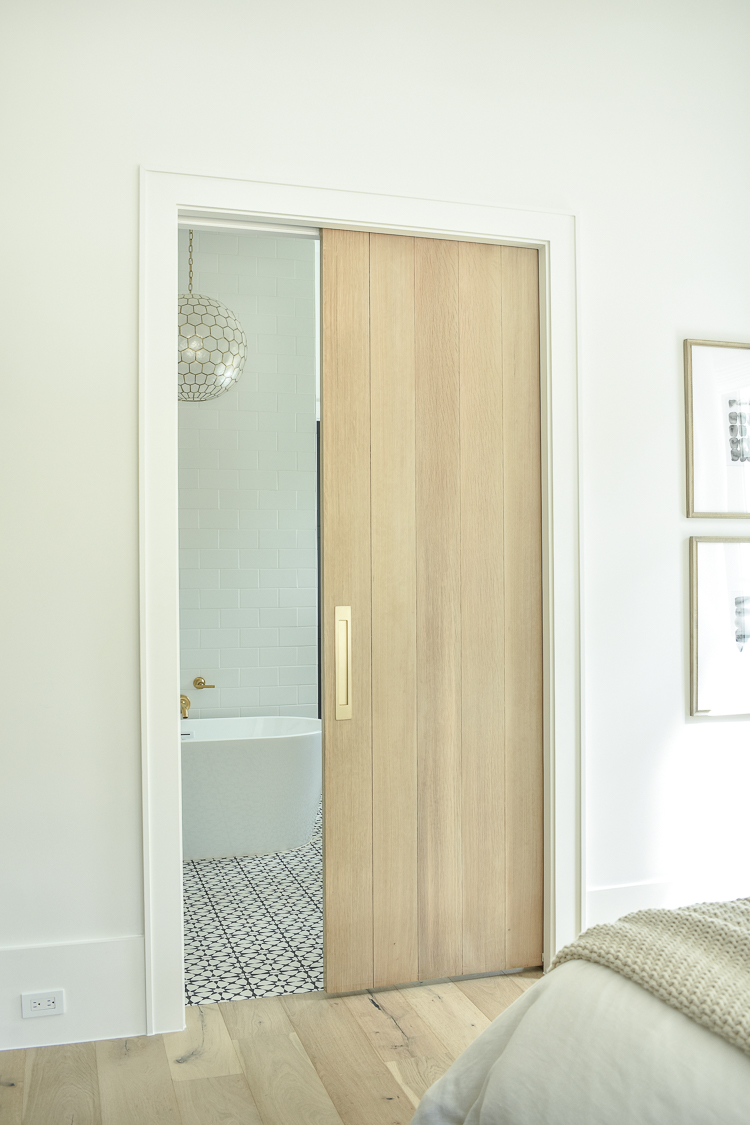 The fireplace is simple, surrounded in a black tile from Clé Tile, and laid in a stacked pattern. The mantle is white oak that is roughly 4″ deep by 4″ wide (on the face) and we love how it turned out. The fireplace itself is a 42″ Heatilator and we had the TV built into the wall and hung on a swivel mount.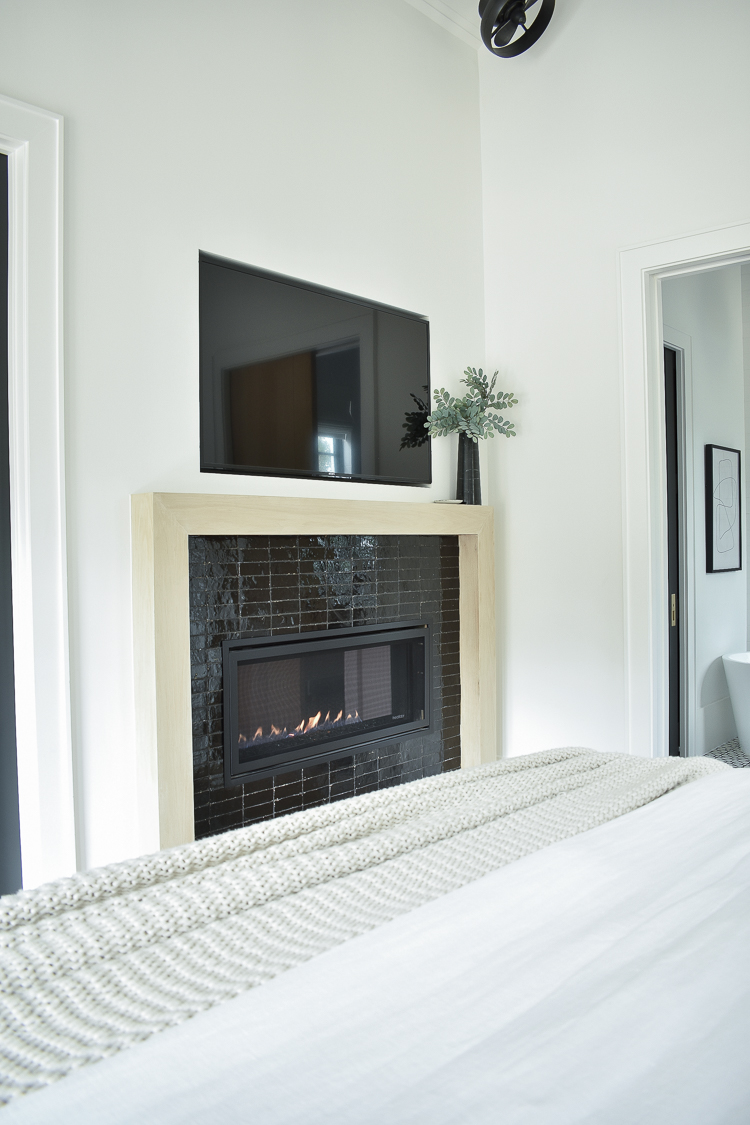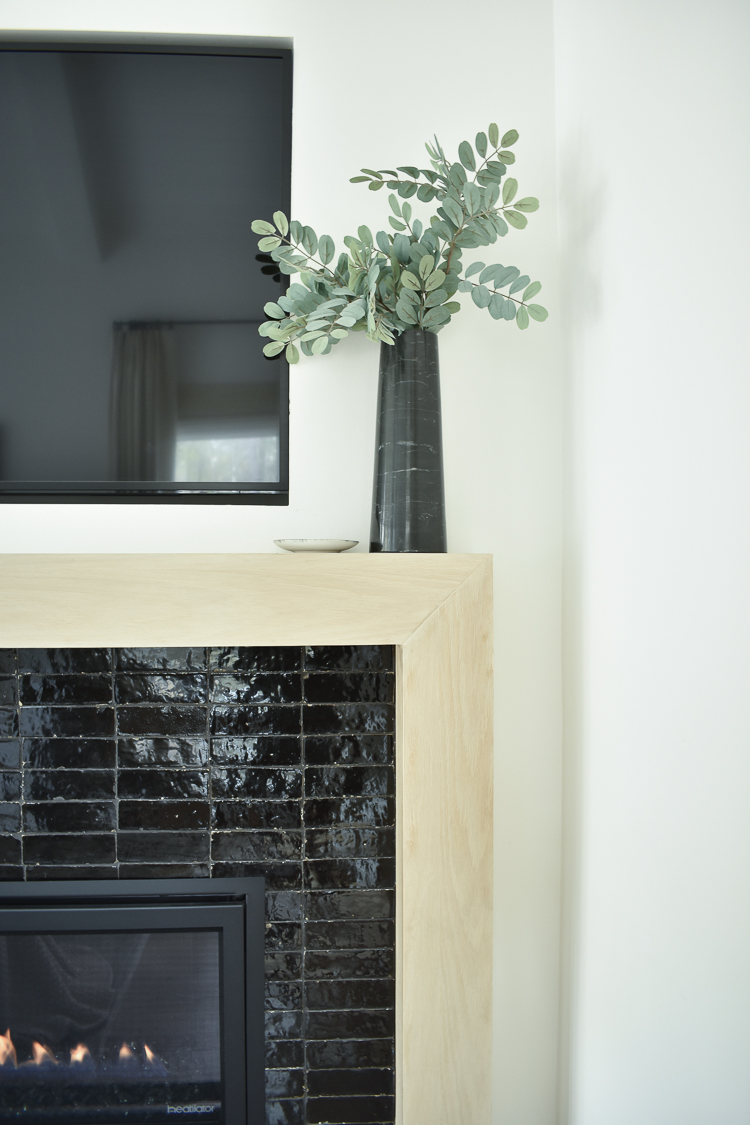 On the opposite side of the doorway from the fireplace is a small nook where I have a floor mirror and my favorite (bouclé) chair in the whole wide world! I love this chair and use it sometimes daily when I need to escape to the corner of my room for some privacy, haha! No kidding, it's super comfortable and is a beautiful site to behold in person!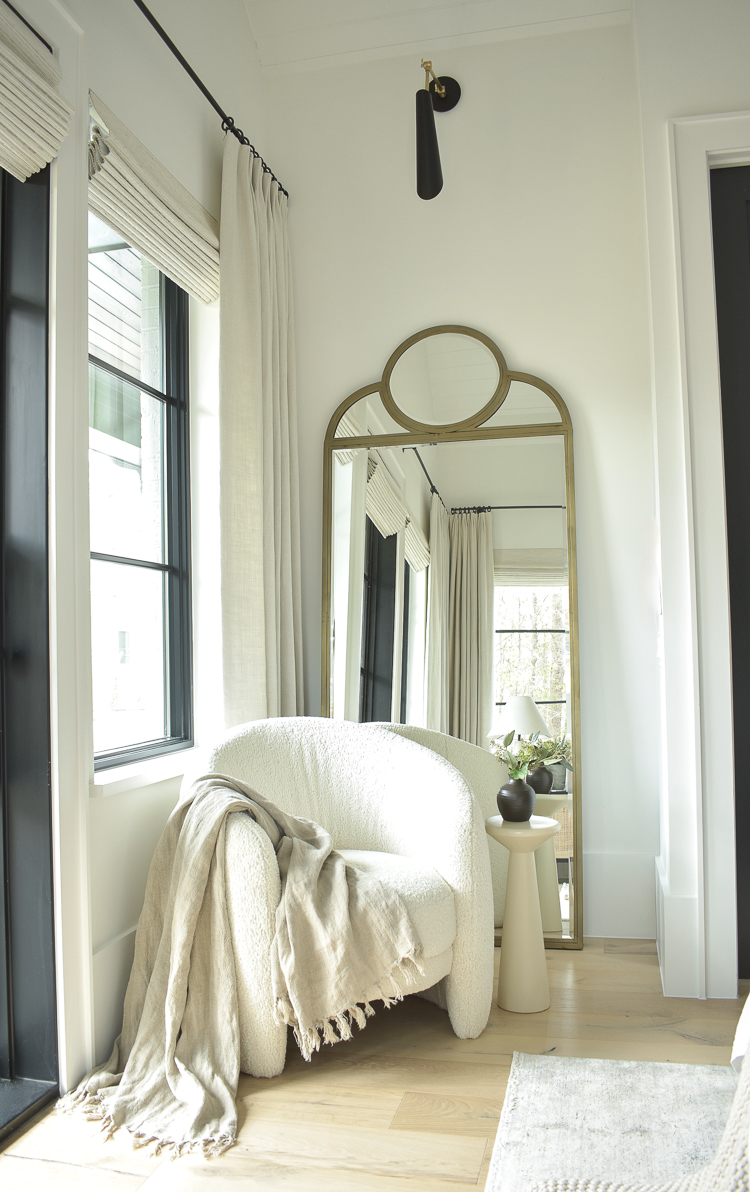 I love the curved edges and the bouclé fabric. Not all bouclé fabrics are created equal but this is a good one for sure!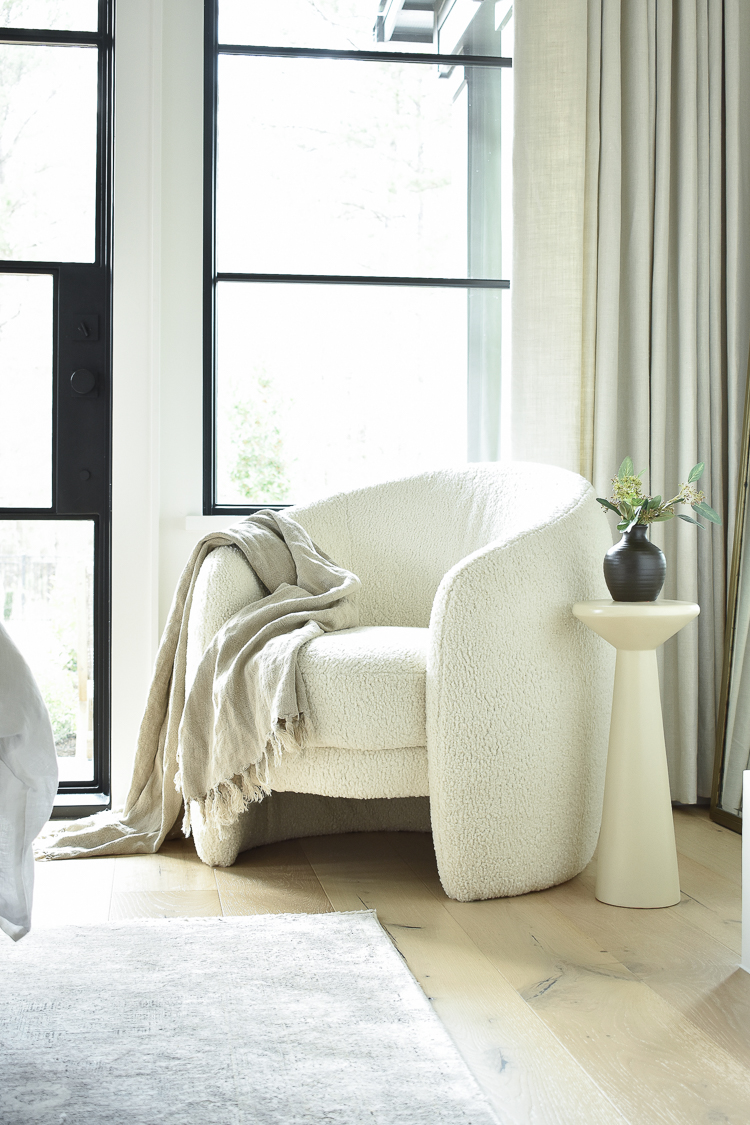 The view in from the bathroom is one of my favorites as the vaulted ceiling really shows off from this direction! I honestly don't know how high the vault is but I want to say it's around 15-16′. We did a tongue and groove ceiling with beams running both directions. Also, I LOVE this chandelier, it's one of my favorite in our home and same for the rug. It is my absolute favorite rug – not one of the most affordable in my home but incredibly soft and the pattern in gorgeous! It's slightly under 8×10.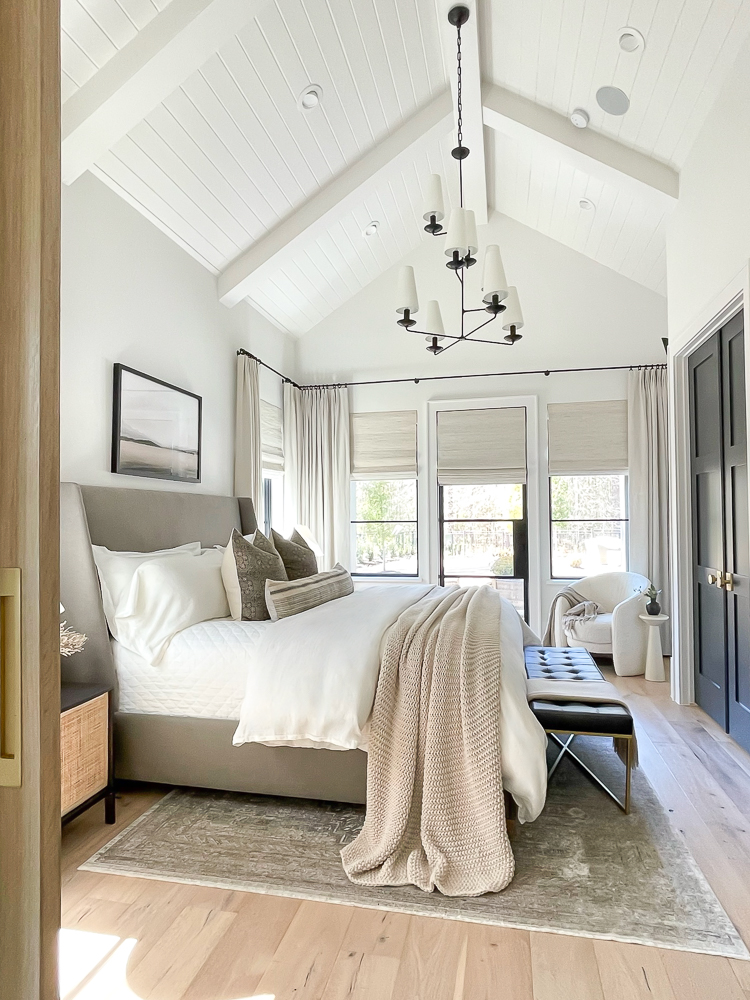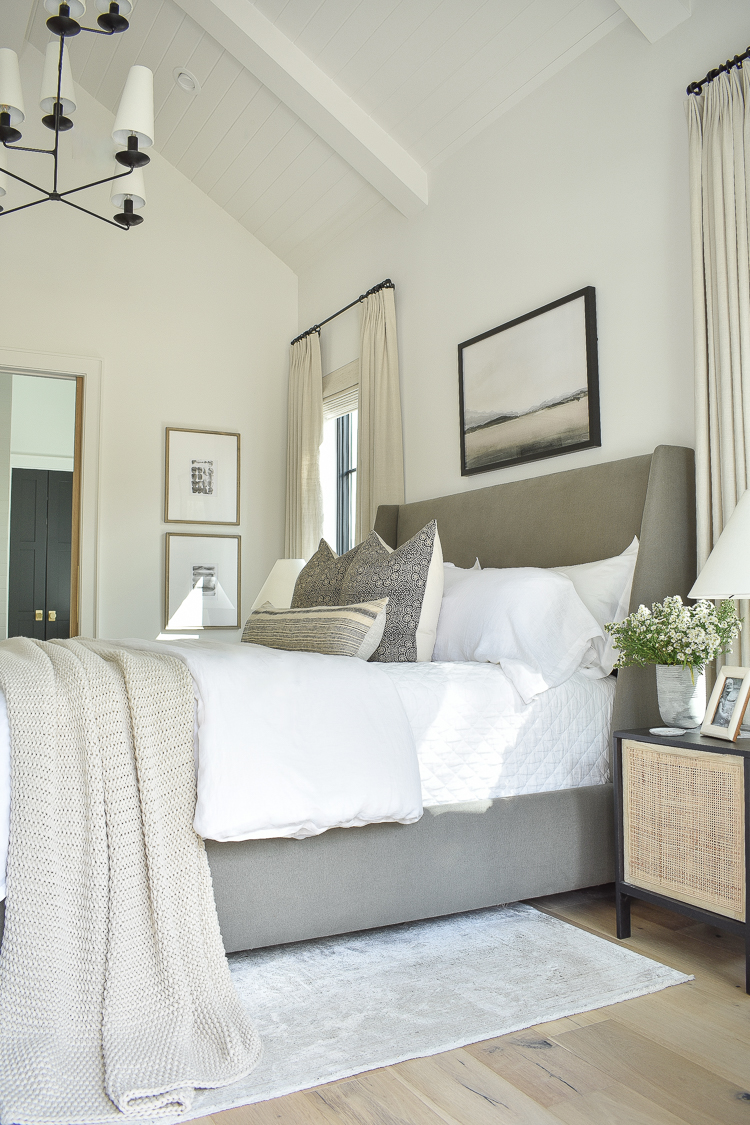 Last but not least is the art print over the bed – It's from Collection Prints and I adore it! I have several pieces in my home from Collection prints these days and love each and every one of them. The colors in it work perfectly in our bedroom and the size is 24″ x 36″. It's called Spring Field.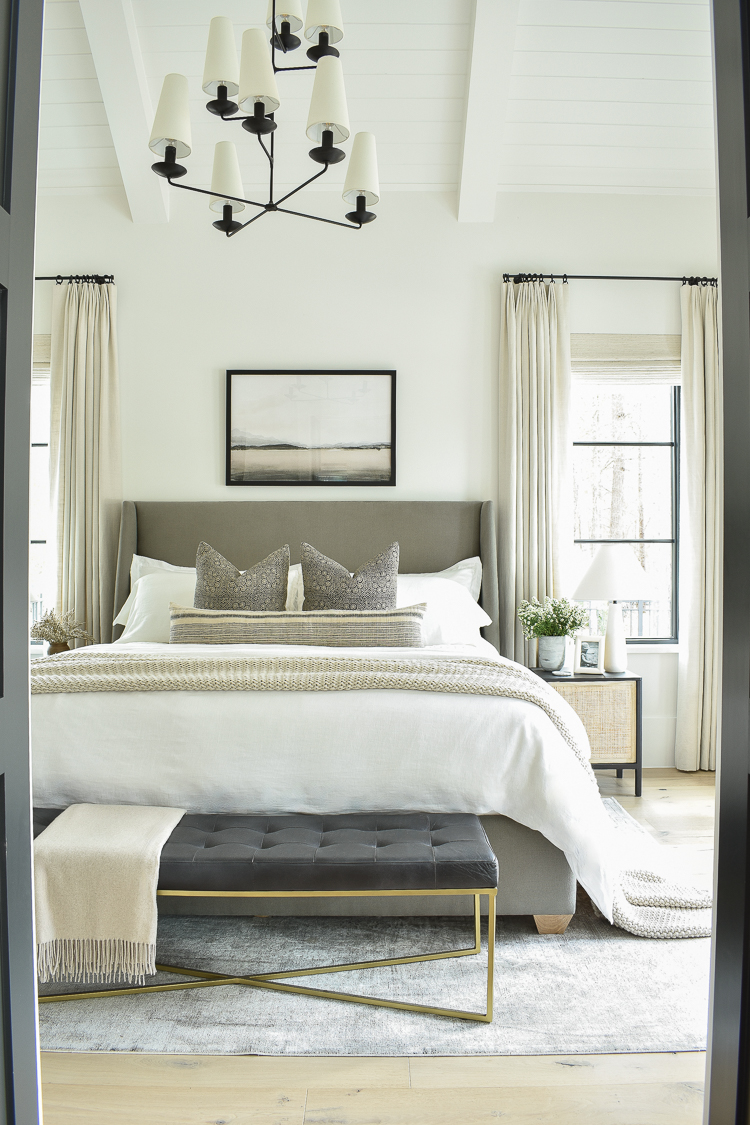 Well, that about wraps it up for our Primary Bedroom Reveal & Tour. You can find all Sources below but please don't hesitate leave any questions you might have in the comments below. And as always, thank you for stopping by ZDesign At Home!
ZDesign At Home Primary Bedroom Sources
Wall & Trim Color: Sherwin Williams – Snowbound
Bedroom Door Color: Sherwin Williams – Iron Ore
Floors: By Bella Cera but my color is no longer available. The color closest to mine I think will be Favale or Adriana
Black Leather Bench | Rug | Bed | Art Over Bed | Similar Drapes HERE & HERE | Curtain Rods | Curtain Rings | Similar Shades | Nightstands | Chandelier | Throw Blanket, End of Bed | Lamps | Vase on Nightstand | 22″ Black Floral Block Pillows | Similar XL Lumbar Pillow | Bouclé Chair | Linen Throw in Chair | Side Table | Black Vase by Chair | Similar Floor Mirror | Sconce Over Chair | Pocket Door Hardware | Marble Vase on Mantle | Steel Door Hardware | Art Prints HERE & HERE – Left of Bed | White Linen Duvet | White Linen Diamond Quilt | My Sheets HERE & HERE | Pillow Inserts