Transitional Modern (with a pinch of boho) Bedroom Reveal
Hello friends and thanks for stopping in to see part II of our transitional modern (with a pinch of boho) bedroom reveal!  If you missed part I and how we are keeping cozy in our rental while building our dream home, you can get caught up HERE.  And,  you can get caught up on the story of our recent move and building project HERE (update on our #FinallyHomeProject coming soon).
Here is a little sneak peek of part I…I hope you'll pop over after you check out this post to see the other side of the room (affiliate links used in this post).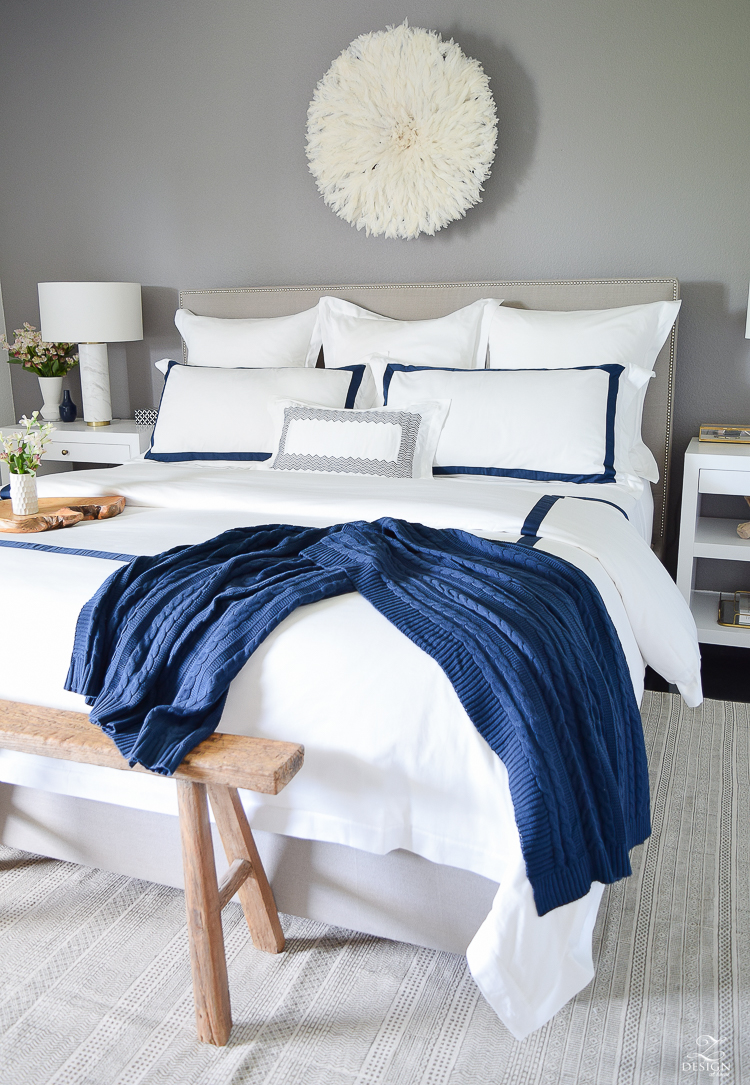 As we turn our attention from the previous photo to the opposite side of the room, I knew I needed a piece of art for this sliver of wall between the closet and the window and of course went straight to my go to source for art which is Minted.com.  If you aren't yet familiar with Minted they have a vast array of art prints, framing, modern stationary and more that is unrivaled in the market place.  I LOVE this piece so much by artist Melanie Severin and it comes in 6 color options that will work with any decor (mine is the denim colorway).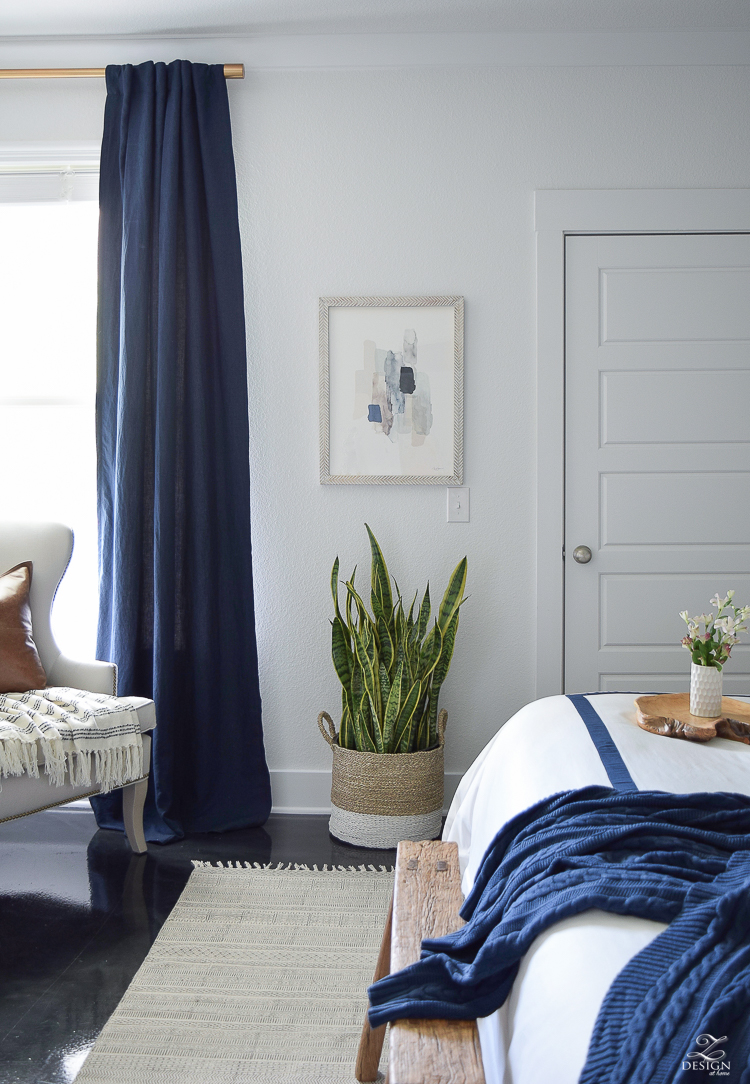 This is the second time I've used Melanie's art and the second time I have chosen to use it with Minted's white washed herringbone frame…absolutely love it, and love the combo!!  You can see the other piece I chose by Melanie at Minted right here along with my simple tips for hanging art.  The frame goes well with the transitional modern style (with a pinch of boho) that I was trying to achieve in this room.
Additionally on this side of the room, our rental does have blinds but they are only good for keeping out so much morning sun when you want to sleep in on Saturday so we added these black out curtains to the space.   Now you know I'm a custom girl when it comes to my window treatments but, I have to say these are the absolute best over the counter curtains I've seen to date!  They keep the sun out great and are beautiful to look at (great quality too).  I chose to use them in navy for my design but they come in 5 colors and 4 lengths (and a non-blackout version) if you are in the market.  I also used my all time favorite brass curtain rod that I already had from our previous home.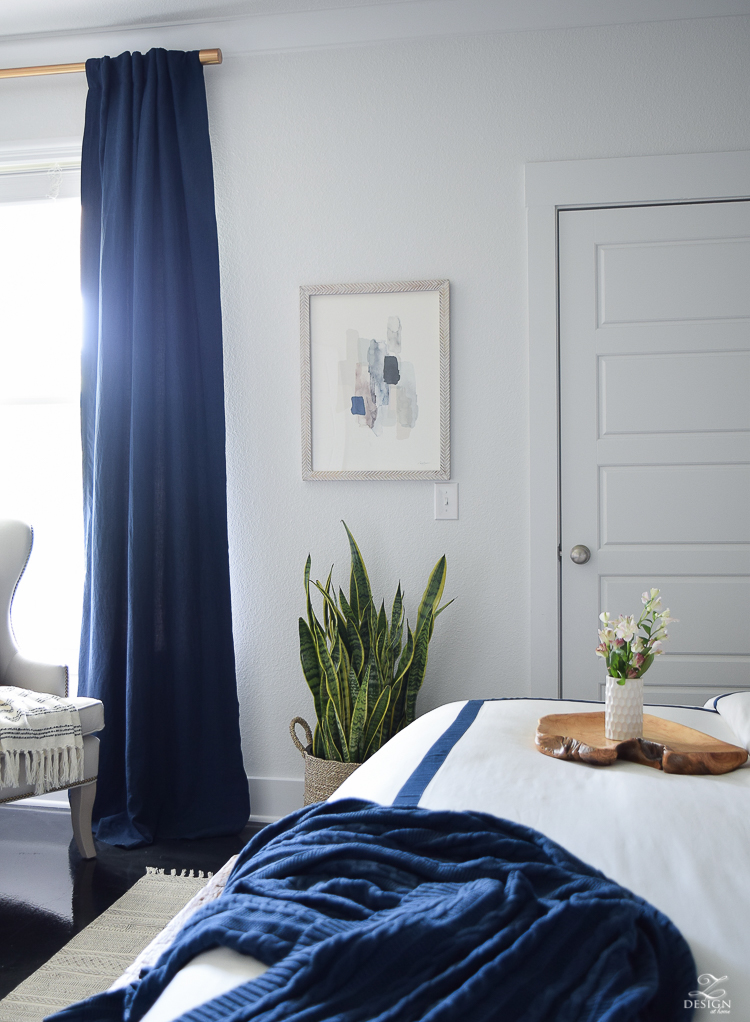 Next you'll notice I used the modern wing back chair that was in the living room in our previous home in here (you can see more of that here).  It probably won't get much use for seating in here in the corner but it is great to hold those fancy bed pillows at night (lol) and, it fits perfectly in this corner!  Also added this boho throw and of course my leather pillow to warm up this cute little corner.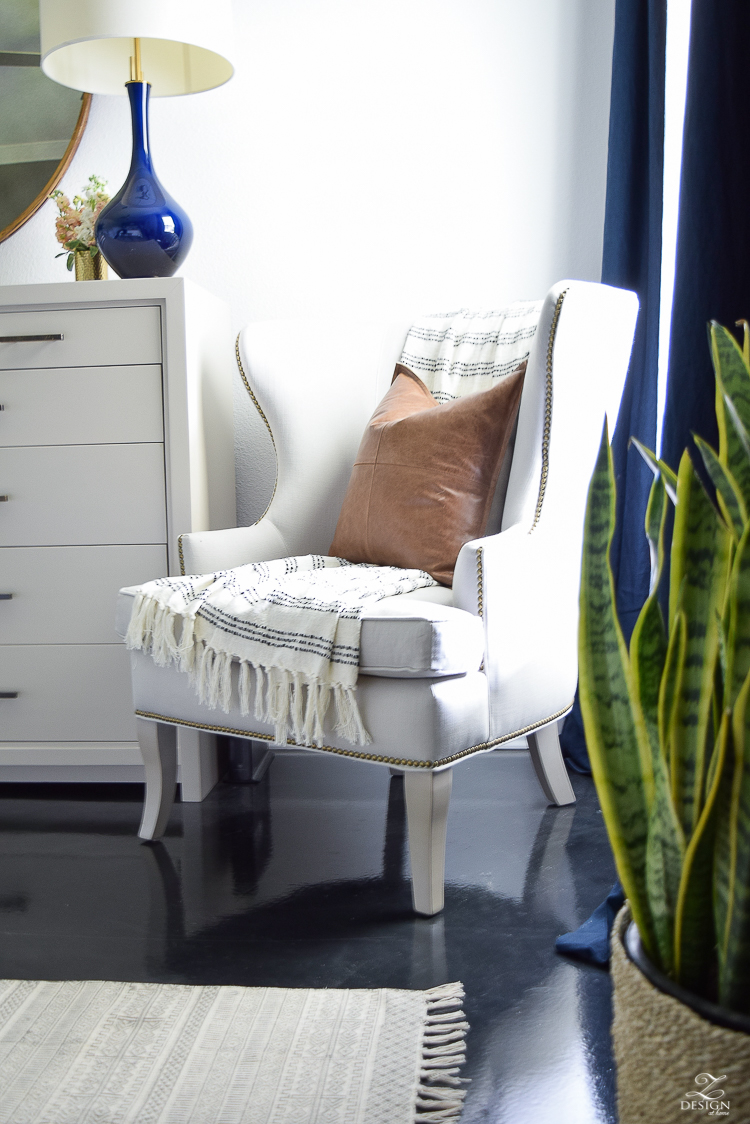 You may have also noticed a new rug.  I love the boho pattern and the fringe…of course the fringe!!  I still need to get a rug pad for it but then again I may be hard pressed to get my husband to raise the bed up again to get it under there, lol.  By the way (and speaking of rugs), I recently got this rug pad for our kitchen runner and absolutely LOVE it!  My rug hasn't budged since we put it down and I couldn't be more happy with it.  The bedroom rug from our previous home had to go as when we pulled it up we realized it had seen much better days and it was donated.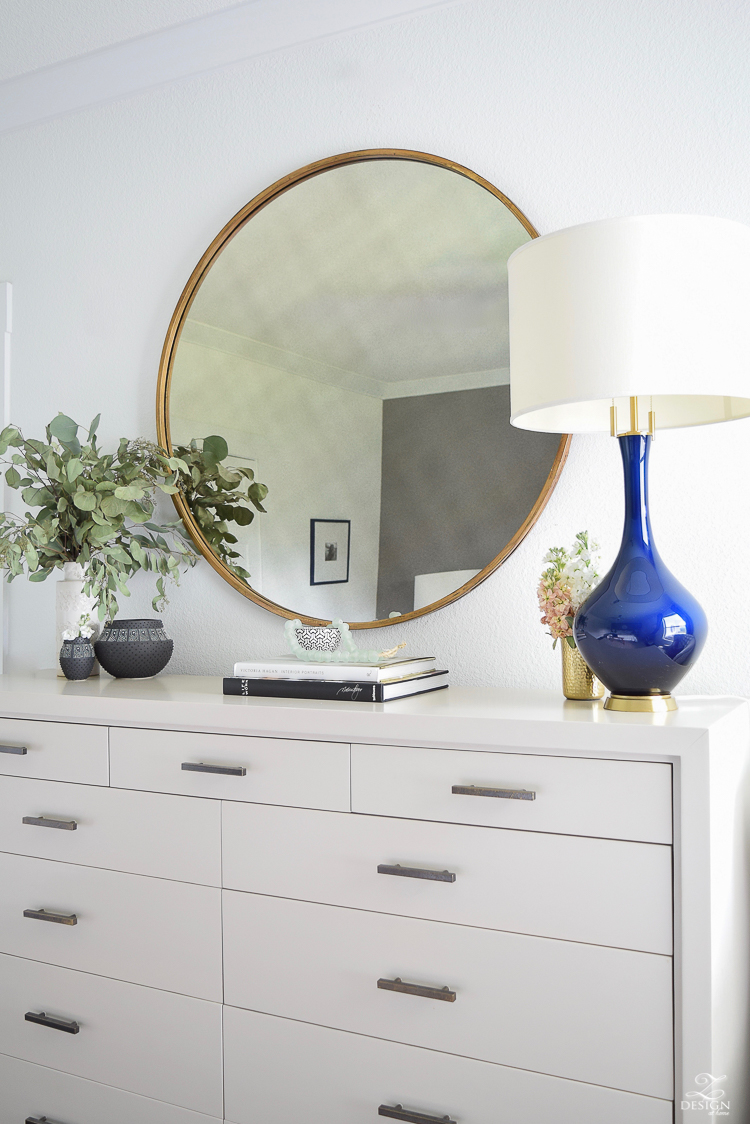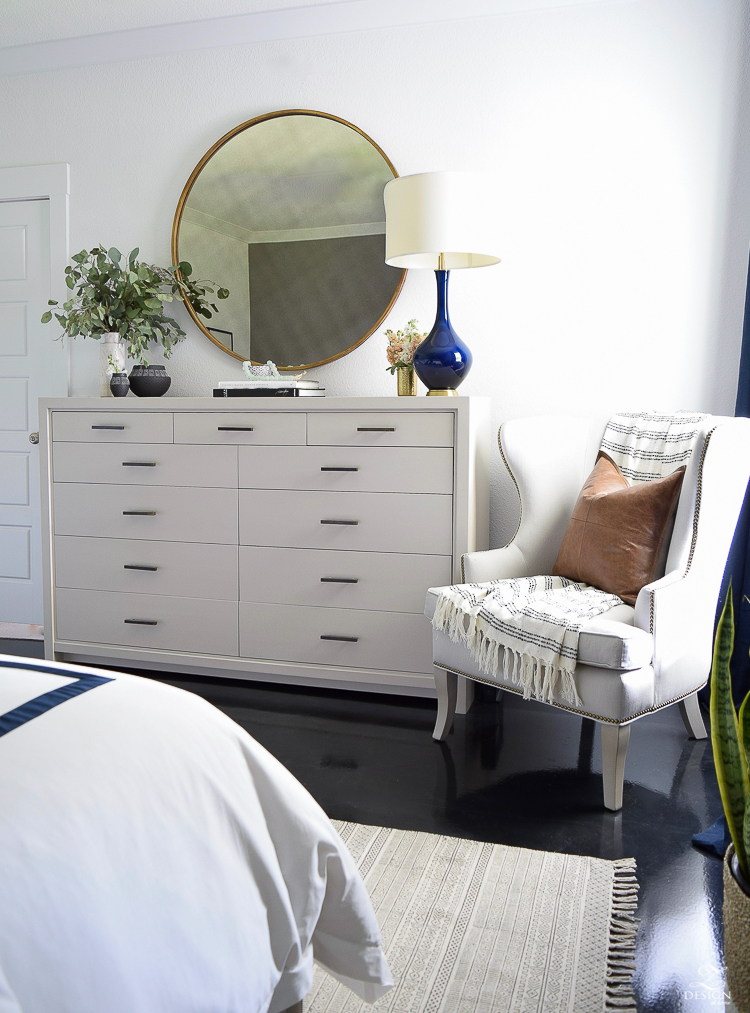 I used our round gold mirror to make the space feel larger plus I just love it and knew it would be perfect here!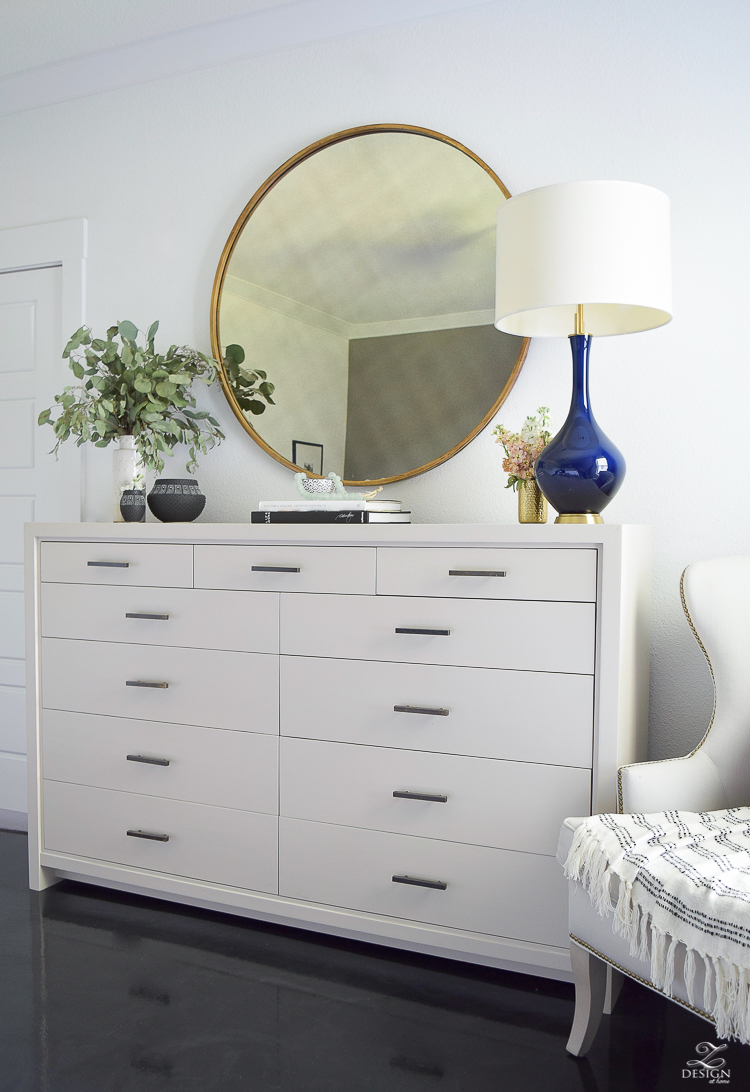 To style the dresser I used things I already have and love!  These black and white vases were perfect for the left side of the dresser to add a little texture and of course I had to throw in a couple of my favorite coffee table books to elevate my accessories (here & here).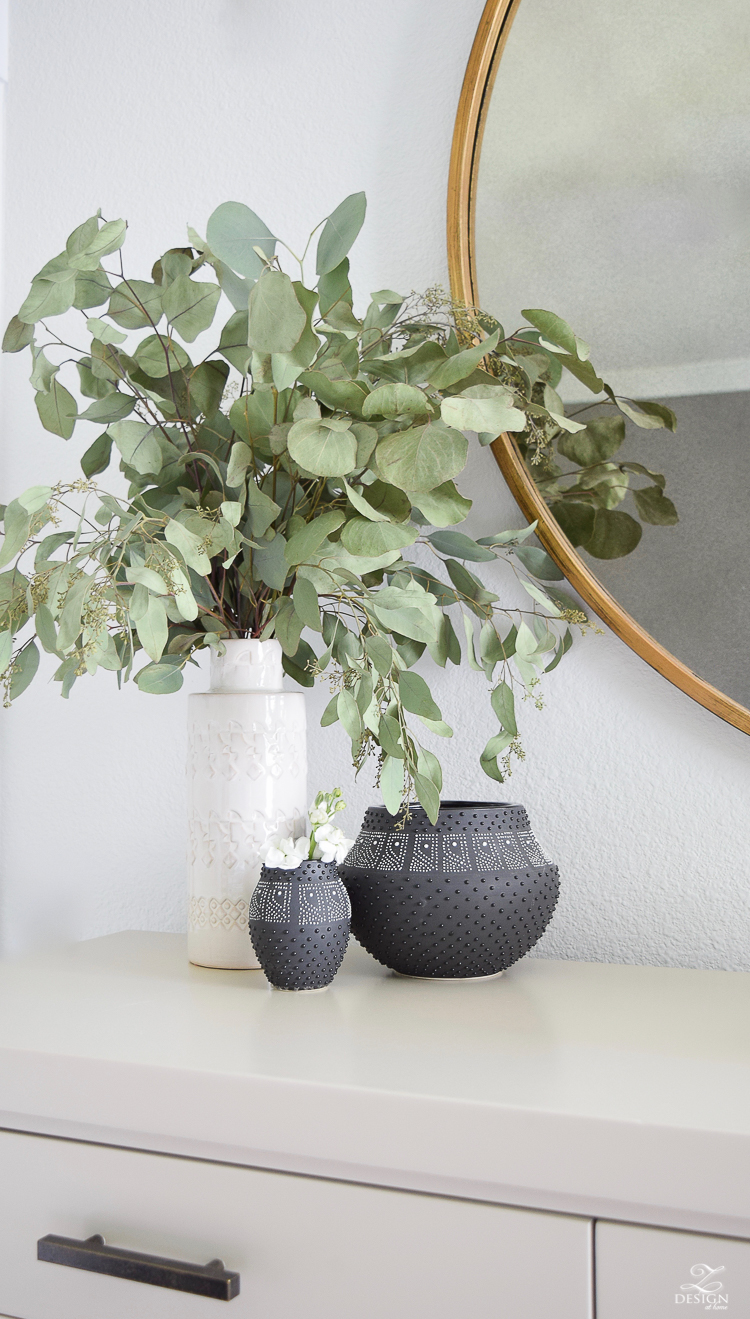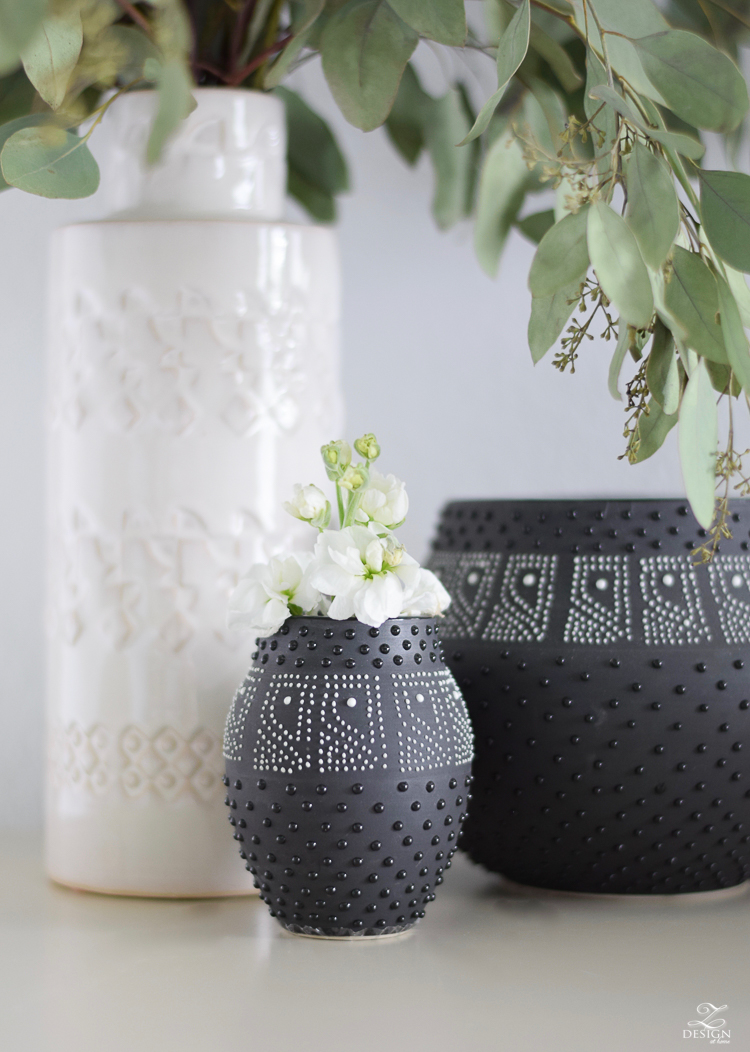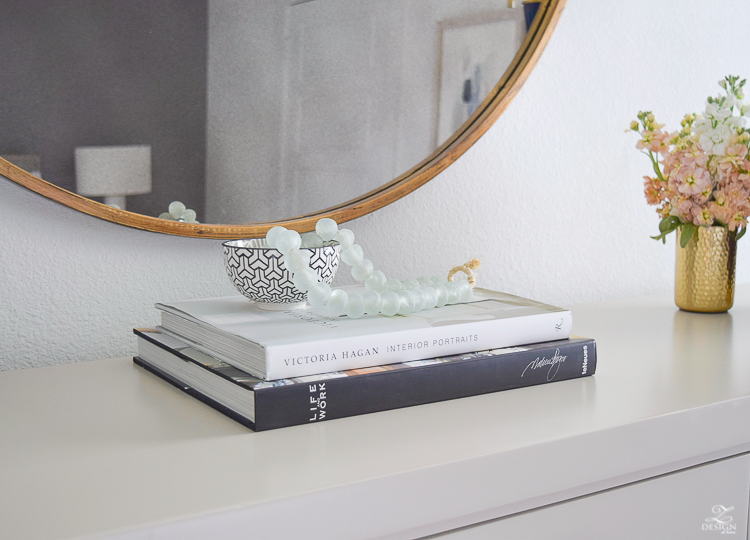 This decorative glass bead strand is the only new find and something I'm really loving at the moment.  I'm super picky about adding items to my accessory collection but these are a perfect, useful addition that I know we'll enjoy for some time to come!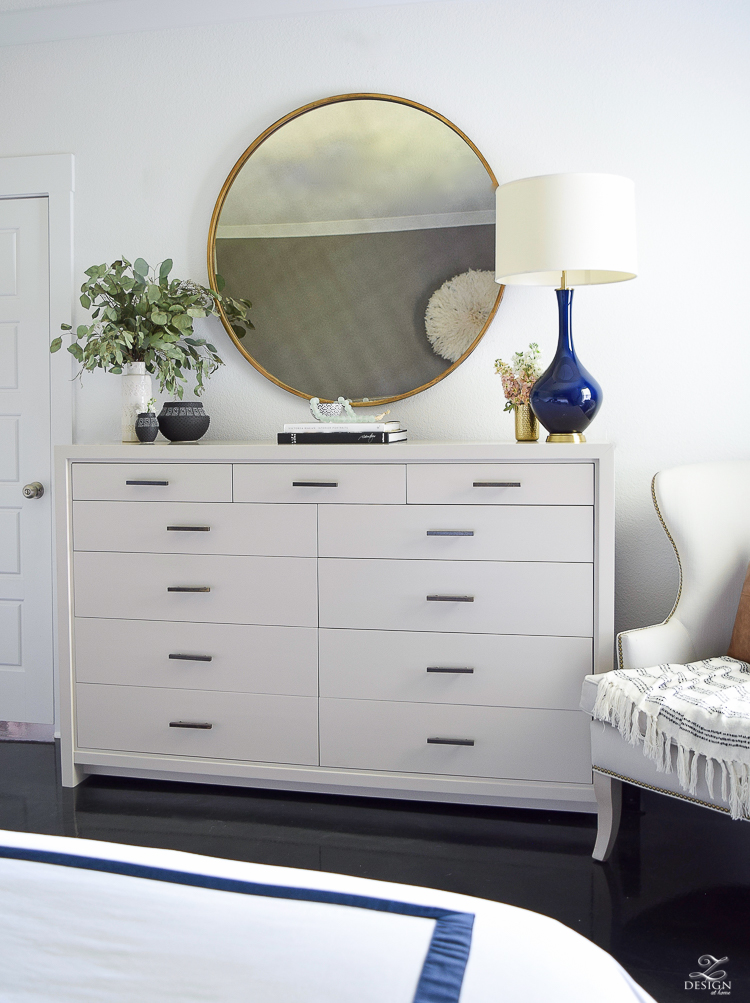 The navy lamp is one of my favorites.  It's no longer available but I've sourced a similar one here since I get so many questions about it when I share it on Instagram.  Most apartments have no or very little overhead lighting so using lamps in this space was imperative.  We have 3 in the room to illuminate the space properly in the evening.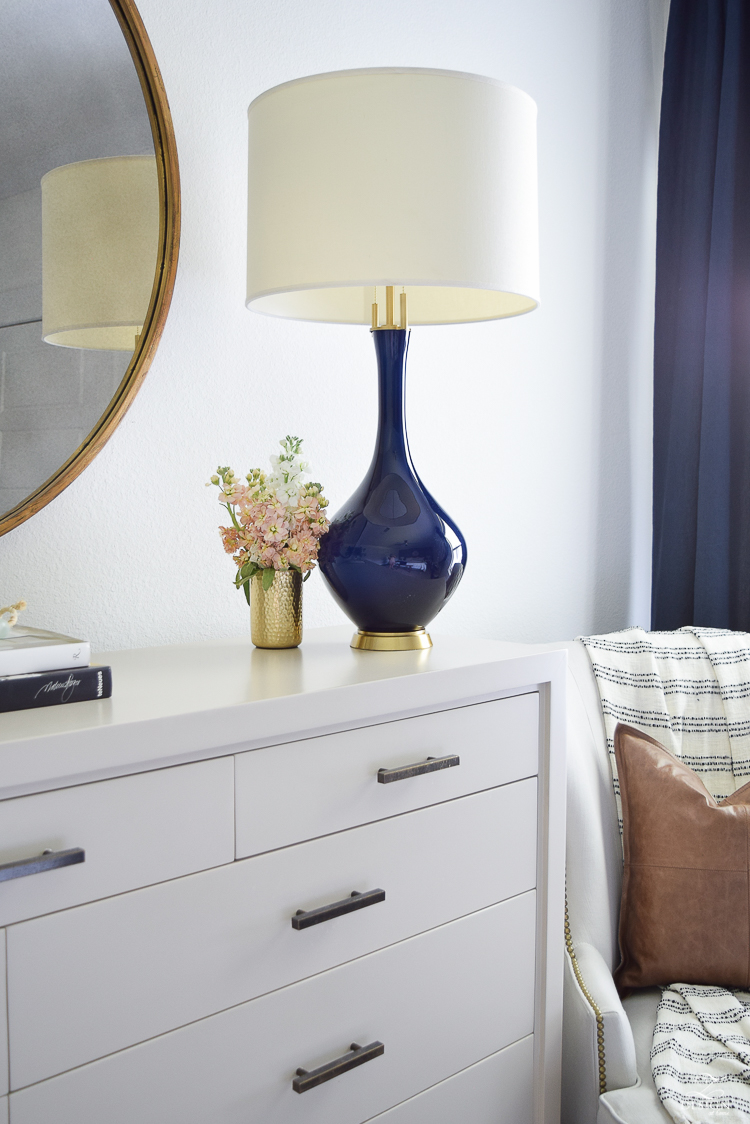 Love this little pencil cup and how I've repurposed it to use as a vase!
Style Tip:  Never be afraid to use anything that will hold water for a vase (just make sure it doesn't leak or weep!)…it can make your vignettes so much more interesting and out of the norm!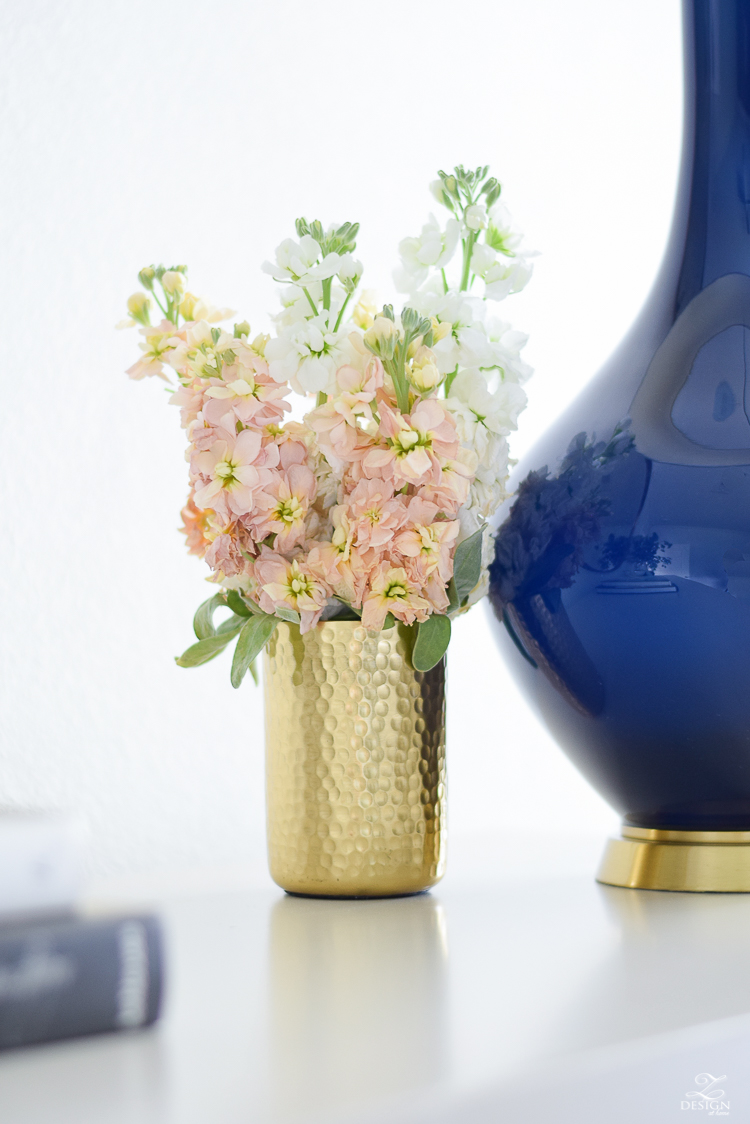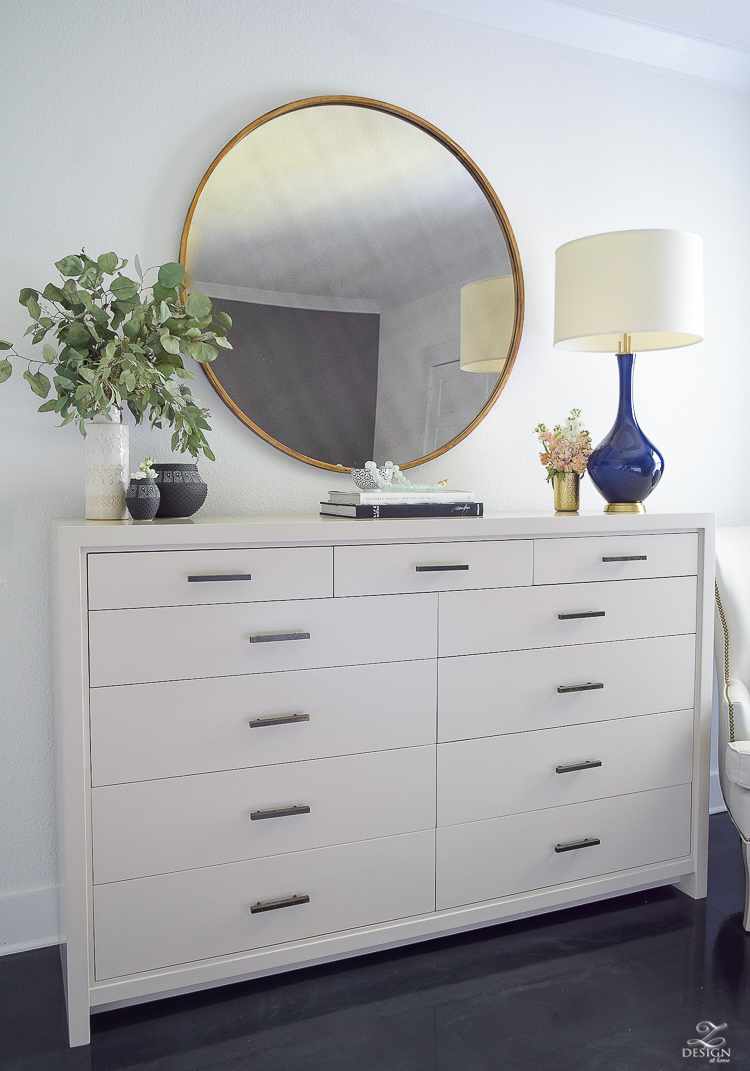 Well friends, that just about wraps up this transitional modern bedroom (with a pinch of boho) reveal!  I hope you've enjoyed it and that you'll come back next week when I talk a little bit more about coffee table books, why I love them, and share a round up of all of my favorites!