Top 5 Reasons You Should Start A Blog
Hi Friends,
As you may know I started my blog just a few months shy of one and a half years ago!  If you need to get caught up on my one year anniversary post about my first year of blogging plus tips for the beginner blogger, you can do that HERE.  I candidly offered my top 10 tips for the beginner blogger so don't miss it if you haven't had a chance to read it yet but today I want to share my top 5 reasons you should start a blog.

To Share your good ideas & advice with the world
If you are passionate about something whether it's cooking, fitness, crafting, home decor and design like me, or whatever it is that you might be passionate about then you should definitely share your passion with the world!  In doing so you will give yourself a creative outlet that allows you to grow an audience and help others that may be wanting to learn more about what you are so good at doing!  Not to mention how you will inspire others to be better at what it is that you and they have a passion for…I mean what can be more fulfilling than that, right?!  Doing what you love while helping others is always a win/win in my book!

Meet and get to know other likeminded creatives
One of the absolute best parts of blogging is the amazing friendships you will make along the way with likeminded creatives!  Not to slight our besties since childhood or anything but, in this wild world of blogging you will meet people that are just as crazy about your passion as you are and it is such a good feeling to know you are not alone and that you can turn to your blogging buddies with all kinds of help on anything from blogging to the genera you are blogging about.  I have made some amazing friends that I know will be with me long after blogging is in the history books for me which has been a huge blessing not only to my career but to my personal life as well.

Turn blogging into a career
Before I started blogging about design and home decor I was decorating for clients and when the market in the little town I lived in took a big turn south, that's when my blog was born.  Once I finally found my groove with it (and I'm still working on that everyday) I realized that blogging could become a career if I wanted to go that route and it's been the best thing I've done to date in my work life.  And, the next two items are a byproduct of that that most bloggers I know appreciate and enjoy!

Work at your own pace and on your own schedule
One of the biggest perks of blogging is that for the most part you can work at your own pace and on your own schedule.  Sometimes things get hectic around holidays and during seasonal changes and therefore deadlines can be difficult to meet but otherwise, you are your own boss and can set your own timeline.  For example, if I had not started blogging I would not currently be sitting by the pool during the middle of the afternoon watching my little boy have fun in the water while I do a little work.  Getting to do what you love career wise while spending more time with the ones you love is definitely a benefit that can be enjoyed as a blogger.
 
Earn extra income
Yes, you can make money blogging!  This was one of my tips in my one year anniversary post that you can find much more on here but, there are several ways to make money blogging one of which is through affiliate programs that you can join and another is through sponsored blog and social media posts.  Without earning money to do what I do (blogging) there would be no way I could keep my blog alive and therefore I couldn't share my passion, time and talents with others.
By now I bet you are wondering how in the world can I start my own blog?!  You might be feeling like it seems so overwhelming and who will help me get through all of the technical stuff and beyond associated with blogging?!  Well, I have just the answer!  The super talented, amazing person that helped me was Tana of Your Marketing BFF and she has just come out with her very own e-book entitled How To Start A Blog:  Everything You need To Know To Create And Start A Blog.  Her e-book has everything in it that you will need to get started and then some and boy how I wish I had had this book when I was getting started last year!  It would have made my life so much easier and I'm almost certain I would have bugged Tana a whole lot less to get the answers I needed to all of my blogging questions;).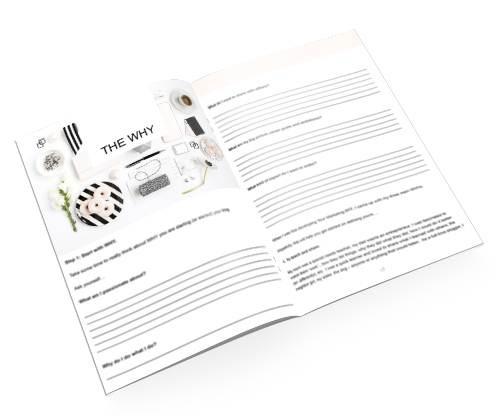 I hope this post was helpful on my My Top 5 Reasons You Should Start A Blog!  If you have any questions or comments please feel free to leave them below in the comments section and I will be happy to answer them to the best of my ability.  Thanks for stopping in and happy blogging, friends!! 🙂