One Room Challenge – Week Four
I'm so excited to have you back for week four of the One Room Challenge, friends!  If however you are new here, you can get caught up below with weeks 1-3 to bring you up to date…
Before I get started I want to mention my sponsors again that have made this project possible.  I'm so grateful to be able to partner with some of my favorite brands for this challenge and am super excited about the products of theirs that I am able to share with you during this six week challenge.
What happened this past week…
So let's first talk about the things that didn't go as planned (again this week:).  I LOVE this hardware so much and even though the measurements on the retailers website said it should have worked, it didn't.  The holes in my dresser were off by about a 16th of an inch on both sides but the good news is that I now know I love it and will plan to use it somewhere in my new home once we get to that stage.  This photo doesn't do this hardware justice, I promise!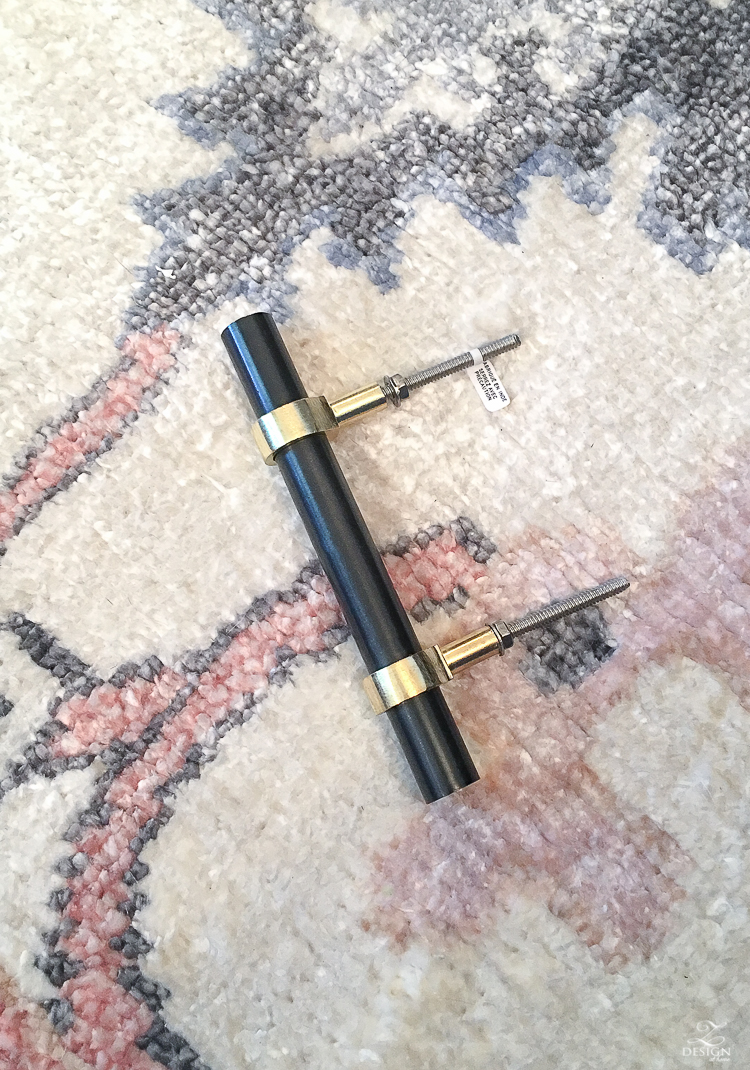 The rug thankfully DID go as planned and I couldn't be more excited about it.  I had forgotten how insanely soft it is and now I'm just worried I'll want to be sleeping on the floor rather than in my new comfy bed:).  If you didn't catch how amazing our new Saatva mattress is yet – you can do that here in my week 3 ORC post.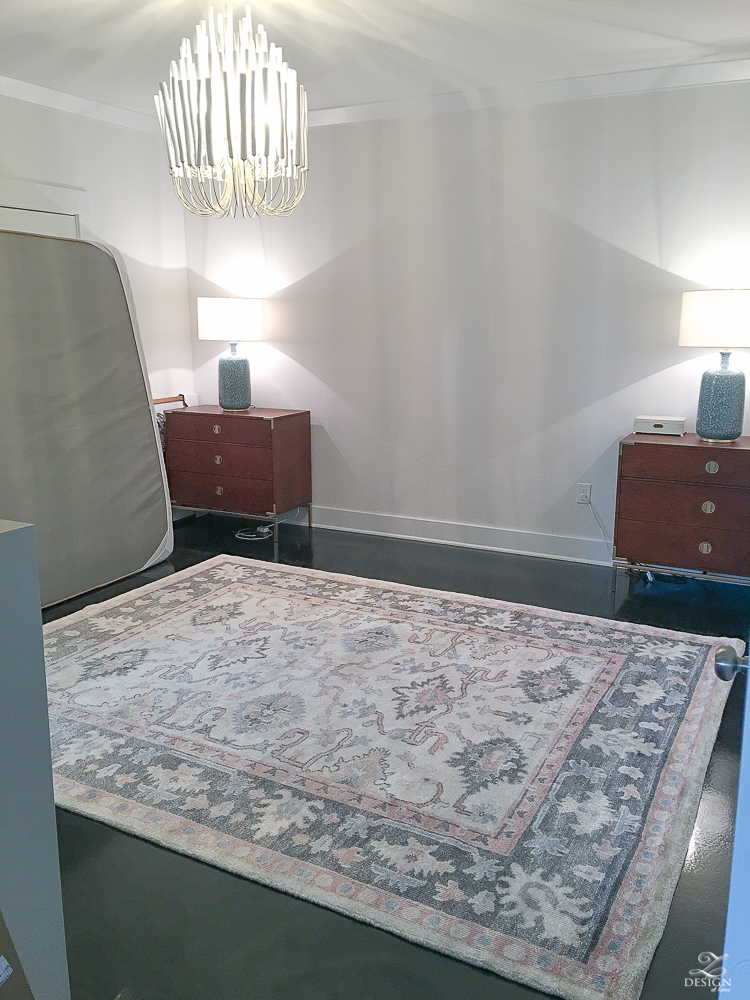 Here is a close up below.  The background is cream (but with no yellow undertone) and the accent colors are a coraly/blush, blue/gray and charcoal.  It's subtle but yet provides enough color to add a pop in the room.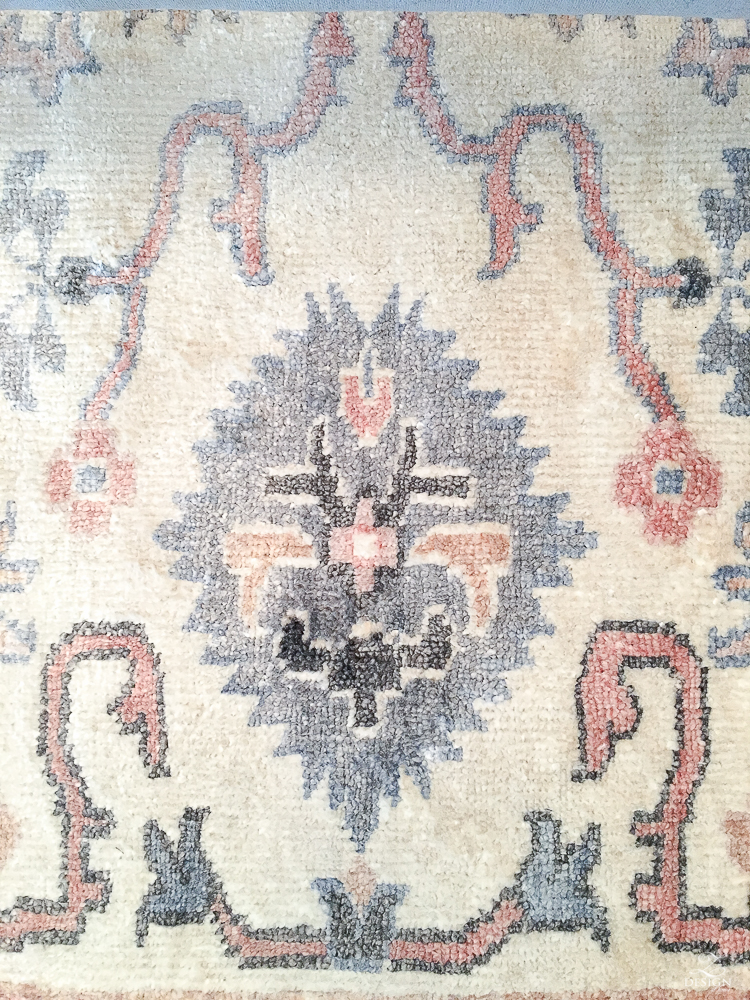 Next up is the bed.  It finally arrived and my wonderful husband put it together – seriously couldn't do all that I do around here without him and I'm so thankful for that (love you, babe!)!  As we celebrate 20 years of marriage this week I appreciate more and more all of the things he does for me around here and couldn't love and appreciate him more than I do right now (although I'm pretty sure I'll love him even more tomorrow:)!  P.S.  I'm completely in love with the bed!!!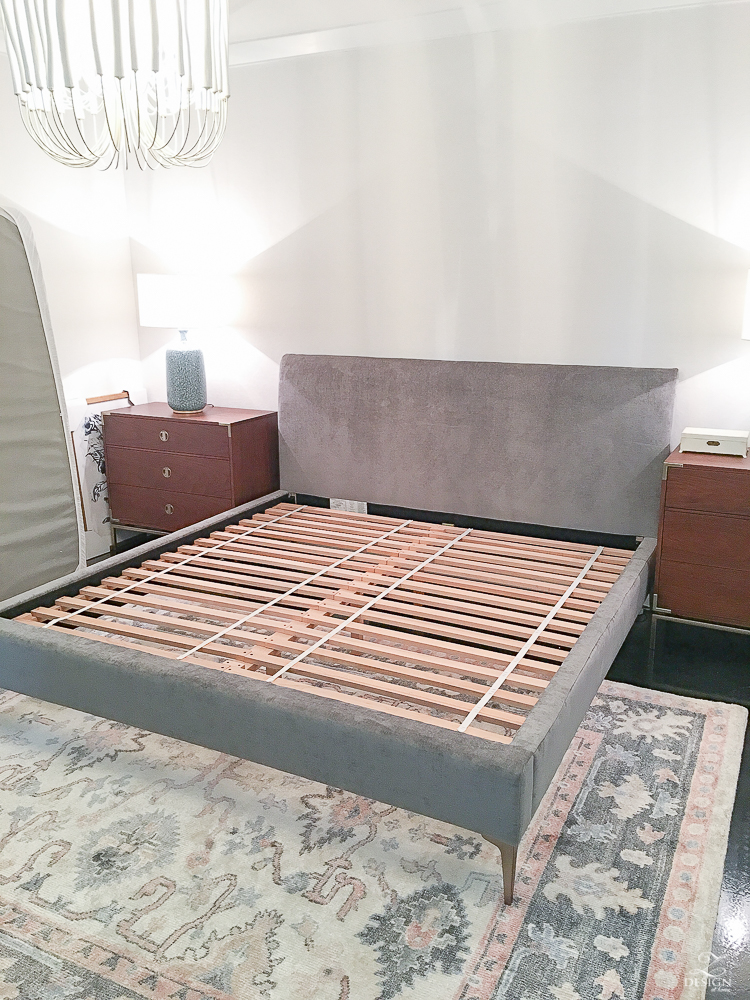 The support on this bed is amazing.  Putting the bed together was one of those moments where you're thankful for the quality of the piece but are wishing you had paid extra for white glove delivery, lol!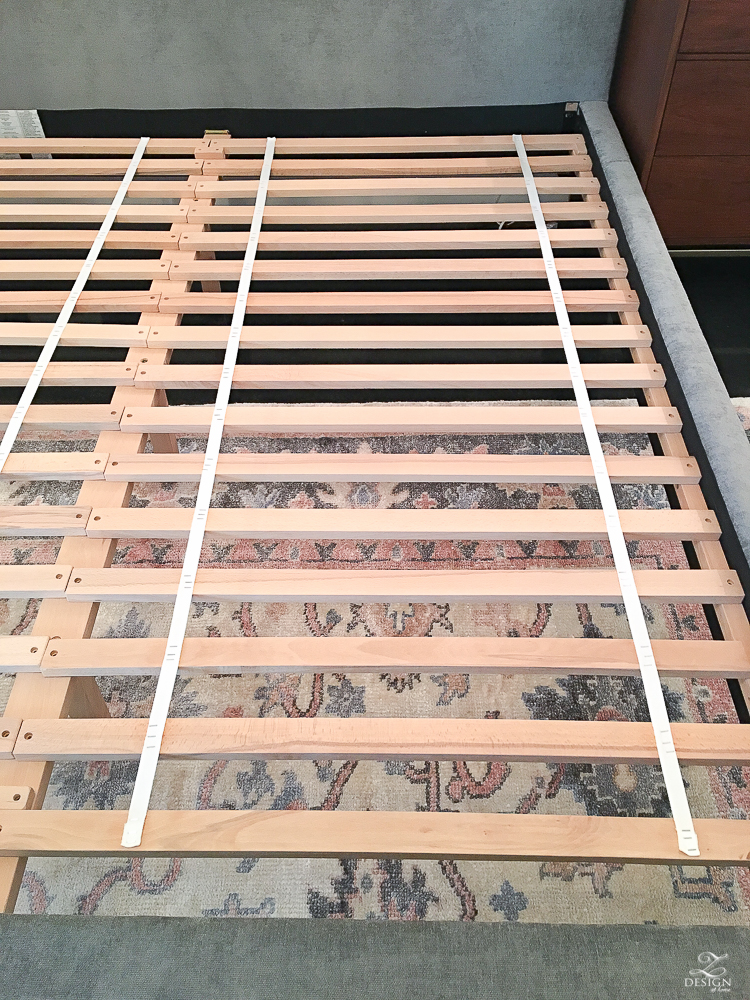 And can we talk about those sexy legs for just a moment (you can also see the coloring better here in the rug)…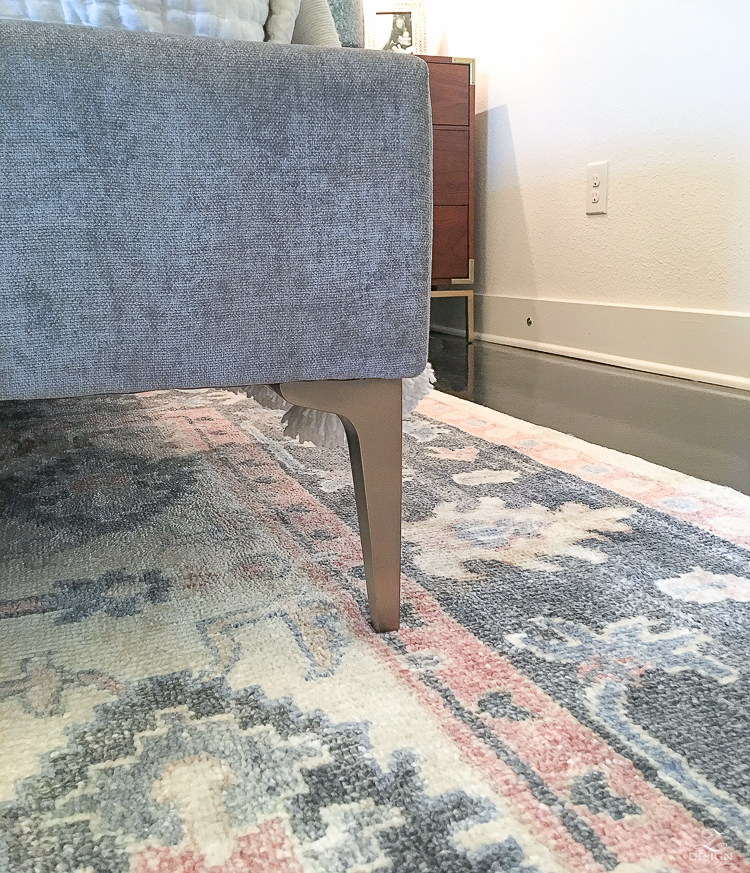 And then this cute navy braided, jute pouf arrived.  Couldn't get over the quality for the price (it comes in 4 colors)!  It's probably going to sit in front of the chair in the corner and, I have one more on the way in a natural color (this one) that will sit at the foot of the bed.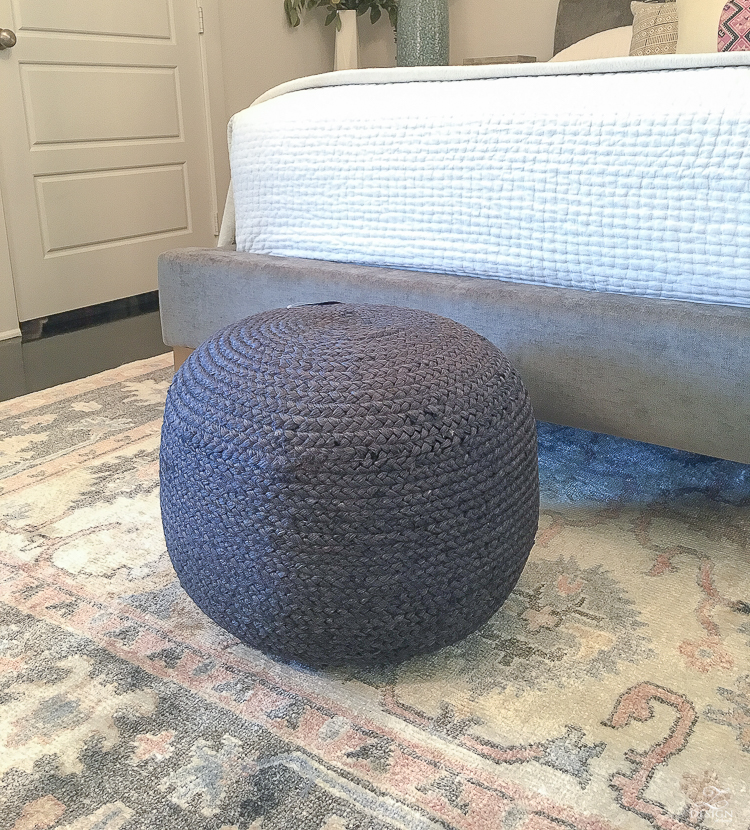 Some of the art also arrived from McGee & Co.  I love the beautiful gold frames and the botanicals (one & two) are so pretty and unique in navy.  I can't wait to share them in the big reveal (on the wall no doubt) hung on what has been a big bare wall ever since we've been here!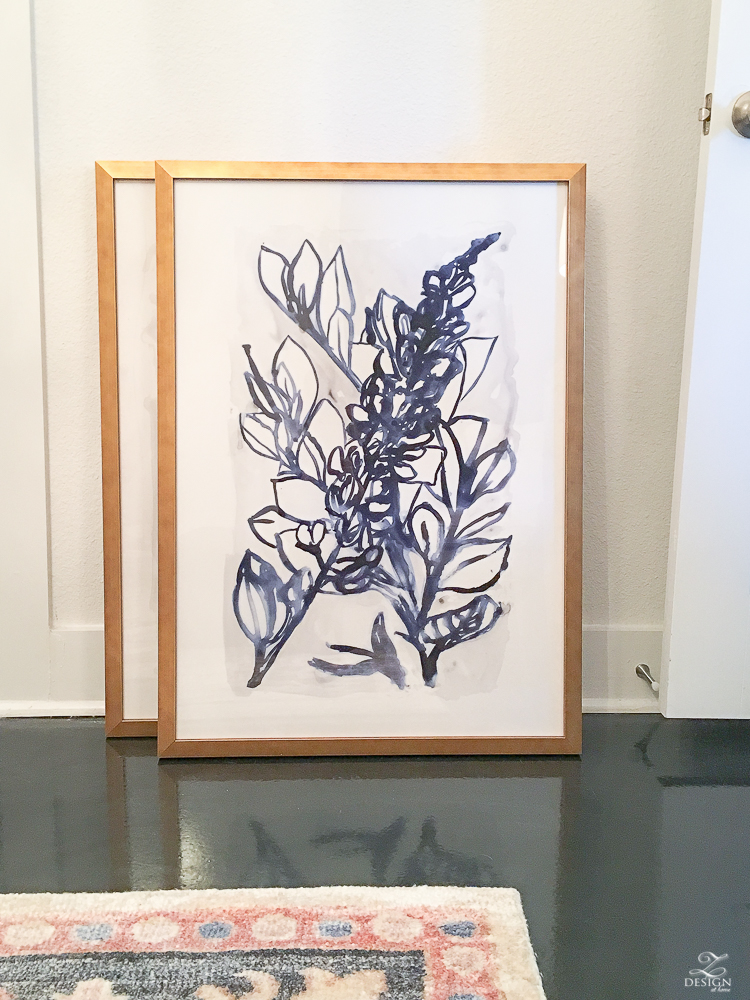 Next up is one of the most exciting transformations in the room!  Again so thankful for my hubby because while I was out of town last weekend at a conference (translation – girl blogger trip!) he was wonderful to spray the round gold mirror for me in a matte black chalk spray paint (working on getting that color for you as we speak).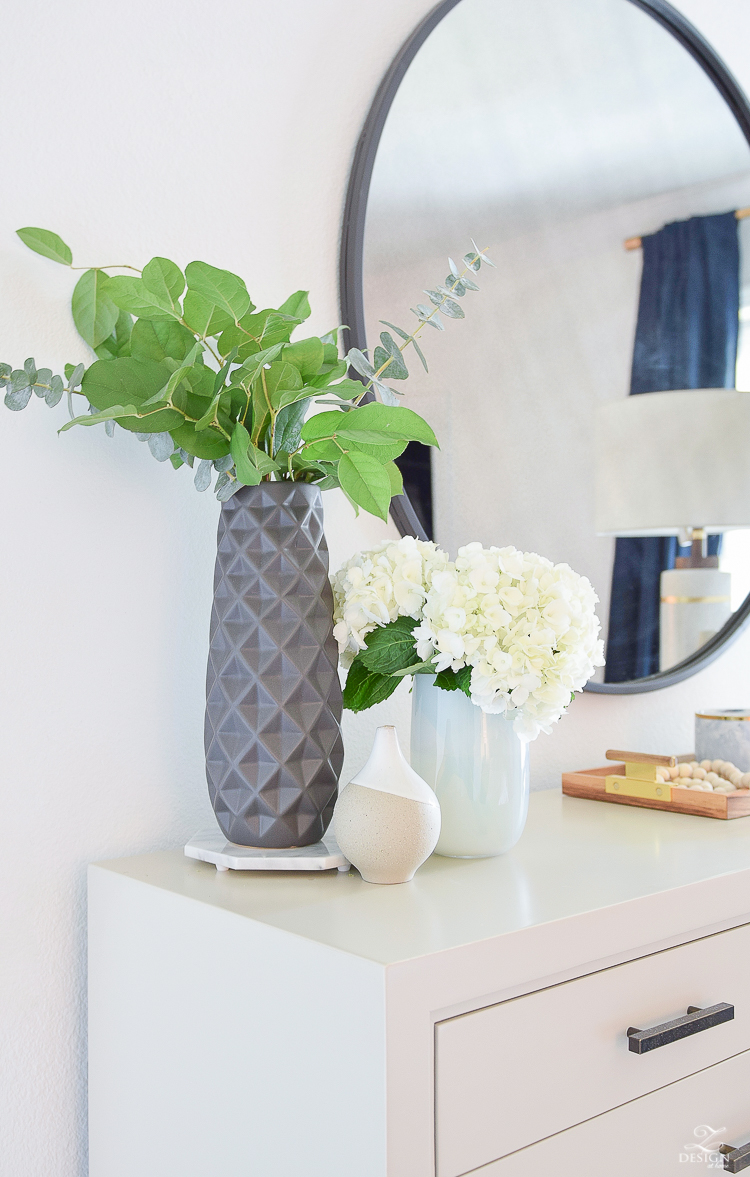 You might be wondering why on earth I would spray it black but I've had it for a while now and thought it would be fun to change it up for the challenge and I'm absolutely loving the black!  I also grabbed a few new accessories over the weekend (you know I'm a sucker for a pretty new vase:).  My favorite thing about this view now is that you can see a pretty new chandy in the reflection rather than an ugly fan!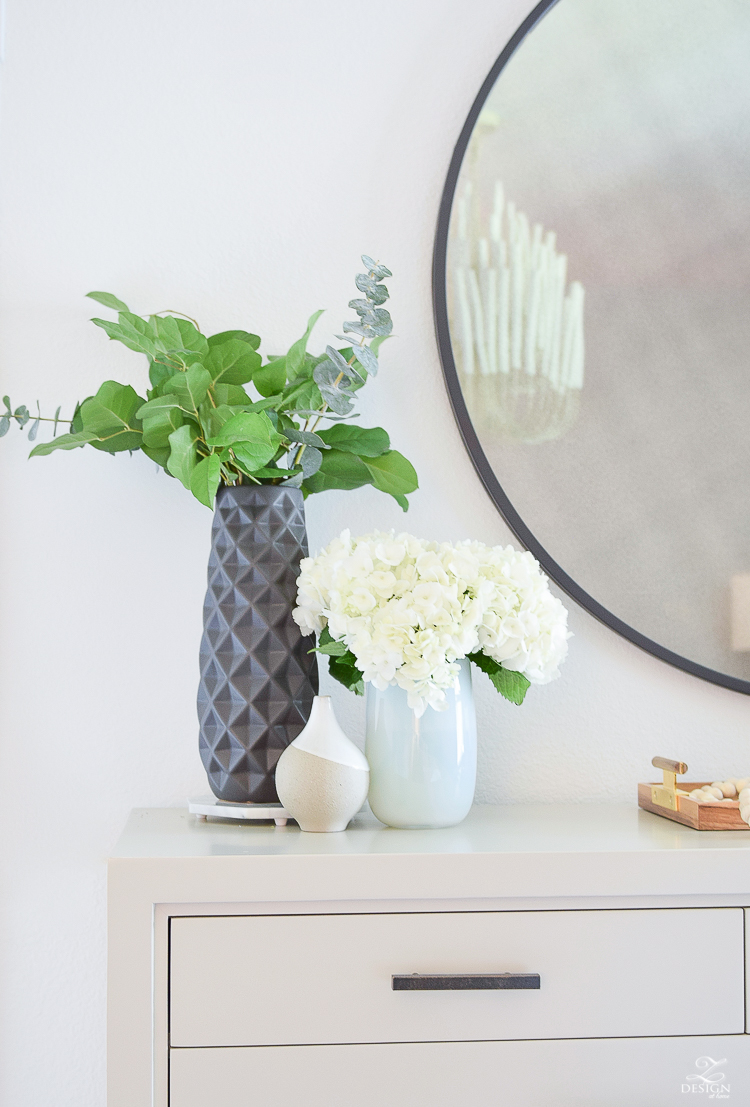 Lighting is also a weakness of mine and since I've had my eye on this lamp for quite some time it came home with me also (but it really does have a functional purpose I promise).  What I loved about it is that the wood tones on the lamp pick up on the oversized nightstands across the room helping to bring these two spaces together.  Also really LOVE this marbleized candle – so pretty and such a great accessory for the space!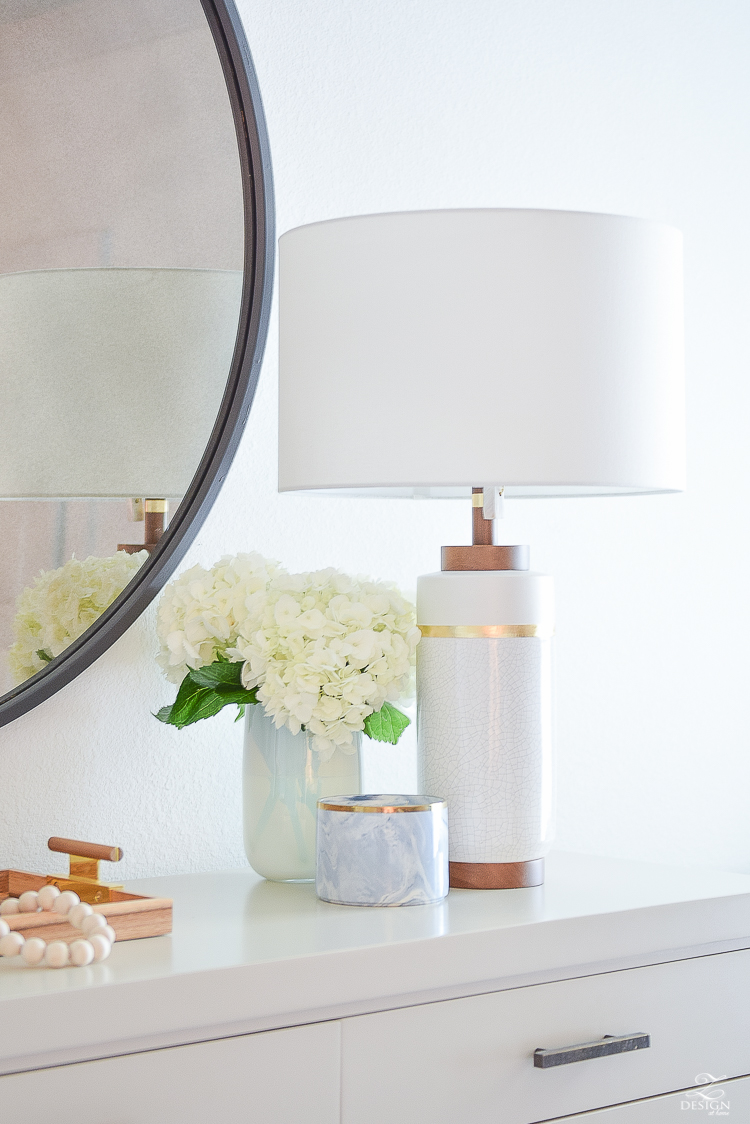 The dresser side of the room is pretty set (except for some tweaking) and now I'm just waiting on the following to happen…
Thanks for stopping by for week four of the One Room Challenge and don't forget to check out the other participating members on the ORC link-up page HERE.  I look forward to seeing you next week for week 5 – we are getting super close now!!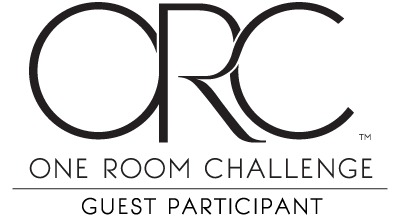 A big thank you again to these wonderful sponsors…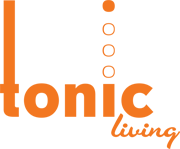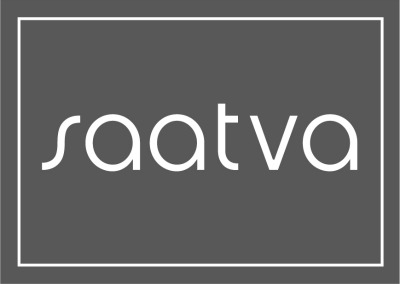 UPDATE:  You can now visit week five of this project HERE & week six/the reveal of this project HERE.
Please consider subscribing to the blog to receive weekly updates throughout the 2018 Spring One Room Challenge project and beyond if this is your first time here!