Happy almost spring, friends!! After the snowstorm of 2021 in Texas, I'm definitely ready for it! Today I'm super excited to be sharing with you my Dining Room Design Plan! I've had a few pieces arrive and I'm working on the rest so thought I'd share while it's a work in progress since it will be a while before the final pieces to this puzzle comes together.
This post contains affiliate links. Please read my full disclosure policy here.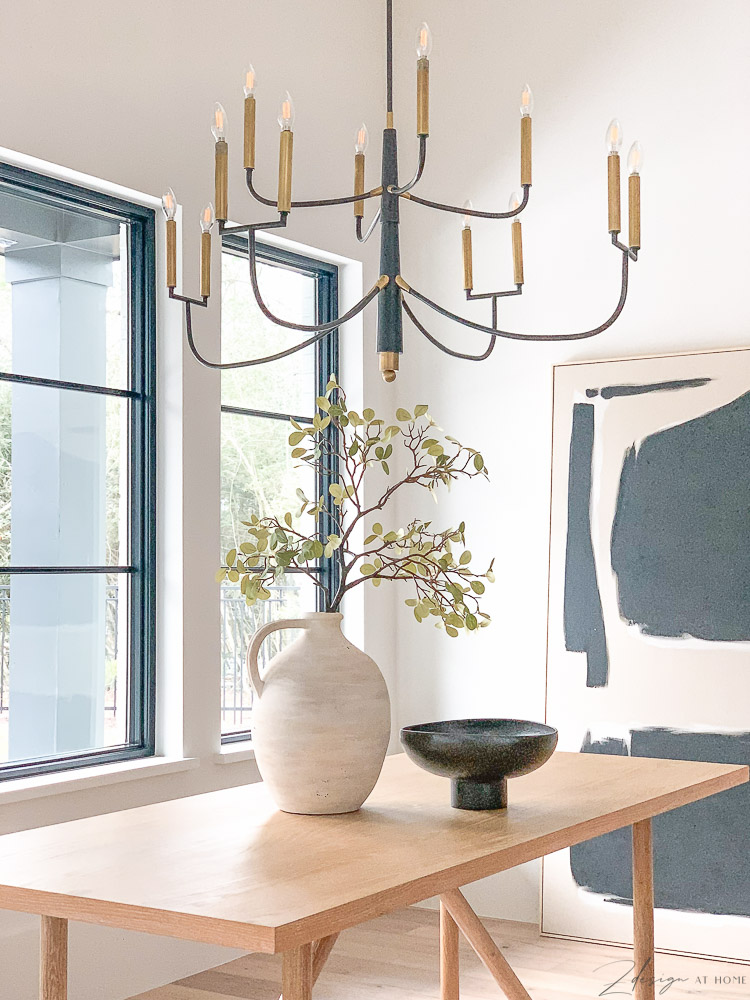 As you know due to Covid (and the weather here lately) things are taking forever to arrive these days – from furniture, to lighting, to even accessories and I (and I'm sure you as well) will be waiting for weeks and months for items to arrive, but it's all good. My plan for our new home is to be very intentional with my purchases in regard to furnishings so000, stay tuned because it might take a while, although I promise there will be lots of 'moments' along the way;)!
The first item I ordered before we even moved in (I only ordered 3 things for this house before we moved in) was this large piece of black and white abstract art. It's on canvas and has a light wood frame – I just adore it! It fills up this wall perfectly and makes a gorgeous statement in our dining room.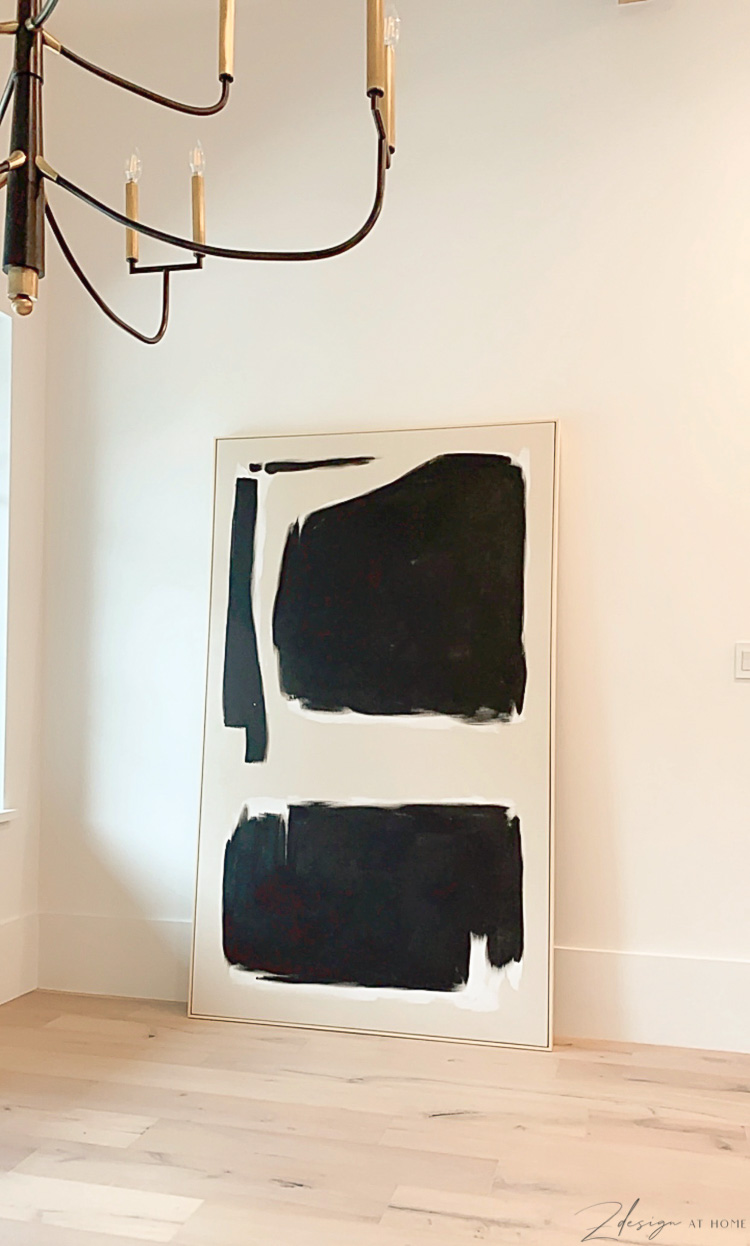 Then I ordered this table and it arrived about a week ago. I have to say I'm on the fence about the table though. I do really love it but the color turned out to be a little more gold than I had expected based on the retailer's description online. I love the lines of it and I do like the finish, just not super crazy about the gold undertone. I have to say yesterday was the first day the sun actually came out since I've had it and I was much happier with it in a sun filled space.
You can see the finish and color here in this next photo a little better. My husband says I'm overreacting a tad over the table color (hmmm, imagine that lol) but I have to say the warmer tone is growing on me the past couple of days. The description on line said it was a "whitewash" but in reality it's more of what I would call a cerused oak. "Cerused" is a unique finishing technique that really brings out the grain of the wood without causing harm or damage to the wood itself, so it can make for a beautiful piece that has a lot of character. Additionally, I have to say that I took these photos with my iPhone and I think in my photos it looks even more gold than it does in real lift. And when the sun is out it looks great, it's just when it's cloudy and at night that I'm not loving the color. It's strictly a personal preference and other than that there is absolutely nothing wrong with it!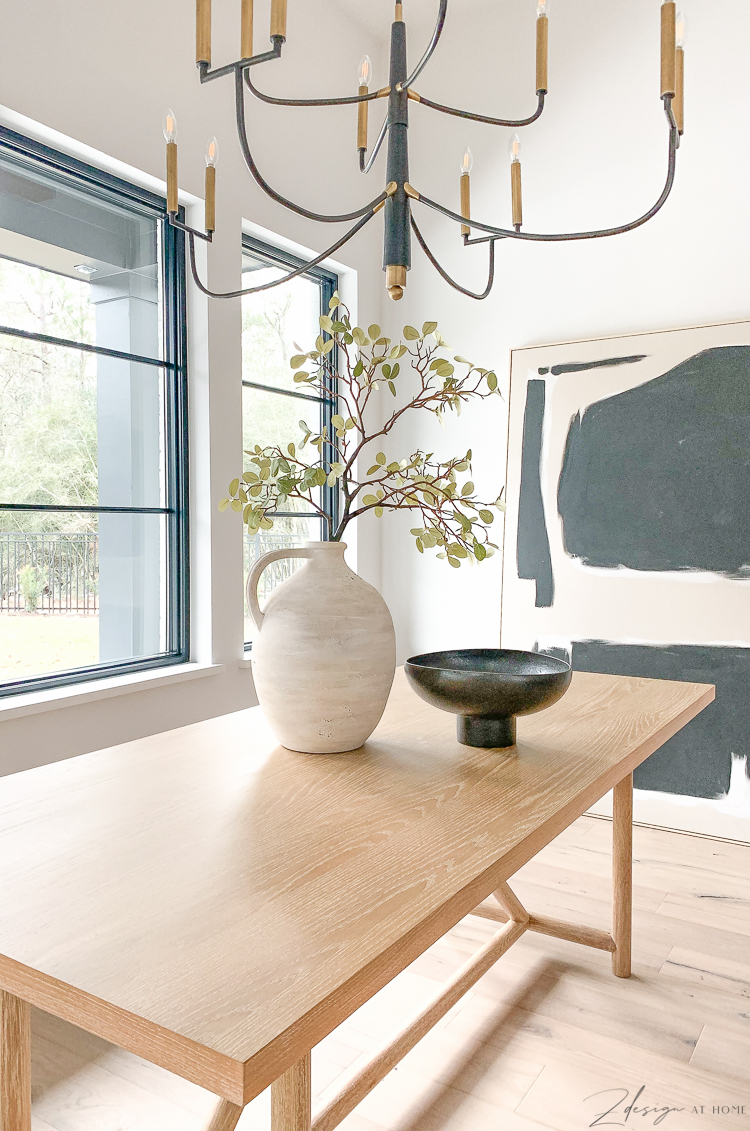 A few words about our dining space as well…we don't actually have a formal dining room. A formal dining space just wasn't something we needed based on the way we live, entertain, etc., so we chose to have just a generous sized dining space off of our kitchen area, adjacent to the living room instead. It's perfect for our family and I can't wait for our chairs to arrive soon so that we can start using it!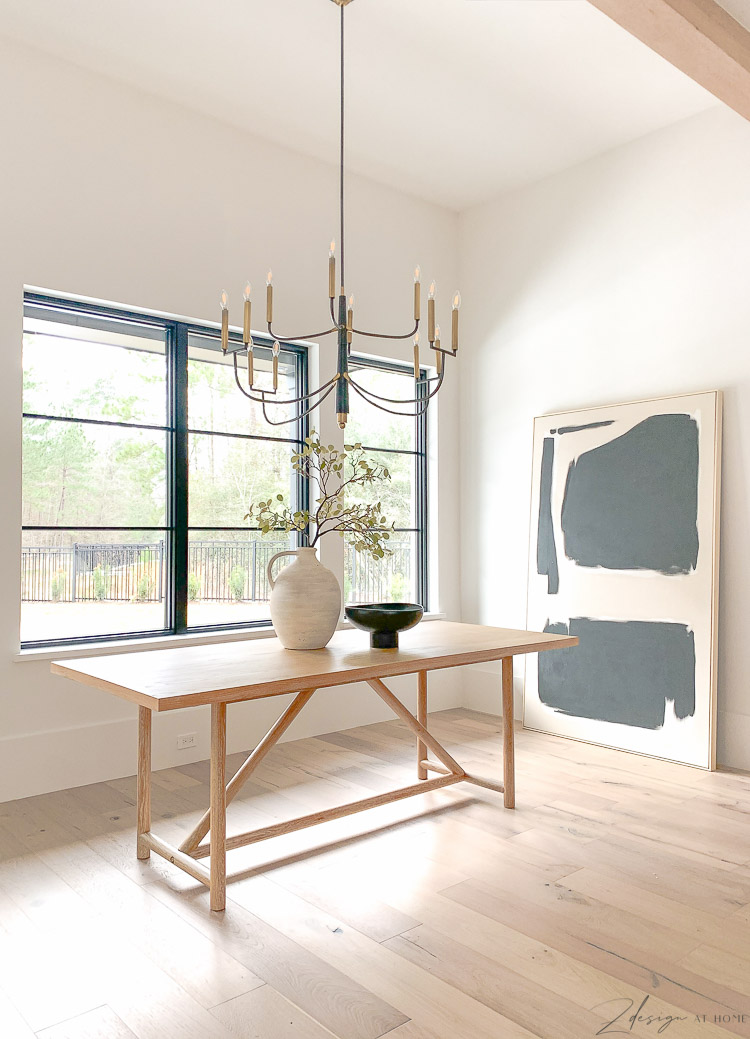 But, I'm still on the fence about the tablethe table and I need your help! Here are 3 other tables I'm looking at (along with the one I chose in the top left corner – #1) and I'd love to hear which one you like best in my space. Please post your answer in the comments section at the end of this post and thank you for your help! I always love hearing from my wonderful readers!! What's your choice – 1, 2, 3 or 4??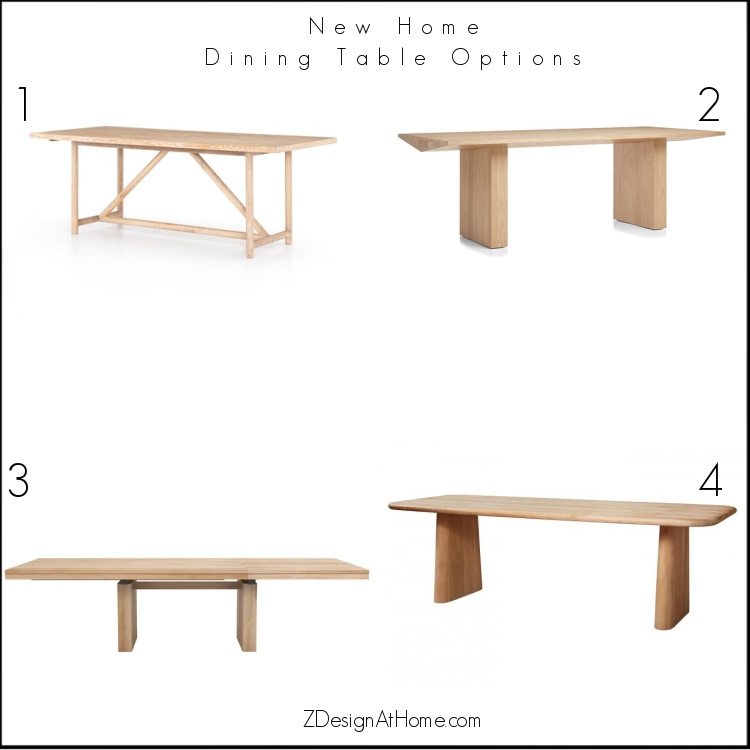 And here are my thoughts on each table. There were more but I narrowed it down to these four…
Here's one more angle of our dining room so that you can see the rest of the space. This angle looks out over our pool and back patio.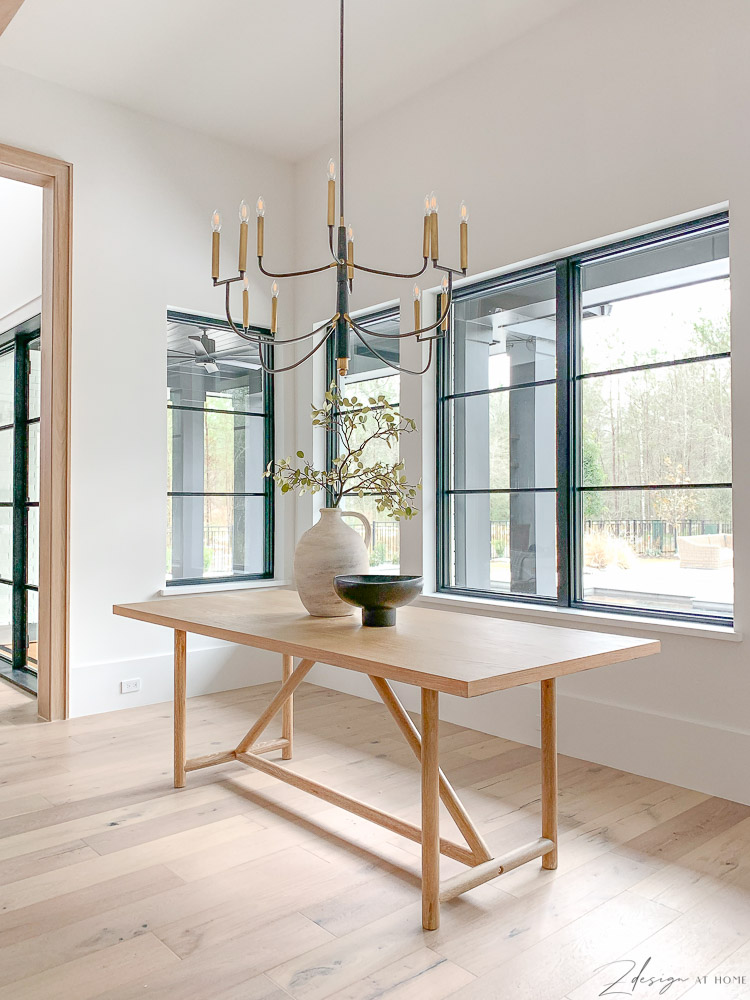 Accessories wise, I fell in love with this olive jug artisan piece for my table the moment I saw it. I already had this black bowl (a recent purchase though) and they paired well together on the table in front of the art I thought.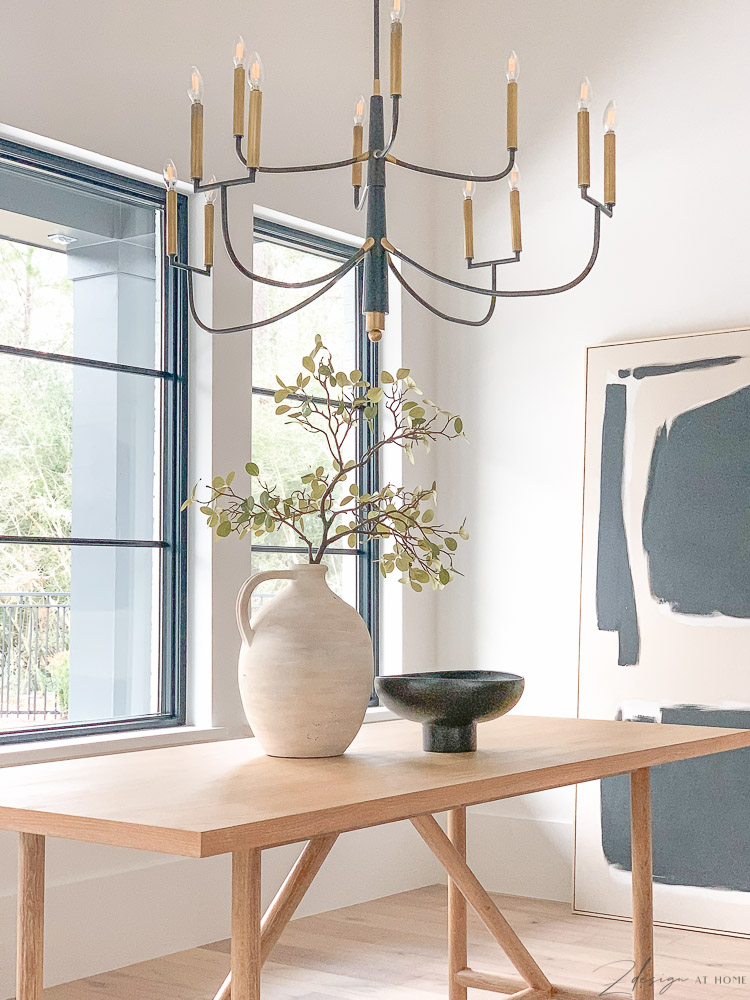 Such fun, unique pieces that I know I'll have for a long time to come. The hand painted texture on the olive jug is amazing…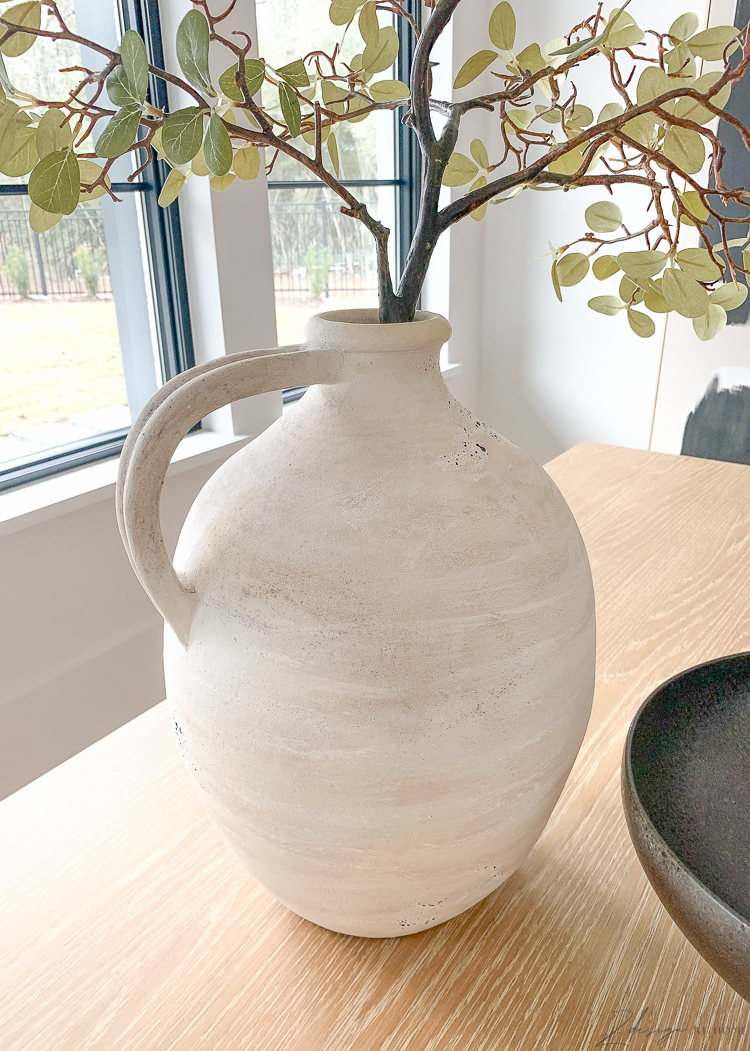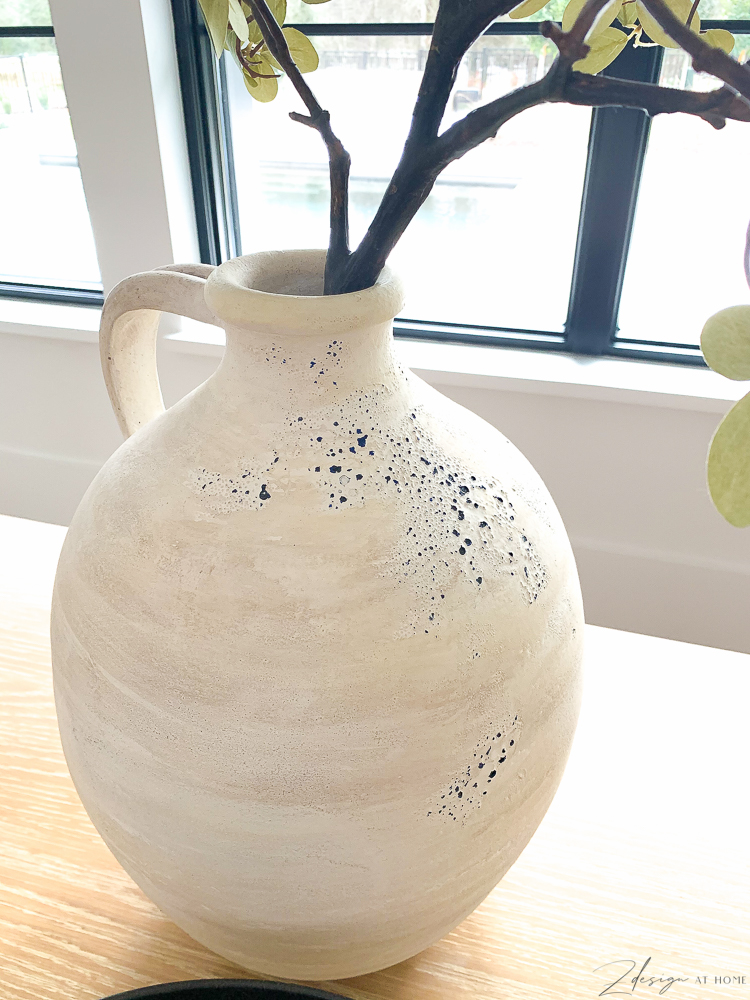 I also really love this black bowl. The pedestal style lends itself to modern design and I love the juxtaposition of these two styles and finishes together.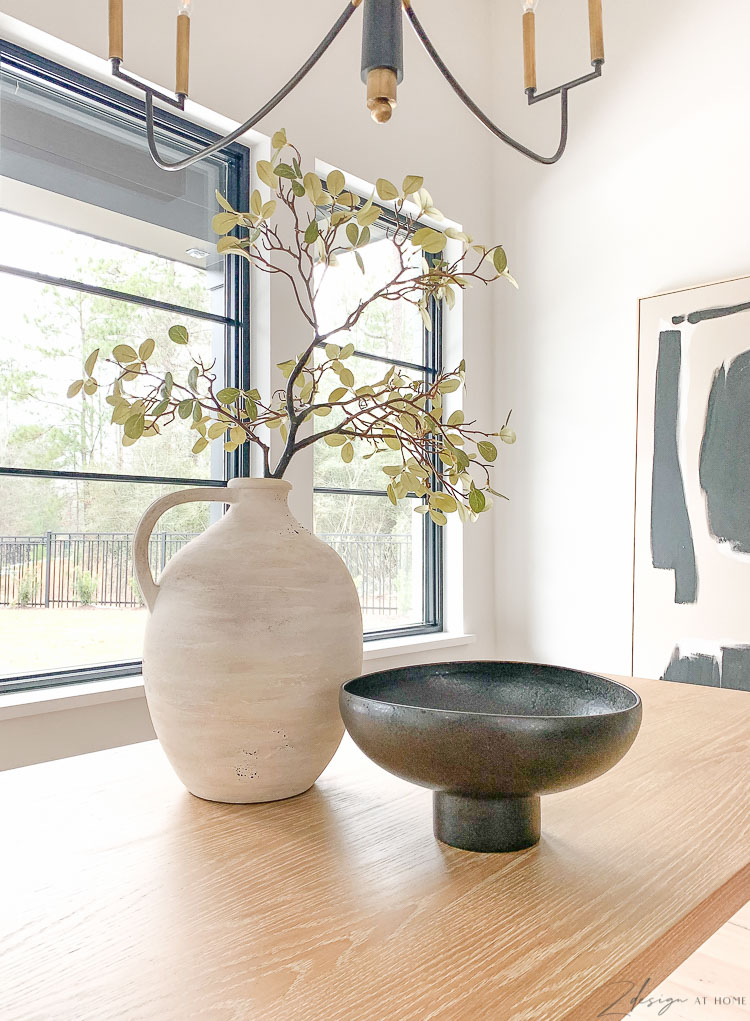 Our dining chairs for this space arrive later this week, Lord willing, so I'll share those soon with you as well but this is the chair I decided on just below. I love the contrast between the table and chairs and love the black cane. I've always loved cane and I'm so happy it's back in and hopefully here to stay a while! The best part about these chairs is that they are a black high-gloss lacquer and oh so chic but practical since there is no cushion, etc. They also have a nice wide, deep seat so they should be very comfortable compared to the last black chairs I purchased, haha!

For draperies I'll be working with a brand I've admired for a while that will be making some white linen drapes for our dining room, that will make a beautiful finishing statement in here. Not sure how soon I'll have them but I'll keep you posted for sure!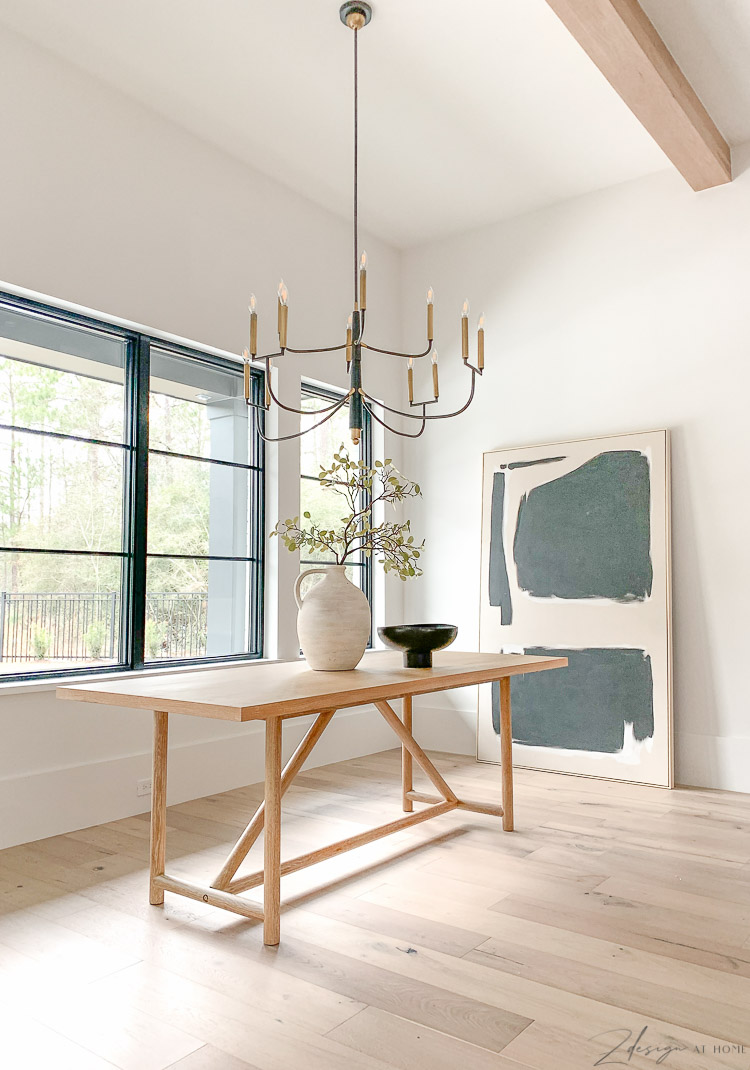 And here is my full dining room design plan for this space! I can't wait to share it with you soon but in the meantime, don't forget to comment below with which table you like best for my space from the graphic above – 1, 2, 3 or 4?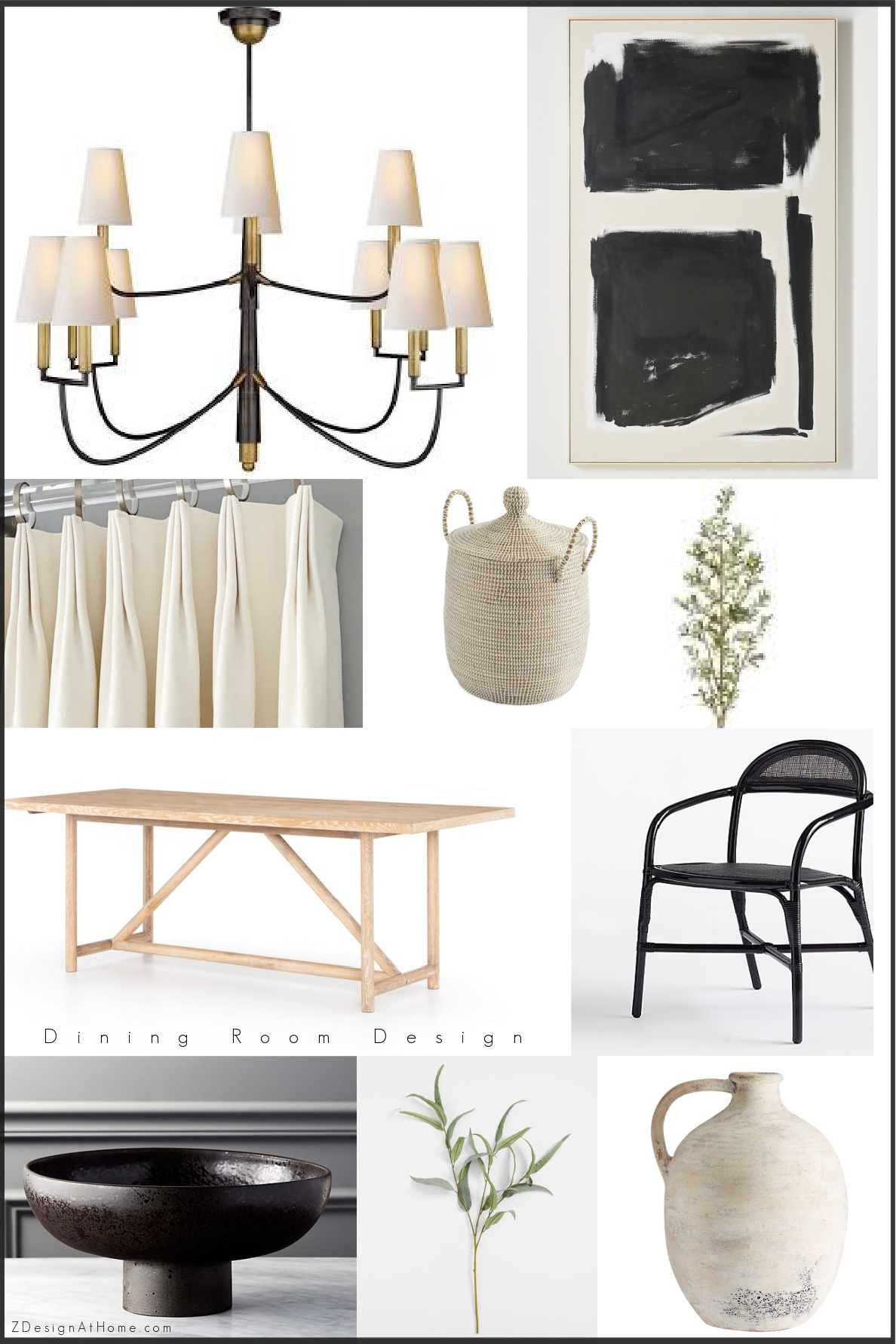 Sources
Table | Black Cane Chair | Chandelier | Black & White Art | Olive jar | Eucalyptus Stem | Black Bowl | Olive Tree | Basket | Drapes
Let's stay in touch…
Pinterest | Facebook | Instagram | Linkedin