A Cozy, Chic Fall Living Room Tour
Hi friends and thanks for stopping in today!  This tour is a bit of a continuation of my 30 Tips for Fabulous Fall Decor tour and if you haven't been able to catch that yet (and you will want to) you can do that here to see all of the fall decorating ideas that I and my inspiring friends shared on fall decor ideas for this season.  This year I also participated in the Harvest Haven Fall Tour where I shared my Fresh Approach to Fall decorating in my breakfast area and dining room.  You can see that here as well if you haven't seen it yet.
So while I shared tidbits of my fall living room as previously mentioned, I haven't shared it all so I hope you will grab your favorite beverage today and stay awhile to see some of the simple ways I've updated for the season.  Of course there are new fall pillows, a chunky throw for warmth and texture, and pumpkins but there are some other fun things I've thrown into the mix as well that I'm excited to share.  One of my new favorite ways to decorate seasonally is with art.  Previously we had this round gold mirror over the fireplace and it was beautiful there but was better suited for the spring and summer months (you can see it here in my summer living room tour to see it over the fireplace).  We moved the mirror to our breakfast area adjacent to the kitchen that you can see more of here in my post for Chic Fall Decor Styling Tips  if you haven't seen it in it's new place yet.  The abstract art added a perfect focal point in the living room plus, the navy and gray in the art added some warmth and excitement to the space that was lacking.  It's much warmer than the sometimes cold reflection the mirror cast and turned out to be a perfect update for the cooler months ahead.  Additionally, it picks up on the navy washed velvet pillows on the couch and pulls out the blue in my staple floral pillows.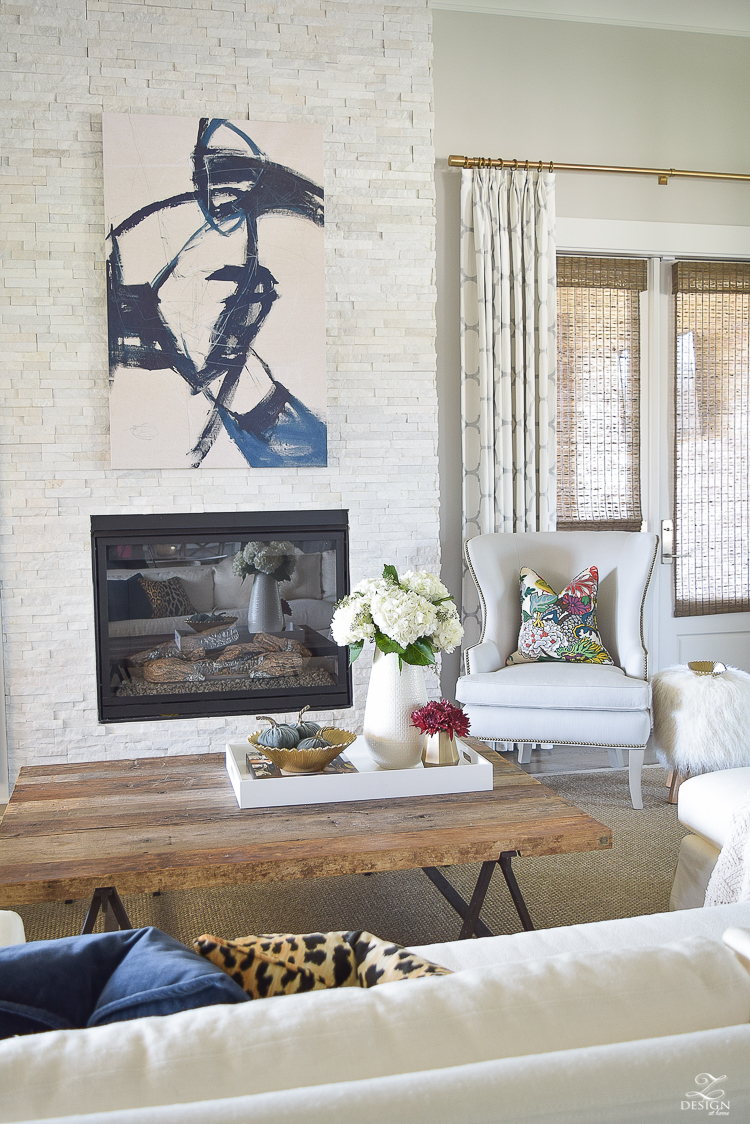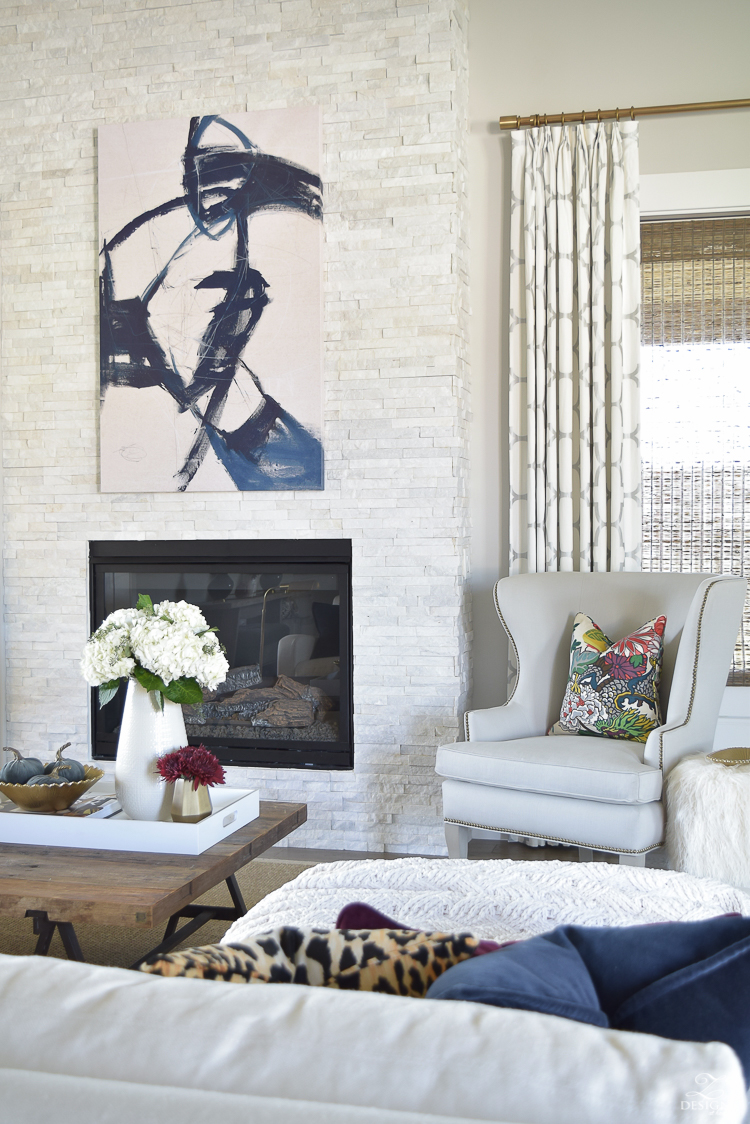 Another simple addition is this textured chenille throw in the same color as my couch.  Rather than pulling out my favorite fur throw just yet (that I actually use year round to keep warm with while movie watching and snuggling) I chose to go with a lightweight fall throw since it's still in the 80's & 90's here.  It still gives a nod to the season with it's chunky texture but lovingly blends into the couch without screaming cooler months since it really isn't cool here just yet.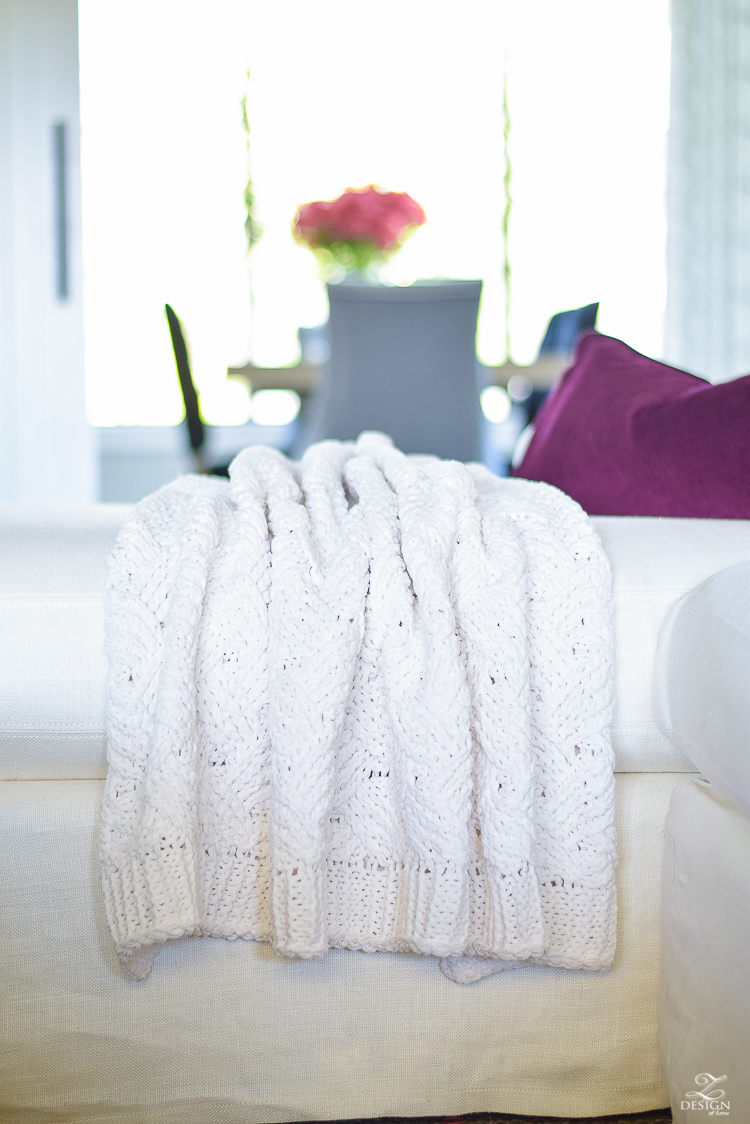 Next you can see the fun leopard pillows I've added to my fall living room, along with a pillow in my signature color for the season which is plum (I talk a lot more about how I'm using plum this year in my Fresh Approach to Fall Tour here).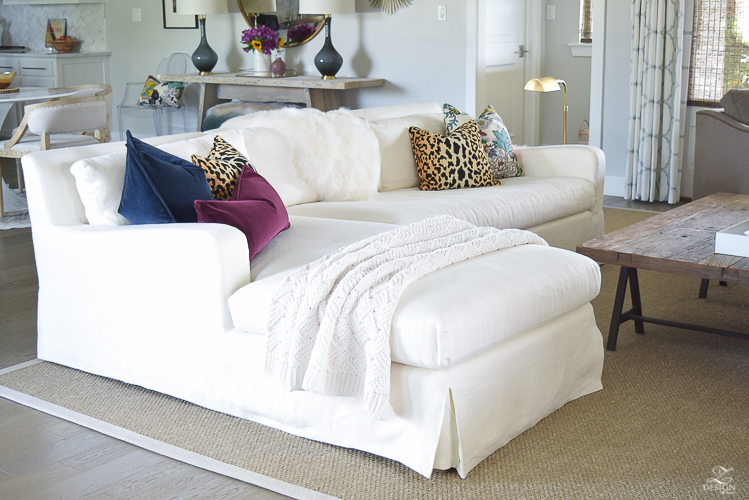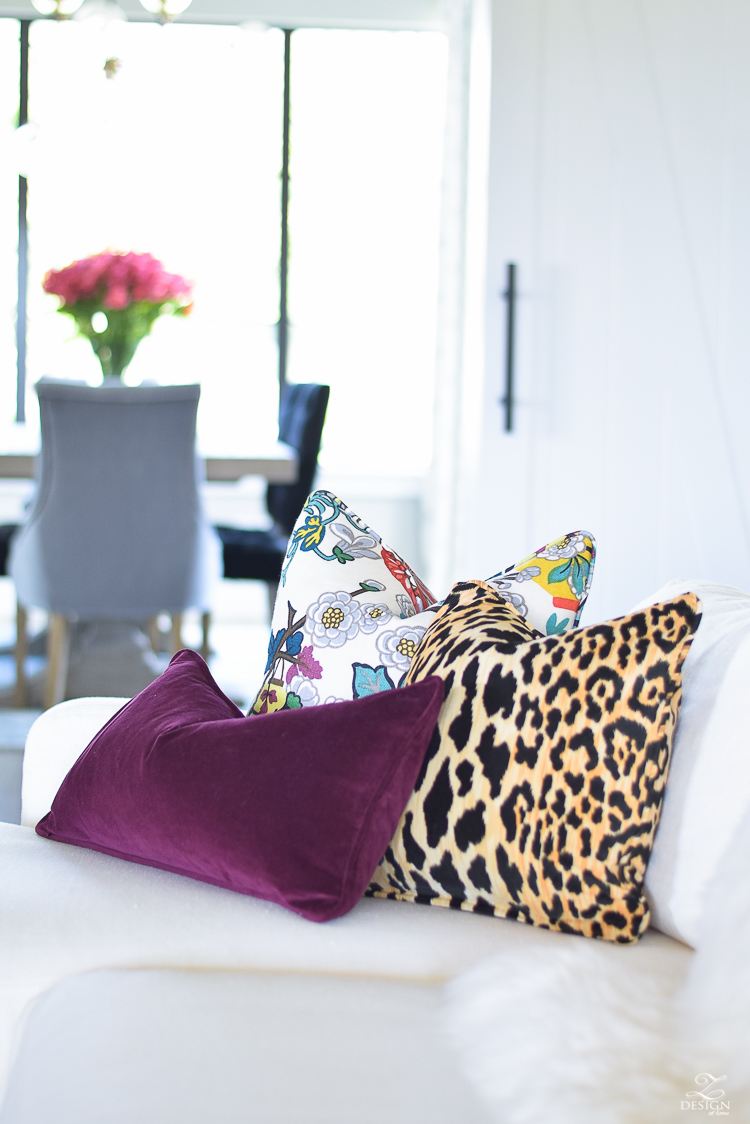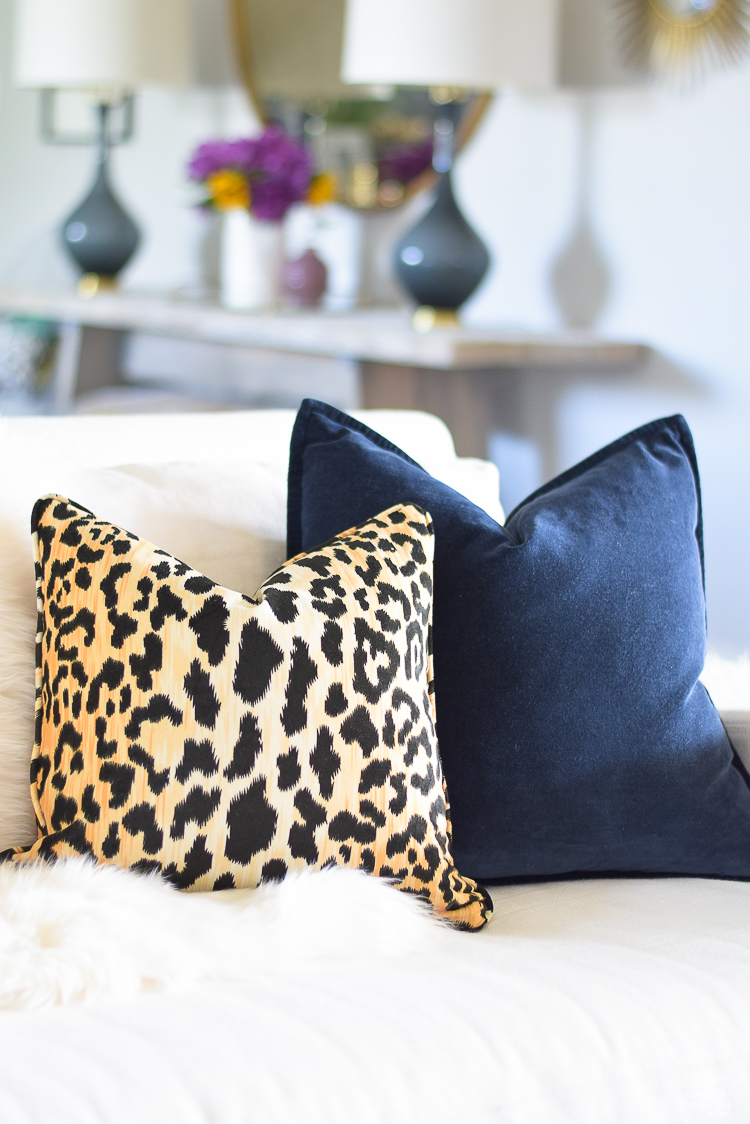 Get the Look

Of course the coffee table received some seasonal updates as well with some velvet pumpkins in this brass bowl and fall flowers in plum placed in this brass vase but, I kept my white tray out as always since it's a mainstay through all seasons for me.  The white lacquer is a perfect juxtaposition in materials to my rustic coffee table and allows my accessories for the season at hand to stand out (I talk a lot more about coffee table styling here, if you're interested).  Brass accents is one of my go to's right now to keep things fresh and chic for the fall season this year!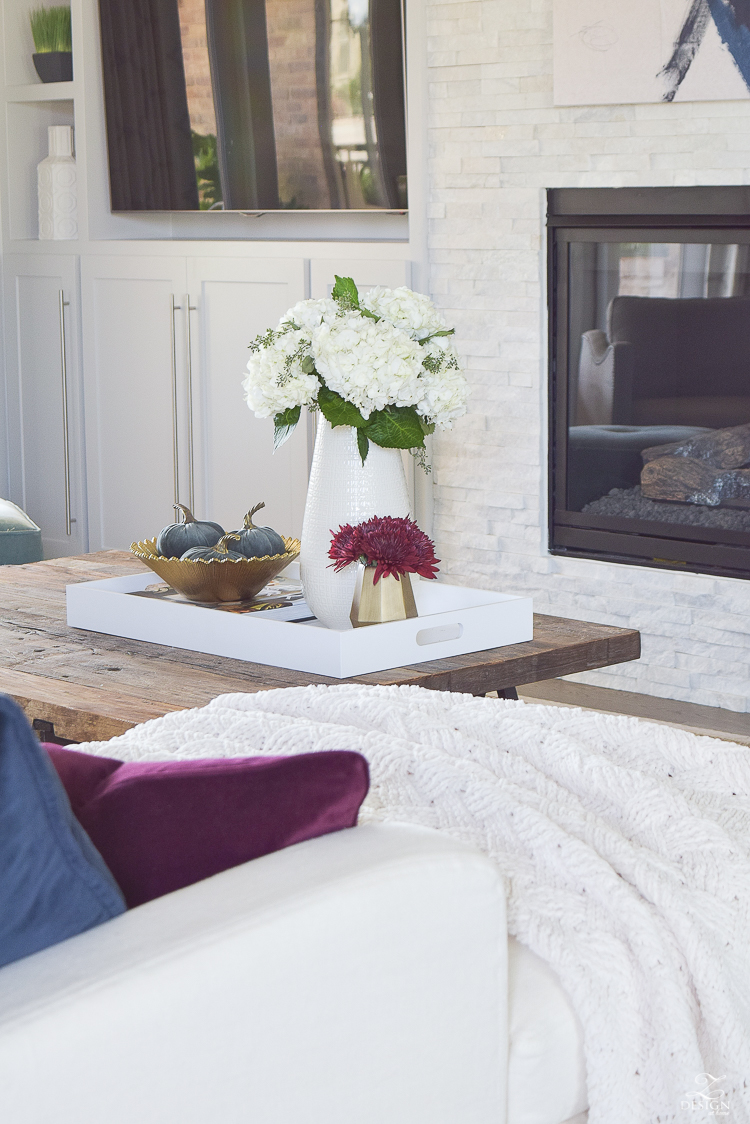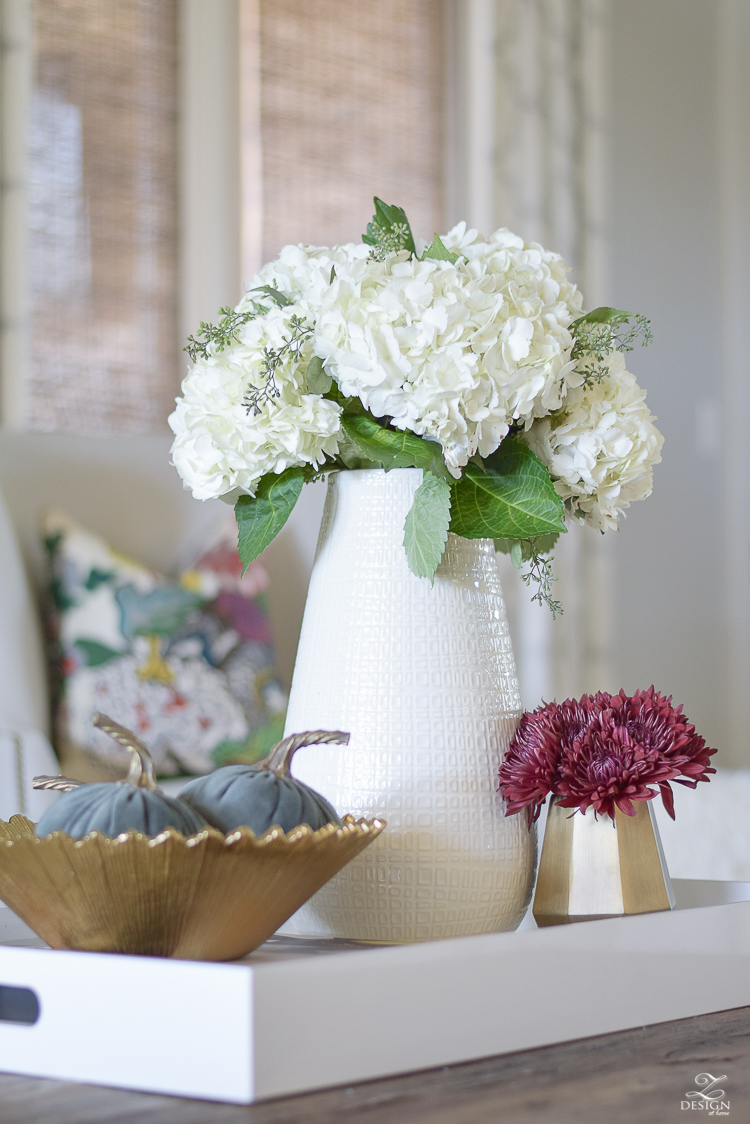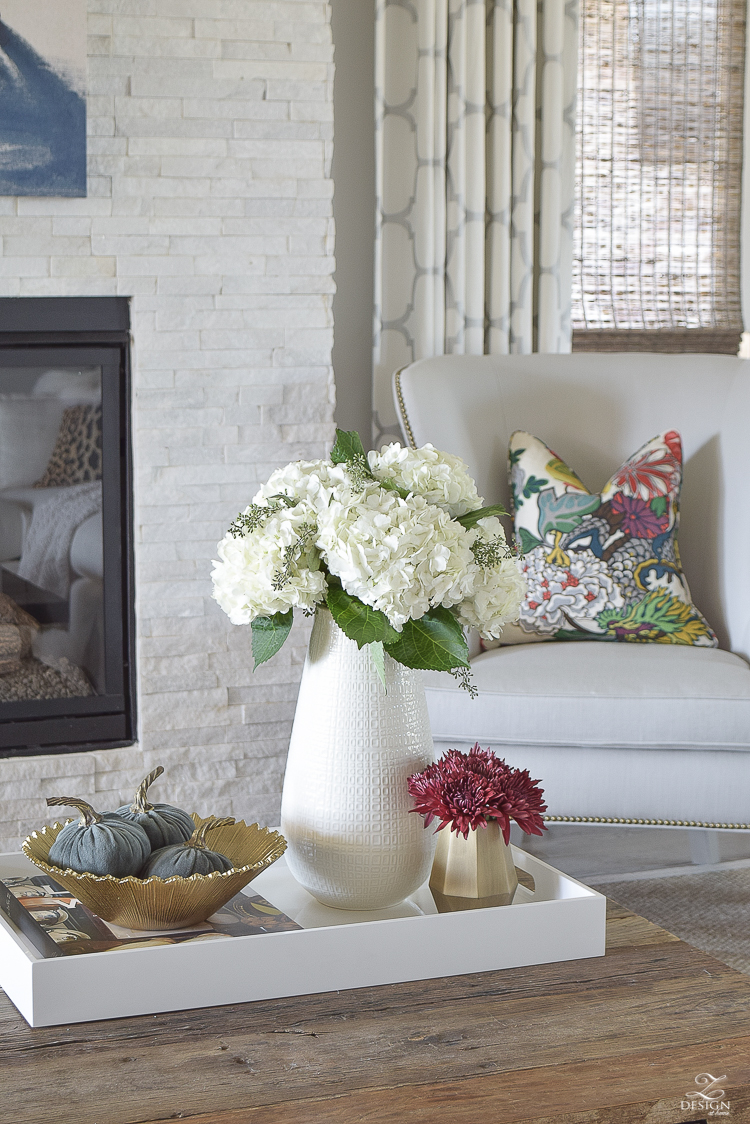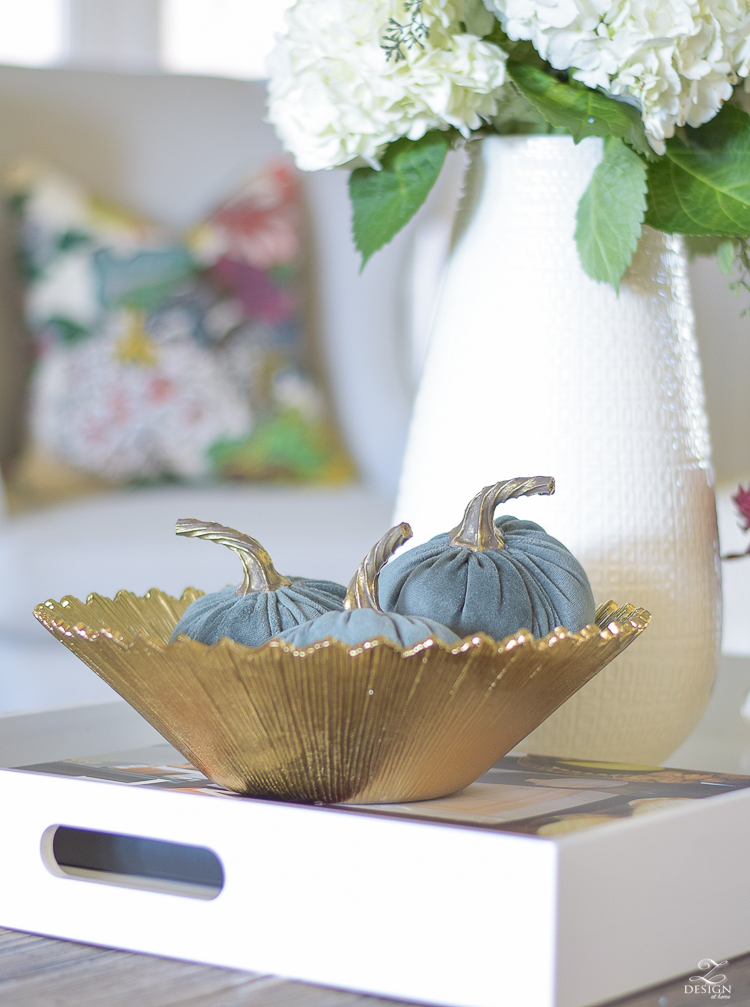 A little secret and trick about my favorite floral pillow is that the pattern is different on either side so since I wanted to continue to use it as we move into the cooler months, I merely just flipped it around to reveal a bolder, more colorful side that has more of the plum color I am using throughout my home this fall season.  I talk a lot more about the making (or finding) of the perfect pillow here where I share about what details to look for in a good quality pillow.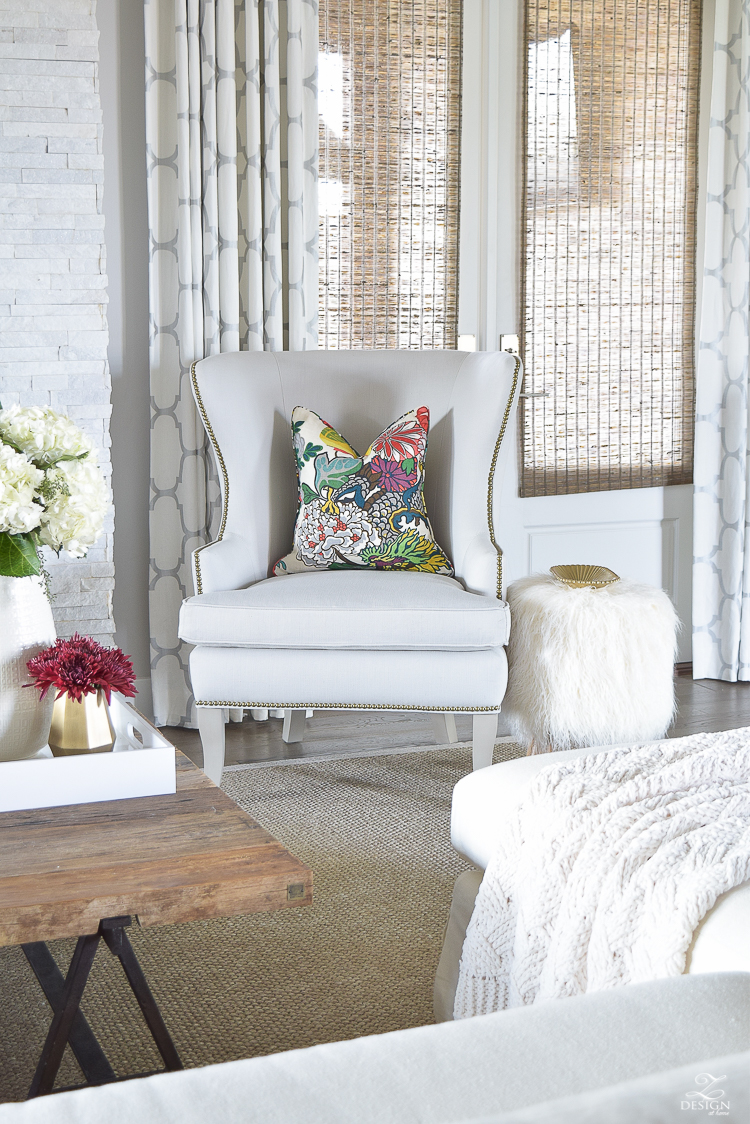 I like to keep things clean, simple, and chic in my fall decor but a few more pumpkins were added to the shelf above the TV as a subtle nod to the season.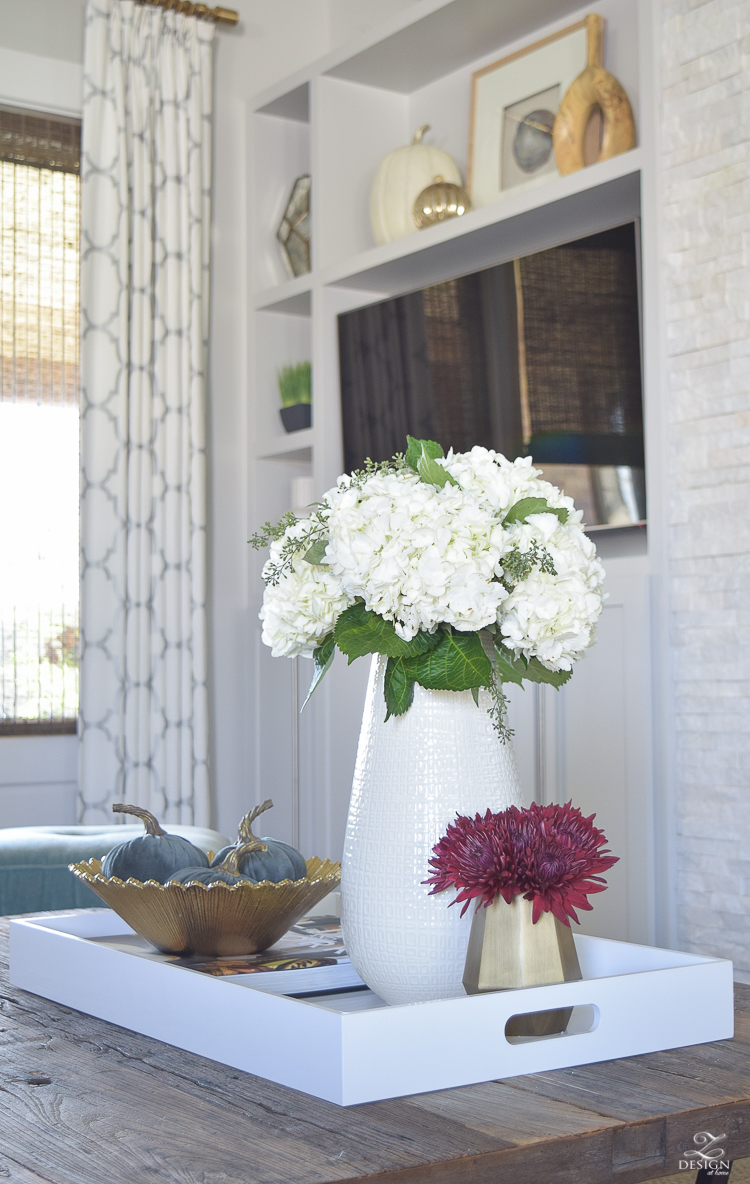 Get the Look

Another fun change I made this year is to add lots of light colored fur.  I've thrown one of my sheepskin rugs over the back of the couch along with adding this fun fur stool next to the wingback that flanks the fireplace.  I actually have a pair of these stools and move them about the room and the house as needed.  They are lightweight and can serve double duty as a side table or a stool.  In this next photo (in addition to the fur over the back of the couch) you can also see where we relocated the mirror to.  In front of the mirror this fall I'm keeping fresh fall flowers on my favorite brass and glass tray as my accessories and to enjoy the beautiful reflection in the mirror.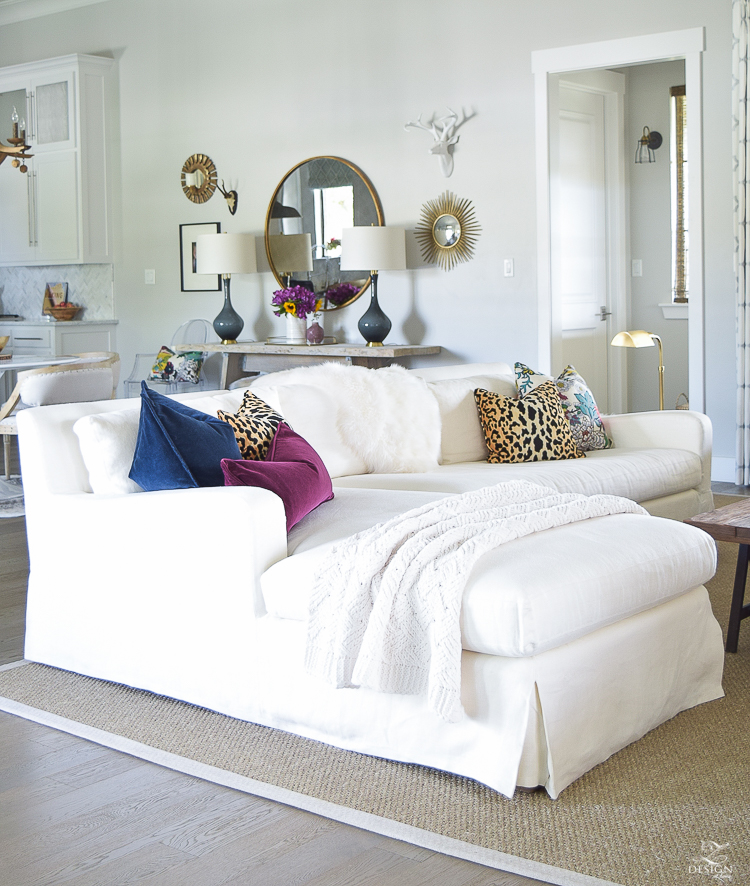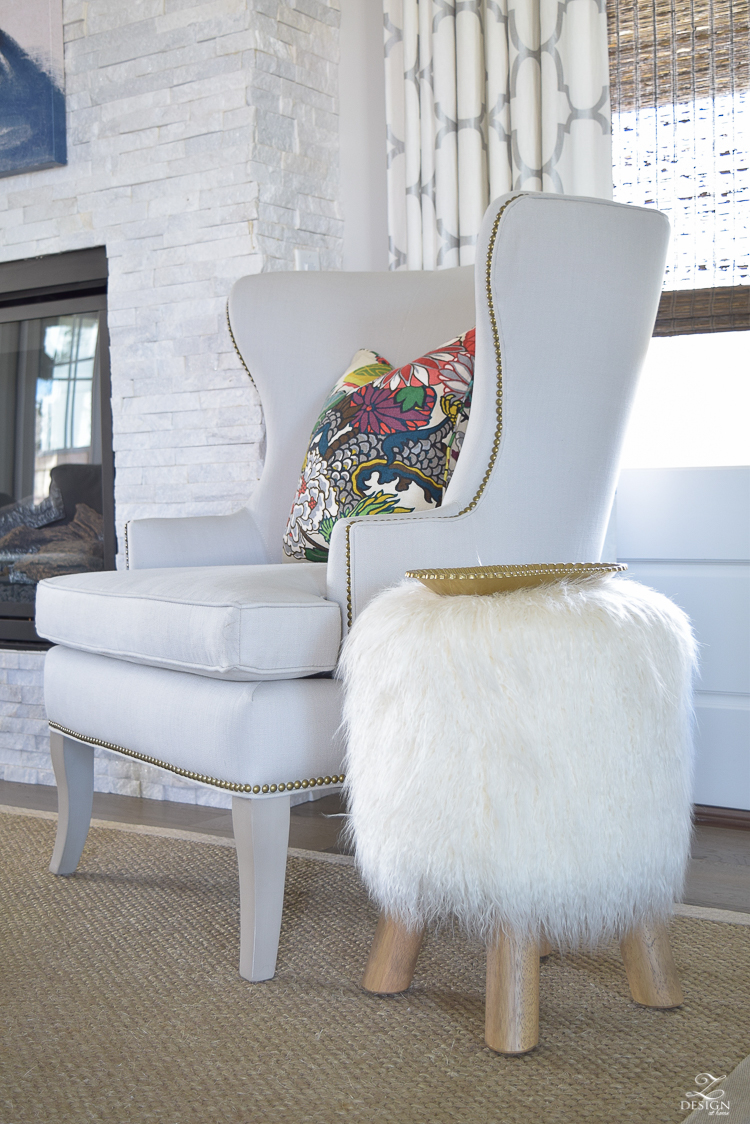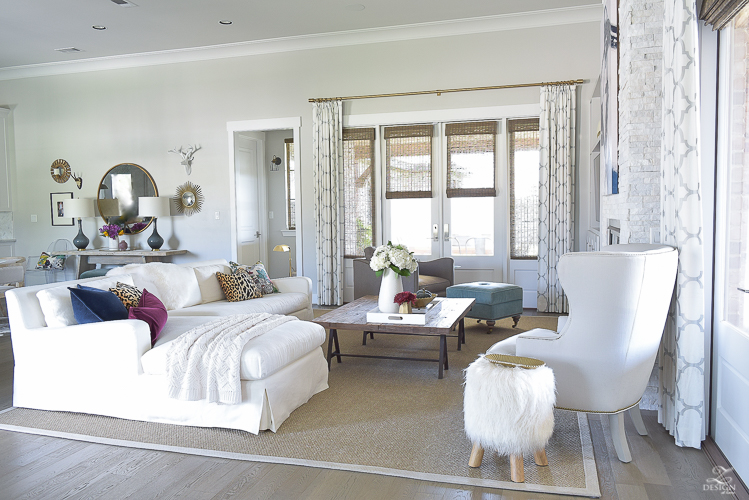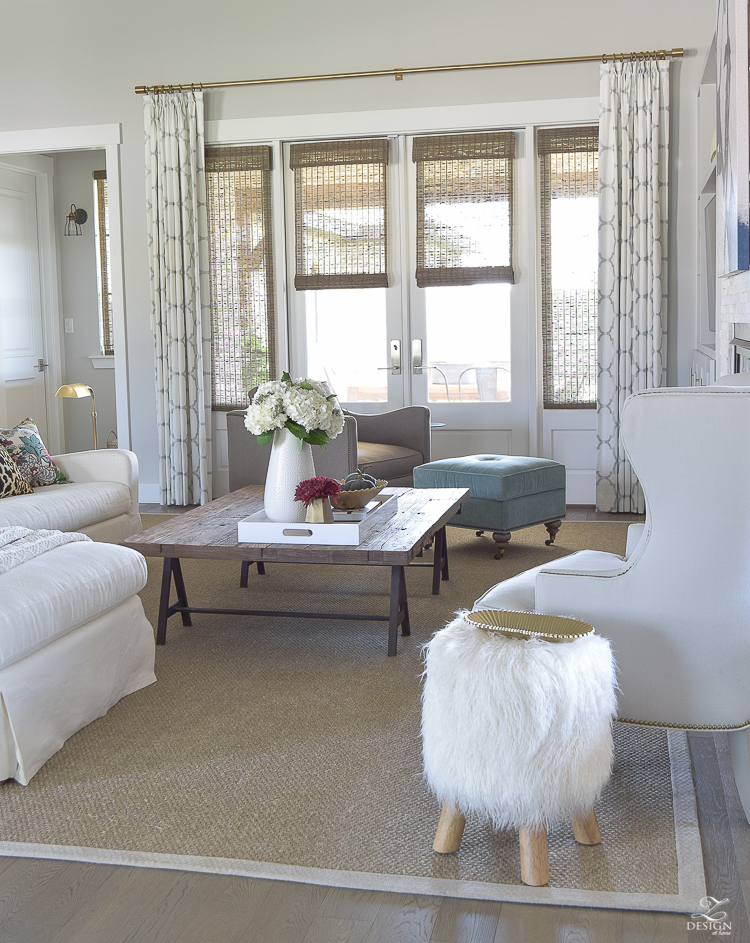 And of course our pup Gracie loves the fur too.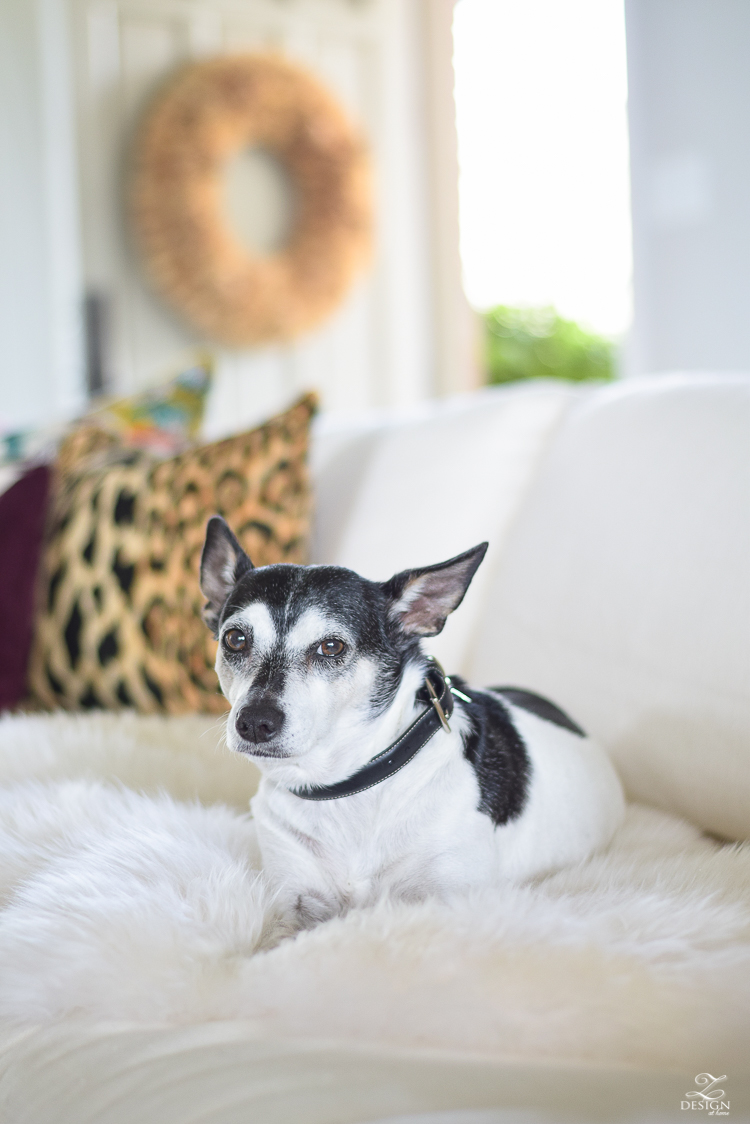 Well, that just about wraps things up for my simple fall living room tour.  I hope you enjoyed it and that you'll come back next week when I share my fall front porch.  Please don't forget to sign up for the latest updates from ZDesign At Home (below) and thank you as always for stopping by  this week!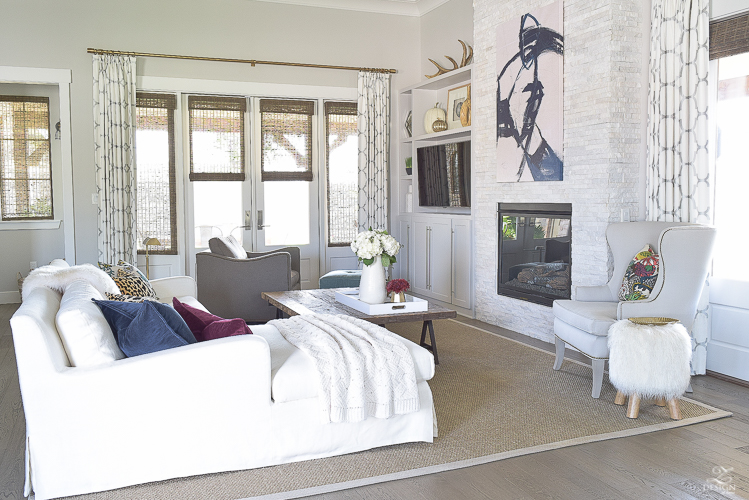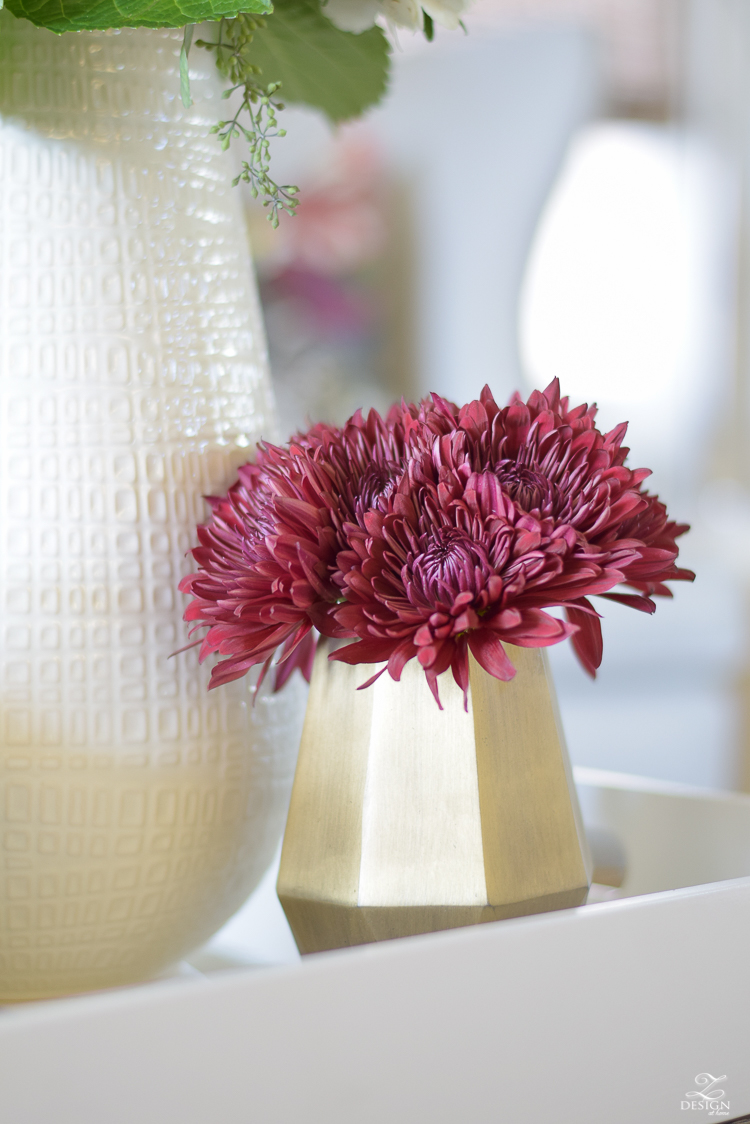 Get the Look


*All images are clickable
Furniture:

Accessories:

Draperies & Pillows:

Rugs & Throws:

For a full resource list of this room please check here.
Affiliate links have been used througout this post and where an item is no longer available, a similar item has been provided in it's place.