7 Tips for Designing a Beautiful Powder Bath + Reveal
One of the absolute funnest rooms in the home to decorate has always been the powder room for me!  It is a place where you can go a little crazy with your design (and get away with it) and without fail make it be a place your guests will be in awe of during their short visit to this little gem box in your home.  Welcome to my post on 7 Tips for Designing a Beautiful Powder Bath!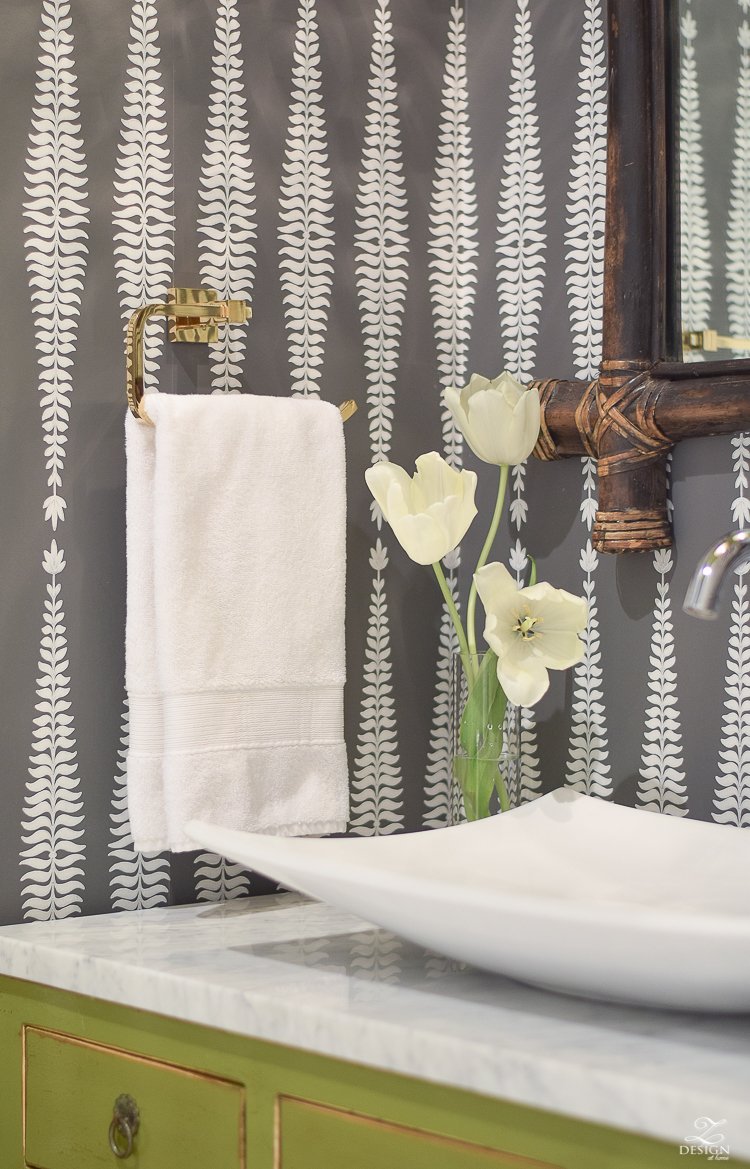 In every single home we've built (4 so far but we're going on 5…the details are HERE if you missed the big announcement recently) I have always designed the powder room to be something special and unexpected as you see it when you first walk into the space.  Here are a few things I like to do when designing this room that you can easily incorporate into your powder room design if you are building, renovating, or designing this space in your home too.
*Affiliate links used in this post

Use a bold wall color or wallpaper in the powder room!
Since this is a room where people will typically only use the restroom, wash their hands, and powder their nose, this is a great place to go crazy with a fun wall color or wallpaper that you love.  I like to use wallpaper but have done both.  This paper is one that I have always loved but didn't want to use it in a space where I would see it often and therefore quickly get tired of it.  Now every time I enter the space I just love everything about it and can soak it up during my short visit there but it doesn't wear on me since I don't see it every day all day.  Pick a paper that you love or a moody wall color to draw your guests in that will leave them speechless and asking "what color is that?" or "where did you get that paper?" when they leave!  (My wallpaper is available to the trade only and you can view it here.  I have several similar options to this paper listed below the photo).



Use a fancy Chandy!
A beautiful chandelier in the powder room is just as important as a beautiful chandelier over your dining table as far as I'm concerned.  Since there aren't too many opportunities to make this space great, beautiful lighting is key!  I fell in love with this one during the construction of our home and have never looked back.  The brass and the beads make the light bounce around the room which makes it the star of the show in here (look at the lovely design on the ceiling).  If you have a can light currently you can always purchase a ceiling medallion from Lowe's or Home Depot to cover the hole (we did this in our previous home) and then hang your chandy from the center but don't overlook this super important design element in your powder room (mine is no longer available but I've linked several similar options below my photo)!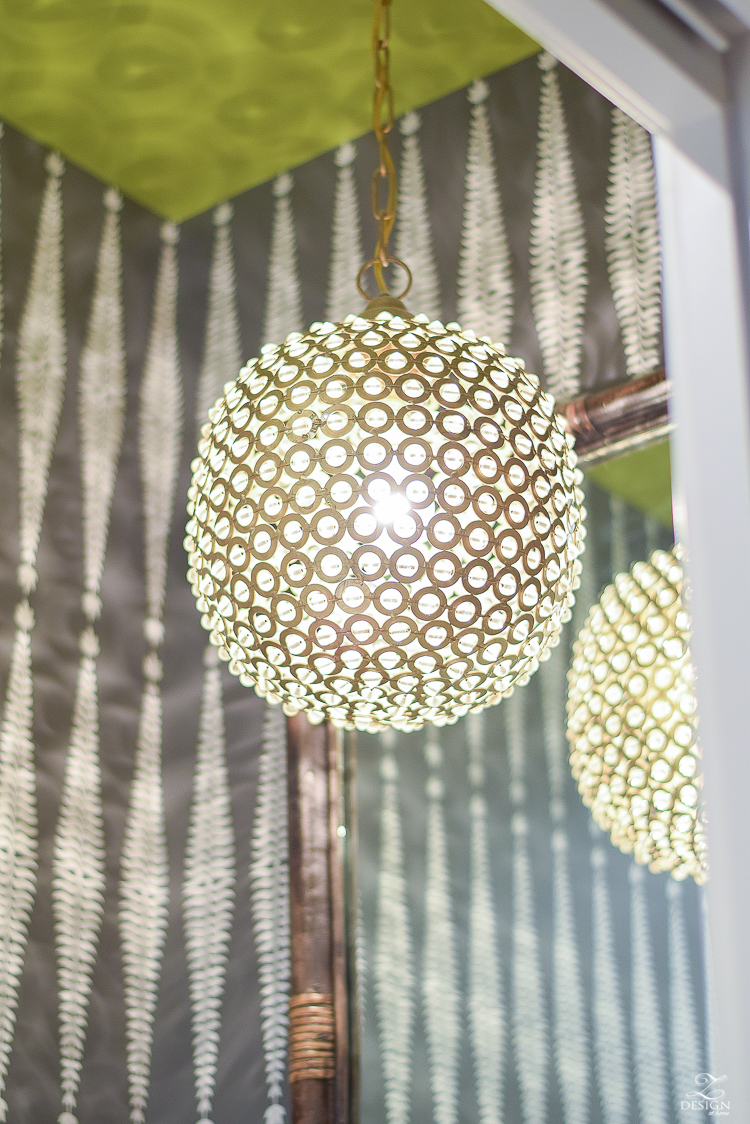 Use a vessel sink!
Without a doubt I knew I would use a vessel sink in the space when designing this room!  Since there is no shaving, face washing, or teeth brushing in here for the most part the powder room is always a safe place to use a vessel sink.  I chose a wide one to avoid splashes and to compliment the look of my vanity but you can choose any vessel sink that appeals to you.  If you don't like vessel sinks for the rest of your home or feel they aren't practical but still want to use one, this is the perfect room to do just that.  You can never go wrong with this contemporary yet versitile look (great for any style decor) and your guests will love it when they see it!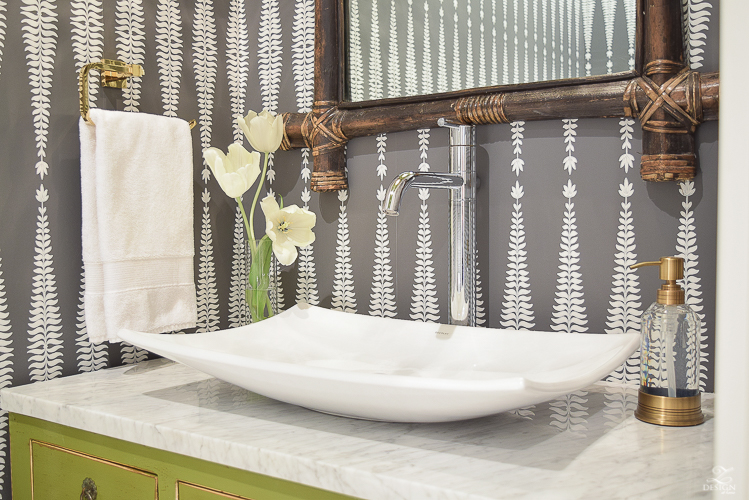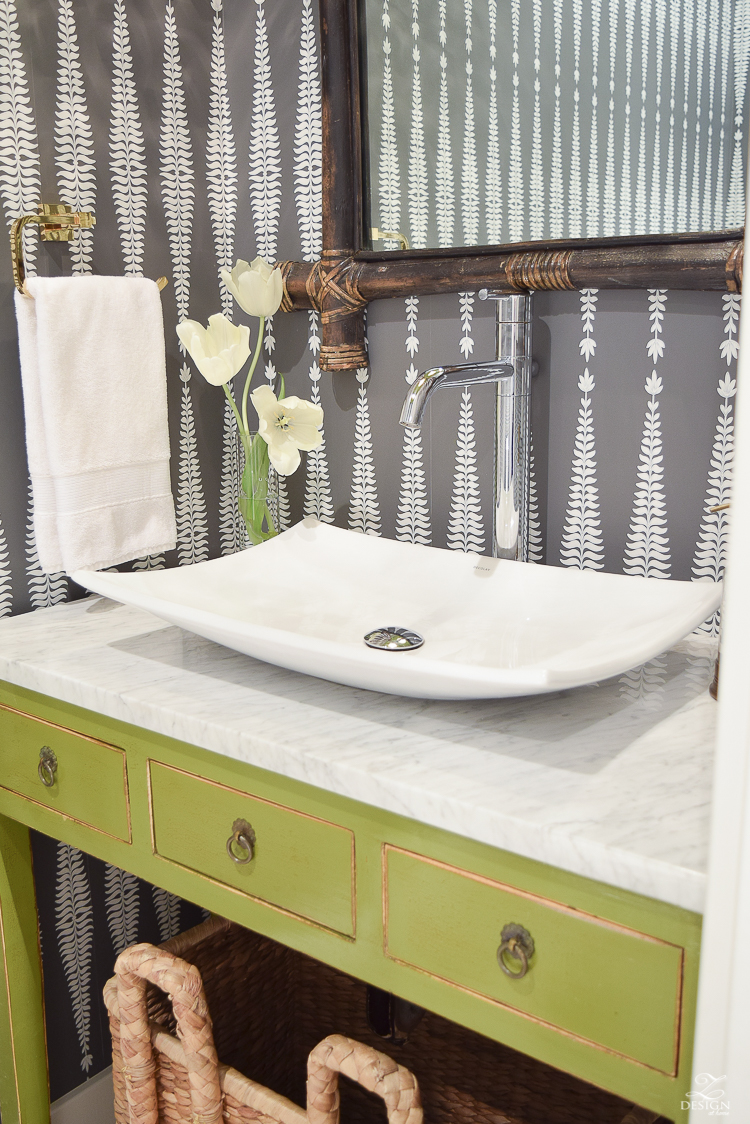 Use a piece of furniture for your vanity!
I can't even begin to tell you how this element can take your powder room from builder's basic to hello custom home!!  I purchased this writing desk at HomeGoods even before we built our home but knew exactly what I would do with it when the opportunity arose.  Using a piece like this gives the room a custom feel and all I had to do was to get my contractor to add a piece of marble to the top and then retro fit the plumbing and sink to finish the look.  It actually cost me less than a custom made cabinet would have and I plan to do this very thing again soon in our new #FinallyHome project coming up this year (details HERE).  Also, this green is a color that I wouldn't ordinarily use in my home but this just goes to show you that the powder room is a place where you can step out of your design comfort zone to do something a little quirky and unexpected with your design skills.  Or, if you are a neutral lover (I'm both) the powder room is a great place to use a splash of color since it won't be in your face all day.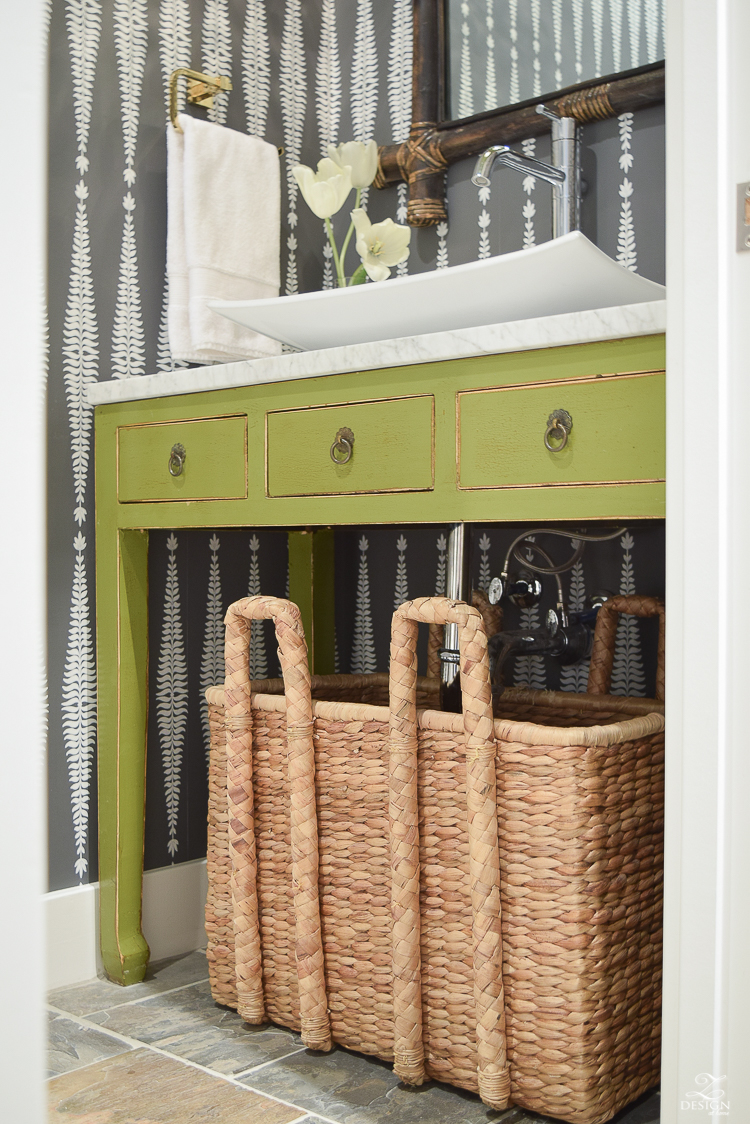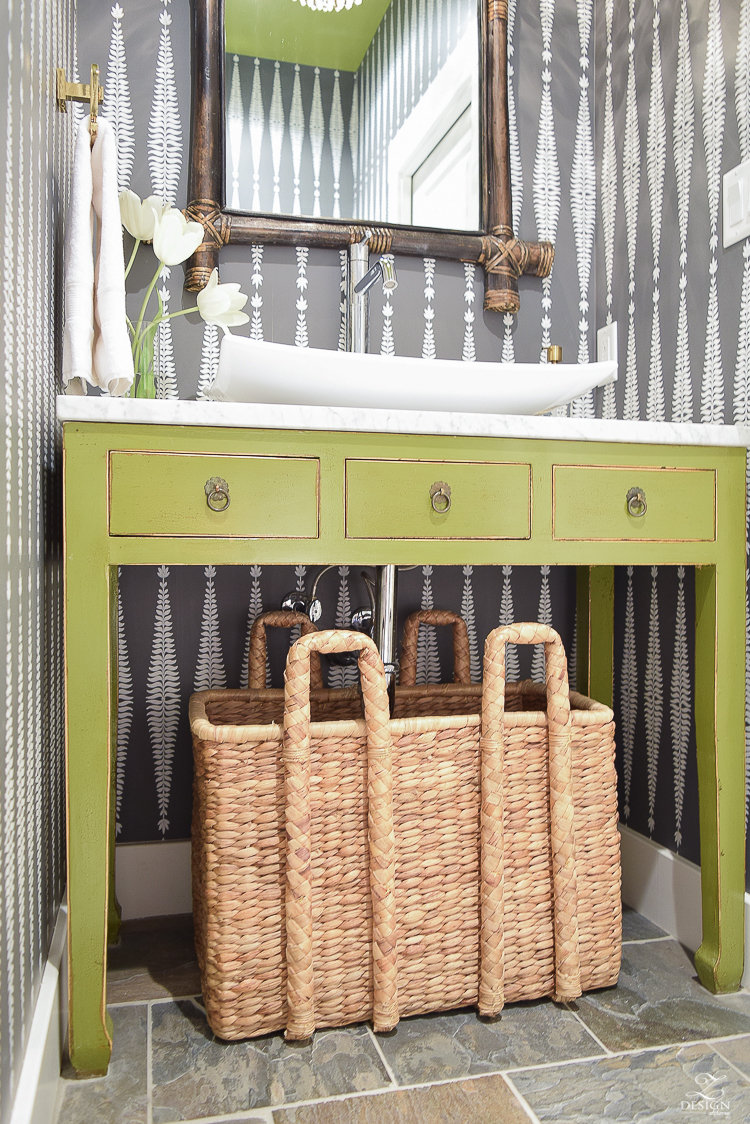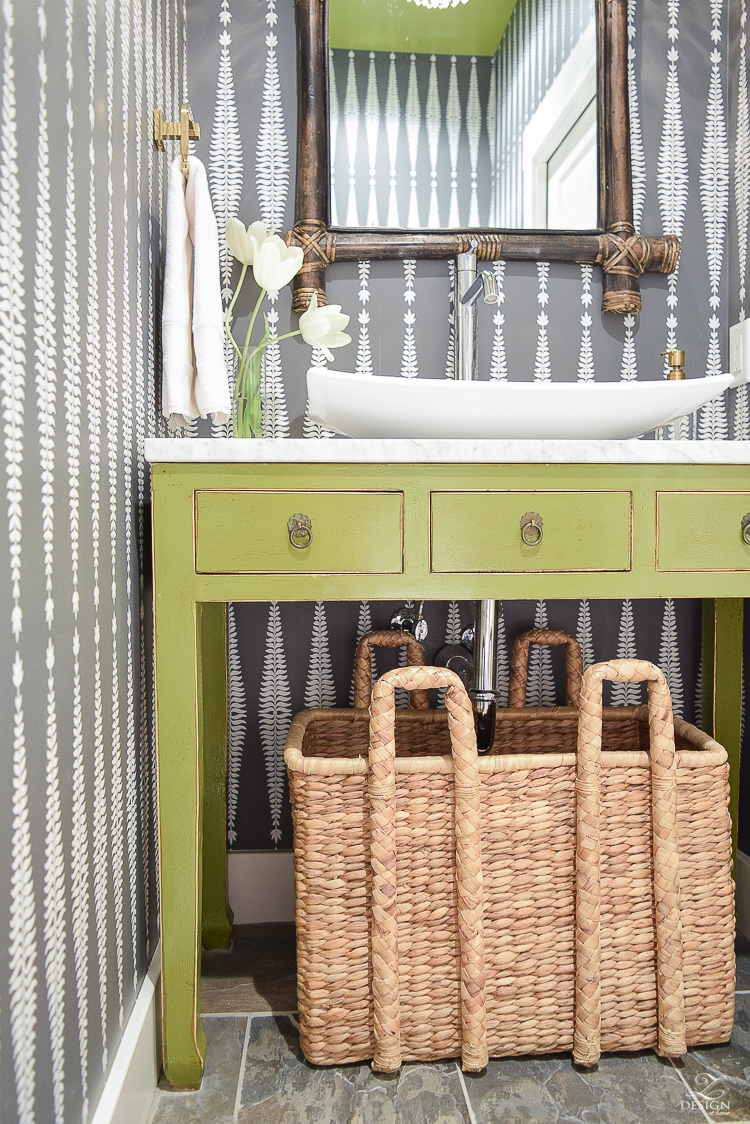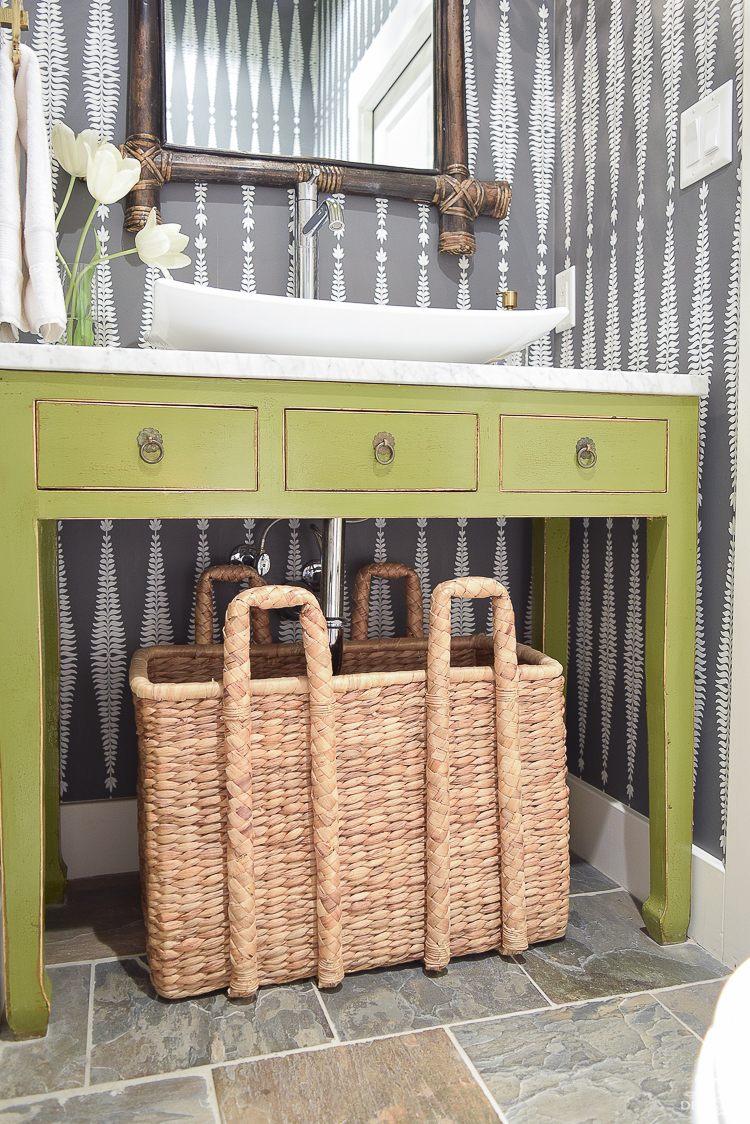 Use a unique, large mirror to make the room feel bigger!
Since one of the key things your guests will be doing in the powder room is powdering their nose, make sure you have a big, beautiful mirror for them to do just that.  Most powder rooms are small so a big decorative mirror will not only make the room feel larger but will give it a more custom feel.  Choose one that has a frame with character and that has a decent size mirror surface to help enhance the size of the room.  A decorative mirror in the powder room is always better in my opinion than one with no frame at all or one that is built in by your contractor since those style mirrors won't add as much character and charm to your space.  So the lesson learned here is to go bold or go home with your mirror choice!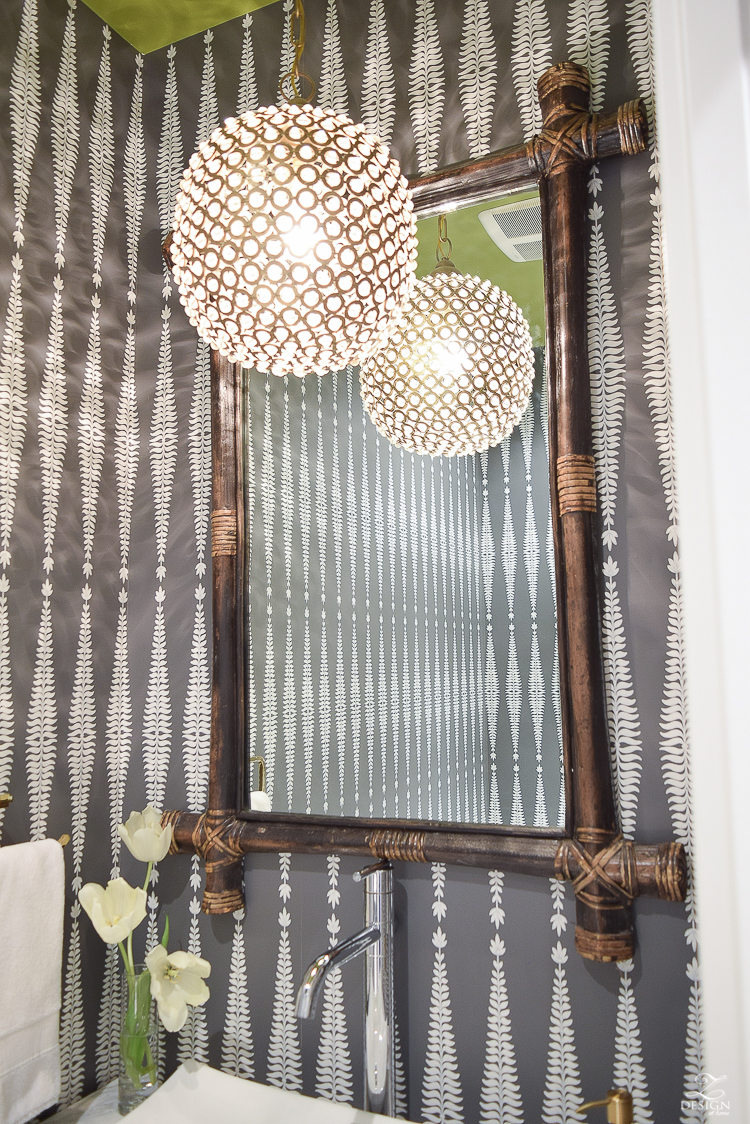 This one was a wedding gift from my mother but I've linked some beautiful options below this section.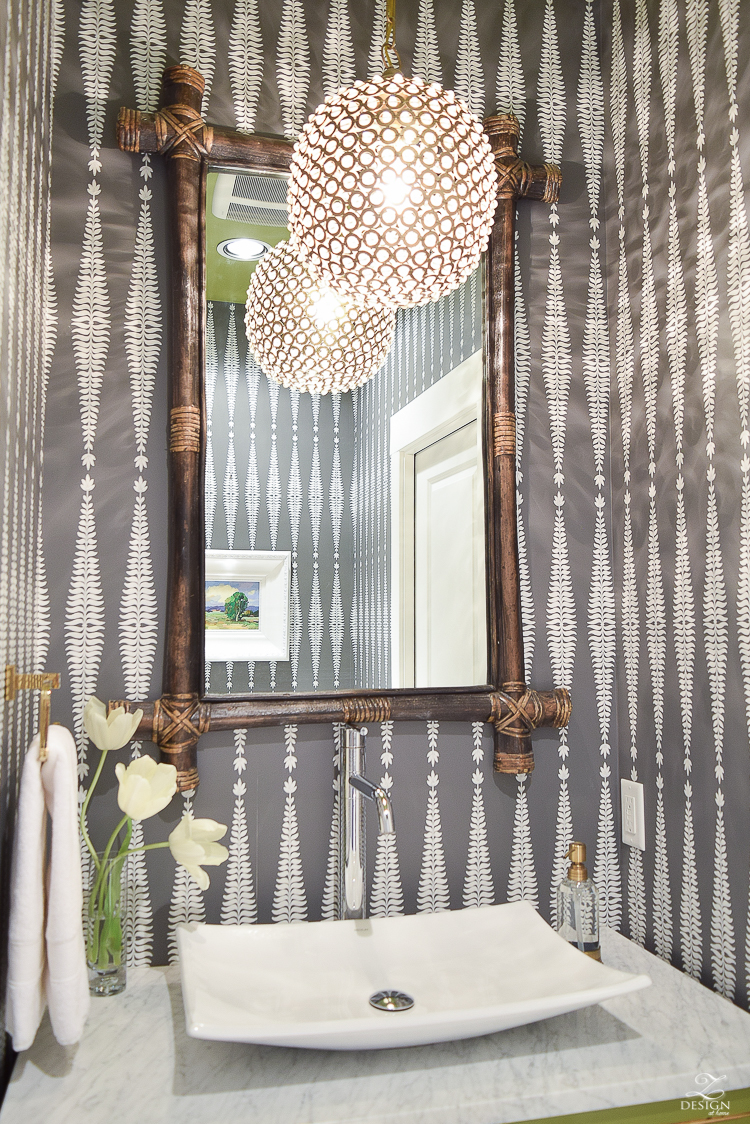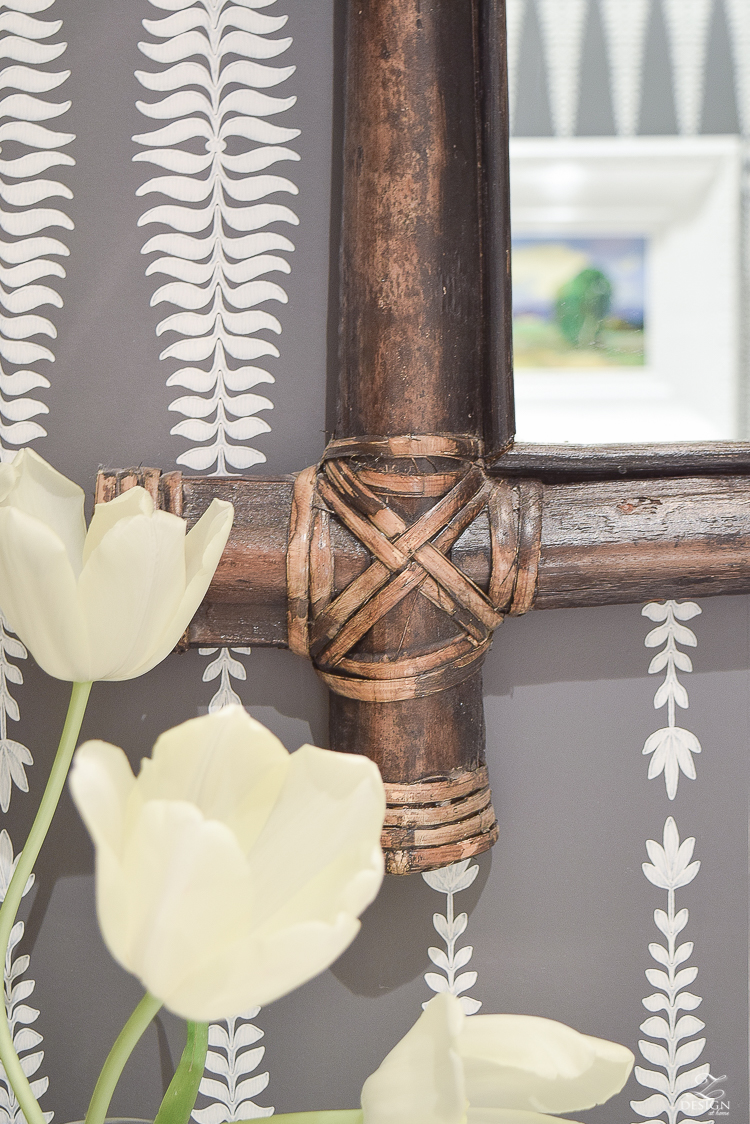 Paint the ceiling a coordinating color!
Since I'm a firm believer that the powder room is a space to go a little crazy with your design, I matched the paint color from the piece I used for my vanity and used it on the ceiling in a gloss finish.  This adds such a fun and unexpected element to the space and my guests almost always comment on it.  I simply took one of the drawers from the desk converted to vanity to the paint store and they matched it perfectly.  Just one more thing to give my powder room some charm and wow factor!  This also helps to give the space a more cohesive feel (please excuse the ugly white vent…I debated whether or not to paint it but in the end decided not to).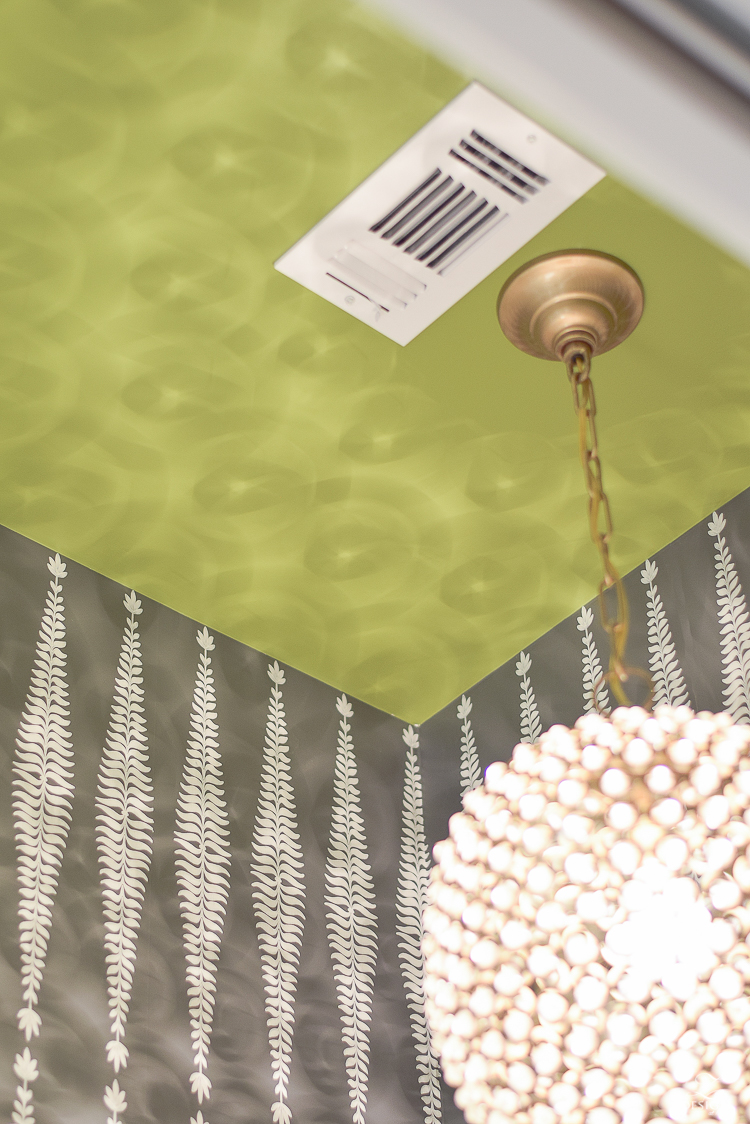 Use Beautiful Bath Hardware & Plumbing Fixtures!
Your bath hardware and fixtures are the jewelry in the powder room and they should be beautiful!  Pick pieces that stand out from the typical hardware you might run across and let these elements shine in the room.  This is just one more element that can bring major wow factor to this small space!  You can find my hardware here & here and my faucet here.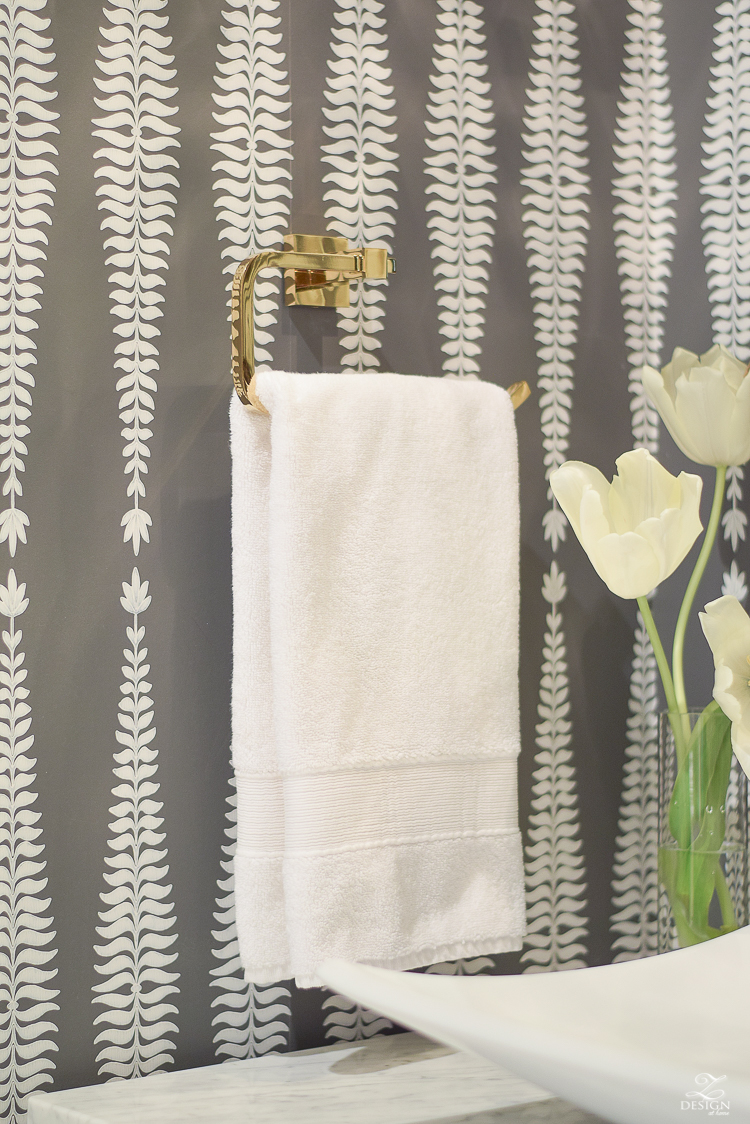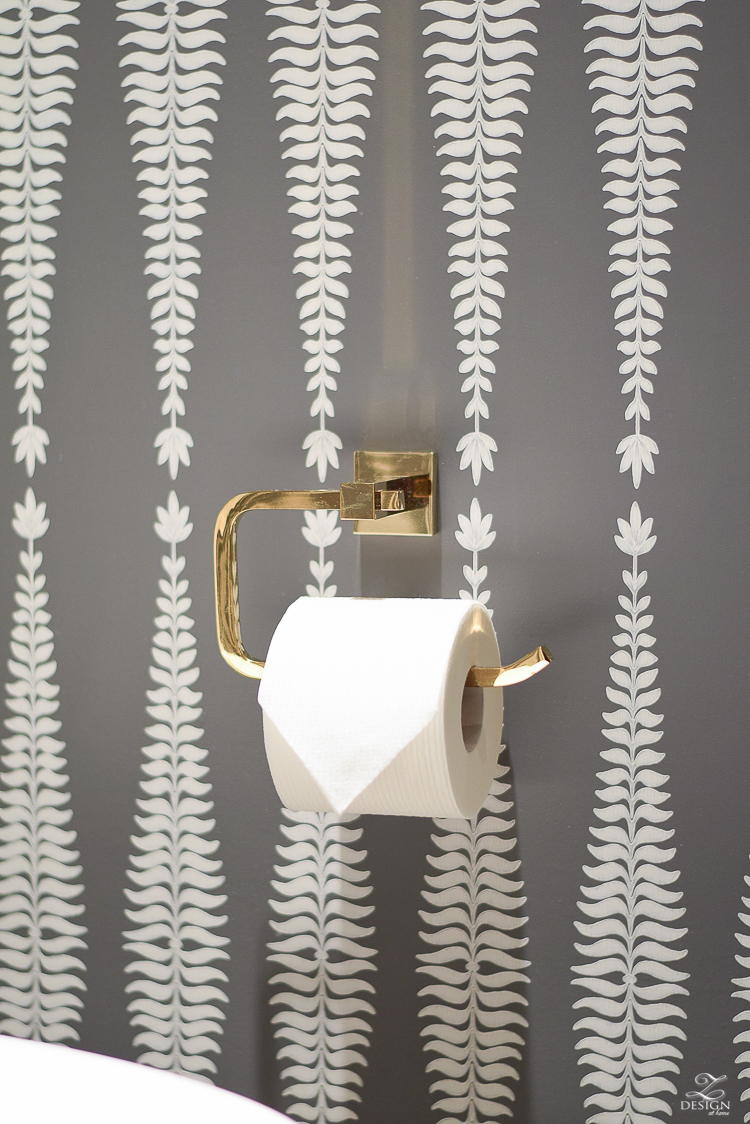 The only regret I have in this space is that I didn't use a brass faucet but at the time (over 4 years ago now) they weren't as readily available and I couldn't find one that I liked (although the mixed metals work fine in here).  This faucet also comes in brass now though which I'm super excited about since I'll probably be using it again in our #FinallyHome project (more details on that HERE).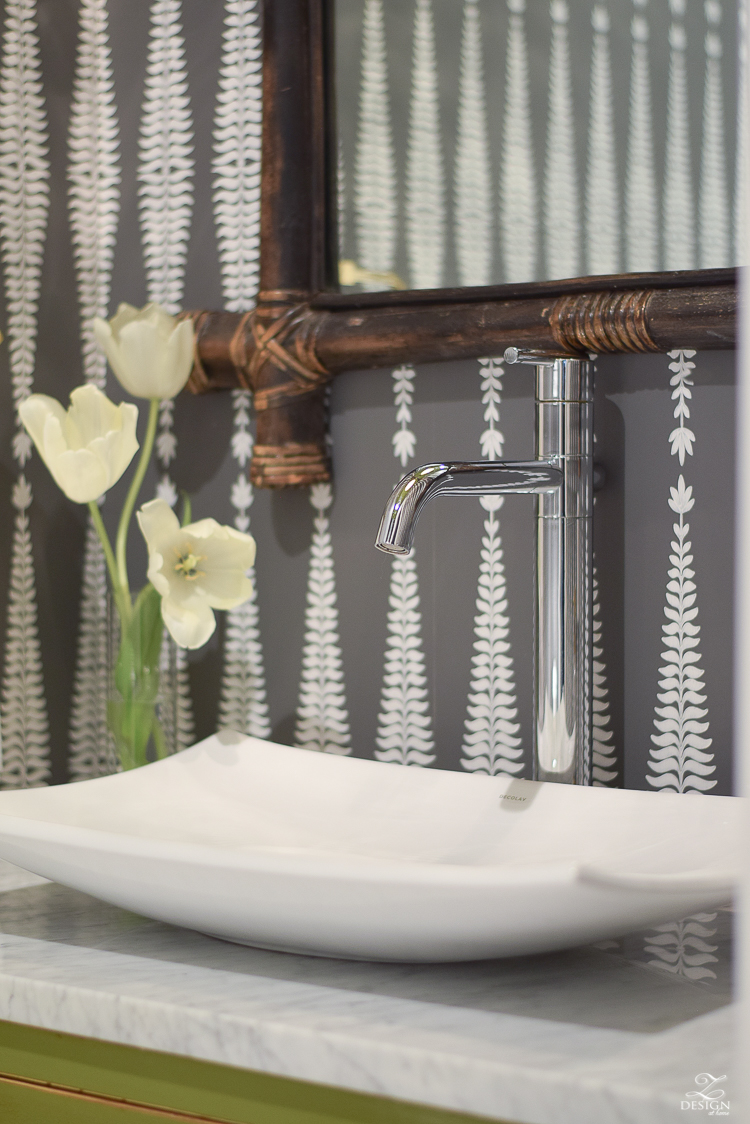 If you are remodeling or building for goodness sake do a pocket door in the powder room!  This room is often a small space and a lot of the time in a hallway so using a pocket door will give you ample space in the room when entering and won't ever be in the way since it slides back into the wall.  This is the best space saving tool I know of really for any space similar to this such as a Jack and Jill bathroom, closets, and more (you can kind of see the pocket door in the image below)!
That about wraps it up for my tips on this post but I still have more to show you of this space (yes I know, as small as it is you still haven't seen it all yet)!  Of course on the other side of the room is the toilet, an old art piece that we updated by painting the frame white, and more of that gorgeous wallpaper.  Not a whole lot to see over here but let me just say that if you are looking for a contemporary toilet that stands out from the crowd…this one is perfect!  I love the sleek design and also love that it has two flush options to save on water.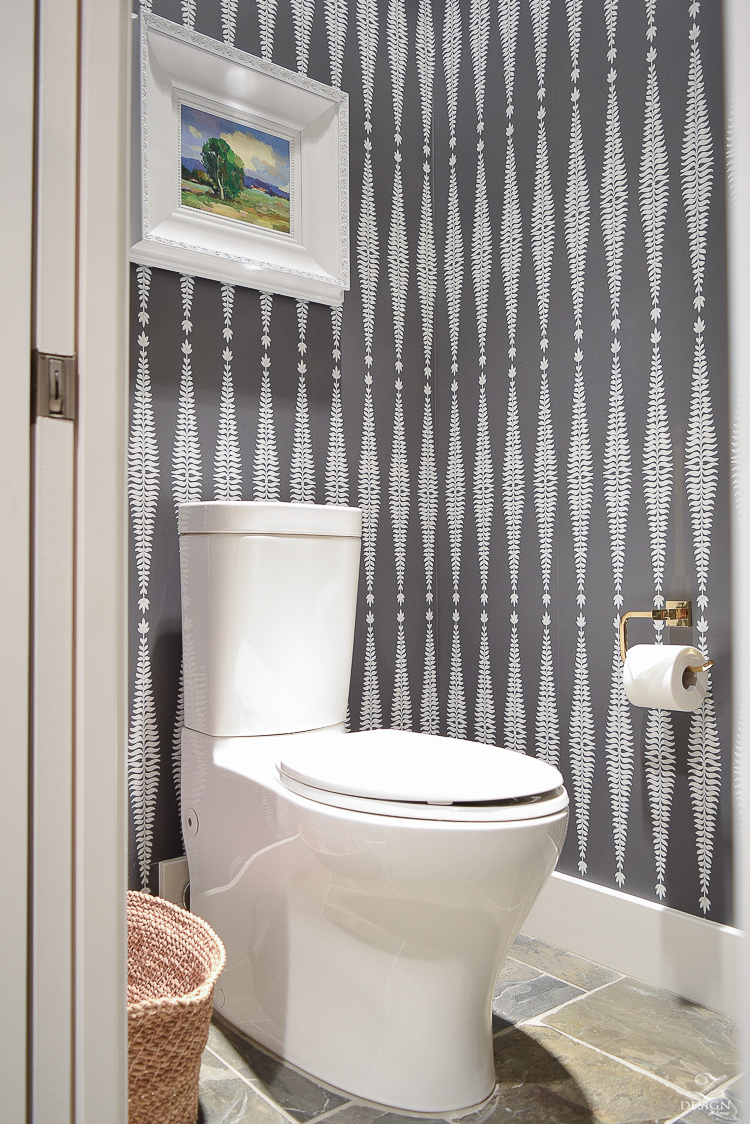 Here is a shot of the whole vanity side (or at least as much as I could get into the photo).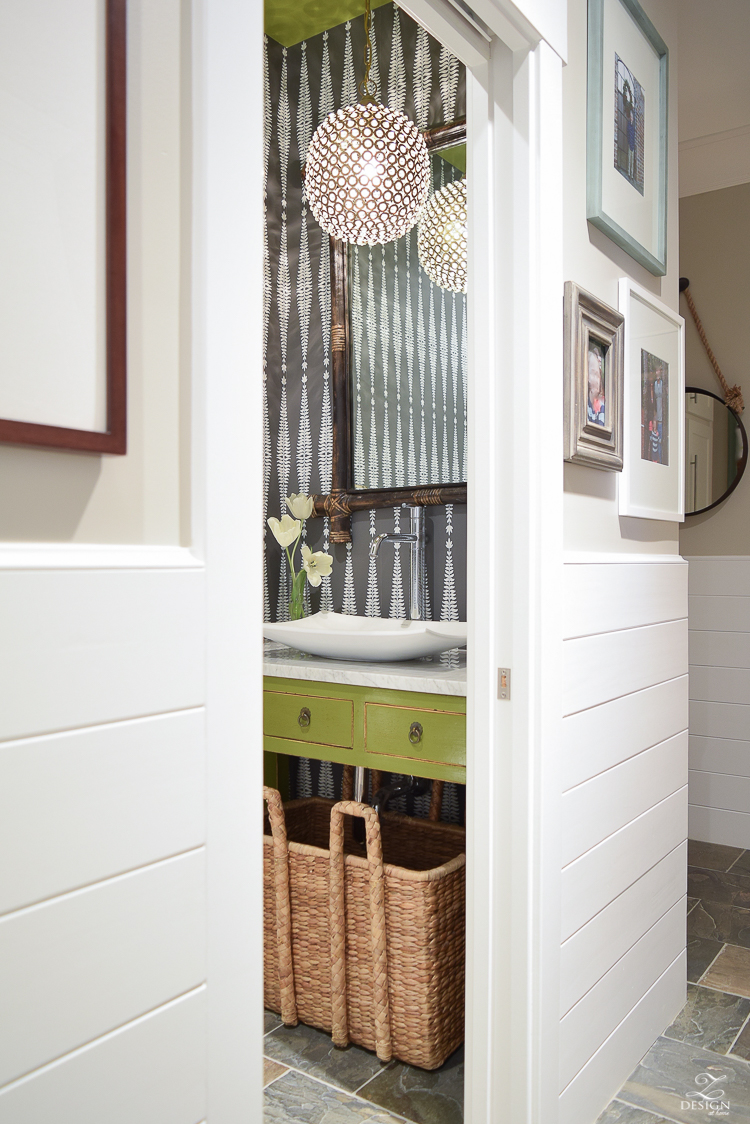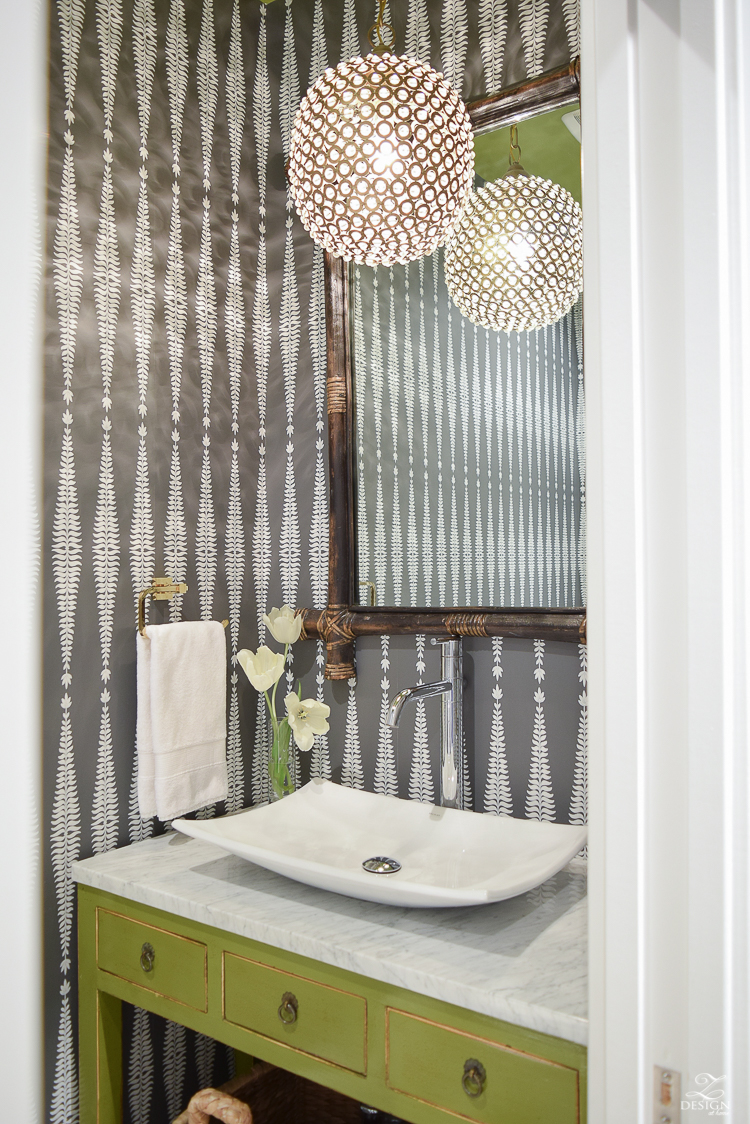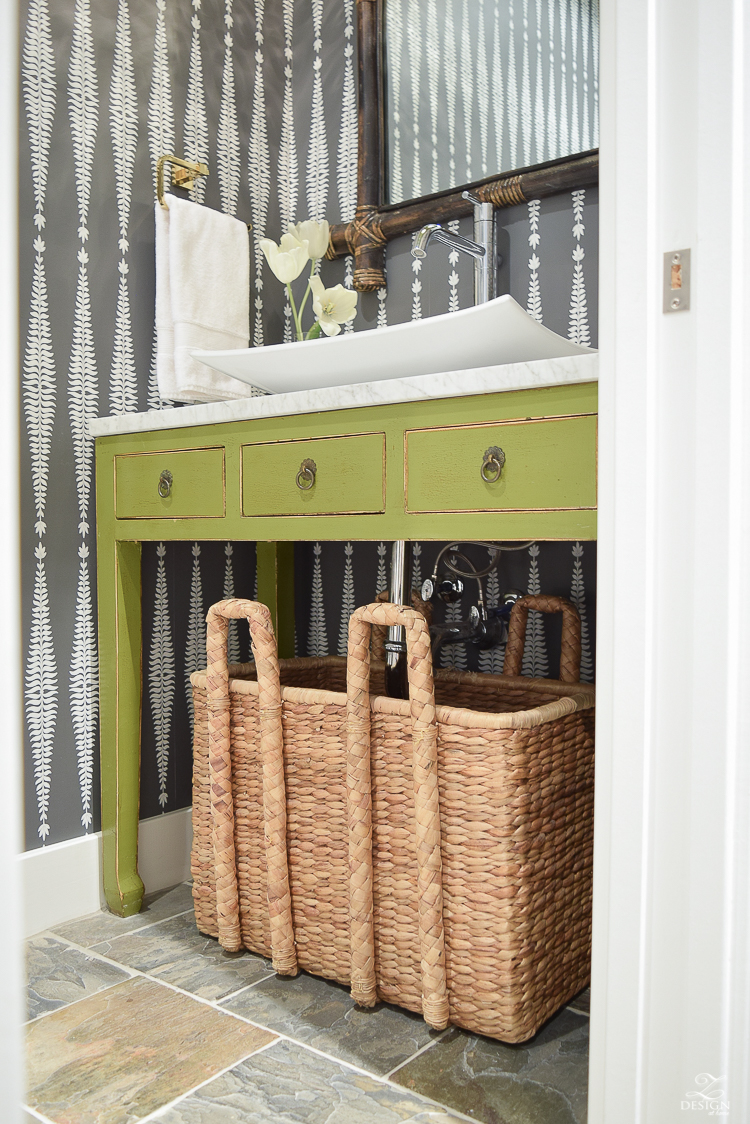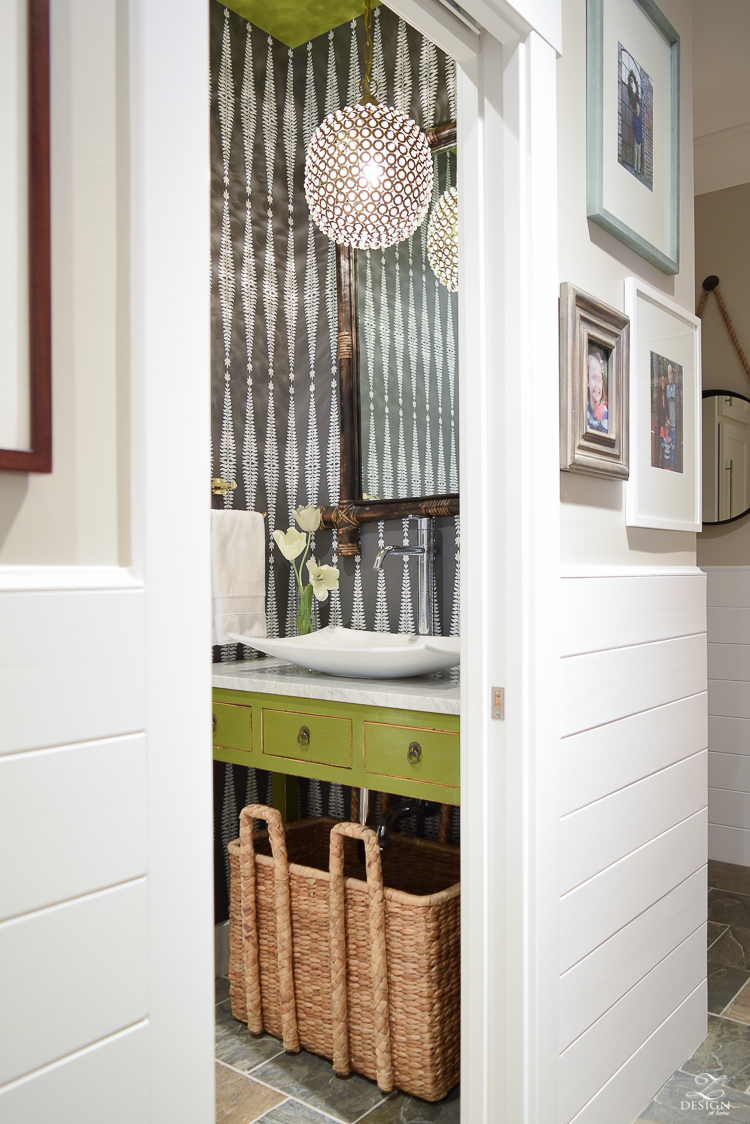 I hope you enjoyed my tips and a tour of our powder room and that you'll come back next week for yet another room I haven't shared yet.  Please let me know if you have any questions about your own powder room design and I'd be happy to answer them for you!!

As always thanks for stopping by to visit my post on 7 Tips for Designing a Beautiful Powder Bath and don't forget to sign up for my weekly newsletter so that you can stay up to date with all of the latest from ZDesign At Home!