Finding The perfect Washed Vintage Inspired Rug
I don't know about you but to me finding the perfect rug for a space can be a daunting task!!  It is probably one of the things I stress over the most when designing a room.  The right rug can do so many great things for any room such as grounding the space, adding a pop of color, being a soft place to land, and many, many more wonderful things.  I recently went on a scavenger hunt for the perfect washed vintage inspired rug for my dining room redo (reveal coming soon!) and came up with quite a few contenders so I thought I would share them with you here.  I knew I (mostly) wanted a shot of color and that I wanted something with that washed vintage look that is so on trend right now.  Even if it wasn't truly vintage, I knew I wanted that look…there's just something cozy about it and I love color so that part of the decision was a no brainer for me.  But first, here are 3 rug inspiration photos I found on Instagram and on line.  I am also considering using a colorful runner in my all white kitchen to add some character to the space and if/when that happens I will definitely share it with you here!
This first photo is from Kate Marker Interiors.  This all white kitchen with those beams and gold hardware, and not to mention the rug had me at first glance!  This space is so warm and inviting and I think I could love to learn to be a good cook in here!!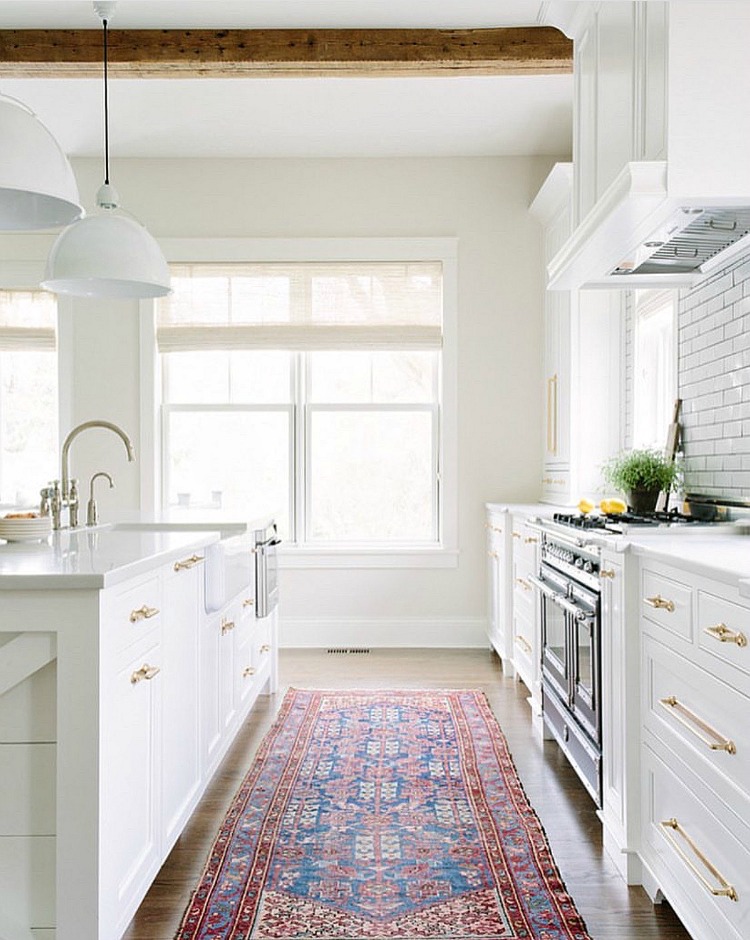 Design by Kate Marker Interiors
This next kitchen styled by Becki Owens also had me at hello!  The soft colored vintage looking rug in this space makes a perfect compliment to an all white space.   The sconces and gold cabinet hardware add to the character here as well and I could seriously just copy this kitchen and be perfectly happy, indefinitely!  So gorgeous!!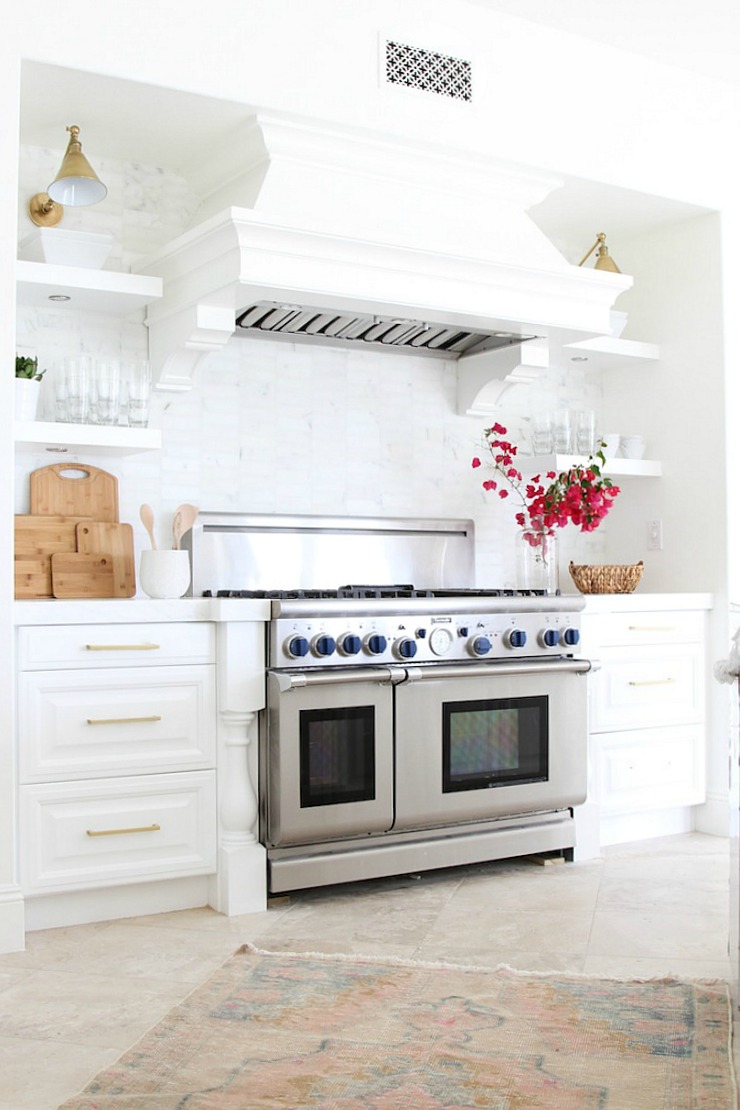 Design by Becki Owens 
This next design by Sita Montgomery Interiors is such a perfect example of a rug grounding a space.  There is a lot going on up toward the ceiling here (in a good way) so the rug brings your eye down and balances everything out.  I also love that this one has a neutral palette so that your eye doesn't get distracted since there are so many other pretty things in the space.  This one seriously made me consider a neutral rug for my space but you'll have to hold off to see what I chose when I reveal my dining room soon (I love surprises!).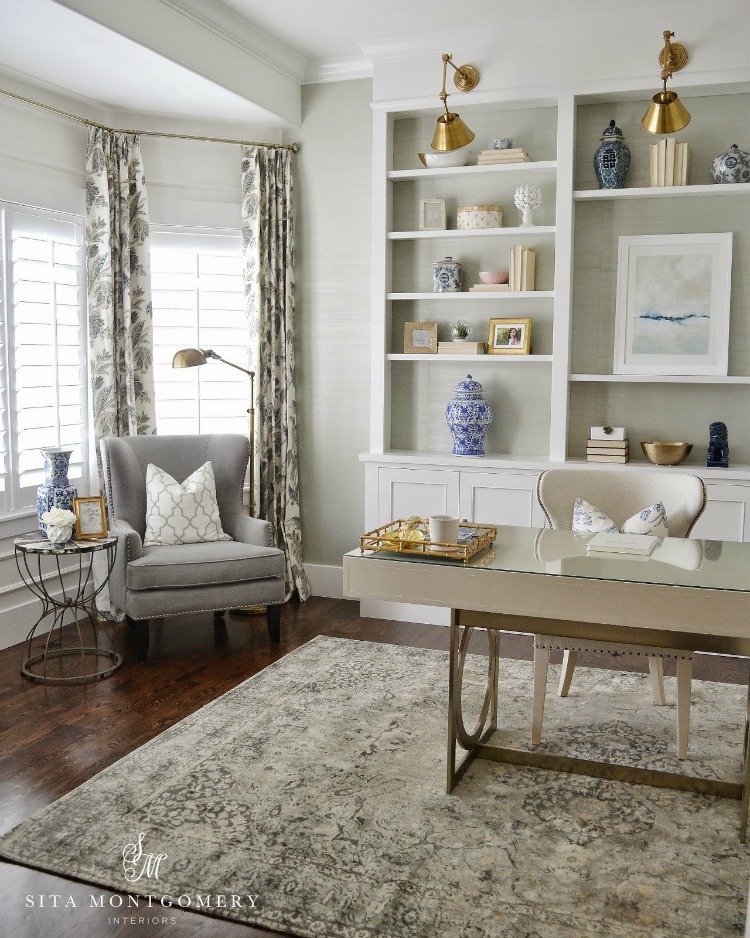 Design by Sita Montgomery Interiors
As promised, here is my round up of all of the rugs I looked at before making a final decision about which one would come to live in my home.  There are so many great options here that it was really hard to decide but in the end only one of them won out.  There are several grays in here too but ultimately color won me over so you'll have to come back soon to see which one I picked.  And there are a couple that don't have that washed vintage look but are ones that I considered initially so I included those as well.  All are great picks though and would do justice to any space.  I'll let you know on Instagram and Pinterest when I reveal my space soon!  Happy shopping and I hope you can benefit from all of the hunting I did for just the right rug that is so on trend right now, and that is sure to make your space amazing!!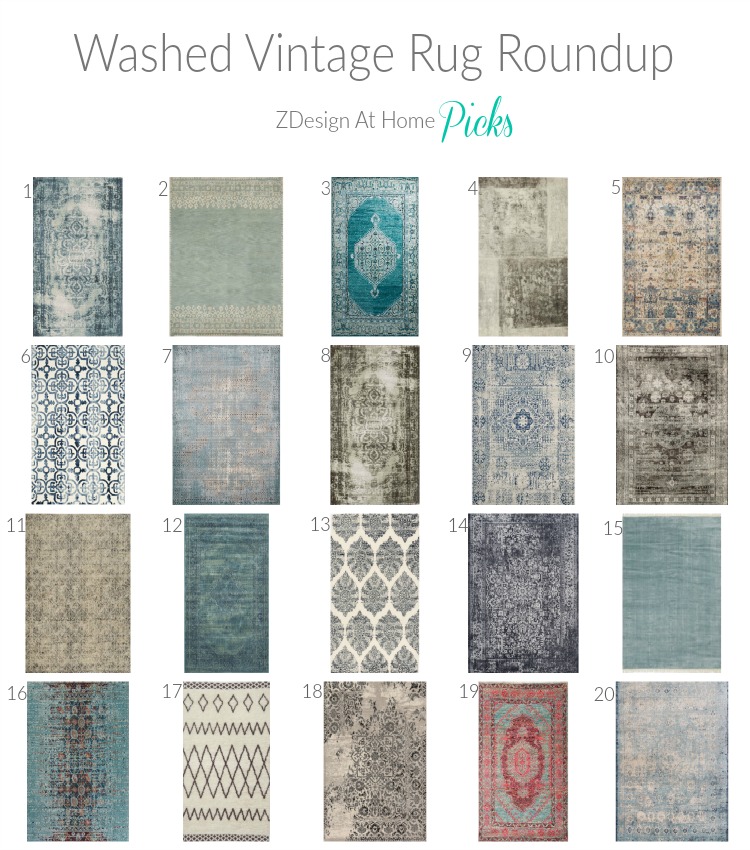 Wool Arabesque Rug |2. Desa Bordered Wool Rug 

 

|

 

3. Overdyed Naima Rug | 4. Distressed Rococo Wool Rug |

 

5. Loloi Sand/Blue Rug |

 

6. Bungalow Rose Hand-Tufted Rug |

 

7. Karma Blue Area Rug | 8. Distressed Wool Rug |

 

9. Bungalow Rose Ferry Rug | 10. Anastasia Granite Rug | 11. Fans Printed Wool Rug | 12. Safavieh Vintage Indoor/Outdoor Wool Rug |13. Sarasa Wool Rug | 14. Trent Austin Black/Grey Rug |15. Fringed Hand Loomed Rug  | 16. Artemis Auqa Area Rug |17.  Kasba Wool Rug | 18. Emory Ivory//charcoal Area Rug |19.  Jasmine Tufted Wool Rug | 20. Anastasia Blue/Ivory Area Rug
And last but not least, here are a few of my personal favorites that I was totally smitten over (click the arrow to the left or right to see each one)!!

Xoxo, Bree