Stylish Gifts + Winter & Holiday Wear for Her with Walmart Fashion
Happy Holidays, Everyone! It's that time of year again when we are all looking for gifts for others and ourselves (wink, wink) to stock up for the holidays and the winter months ahead and, I think I've got you covered this year (for her)! I have created a guide for Stylish Gifts + Winter & Holiday Wear for Her with Walmart Fashion, which I am super excited to bring to you today!
This post was sponsored by Walmart, a brand I love however, all images, ideas, wording and product selections are my own. Please read my full disclosure policy here.
I hope when it comes to fashion this year this post will make your gift giving easier and your closet prettier! I have found some really beautiful, quality pieces from Walmart Fashion for you (and myself:) plus I've put together some head to toe looks for you to rock the fashion scene this year in style!
Stylish Gifts for Her
Under Stylish Gifts for Her…I LOVE the weekender bag and have already ordered it! This makes a great gift for her along with any of Walmart's puffer jackets (vest & short puffer coat). The cozy wrap is also always a great gift for her, along with the faux leather leggings that are so popular right now!
Pj's are also always a great idea (these are classic black silk with white trim) and so are athletic shoes, and cozy fleece. I love this half zip fleece in navy and, it has pockets but is also available in more colors (also ordered)! And last but not least are the authentic diamond earrings. first of all, I can't get over the value for a real pair of diamond earrings and, they come in multiple sizes. I'm thinking of letting these be my combo birthday/Christmas gift from my husband in one of the larger sizes this year, ha!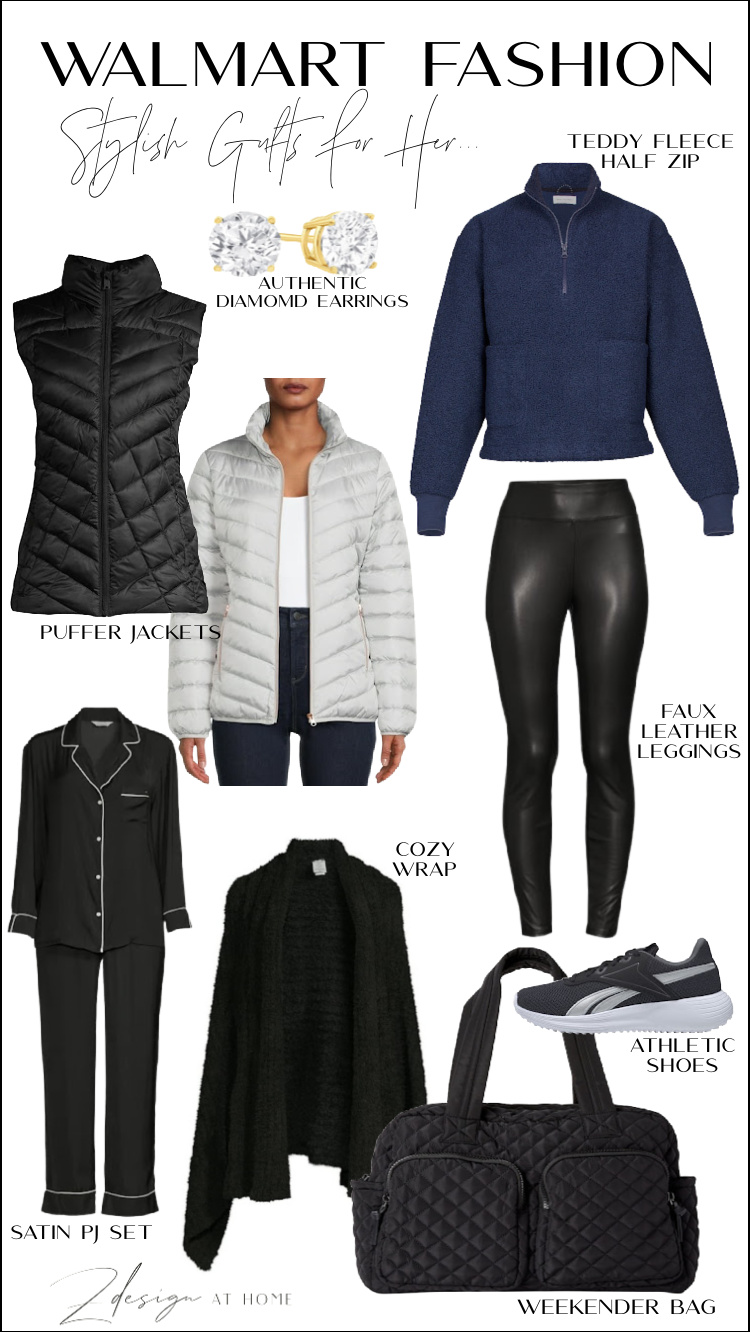 Winter Fashion for Her
This next one, Winter Fashion for Her, is my favorite! I love each and every one of these head to toe looks for winter! The over the knee boots are fabulous and so are each one of the sweaters. The light taupe one I really love as you'll see it's also in my Holiday Wear choices but in gray. The sweater dress is so good and the faux leather pants are great as well…I've ordered the black and the hot chocolate (the reviews are great too!). And of course you can't forget the popular black western booties and the neutral flats that go with everything! I also really love the olive mock neck poncho and the lightly distressed high waist flare leg jeans.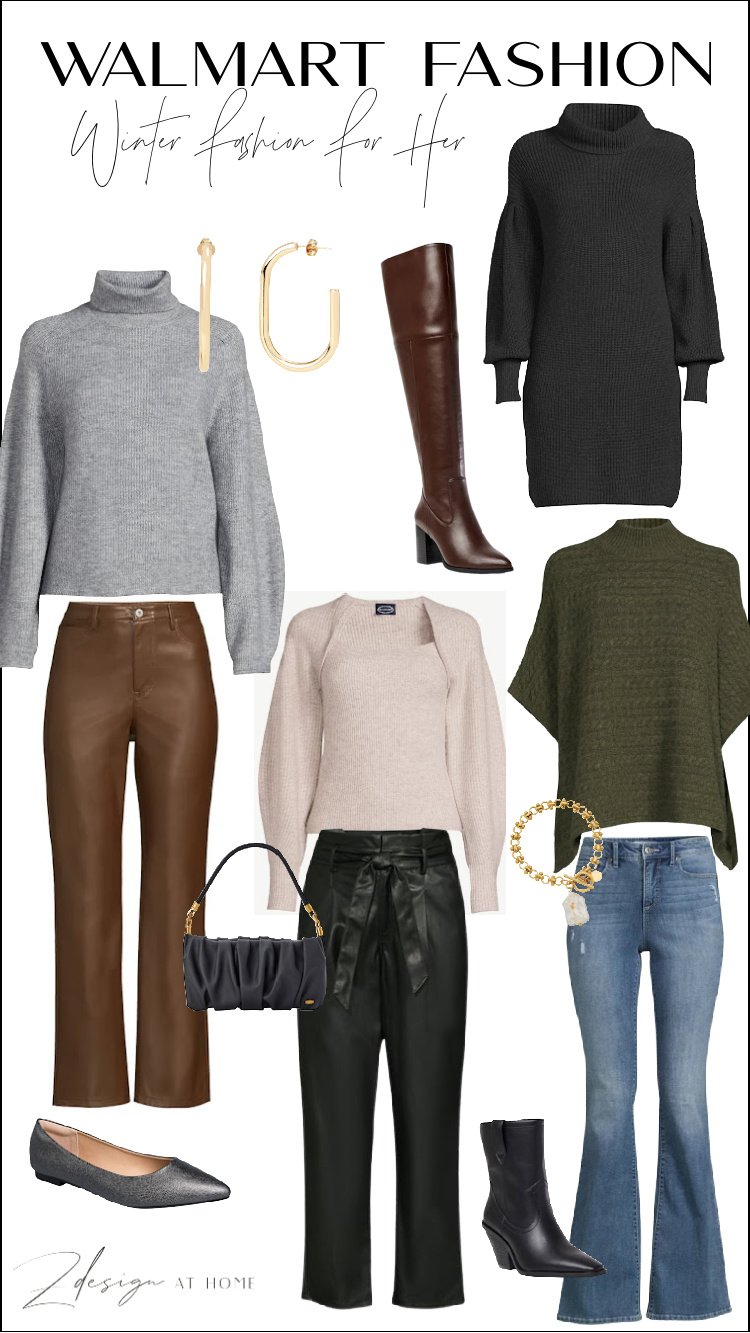 Holiday Wear for Her
Holiday Wear for Her – I have 3 head to toe looks here including jewelry and shoes. I LOVE the faux leather pleated skirt in black and just ordered it 2 sizes to make sure I get the right size for a holiday ladies luncheon I have coming up (fyi…reviews say it's awesome but runs large). I also love it paired with a sweater and this heather gray sweater pairs great with it as mentioned before! This outfit will look great with the black ankle booties and the booties will look great with the crushed velvet dress as well (available in 4 colors).
The more casual head to toe look with the high waist flare jeans is holiday festive for a fun night out with the girls or date night! I love the way this top shimmers and the black hand bag with gold chain and herringbone link chain necklace just add to the outfit, along with some fabulous platform shoes! With this outfit I would also include the diamond earrings (mentioned before) and the diamond bracelet (have already ordered the bracelet too!).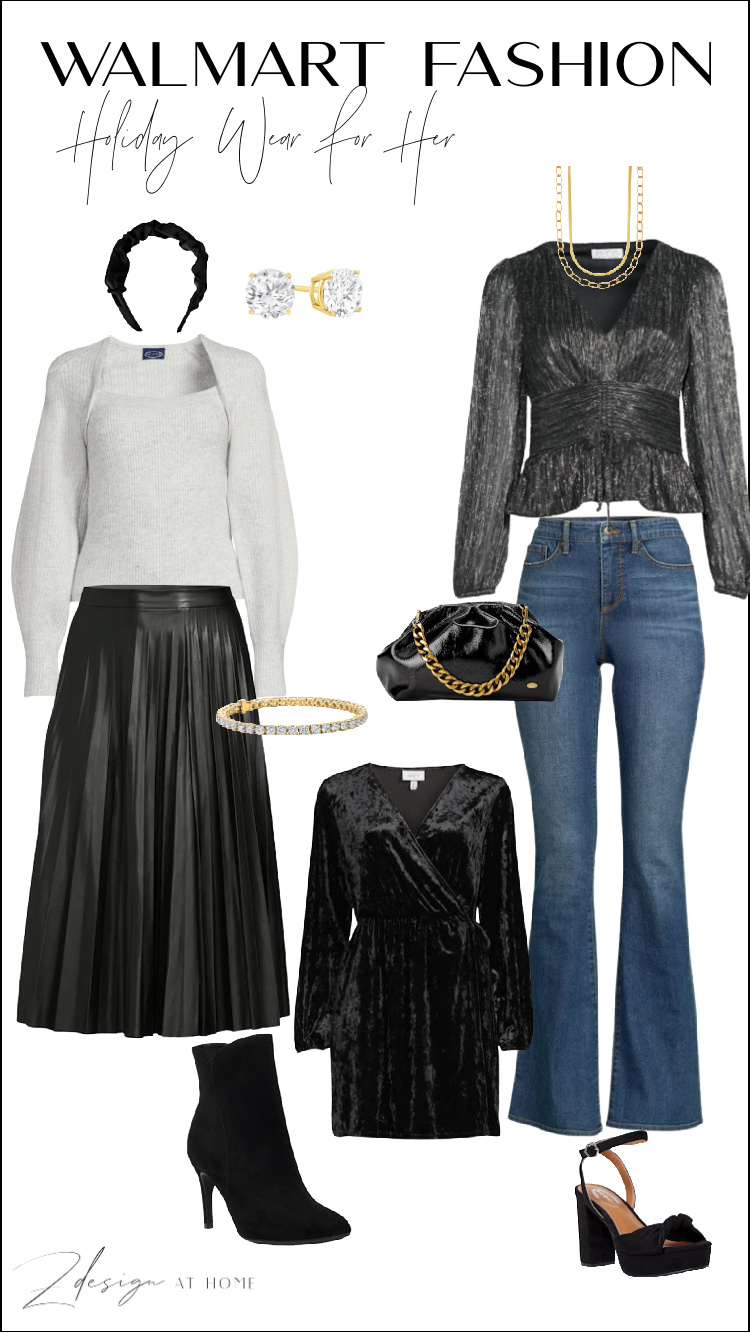 I am also loving all of the beautiful blazers from Walmart Fashion this year. Here are a few of my favorites!

Have fun shopping Walmart Fashion this season to get yourself, family and friends holiday ready! This is part 1 of this post but part 2 is coming soon on 11/20 so don't forget to come back and check that out! You know I love Walmart Home but I love sharing with you that I'm loving Walmart Fashion too these days – I've been happy with the quality and value and hope you are too!
Make sure to peruse all of my previously mentioned selections and more below…
Stylish Gifts + Winter & Holiday Wear for Her with Walmart Fashio